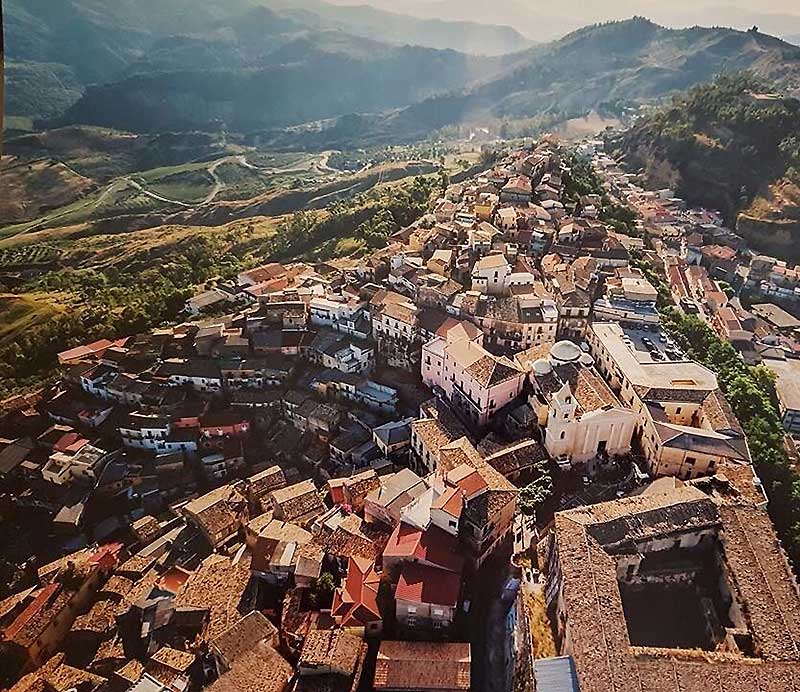 The town of Ciro in Calabria, Italy, is famous for its production of wine of the same name.
Recently some of you have been asking for decent bistro-style Italian wines. Calabria, one of southern Italy's lesser known but great value regions springs to mind, and the delicious wines of Scala, a favourite of mine.
Located on the toe of the Italian peninsula, Calabria is surrounded by water on three sides. Down on the southwest coast the Strait of Messina separates Calabria from Sicily by a mere 3km.
Blessed with a moderate Mediterranean climate and an abundance of natural beauty, Italians flock to the stunning Calabrian beaches in summer, particularly those around the town of Tropea. Only 10% of the region is flat, the rest of the region is equally stunning national parks, boasting majestic mountain ranges, scenic lakes and forests teeming with wildlife.
The classicists among you will know the Calabrian town of Scilla that sits beside the Strait of Messina. It was here, in Homer's Odyssey, that six of Odysseus's crew met a sticky end at the hands of Scylla, the six-headed monster residing on one side of the narrow channel of water. But I digress…
"If a Vespa-riding, siesta-loving, unapologetically chaotic Italy still exists, it's in Calabria. Rocked by recurrent earthquakes and lacking a Matera or Lecce to give it high-flying tourist status, this is a corner of Italy less globalised and homogenised. Its wild mountain interior and long history of poverty, Mafia activity and emigration have all contributed to its distinct culture. Calabria is unlikely to be the first place in Italy you'd visit. But if you're intent on seeing a candid and uncensored version of la dolce vita that hasn't been dressed up for tourist consumption, look no further," Lonely Planet.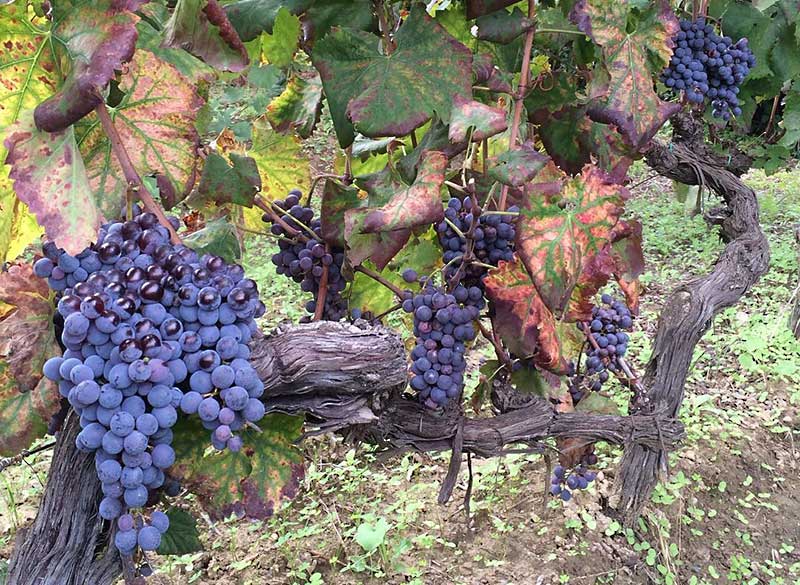 Gaglioppo on the vine. The name derives from Greek and means 'beautiful foot', owing to the variety's cherubic, plump bunches.
Calabria is a significant agricultural region, with extensive plantings of olive trees and citrus. It's also the largest producer of porcini mushrooms in Italy. But in terms of wine, the region is relatively small. Vineyards account for only about 2% of agricultural land, with most of the 25,000 acres (10,000ha) of vines lying close to the coastline.
Like Sicily, Calabria traditionally produced bulk wine, the demand for which has declined in recent decades. Add to this an ageing workforce working hilly vineyards and a vine-pull scheme in 2008, and the region has seen a 30% decrease in vineyard plantings since 2000. These days Calabria has 9 DOCs (2nd top Italian appellation). The best-known of these is Ciro, which sits on the slopes above the town of the same name, half way up the east coast of Calabria.
The signature red grape in Ciro is Gaglioppo (the second g is silent), one of Italy's oldest varieties, but probably not one you've heard of. The name derives from Greek and means 'beautiful foot', owing to the variety's cherubic, plump bunches. Here's the entry for Gaglioppo from the Oxford Companion to Wine: "predominant red grape variety in Calabria in the far south of Italy whose mid-ruby, quite tannic wines can be hauntingly scented, sometimes of roses. DNA profiling has shown it is a sibling of Nerello Mascalese. It thrives in dry conditions and is occasionally found further north."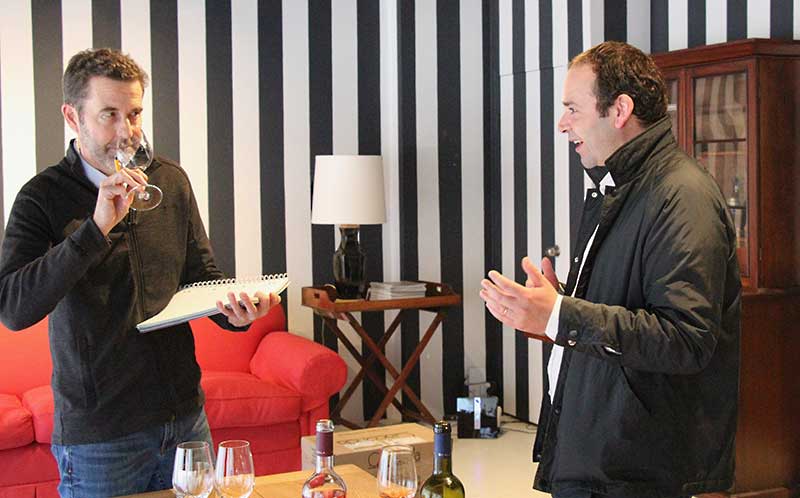 Winemaker Luigi Scala dropped by our tasting room last year.
What can you expect from Gaglioppo? "Best known for producing soft red wines from the mountains of Ciro. Flavours of crushed berry, often accented by cherry and spicy secondary notes," Wine Searcher. In 'Native Wine Grapes of Italy' Ian D'Agata writes that "the best examples of Ciro, or any monovarietal Gaglioppo wines, exude aromas of small red berries and citrus zest, with mineral and delicate underbrush notes that are not unlike a lighter, more saline Nebbiolo wine."
In Calabria you can also find the white grape Greco, which you may see referred to as Greco di Tufo, a variety described by Ian D'Agata in his book 'Native Wine Grapes of Italy' as "one of Italy's most famous wine grapes." D'Agata observes "typical aromas and flavours include yellow flowers, honey, peach, pear and ripe tropical fruits." Greco is mainly found in Campania, a region inland from Naples, but you'll also find it in Tuscany, Lazio, Puglia and Calabria.
Located in Ciro (Calabria's best-known appellation), Azienda Agricola Scala has 18ha of vineyards focusing on native grapes such as Gaglioppo (red) and Greco (white), as well as Magliocco (red), Narello (red) and Mantonico (white). While the land here has been cultivated since the 17th century, the Scala family acquired the site in the 1940s. Originally cultivating olives and citrus groves, they moved into wine in the 60s. More recently they've converted the vineyards to certified organic cultivation. Luigi Scala is currently at the helm.
---

Scala Ciro DOC Bianco 2019
Only the second release of this white from the wonderfully underrated Scala winery. This delicious wine is 100% Greco, handpicked from the estate's certified organic vineyards. The wine is fermented using indigenous yeasts in temperature controlled stainless steel tanks in an effort to capture as much freshness as possible.
On both the nose and palate there's an abundance of white blossom, musk, and tropical fruit. But it's also beautifully dry and crisp - a nice balance found with its refreshing lemon acidity. Add a groovy retro label and 12% alcohol, it's perfect for casual dining.
You'll find it at the trendy Ragazzi Wine and Pasta in Angel Place, Sydney for $69 a bottle.
I can offer it for $27 a bottle. SOLD OUT

---
Scala Ciro DOC Rosso Classico Superiore 2018

This wine is 100% Gaglioppo, with the fruit coming from a 4ha vineyard (named "Franza") on the estate. The grapes were handpicked and de-stemmed before being fermented in concrete tanks, a traditional vessel used in many European areas including Châteauneuf-du-Pape. After ferment, the wine and soggy grape skins were softy pressed and the resulting wine was then transferred to another concrete tank where it spent another 10-12 months ageing.
This is a clear, dark crimson in the glass, with classic Italian aromas of cherry and chinotto. On the palate, raspberry and cranberry notes meld with dried herbs, fennel and pepper. Clean acid and feathery light tannins give nice structure to this mid-weight and elegant wine. Deliciously smooth and savoury - add to this a couple of years' bottle age - what's not to like?
You won't find this around town save for a couple of cool Italian joints like Bella Brutta in Newtown or Poly in Surry Hills where it's $74 a bottle.
Delicious, great value drinking.
I can offer it for $27 a bottle.