Chris Kissack (Winedoctor) tweeted this morning: "One of the problems I have with how Champagne is perceived, is that it is seen as the category-defining style, ie. everything else is a Champagne substitute." He's right, there's way more to French bubbles than just Champagne, and the Loire Valley is a great place to start.
With warm weather and Melbourne Cup on the way, the call will go out for a glass of bubbly, but why be dull? The Loire is my go-to place for interesting wines. The region produces a huge variety of styles (more than any other French region) including red, white, rosé and even sweet dessert styles. But did you know that the Loire is a sparkling wine powerhouse?
Crémant is a term used in France to refer to the finest dry sparkling wine made outside Champagne, using the same traditional methods. The Crémant de Loire appellation was created in 1975 in the Middle Loire, mainly in the region of Saumur, but also in Anjou and Touraine.
Crémant de Loire is a dry sparkling wine made in both white and rosé styles. The main variety used is Chenin Blanc, although a few international varieties like Chardonnay are also permitted in the blend. As in Champagne, where Pinot Noir and Pinot Meunier are used, red varieties are also allowed, most notably Cabernet Franc.
The potential of Saumur has been recognised by the Champenois themselves, with several houses setting up shop there, including Taittinger and Alfred Gratien. In the 1970s, the vineyards and wines of Saumur-based Langlois-Chateau estate caught the eye of Champagne heavyweight Bollinger, who acquired a majority share and since then has invested heavily to modernise it.
The House of Langlois-Chateau was originally created in 1912 by Edouard Langlois and his wife Jeanne Chateau, with the house specialising in sparkling wines. Edouard was tragically killed in 1915 during WWI and subsequently awarded the Military Cross. Jeanne took over running the estate, aided later by both her son and son-in-law.
In 2007 the historical headquarters overlooking the Loire were significantly enlarged and upgraded, with all aspects of production moved there. The winery boasts state of the art pneumatic presses and temperature controlled tanks. There have also been significant changes made to the vineyards, with Langlois-Chateau one of the first estates to obtain the Terra Vitis label, a French benchmark for sustainable vineyard practices. The estate has 71ha of its own vineyards, located in Saumur and Sancerre, with around 60% of the estate's production devoted to Crémant.
The house's reputation still rests predominantly on sparkling wine. Langlois-Chateau is one of only three estates in Saumur referred to in the Oxford Companion to Wine, noting "the quality of winemaking is high."
The estate is a long-time supporter of both the French equestrian school in Saumur and the nearby Le Mans 24 hour classic (for car nuts).
These two wines receive the same attention to detail and are subject to the same exacting standards as Bollinger's best Champagnes. Both see grapes handpicked and pressed gently in state-of-the-art pneumatic presses. The care taken in winemaking is far beyond category standards and at the level of only the very top Champagne producers.
---

1. Langlois-Chateau Crémant de Loire Blanc Brut NV
This wine is a blend of 60% Chenin Blanc, 20% Chardonnay and 20% Cabernet Franc, the fruit coming from 6 terroirs, with a predominance of chalky soil, as in Champagne.
The different parcels of fruit are kept separate (by variety and site) for the initial ferment. The blend is then assembled with 10% reserve wines (ie. older, more complex wines) and the second ferment in bottle, like Champagne. It then spends a minimum of 24 months maturing on lees (the dead yeast cells in the bottle) in the 6km of the estate's freestone cellars.
The Chenin really gives this such a fresh, green apple crunch. Behind this crisp delicacy though, you'll find unexpected complexity for a wine of this price.
"This is a round, mouth-filling sparkling wine with ripe flavours layered with grapefruit acidity and a tight, final texture that is crisp and mineral." 90 points, Wine Enthusiast.
"Langlois Chateau Crémant de Loire Brut NV Sparkling wine has vibrant and racy fruit, bready yeast flavours and zesty appley freshness, accompanied by the waxed lemony flavours of a Chenin Blanc. Fresh orchard-fruit aromas burst from the glass of this easy-drinking Chenin-Blanc, Cabernet Franc and Chardonnay blend. In the mouth it's honeyed and balanced with an Old World feel. The Crémant de Loire Appellation is among the most demanding sparkling wine appellations in France. Under Bollinger, Langlois has further augmented the regulations to equal, and even exceed, those of Champagne." Decanter Magazine.
"This has finesse on the palate, freshness and a delicate, persistent mousse. Crisp acidity, vibrant lemon sherbet characters, but also plush and rounded on the mid-palate. Complex and long with a pronounced green apple character on the finish. Will keep." Andy Howard MW.
"Fresh orchard-fruit aromas burst from the glass of this easy-drinking Chenin Blanc, Cabernet Franc and Chardonnay blend. In the mouth it is honeyed and balanced with an Old World feel. A good-value winter party fizz from a Bollinger-owned estate." Decanter Dec 2017, Recommended.
Bollinger pedigree for a fraction of the price. This is great drinking.
It's on at Lotus Barangaroo for $79 a bottle if you're looking for the perfect lunch.
I can offer it for $32 Click here to order
---
2. Langlois-Chateau Crémant de Loire Rosé Brut NV
This wine is made from 100% Cabernet Franc sourced from vineyards in chalky-clay soils, well suited to the variety. The beautiful colour is achieved by a short (12-15 hour) contact with the red skins.
Only the first pressed juice is used and the initial ferment occurs in stainless steel to retain freshness. The second ferment occurs in bottle, like Champagne, with the wine spending a minimum of 18 months on lees (dead yeast cells) to add complexity and preserve freshness and colour.
Fresh, delicate and with delicious bright red berry fruit, this is a perfect wine for long summer afternoons.
"Light pink in colour, with an elegant nose of red fruit. Fresh, fruit and full-bodied in the mouth," Winemaker's notes.
Why don't more people drink sparkling rosé? When it's good like this it's a joy. Superb match for a feast at Fei Jai in Potts Point, where it's $69 a bottle.
I can offer it for $31 a bottle. Click here to order
---

3. Jo Landron Brut Atmosphere NV
Jo Landron… famous for his wines and his moustache.
"Jo Landron remains one of his region's most conspicuous over-achievers and his name on the label a virtual guarantor of fine quality."
"Jo Landron has so tirelessly served as an international ambassador for his appellation that his memorable mustache and Muscadets have become regional icons… if you walk away uninspired from a conversation with this man, then viticulture just doesn't move you." David Schildknecht, The Wine Advocate.
Jo took the reins from his father at Domain de la Louvetrie in 1990 and made big changes: slashing yields, adopting manual farming methods, gaining organic certification in 1999 and biodynamic in 2008. His adherence to strict biodynamic methods sets him apart in the otherwise high-yielding and commercially oriented region of Muscadet, near the mouth of the Loire. A region, the Oxford Companion to Wine observes, "is currently undergoing a revolution," thanks largely to the inspiration and vision of winemakers like Jo.
In the winery he uses wild yeasts, runs cool ferments and ages his wines in glass lined, temperature controlled concrete vats. This sort of winemaking, combined with his obsessive desire to express the terroir, results in wines that are fresh and alive, but also minerally and textural.
Jo makes some of the region's best Muscadets, which I've offered in the past, but it's not widely known that he also makes a fantastic fizz, Cuvée Atmosphères. It's a blend of Folle Blanche (around 80%), with Pinot Noir and a little Chardonnay. The vines are between 18 and 30 years old, and the yields are low, typically 50-60 hl/ha, far lower than in Champagne. The fruit is biodynamic, estate grown and hand harvested, and the base wines fermented naturally with wild yeasts.
Jo uses the same traditional method as in Champagne, where secondary fermentation occurs in the bottle. The dosage (sugar added immediately after disgorgement and before corking) is a low 5g/l, so it's dry and the wine spends 24 months on lees. Label artwork is by French artist Michel Tolmer.
Given the fastidiousness of its care, it's no surprise this wine has impressive structure, clarity and depth. You'll love the racy citrus and fresh peachy fruit flavours melded with an earthy complexity and delicious breadiness. The finish is fresh and super-crisp.
"The aromatics are just lovely, delicate, floral, with a white stone and white peach character. A very gentle palate follows, showing some lightly honeyed fruit cast against a minerally background and a fine pétillance too. A very attractive wine, a delicately poised style, but with plenty of acid and grip to give it form." 16.5/20 points, Chris Kissack, winedoctordotcom.
"A méthode traditionelle cuvée, made using 80% Folle Blanche and 20% Pinot Noir in this vintage. The first fermentation is in concrete tanks (Jo prefers concrete or wood for this cuvée, as he believes steel gives a metallic taste to the wine). No dosage used, so this first dégorgement has a residual sugar of less than 1 g/l, later disgorgements will have none at all. The nose is fresh, very pure, floral with perfumed white stone. The palate shows a little vanilla lactone, with honeyed fruit, but it remains very fresh, pure and bright. It has a white stone backdrop and very firm acidity running throughout." Chris Kissack, thewinedoctor.com
Whether it's picnics or aperitifs, you'll love this naturally fermented, low dosage fizz. A low profile wine with a high profile taste. Terrific value. You'll love this.
I gave a bottle of this to a colleague who took it along to a wine trade tasting where they tasted it blind. He called me the next day gushing about how good it was and to ask when I was getting it in. Well it's finally here.
I can offer it for $47 a bottle. Click here to order
---

4. Francois Chidaine Montlouis Brut Nature 2015
Francois Chidaine has put Montlouis on the map with his world class wines.
"This is a producer that true oenophiles should seek out." Michel Bettane (bigwig French critic).
"You have to look to the historical collections of regional leaders Foreau and Huet to find comparable consistently high quality, making it clear that Chidaine is one of the world's finest craftsmen in the medium of white wine, not to mention a continuing source of amazing value." David Schildknecht (influential critic with Vinous.com, used to be with The Wine Advocate).
Francois Chidaine is based in Montlouis, but also has vineyards across the river in Vouvray. Montlouis, or Montlouis-sur-Loire, sits within the Touraine district and at 400ha is significantly smaller than Vouvray which is at around 1800ha. Montlouis also tends to be overshadowed by Vouvray, but as Chidaine shows, top notch wines are capable of being made by individual producers.
Chenin Blanc is the only variety planted and it's used to make dry through to sweet still wines, capable of extended ageing. Sparkling wines are also made and account for around half the appellation's production. Like may Loire wines, most is consumed in France, so we don't get to see much here.
Chidaine has 20ha in Montlouis, 10ha in Vouvray and 7ha in the greater Touraine appellation. He took over his father's 4ha estate in 1989 and energetically set about expanding and improving it. He subsequently acquired several prestigious sites and became certified organic and biodynamic in 2003, and while he's become a darling of the movement, he doesn't feel a need to indicate the certifications on the labels. He makes a range of white (dry through to sweet), red and rosé (from Touranine) and of course sparkling.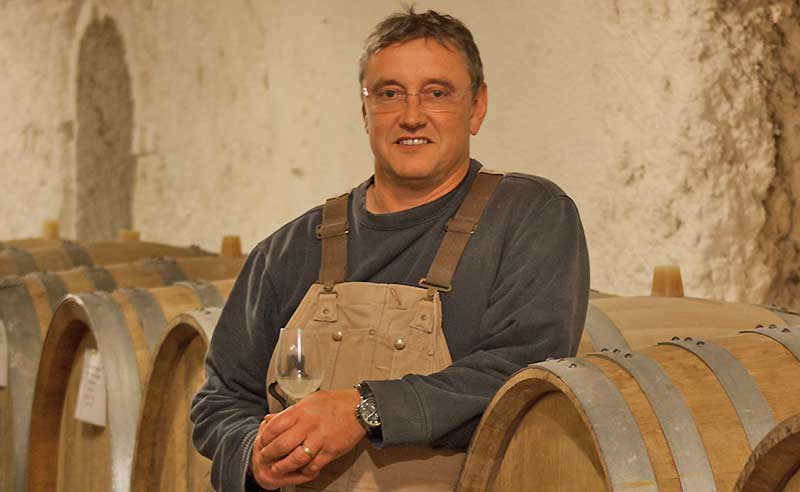 This fruit for this wine comes from Chidaine's biodynamically farmed vineyards so of course they see no synthetic herbicdes, pesticides or fertilisers, only natural preparations from plants and minerals. Vine age is from 20-50 years old. Yields here are quite low for sparkling wine - 35 hectoliters per hectare. The 100% Chenin is handpicked and gently pressed. Initial ferment using wild yeasts takes place in 600L demi-mids for up to 6 months. Second ferment occurs in bottle and aged for another 5-6 months on fine lees (dead yeast cells) to give more complexity. No malolactic fermentation takes place. Brut nature means no dosage (added sugar) just before the cork is put in. After corking it was aged in bottle for 12 months before release.
"Light golden colour with aromas of white flowers and citrus notes. It has a marked minerality. It can age up to 4-5 years. With its fine mousse, you can enjoy this as an aperitif, or as a replacement to a dry white with many dishes," Winemaker's notes.
"François disgorged this cuvée early for the Salon des Vins de Loire, as it currently still rests sur lattes at present. No dosage here. Very fresh, pure, concentrated, desiccated fruits, with scents of yellow plum and dried pineapple. The palate has the same aromatic purity of fruit, fresh and precise, with lovely presence and lift. Fresh acidity, incisive, with a confident pétillant character. A really convincing style, very impressive, pure and nicely concentrated." 94-96 points, Chris Kissack, The Wine Doctor. An incredible score from this Loire specialist.
Great Loire fizz.
I can offer it for $49 a bottle. Click here to order
---
We also have these available: