Worldwide demand for the gloriously rich and generous wines of the Southern Rhône's largest and most famous appellation, Châteauneuf-du-Pape (CNDP), has pushed prices beyond the reach of most. It's also focused attention on the more affordable wines of nearby Gigondas, an appellation traditionally in the shadow of CNDP, more recently appreciated by astute drinkers for the value they offer. As a respected colleague said to me the other day "We need to bang the drum for Gigondas a lot louder – crazy good wines at half the price (or less) of CNDP."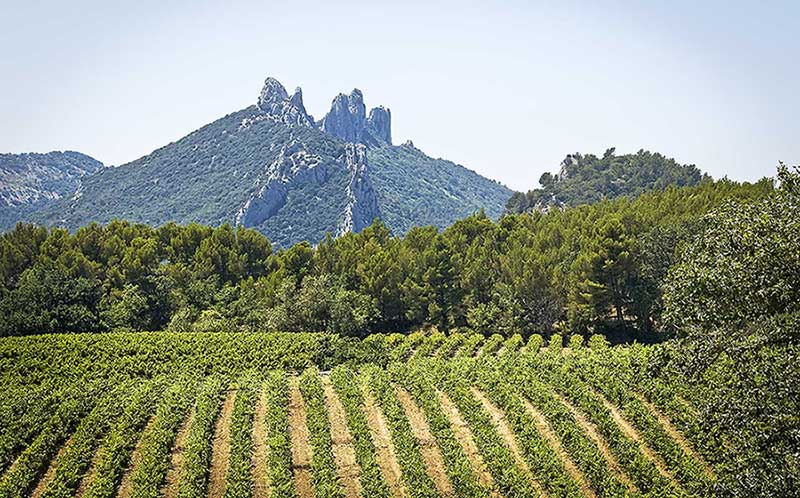 Dentelles de Montmirail tower above the vineyards.
The countryside around the tiny village of Gigondas has been noted for its wine since Roman times, but when official appellation rules were introduced in France in the 1930s, the area was rather surprisingly relegated to the generic Côtes du Rhône status. It took until 1966 for it to be elevated to 'Côtes du Rhône-Villages' and in 1971 it was finally recognised with its own appellation.
The appellation sits within the Vaucluse département, a mere 10 miles north east of CNDP, and with approximately 1,200ha of vines, is only about a third of the size. The often-terraced vineyards are protected by the imposing Dentelles de Montmirail, a saw-toothed limestone mountain range. Another feature of the landscape is the prevalence of garrigue, a low, soft and fragrant shrubbery that's found in limestone soils across parts of southern France.
With no white and about 1% rosé, it's safe to think of Gigondas as a red wine appellation. The official website for the Rhône Valley notes (with typical French bureaucratic simplicity) the makeup of Gigondas:
grenache may be used up to 80%.
syrah and/or mourvèdre must account for a minimum of 15%.
All other grape varieties covered by the Côtes du Rhône appellation are authorised, excluding carignan.
And the following varieties may make up to 10% of the wine: cinsault, clairette and some stocks of terret noir, counoise and picardan.
Gigondas is essentially a grenache dominant blend with a bit of syrah (shiraz) and mourvèdre, a blend we're familiar with here in Australia.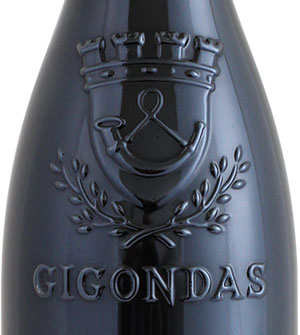 Traditional Gigondas is made in a similar way to CNDP, with long maceration. This means that when the wine is being made, it spends a long time in contact with the grape skins, giving it plenty of oomph and colour. Gigondas tends to be full, earthy, aromatic and relatively high in alcohol. The most commonly associated descriptors are powerful and rustic. You'll find they have a lot in common with grenache from around the word, but likely have mineral notes and the telltale savoury herbal perfumed characteristics of garrigue, which "seems to encompass thyme, rosemary, sage, lavender, garlic and chives, often a signature component of southern French red wines." Eric Asimov, NY Times wine critic.
"(Gigondas)… are often thick-textured, with rugged tannins that give them their rustic reputation. But the best examples marry ripe, dark black fruit with fine-grained tannins and perfumed, minerally finishes. These wines age well, delivering mesquite, iron and black tea notes after five to eight years." James Molesworth, Wine Spectator.
"A glass of Gigondas should provide a stimulating mix of plum or prune fruit, dark berries, spice, pepper and dried herbs. These are genuine, fresh, often well-priced wines, and finesse rather than raw strength quite rightly features in the appraisal of a Gigondas, be it young or mature." John Livingstone-Learmonth, Decanter Magazine, Jan 2016.
Similar to the CNDP tradition, Gigondas producers also use a heavy bottle embossed with a distinctive insignia. This one features the hunting horn of the family of Orange (who ruled this area from the 12th century), and olive branches.
---
Domaine Saint Damien
This seriously underrated domaine has been run by the Saurel family since 1821 and for most of that time they've sold their grapes to others. Current custodians Joel and Amie Saurel took over the estate in 1978, changing the name to St Damien in 1979. They named it after a Chapel, long since fallen down, that stood near the estate, honouring St Damien, an early Christian saint who was martyred in 287AD. In case you were wondering, Damien is the patron saint of doctors, surgeons, blind people and barbers.

Joel Saurel in the vineyard.
The couple started using the estate's grapes to make their own wine in the mid-90s, soon after engaging renowned consultant Philippe Cambie, with admirable results. "Proprietor Joel Saurel, backed up by the inimitable Philippe Cambie as his consultant, has transformed this estate into one of the greatest locations in Gigondas, rivalling the two top producers…" Robert Parker, The Wine Advocate.
Joel is largely responsible for the domaine's current (insider) fame and was also the one who got the vineyards up to Agriculture Biologique certification in 2012, which means organic. These days the estate has just over 12 hectares of vines, most of which are quite old and cropped low, and Joel and Amie's son Romain is in charge of winemaking. Romain tends to age the wines in large, traditional concrete vats and old foudres, and then bottles his wines on the young side to preserve freshness. He also bottles without fining or filtration.
"Domaine Saint-Damien has been producing some of the region's most elegant wines for years, but for some reason they rarely get the attention they deserve. Pricing here is also admirably fair, which makes this an address to be reckoned with for savvy Rhône wine lovers. These wines are now consistently delivering some of the southern Rhône's greatest values in high-end wine." Vinous Media, February 2020
"All of the wines I tasted at the domaine were outstanding, and it is something to say that there is not a dog in the lineup." The Wine Advocate, September 2018.
---

Domaine Saint Damien Gigondas Vieilles Vignes 2017
This wine is a blend of 80% grenache and 20% mourvèdre. It was made using traditional methods, with fermentation carried out in lined concrete tanks, followed by extended maceration (5 weeks) and a further 12 months maturation in large oak (foudre). The idea behind this technique is that the concrete tanks allow retention of the natural fruit and mineral elements, while the large old oak allows the benefits of wood maturation without imparting an oaky character. This is 15% alcohol and sealed with cork.
"Deep ruby-red. Powerful, smoke-accented black raspberry, cherry liqueur and lavender aromas are complicated by a spicy white pepper nuance that builds steadily with air. Chewy and focused on the palate, offering sappy red and blue fruit, licorice and bitter chocolate flavors and an energizing jolt of minerality. Finishes firm and long, displaying harmonious tannins and a lingering cherry pit note." 92 points, Vinous Media, February 2020.
"Scents of crushed stone, pepper and licorice lead the way, followed by intense notes of black cherries and tree bark. It's full-bodied, silky and long, with hints of chocolate that creep in on the finish. It looks suppler than I remember it being last year, and it's for the better. 92-94 points, Joe Czerwinski, The Wine Advocate, Aug 2019.
"The ruby/purple-hued 2017 Gigondas Vieilles Vignes is a finesse-oriented, medium-to-full-bodied wine from this estate that has classy notes of dark fruits, kirsch, sappy flowers, and peppery spice. With no hard edges and beautiful balance, it's reminiscent of the 2011 and will drink nicely for 7-8 years or more. Drink 2019-2027." 93 points, JebDunnuck.com.
These are simply great reviews, and a great price, for an entry level Gigondas. You'll see it at Bistro Moncur in Woollahra for $99 a bottle.
Enjoy it at home for $48 a bottle. SOLD OUT

---
A few notes on the incredible 2016 vintage in the southern Rhône.
"One of the greatest vintages the region has experienced, with producers making comparisons to 1978, 1990, 2001 and 2010. I don't think it's hyperbole to suggest it may be the best ever." Joe Czerwinski, The Wine Advocate, December 2018.
"Certainly one of the great vintages, for reds anyway." Jancis Robinson MW.
"This truly rare vintage is a new benchmark." 99 points, Wine Spectator.
"This is one of the best vintages of the past few decades. Do not miss it." Decanter.
You get the picture.
---

Domaine Saint Damien Gigondas La Louisiane 2016
80% grenache (planted 1942), 15% mourvèdre (planted 1977), 5% syrah & cinsault (planted 1951). Fermented on skins for 6 weeks before ageing in large old 50hl foudres for 12 months. Bottled unfined and unfiltered. This is 15% alcohol and sealed with cork.
"The 2016 Gigondas La Louisiane is looking a bit more structured and tannic than it did last year. It's full-bodied, rich and creamy across the mid-palate, then firms up adding hints of licorice and chocolate along the way. It does have the ripe stone fruit and berry notes to sustain it over time, so give it a couple of years (maybe even four or five) to relax and unwind that tightness on the finish. Tasted twice, with consistent notes." 94 points, The Wine Advocate, September 2018.
"Shimmering ruby. Displays powerful raspberry, boysenberry and exotic spice qualities on the perfumed nose, along with expanding garrigue and mineral notes. Sappy and penetrating on the palate, offering bitter cherry, red/blue fruit liqueur, lavender and licorice flavors that steadily turn sweeter on the back half. Finishes very long and smooth, with rounded tannins framing lingering red fruit and floral notes." 93 points, Vinous Media, February 2020.
I can offer it for $56 a bottle. SOLD OUT

---

Domaine Saint Damien Gigondas Les Souteyrades 2016
80% grenache (planted 1948), 20% mourvèdre (planted 1977). Fermented on skins for 7 weeks before ageing in large old 50hl foudres for 12 months. Bottled unfined and unfiltered. 15% alcohol and sealed with cork.
"It's full-bodied, rich and tannic, with peppery notes accenting the intense raspberry and stone fruit flavors that come to the fore on the finish, always a good sign for the future. Tasted twice, with consistent notes." 95 points, The Wine Advocate, September 2018.
"Limpid violet color. A suave, expansive bouquet evokes ripe cherry, raspberry, floral and exotic spice qualities and picks up subtle garrigue and earth nuances as the wine opens up. Alluringly sweet and seamless in texture, offering palate-staining red fruit liqueur, star anise and candied violet flavors that put on weight through the mid-palate. Discreet, polished tannins lend shape to an impressively long, smooth finish that emphatically echoes the floral and spice notes." 94 points, Vinous Media, February 2020.
I can offer it for $59 a bottle. SOLD OUT

---