Minervois is an idyllic appellation located in foothills north east of the French city of Carcassone, less than an hour's drive inland from the Mediterranean. It lies in the northwest corner of the greater wine region of Languedoc - a massive area of sun-baked vineyards, almost 3 times the size of Bordeaux, that runs along the Mediterranean coast, from Montpelier almost as far as the Spanish border. It claims to be the oldest wine region in France and for centuries it has captivated with its beauty and rugged wildness.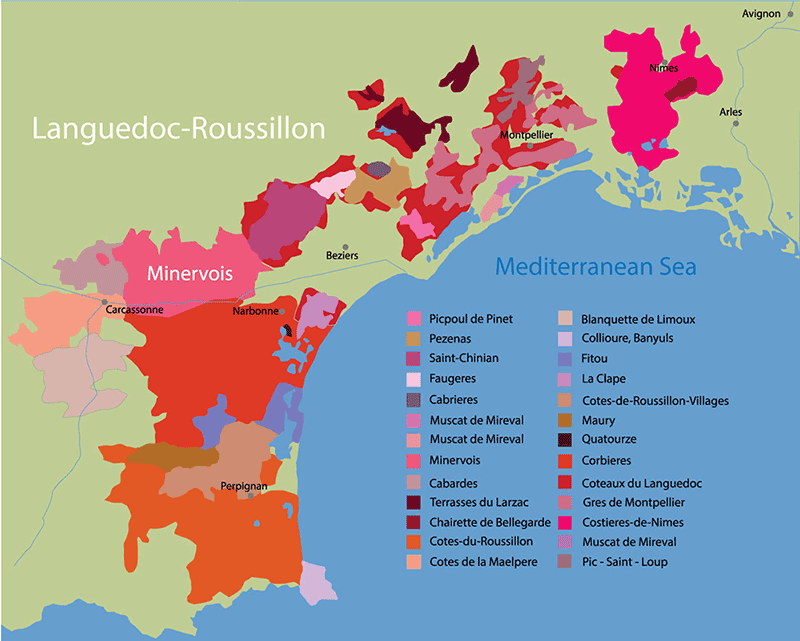 Ironically, not being one of France's prestige wine regions has some benefits - namely more relaxed regulation and most importantly, affordable land. Languedoc has traditionally been a producer for the mass market but in the last decade or so a new generation of winemakers has seen it as the perfect place to realise their dreams and started producing some great wines here. "The Languedoc is France's new world, a scene of new ideas coming good and growing expectations. Money and talent are immigrating here to replace old bad habits, it deserves close study" World Atlas of Wine (7th Edition).
Despite the positive change, the historical perception of Languedoc has ensured prices remain modest, so it's a great place to find value if you're in the know.
There have been efforts in the last 20 years to simplify the appellation system in Languedoc, and it continues to evolve - I still find it confusing though. But there are a handful of appellations that stand out, one of which is Minervois, granted its own appellation in 1985 in recognition of the quality of its fine reds.
In the late 90s, after extensive campaigning and in a first for Languedoc, the step was taken towards a Burgundy-like quality hierarchy, with recognition of a limited number of small, higher quality appellations within the boundaries of other appellations. The first of these so-called Crus (now confusingly called Grand Crus, of which there are 5) to be recognised was La Livinière.
Taking its name from the sleepy village of La Livinière, the tiny appellation of only 350ha, sits entirely within the much larger Minervois appellation (3,600ha) and is located at the base of the Black Mountains, with the Pyrenees as a back drop. You may also see it referred to as Minervois La Livinière or Cru La Livinière.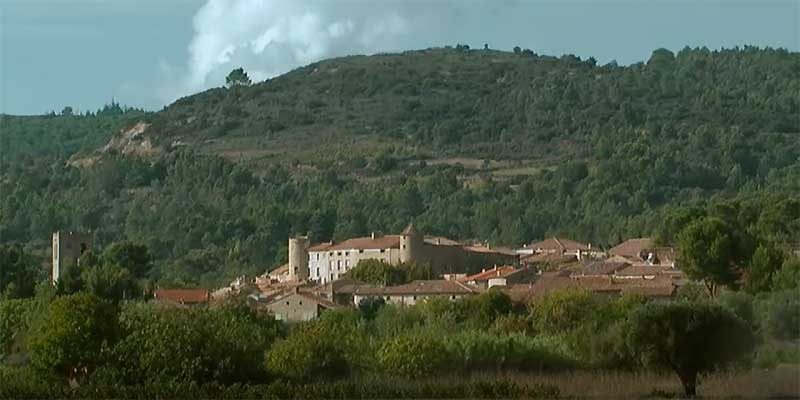 Minervois landscape, Languedoc.
La Livinière is a red only appellation, based predominantly on syrah and mouvèdre, but you'll also find carignan and cinsault, and to a lesser extent grenache.
"The wines of Minervois la Livinière taste of the warmth of the deep south, with the herbs of the garrigue, thyme, bay and rosemary, with the scents of cistus and broom," Rosemary George MW.
"La Liviniere produces so many wines that seem to combine the rugged scents of the high vineyards with the suppleness of lower-altitude wines, that they have earned their own appellation." The World Atlas of Wine (7th Edition).
Just a few kilometres north east of the town of La Livinière lies the even smaller village of Cesseras, with a population less than 400, and it's here you'll find an estate that typifies all that's exciting about wines from this area.
Domaine de Courbissac was founded in 2002 by successful German film producer Reinhard Brundig and Alsace winemaker Marc Tempé, who were drawn to the area to make intense, powerful Minervois reds. They found the sort of gem that's surely only possible, and affordable, to find in Languedoc, a vineyard blessed with great soils, comprising 90-year-old grenache, 70-year-old carignan, 70-year-old cinsault, as well as 40-year-old syrah and mourvèdre. And importantly, it sat right on the foothills of The Black Mountains, a position which serves to moderates the scorching summer heat and produce wines that are a balance of ripeness and freshness.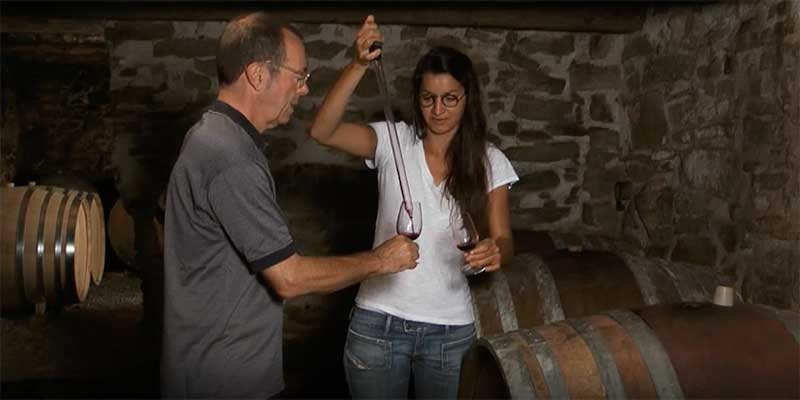 Domaine de Courbissac owner Reinhard Brundig with winemaker Brunnhilde Claux.
From the beginning the estate was run on biodynamic principles, which means, among other things, no chemicals. With Tempe leaving and Reinhard wishing to take a less active role, in 2013 the young and highly talented Brunnhilde Claux was brought in to run the estate. Brunnhilde has a seriously impressive resume, having spent 6 years under Gérard & Ghislaine Gauby, at the highly acclaimed Domaine Gauby in nearby Roussillon, after which she spent 3 vintages with Dominik Huber at the uber cool Terroir al Limit in Priorat. Wow - that experience alone is impressive!
Max Allen visited Courbissac in 2018, spending time with Brunnhilde in the vineyards, "… she starts talking about her wines and her vineyard and the local grape varieties planted in it, and her whole being changes. She is alive with the passion of it, eyes sparkling, hands animated." Max Allen, The Australian Financial Review. Brunnhilde effectively runs the estate as her own and, as you would expect given her tutelage, is all about a hands-off approach in the winery.
And now the story takes a particularly French turn…
Despite being located in the heart of the more prestigious La Livinière appellation, I notice the estate's wines are labelled under the 'lesser' (but still good) Minervois AOC. This seems like a pretty big deal to me, so I was surprised when it was so difficult to find out why. It took some serious digging to find that the root of the issue was good old French wine bureaucracy. Bien sur!
In addition to satisfying geographical boundaries, there are several regulations that must be met for a wine to be labelled under a particular appellation name. These regulations include; assemblage (varietal makeup), minimum potential alcohol, planting density, maximum residual sugar, maximum yields and élevage, which literally means the 'bringing up' or 'raising' of the wine, and refers to the time between fermentation and bottling, which in most cases means time in barrel. In the case of La Livinière the stipulation is that wines may not be released until the 1st of November in the year following the harvest, which ensures the wines spend at least 15-16 months ageing, depending on when the fruit is picked.
Given Brunnhilde's wines are all about purity and freshness, it's no surprise she prefers avoiding both new oak and/or extended ageing and it's testament to her conviction that she feels strongly enough about this style to forgo the prestigious La Livinière label.
---

Domaine de Courbissac 'Les Traverses' 2017
This is the estate's entry level wine and is a blend of approximately equal parts grenache, syrah and mourvèdre. The fruit is handpicked from the younger vines that are between 12-25 years old. Fermentation is carried out using natural yeasts in tank and concrete vats, and post ferment the wine spent about 6 months in concrete tank. It's unfined, unfiltered and has low levels of added sulphur. The finished wine is sealed with cork and is 13.5% alcohol.
In the glass this is a deep rosey red. One the nose, this starts fresh with strawberry and cherry aromas but gains a darker edge as opens up revealing chocolate, sarparilla and prune notes. On the palate you'll find savoury dried thyme, sarsparilla, vanilla, plums and pepper. Delicate acid keeps this beautifully balanced with silky tannins on the dry finish. Generous but not heavy - this has a purity and freshness not typical of French wine.
You won't find this around town much. I can offer it for $33 a bottle.