The Rive Droite, Rive Gauche Côtes du Rhône Rouge 2020 has two things going for it - its fresh and lively character and sheer good value.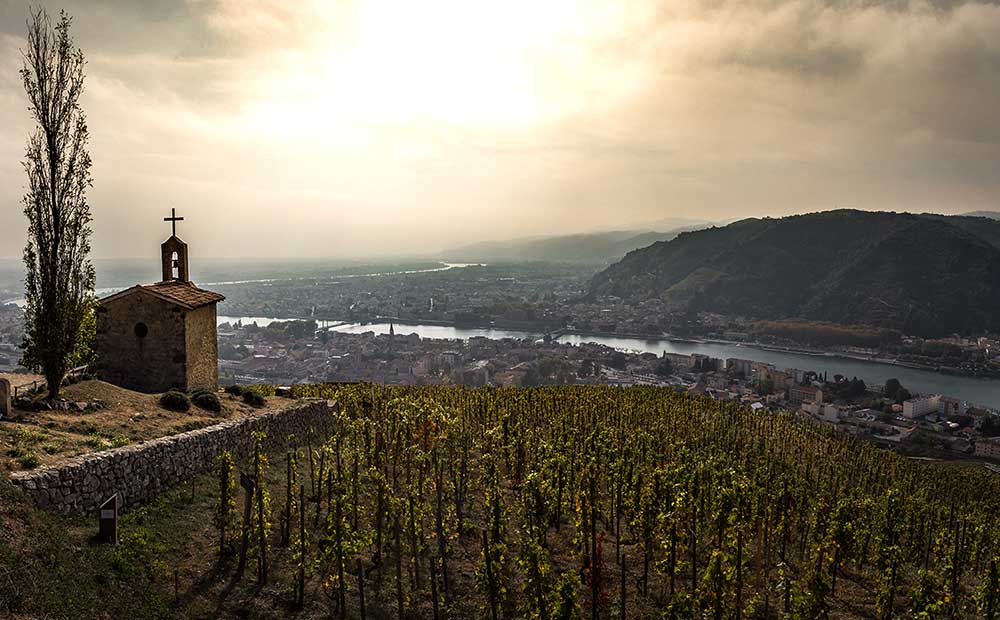 This wine is from the magnificent Rhône region of France, which follows the river from Vienne in the north, to Avignon in the south. Neatly divided into two sub-regions, the Northern Rhône and the Southern Rhône, the catchall Côtes du Rhône appellation theoretically covers wine from anywhere within the region. In reality though, nearly all wine labelled Côtes du Rhône comes from the vast and sunny Southern Rhône.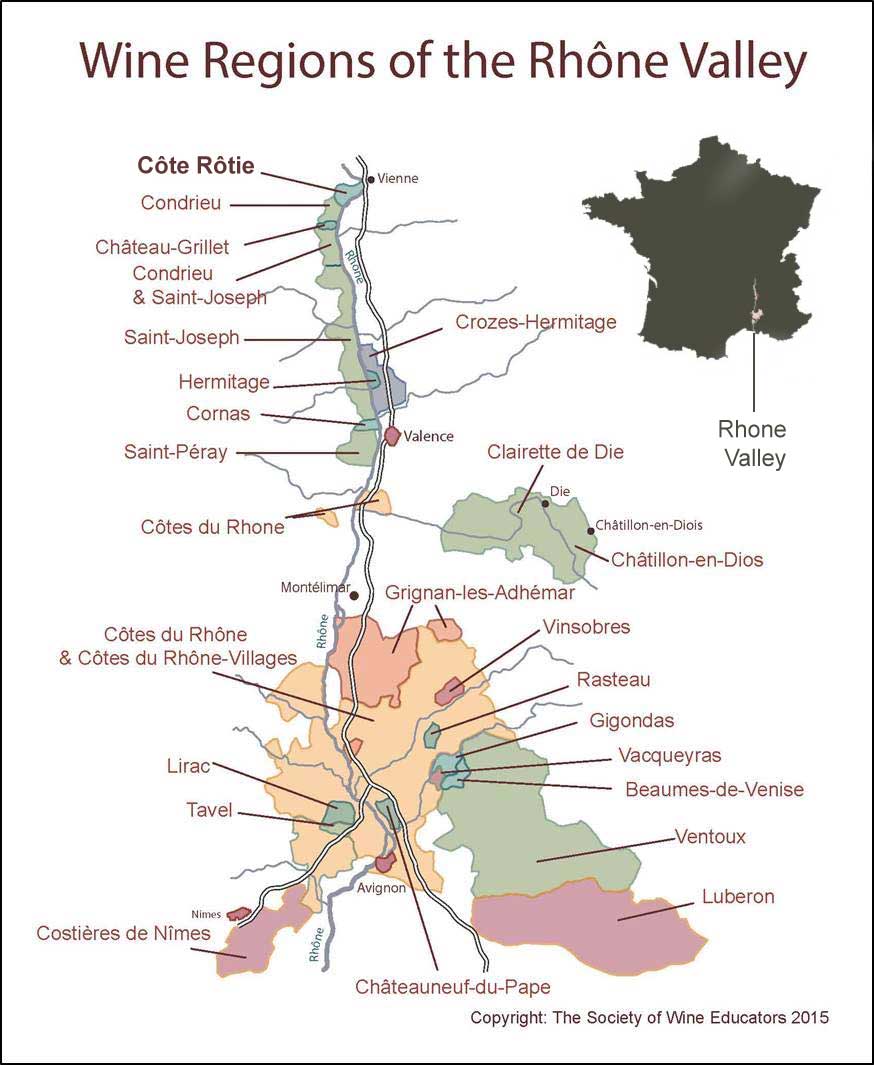 The 3 Côtes du Rhône classifications, in ascending order, are:
- Cotes du Rhône
- Côtes du Rhône Villages
- Côtes du Rhône Villages (with a named village)
The first of these, the generic Côtes du Rhône appellation, covers about 32,000 hectares and permits the use of 21 grape varieties, both red and white. The majority of wines however (around 90%) are red, made from grenache, syrah and mourvèdre. Since 1996, red Côtes du Rhône must contain at least 40% grenache but (and isn't there always an exception?) wines made in the northern Rhône, where syrah is the favoured grape, are exempt from this rule.
The Côtes du Rhône concept is well-known in Australia with popular GSM blends (grenache, shiraz, mourvèdre) produced in the Barossa and McLaren Vale. While it's tempting to put these ripe, generous and powerful wines in the same basket, remember how much warmer South Australia is than the south of France. The latitude of Avignon, in the Southern Rhône, is the southern hemisphere equivalent of just below Tasmania.
Red Côtes du Rhône is, at heart, an informal wine - not too structured, usually mid-weight, fruity, fragrant and easy to drink. Most red Côtes du Rhône is enjoyed young and it offers terrific value. Wine writer Andrew Jefford describes it as "Delicious and supremely drinkable red wine. Almost nowhere in the world can match the Côtes du Rhône at its best."
---

Rive Droite, Rive Gauche Côtes du Rhône Rouge 2020 fits this bill perfectly. It's a great mid-week tipple.
The wine is made by Les Vignerons d'Estézargues which Mike Bennie of The Wine Front describes as "a hip co-operative in the Southern Rhône producing to exacting quality defined by 'reasoned viticulture', which promotes less chemicals in vineyard – the co-op only sprays minimally and only for mildew (no pesticides). They make wine to a 'natural mantra', with indigenous fermentation in cement vats, minimal SO2 addition and no other additives. It is one of the rare co-ops in Rhône that ferment individual cuvées for market release."
Situated in the small town of Estézargues, about 20km west of Avignon, Les Vignerons d'Estezargues was originally founded in 1965. It's small, with only 10 growers and about 400 ha of scattered vineyards.
Initially it followed the traditional co-op model of receiving grapes from members and churning out large batches of wine made by combining the grapes. But in 1995 new winemaker Jean-Francois Nicq took a totally different approach. He began vinifying individual growers' grapes separately - not only that, he also started making single cuvées from the best sites. This push towards quality continued with the arrival of Denis Deschamps, the current winemaker. He's a champion of 'natural' winemaking and prefers the use of natural yeasts, minimal sulphur, and avoids fining and filtration in many of his wines. They are possibly one of the only co-ops in the world to use such practices. It's a bold approach but they seem to have pulled it off, as they now enjoy an excellent reputation both in France and worldwide.
The co-op makes quite a few wines, one of which is the Rive Droite, Rive Gauche 2020. Apparently the name (Right Bank, Left Bank) references the fruit for the wine being sourced from both banks of the Rhône. Grenache from the left bank (eastern side) and syrah from the right bank, from the highly regarded village of Daumazan, near Tavel.
It took a Burgundian friend of mine (thanks JD) to alert me to the significance of the map on label. It's the Cassini Map, which was the first topographic and geometric map of the whole of France. It was completed between the 1740s and 1780s by César-François Cassini and his son Jean-Dominique. Map nerds will know it as the first map based on geodesic triangulation and the level of accuracy is simply astounding. Click here to see the entire map (it takes a while to load) and to zoom in on it. It's amazing.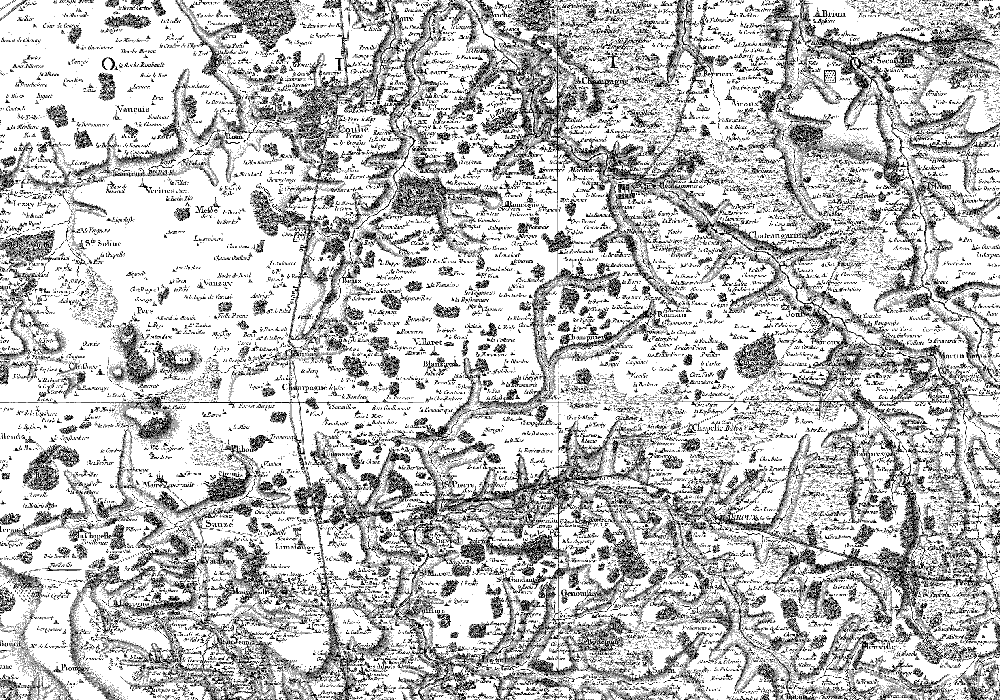 The wine is a blend of 60% grenache, 30% syrah and 10% mourvèdre and cinsault. It's fermented in stainless steel, sees no oak and is sealed with screw cap - all techniques aimed at retaining freshness.
This wine typifies CDR's popularity the world over.
This is rosy red in the glass. On the nose, raspberry and cherry aromas meld with red rose and fennel. On the palate you'll find ripe cherry notes tempered by liquorice, pepper and savoury sasparilla bitterness. Less fruit-forward than Aussie GSM and with nice clean acid balancing its juiciness, it's more in a leaner, elegant, Euro style.
This vintage has just been released so no critics' notes yet, but here are two from the previous vintage…
"Outstanding value for money." Olly Smith, The Mail on Sunday, Feb 2016.
"…delicious... a bit of a no-brainer really." Fiona Beckett, The Guardian, Nov 2015.
I can offer it for $20 a bottle.

---
And for an Aussie take on this style, why not try Alex Head's wonderful example.

Head Wines Head Red GSM 2019
This wine is a blend of 50% grenache, 30% mataro and 20% shiraz from 25-76yo vines, with 60% of the fruit sourced from the Eden Valley area, the remainder from the Barossa. It's more elevated and cooler in the Eden, so it's easier for Alex to make the style of wine he likes. The fruit was fermented using wild yeasts in an open fermenter with 10% whole bunches, and was hand-plunged and pumped over daily. The wine spent 9 months in large format oak (500-600L), less than previous vintages which spent 12 months in oak. Alex told me the aim of the slightly less oak time was to let the fruit shine through and bring out a real vibrance and juiciness in the wine. The finished wine was bottled unfined, under stelvin, 14.2% alcohol.
Super fresh and juicy primary fruit is the star in this drop. In the glass this is a purpley, rosey red. On the nose you'll find ripe and juicy cherries, raspberry jubes, caramel and lifted floral aromatics of fresia. On the palate, pomegranate and plums mingle with pepper and liquorice - clean bright acid ensuring nice balance. The Head Wines Head Red GSM 2019 has a lovely viscosity with soft tannins quietly shoring up its structure. Nice dry finish.
"50% grenache, 30% mataro and 20% shiraz from 25-76yo vines, wild yeast-open fermented with 10% whole bunches. Beautifully and harmoniously structured and textured, clarity and purity its watchwords." 96 points, James Halliday, Halliday Wine Companion.
I can offer it for $23 a bottle.