Decanter Magazine recently ran a piece entitled Spotlight on Soave and the big news is that the Suavia Azienda Agricola Soave DOC Monte Carbonare 2018 took out equal top spot with an incredible 96 points.
This is an amazing score for a Soave, especially from the notoriously hard-marking team at Decanter. I've offered previous vintages of this delicious but hard to find wine, so for those of you who have tasted it, this result won't be a surprise.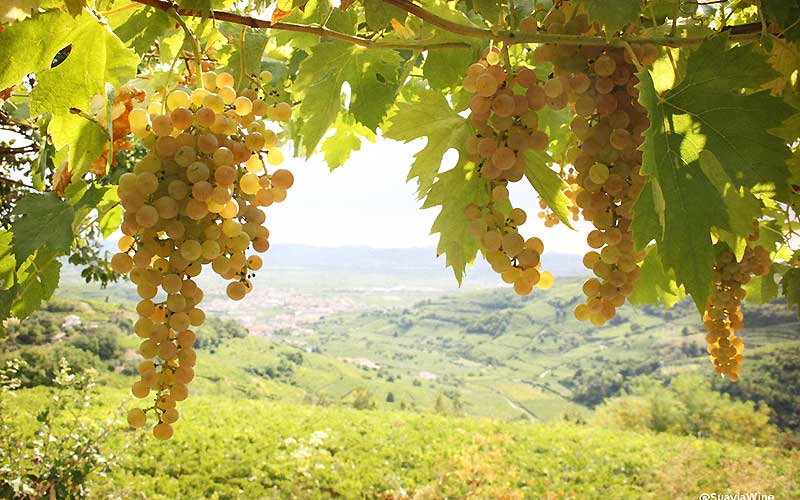 Garganega grapes ripening outside the small town of Fittà, Verona.
Soave (pronounced swah-vay) is a dry Italian white wine, the name of the region in which it's grown and of a medieval village. The vineyards of Soave sit within the larger region of Veneto, in Italy's north east. In 2016 the hillside vineyards of Soave DOC joined Italy's national heritage list. Veneto stretches from its capital Venice, in the east, to the shores of Lake Garda in the west. In the north east are the Piccol Dolomiti (the little Dolomites), home to Cortina skiing, and this beautiful region is also home to the famous wines of Valpolicella, Amarone, and Prosecco.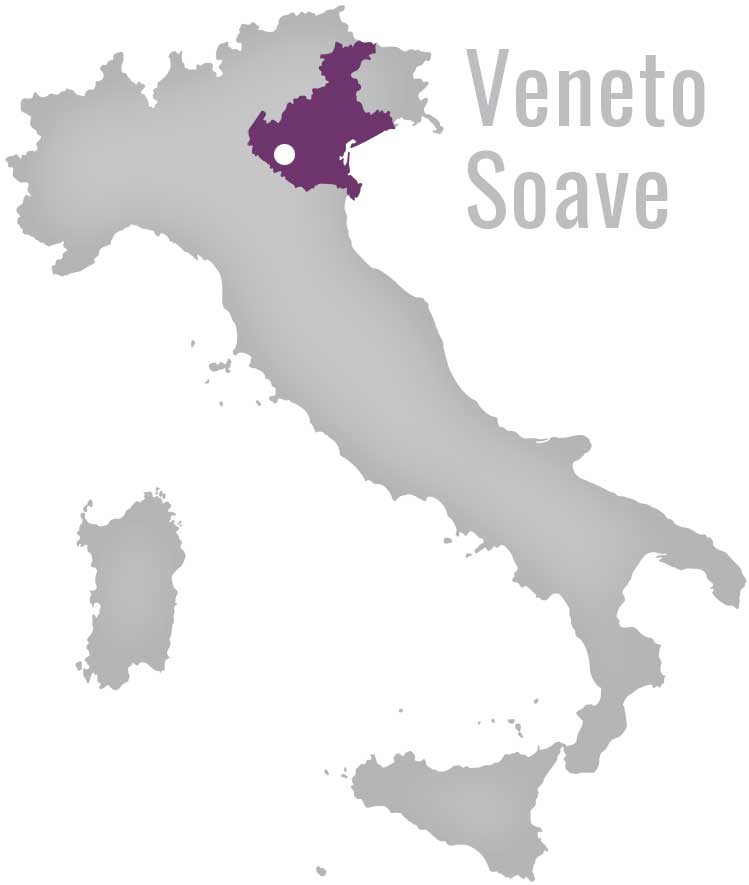 Soave became a certified DOC (appellation) in 1968 and the ensuing decades saw its boundaries expand dramatically. Today it is about 10,000 acres, making it one of the largest DOCs in Italy.
Initially this modern Italian wine was introduced to the world as something fresh, light and affordable. But most of the expansion of the region has been on the fertile, alluvial plains surrounding the Adige River, where the emphasis has been on quantity over quality. Soave became a massive wine factory and gained a reputation for wine that was neutral, watery and too homogenous to be taken seriously.
As the New York Times noted several years ago; "every era has its default wine, a drink so bland that nobody notices it and so cheap that no one cares. The current defer white is Pinot Grigio… for a few years in the 70s and 80s, the default white was Soave," August 2012. Ouch.
Of course good Soave still exists, it's just hidden beneath Soave's unfashionable reputation. Within the Soave DOC is the subzone of Classico. Defined in 1927 and currently about 2,700 acres, it covers the original and best hillside areas around the towns of Soave and Monteforte d'Alpone, near Verona. It's within the Classico zone that you'll find volcanic soils as well as estates committed to producing high quality wines.
Soave is made from a minimum of 70% of the local indigenous white grape, Garganega - a vigorous variety that responds well to having its yields restricted and gives best results in the volcanic soils of the Classico area. The remainder may be any combination of trebbiano di soave, chardonnay, pinot bianco or sauvignon blanc.
When made well, Soave is one of the great white wines of Italy. I find it sometimes a bit like a ripe Chablis. It has great structure and a steely minerality that's unlike anything we have here in Australia.
"True Soave is medium-bodied with fine acidity and a lively flowery aroma of white and yellow fruit, and garden herbs, taking on notes of chamomile and honey with age." Oxford Companion to Wine.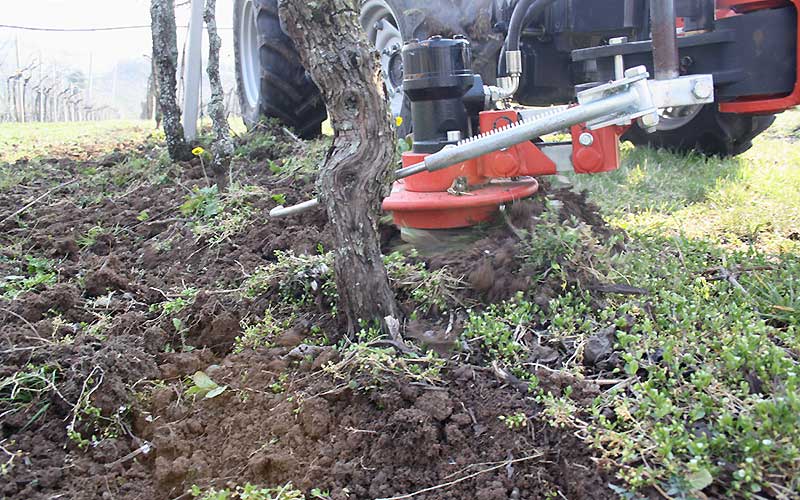 Tilling the soil around the vines' bases to decompact and aerate it and remove grass and weeds.
"The best examples of Soave, generally from the Classico zone when yields have been restricted to allow the grapes to fully ripen, are characterised by lemon and almond flavours and a fine grainy texture like that of fresh pears. This delicacy combines with fresh acidity to give wines that may be steely and yet still tantalisingly spicy." Jancis Robinson from her book Wine Grapes.
"But what really sets today's Soave apart is a scintillating, mineral-toned freshness that barely seems to diminish with bottle age and which gives the wine its remarkable elegance and balance," Decanter Magazine, May 2017.
There's a small bunch of producers bringing Soave back into vogue, one of which is Suavia.
---

Suavia Azienda Agricola Soave DOC Monte Carbonare 2018
100% garganega, fresh, clean and mineraly. This is the hottest Soave in town and I'm very pleased to once again get my hands on some.
Suavia is the ancient name for the town of Soave. Just to the north you'll find the even smaller town of Fittà where the Tessari family has owned vineyards since 1887. It was only in 1982 though that Giovanni Tessari stopped selling his grapes to the local co-operative and started making his own wine. These days the 12ha estate is run by Giovanni's three daughters; Meri, Valenina and Alessandra.
This extraordinary estate sits in the centre of the Classico region, higher than most others, with the 3 sisters devoting their energies solely to the region's two native white varieties, garganega and trebbiano di soave.
The sisters place great importance on the area's volcanic basalt soil; "We always say that this wine is like a bit of earth in a glass and it's true. In the Monte Carbonare vineyard the vines sink their roots deep down into the black earth: pure volcano. This gives the wine personality, forthright and truthful, with a sharp mineral nature. It tastes of rain on flint, on the black stones of the dry walls, and of that good fragrance that countryside releases when dampened by the first rain."
The vines are around 35 years old and the sisters tend them meticulously without the use of synthetic fertilisers or insecticides. The winery, while modern and efficient, still incorporates non-invasive techniques such as the use of gravity to move wine around. The wine does not see any oak is 12.5% alcohol and sealed with cork.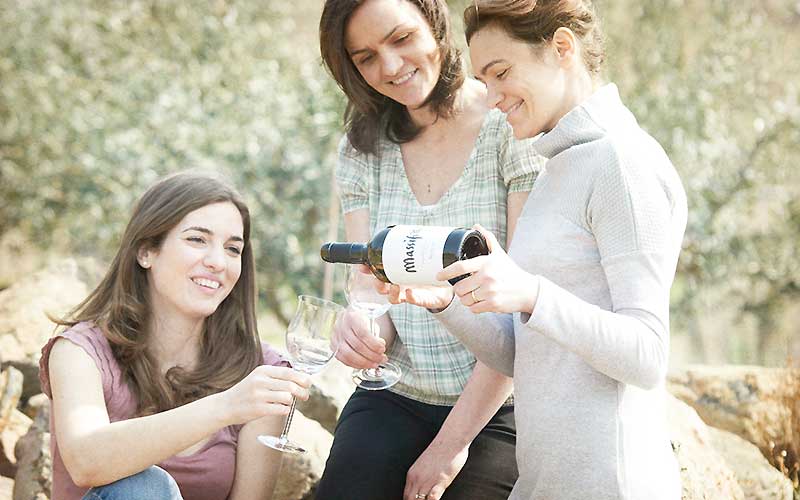 Meri, Valenina and Alessandra Tessari.
The wine is pale gold and crystal clear. Be sure to give it a few minutes to let it open up in the glass and on the nose you'll find beeswax and pineapple aromas imbued with a richer leesiness. On the palate it's clean, crisp and deliciously dry, with grapefruit, white peach and musk notes. A passing nuttiness on the back of the palate reveals pepper and flint on the finish. Why is this a good wine? The delicious combination of flavours and its masterly balance of fruit and acid.
"The Tessari sisters make wines which are the magisterial expression of the high vineyards and volcanic soils of Monte Carbonare, untrammelled by oak, malolactic fermentation or selected yeast aromas. Concentrated and initially a little closed, they need time to open but they reward patience with sensations of rapier-like intensity. The 2018 has a delicately smoky, mineral nose and a bone-dry palate of great length and depth, with a classic almondy finish. Drinking Window 2021-2024." 96 points (equal top rating), Decanter Magazine, July 2021.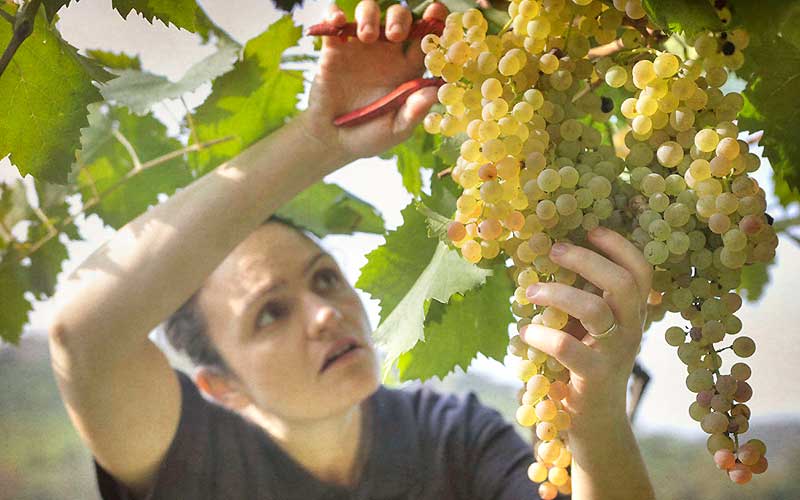 Alessandra harvesting garganega grapes.
"Colour: straw yellow with brilliant highlights. Nose: it shows yellow flowers, exotic fruit and white peach, with smoky and peaty notes. Palate: juicy fruit palate accented with mineral, aromatic herbs and almond, alongside crisp acidity. The finish is dry and very persistent." Winemaker's notes.
It's hard to find but this really is one of the nicest Soaves you're going to try.
I can offer it for $45 a bottle (limited). SOLD OUT