Super Tuscans - what exactly are they?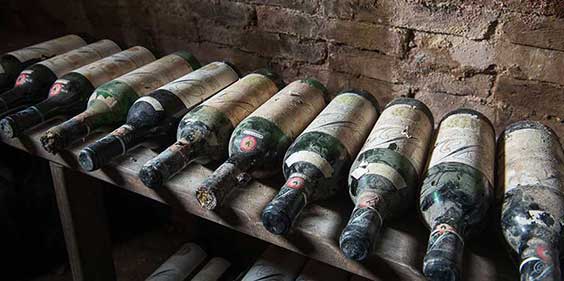 "A term sometimes used by English speakers to describe the innovative wines labelled as Vino Da Tavola made in the central Italian region of Tuscany, which emerged in the 1970s." But there's more to it than this simple definition from The Oxford Companion to Wine.
Back in the 1960s, if you were making wine in Tuscany, appellation laws determined where, what and how you could grow grapes, as well as how you could make your wine. Sangiovese dominant blends were the norm, with varieties such as Cabernet Sauvignon, Merlot and Shiraz forbidden.
But in the 1970s, a group of innovative producers became tired of these restrictions. They decided to make wines in a style they not only liked, but which was more in line with the tastes of the growing international market. Although the quality was great, these wines didn't comply with appellation laws and they were still forced to bear the label Vino da Tavola, the lowest, most generic designation on the Italian appellation ladder. Vino da Tavola was replaced by the term IGT (Indicazione Geografica Tipica) in the early 90s.
It's important to realise that 'Super Tuscan' is not a recognised appellation or legal term and doesn't appear on the front label of any wine. It's just a much snappier sounding term, used by winemakers, and adopted by the market, to distinguish top quality (but non-appellation compliant) wines, from the inexpensive and poor quality ones with the Vino da Tavola or IGT designation.
In 1971 Tenuta San Guido releasedthe first Super Tuscan, Sassicaia, a Bordeaux inspired blend of Cabernet Sauvignon and Cabernet Franc. In the same year Antinori produced Tignanello, a blend of around 85% Sangiovese, 10% Cabernet Sauvignon and 5% Cabernet Franc. More estates followed suit and with time, a handful of these became some of Italy's most coveted, and expensive wines. Other notable Super Tuscans include: Antonori Solia, Masseto and Tenuta dell'Ornellaia.

The emergence of these wines certainly shook up the Italian wine industry. Many changes ensued, including the varietal formula for one of Tuscany's most famous appellations, Chianti. The original blend, created in the the mid-to-late 1800s by Baron Bettino Ricasoli (the 2nd prime minister of Italy) was 70% Sangiovese (red), 15% Canaiolo (red) and 15% Malvasi Bianca (white). These days it's legal to use 80-100% Sangiovese, up to 20% Canaiolo (white) and up to 20% of other approved red varieties (eg Cabernet, Merlot, Syrah).
The use of more red, particularly the international varieties, gave a new depth to these wines. As Noah May of Christies noted in September 2015, "Super Tuscans were the diametric opposite of the light, insipid Chiantis for which the region had become known, and at times mocked for."
Super Tuscans are modern, powerful and sumptuous wines, and usually cost a couple of hundred dollars a pop - nothing like traditional Chianti! And while Tuscany continues to debate the merits of international versus traditional varieties and methods, there seems little doubt the rest of the word has no problem with the Super Tuscans.
---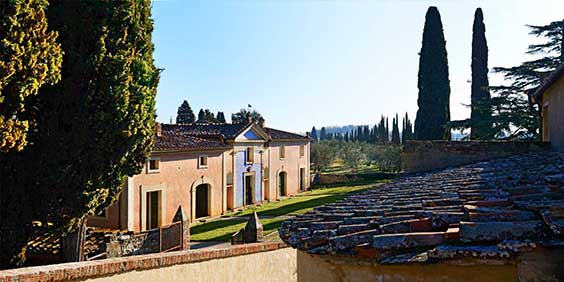 Fattoria Felsina
Five years ago I had a Super Tuscan from Fattoria Felsina. It was one of those stand-out wine moments. My tasting companion's comments at the time nicely capturing the experience; "mmmmm... you can lose yourself in this glass."
Felsina is located in the hills just northeast of Sienna. At 500ha it's a large and beautiful estate with olive trees, wheat, forests and 95ha of vines. The vineyards sit in some of the finest terrain in Tuscany, at the very southern end of the Chianti Classico region, with some vineyards flowing over into the neighbouring Chianti Colli Senesi region. The story goes that three thousand years ago, the Etruscans introduced wine and olive trees to this area, naming it 'Felsina', which means verdant.
While the estate enjoyed acclaim hundreds of years ago as a farm of the Grand Dukes of Tuscany, it was only since 1966, when acquired by Domenico Poggiali, that Felsina started becoming the outstanding producer that we know today.
Felsina is one of the finest producers in the Chianti Classico region. It has received the highest award ( Tre Bicchieri - 3 glasses) from the bible of Italian food and wine (Gambero Rosso) an incredible 24 times since the the magazine's first edition in 1988. This is an amazing feat. Not only that, Felsina was named Winery of the Year by Gambero Rosso in 2009.
Like all good producers, vineyards are the key to Felsina's success. The estate is blessed with wonderfully positioned vineyards and the attention to detail in managing these sites is second to none. Felsina has carried out over 40 years of research and clonal selection with its Sangiovese, making them recognised experts on this particular variety. The winery combines the best of old-world tradition with new-world technology, and the wines are made by multi award winning, 'superstar' winemaker Franco Bernabei, a renowned Sangiovese specialist.
Felsina's wines are known for their combination of power, complexity, structure, and finesse.
---

Felsina Fontalloro IGT Toscana 2012
This is the current vintage of the wine that wowed me all those years ago. The Fontalloro is Felsina's top wine and is 100% Sangiovese. But with a portion of the fruit coming from just outside the Classico border, the wine is labelled as Toscana IGT (Indicazione Geografica Tipica). The Fontalloro is renowned for its structure, concentration, intensity and depth and is regularly celebrated by critics. It has been awarded the highly coveted Tre Bicchieri (3 glasses), from Gambero Rosso, an incredible 14 times since its first vintage in 1983. It's this sort of recognition that qualifies it as a Super Tuscan.

The fruit is handpicked in two tranches to ensure optimal ripeness, after which it's fermented and macerated in stainless steel, with programmed punchdowns and daily pump-overs. It then goes into new and first used French oak barrels for around 20 months of maturation. The final blend is assembled, bottled, and aged for another 8-12 months before release.

This is such a beautiful wine. Felsina's pursuit of perfection in the vineyard all leads to this point. The purity of the fruit is simply extraordinary - so bright, fresh and sweet. Yet underneath this inviting fruit, it's intricately layered and complex. You'll find it smooth, long, inviting, elegant and plush all at once. An absolute gem.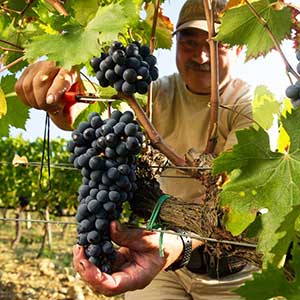 "The 2012 Fontalloro is a stunning expression and delivers the high quality we have come to expect of this celebrated IGT Toscana wine… Careful work has been done here to ensure the high quality of fruit.The bouquet is soft and rich with dark fruit and spice. In the mouth, Fontalloro reveals integrated tannins and acidity." 94 points, Monica Larner, Robert Parker's The Wine Advocate #221.
"Dark red cherry, plum, cinnamon and crushed rock nuances flesh out the 2012 Fontalloro. Next to most of the other wines in the lineup, the 2012 Fontalloro is floral, perfumed, fresh and vibrant, with gorgeous aromatic lift, silky tannins and lovely overall balance. …also possesses more than enough depth to drink well for a number of years. Still, the sexy, radiant finish makes me think most bottles won't be around to make old bones. Put simply, the 2012 Fontalloro is an arrestingly beautiful, showy wine built to please. And please it does." 94 points, Vinous Media.

"This red evokes cherry, blackcurrant, earth, tobacco and mineral flavors, allied to an elegant frame. Well-structured, remaining fresh and long on the dusty finish. Sangiovese. Best from 2018 through 2029."92 points, Wine Spectator.
A delightful wine and for a Super Tuscan, a bargain!
I can offer it for $140 a bottle. Click here to order. New 2016 vintage also available here.
---

Felsina Berardenga Chianti Classico 2013
And just because I love it - their Chianti Classico. Not a Super Tuscan but well worth drinking.
This is Felsina's entry level wine , a blend from several of the estate's vineyards in the commune of Castelnuovo Berardenga, all within the designated Chianti Classico area. The wine has a strong lineage with its first vintage back in 1967.
It's 100% Sangiovese, fermented in steel before being aged in 500L oak barrels with a small percentage into twice and thrice used oak barrels. After 12 months of maturation, the final blend is bottled and aged for a minimum of 3 months.
This wine is firm, rich and totally delicious. To get this sort of weight, most Chiantis would be blended with Cabernet and/or Merlot. I would add though that most Australians' idea of rich is skewed by their exposure to the hefty reds of regions like McLaren Vale, the Barossa and Rutherglen. Bearing this in mind, I'd say this wine is rich by Chianti standards and solidly mid-weight by Aussie standards. Its firm acidity and tannins give it wonderful structure and balance, ensuring it's in no way overpowering.
"Rich and sumptuous, boasting pure flavors of cherry and raspberry, matched to a juicy texture. There are plenty of tannins neatly folded into the overall structure, with hints of mineral and tea on the long, expansive finish. Best from 2017 through 2024." 92 points, Wine Spectator. * No.40 in Wine Spectator Top 100 Wines of 2016.*
"Shows a great level of richness and general intensity. The wine reveals a very full and luscious set of aromas with cherry and blackberry in pole position. Lighter tones of spice and tobacco fill in at the back and give the wine a greater sense of aromatic lift. The mouthfeel is also characterized by velvety richness. Look out for this delicious vintage."91+ points, Monica Larner, Robert Parker's The Wine Advocate #221.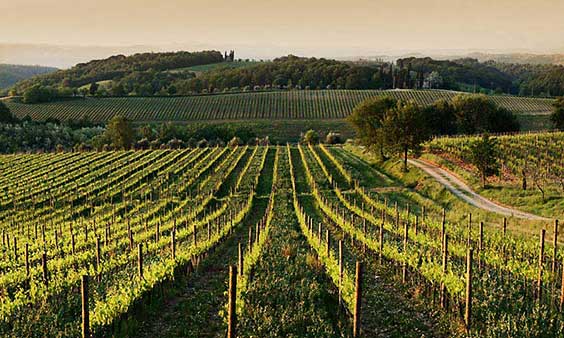 "One of the richest, darkest versions of this wine I can remember tasting. Black cherries, game, smoke, tar, leather and soy are some of the notes that take shape in the glass. The 2013 is wild, savory and surprisingly dense. It also has the potential to overachieve over the near and medium term. All the house signatures are very much alive here." 91 points, Antonio Galloni, Vinous Media, July 2015.

"I've tried this wine every few years, over the last fifteen years or so. Invariably I've enjoyed it. This is a bit of a blockbuster! Liquorice, dark cherries, new leather, dried herbs. Medium bodied, but dense and well packed with dark cherry, spice and meaty, almost umami flavours. Fleshy chewy open weave tannin gives grip, acidity is cool and almost minerally, and the finish is slick with tannin, new leather and savory flavors."92+ points, Gary Walsh, The Wine Front.

The reviews for a wine of this price are impressive. Enjoy this delicious Chianti Classico from an outstanding producer. You'll find it at the groovy Italian-Asian inspired Restaurant Lumi in Pyrmont for $98 a bottle.

I can offer it for $48 a bottle. SOLD OUT