Aglianico (ahly-YAH-nee-koe) is often referred to as the Barolo of the south - quite a compliment to be compared to the most revered Italian red. And like Barolo, top quality Aglianico exhibits strong tannin, high acidity and a genuine ability to age. Aglianico produces dark, concentrated wines, much deeper in colour than Nebbiolo, the variety from which Barolo is made, and best of all, without Barolo's profile, it's also a fraction of the price.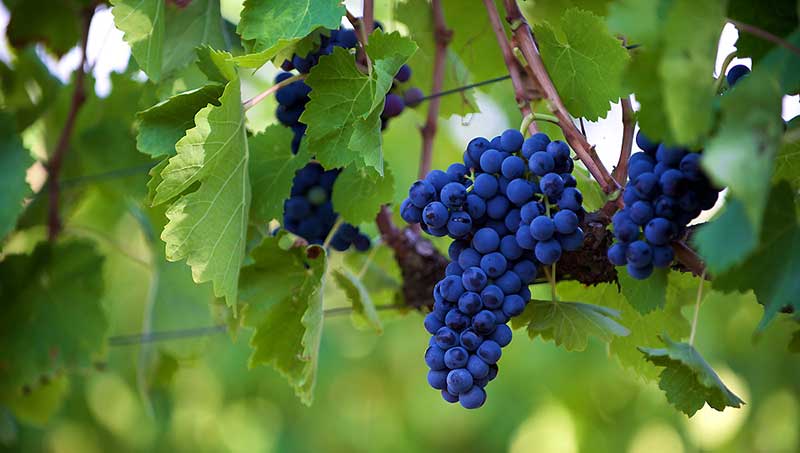 Aglianico grapes on the Mastroberardino estate.
I flipped through Ian D'Agata's book Native Wine Grapes of Italy, (awarded the Louis Roederer International Wine Book of the Year in 2015) to see what he had to say about the variety. D'Agata is one of the world's foremost authorities on Italian wine and over the years has been a regular contributor to several publications, including Decanter Magazine. He's also a medical doctor, specialising in paediatric gastroenterology and paediatric liver transplants, having studied at Cincinnati, Harvard and Montreal universities.
For a full six pages D'Agata sings the praises of the variety. "Aglianico is one of the world's great red grapes, one that is finally carving a place in mainstream wine-drinking consciousness. Along with Nebbiolo and Sangiovese, it is generally believed to be one of Italy's three best wine grapes, but in my opinion, it is far more: at the very least it's one of the world's' dozen or so best wine grapes."
Jancis Robinson, OBE, Master of Wine and in my book one of the world's best wine critics and authors notes: "There are some grape varieties that, like Cary Grant and Catherine Deneuve, exude class,Aglianico is one of these." And "The best wines are deep in colour with aromas suggestive of the volcanic origin of the vineyards or of chocolate and plum. They have fine-grained tannins and marked acidity on the palate, becoming more subtle and tarry as they mature."
A late ripening variety, in Italy Aglianico is confined to the warmth of the south and some of the finest examples are found in the volcanic soils of Taurasi.This DOCG (highest Italian appellation) is found in the region of Campania, whose capital is Naples and takes in the Amalfi Coast and Pompeii.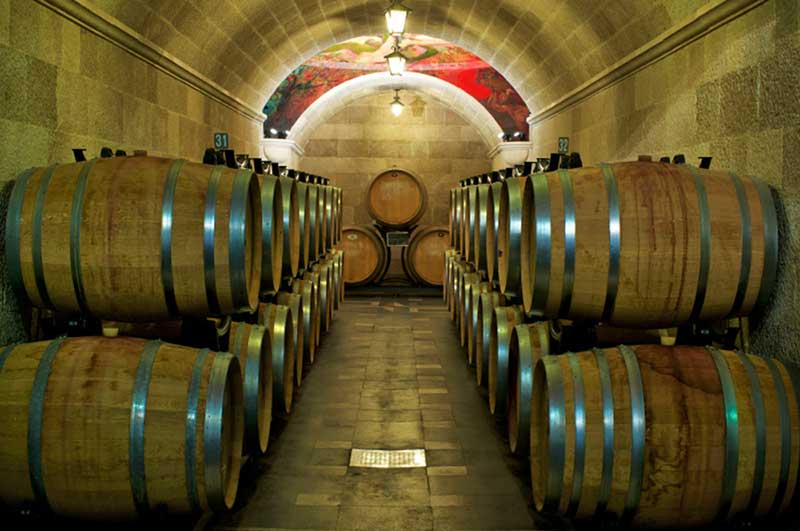 The Mastroberardino winery was established in 1750 but not officially registered until 1878.
The most famous winery in Taurasi is without a doubt Mastroberardino, a producer that holds a unique and significant place in the Italian wine scene. Indeed, the Mastroberardino Taurasi Riserva 1968 is considered among one of the world's all-time great wines. The estate was established in 1750 but not officially registered until 1878 by Angelo Mastroberardino and his great-grandson Piero (10th generation) currently runs the winery.
The Mastroberardino fame lies in its specific dedication to Aglianico, as well as its work in preserving the ancient indigenous varietals of Campania, most of which I've never heard of. Piero's father Antonio is often referred to as the grape archaeologist and acknowledged as guardian of the viticultural and oenological heritage of the Roman age. One rather extreme example of his work is the 'Villa dei Misteri' project in which Mastroberardino worked with archaeologists to reintroduce vineyards to the site of ancient Pompeii. DNA testing carried out on grape seeds discovered in volcanic ash, coupled with evidence gathered from excavations, was used to identify and eventually replant ancient varieties within the city.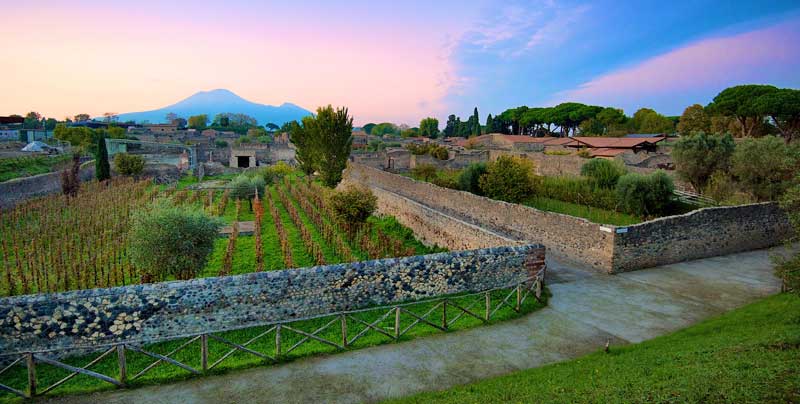 The 'Villa dei Misteri' project in which Mastroberardino worked with archaeologists to reintroduce vineyards to the site of ancient Pompeii.
But Mastroberardino are more than just boffins of the Italian viticultural world. Their Aglianicos are some of the most admired red wines in Italy. Robert Parker's Wine Advocate #190 (Aug 2010) describes a tasting of Mastroberardino Taurasi spanning back to 1928! "It was a revelation… a once in a life time experience."
Local critic Max Allen also thought it a revelation. An older vintage of the Taurasi Radici (current vintage offered below) "changed my life… It was back in the late 90s… I'd never come across the grape or the region or the producer before, but the wine completely blew me away. It was incredibly complex, profoundly tannic yet refined and balanced. Easily the equal to any of the well-known classic reds I'd tasted up to that point – and believe me, I'd tried a fair few classic Burgundies and Bordeaux."
Mastroberardino put Taurasi, Aglianico and Southern Italy on the map. Despite new players emerging in the last 20 years, Mastroberardino retains its status as an iconic estate.
---

1. Mastroberardino Aglianico Irpinia Redimore 2016
Irpinia is a hilly region in Campania about 40km inland from Naples, or northeast of Salerno if you'd like a more romantic reference point. It gained DOC status (second highest Italian appellation) in 2005. And it's here that the remarkable 'Redimore' project has taken shape.
In 2000 Mastroberardino decided to carry out research on ungrafted 100-year-old, pre-phylloxera Aglianico. Such vineyards are extremely rare and considered viticultural treasures. The aim was to identify ancient Taurasi clones for future selection. By 2004, 2 Aglianico clones had been found, which were named 'Antonio Mastroberardino VCR 418' and 'Antonio Mastroberardino VCR 421' paying homage to Antonio for his work in the recovery, protection and enhancement of indigenous varieties from Campania. Cuttings were planted on a site within the Mastroberardino estate and the first vintage harvested in 2008.
This wine is 100% Aglianico and was hand harvested in late October (autumn). It had a long maceration on skins at controlled temperatures, spent 12 months in French oak bariques and at least another 6 months in bottle. The resulting wine is 13.5% alcohol and sealed with cork.
It has a deep, lush, velvety red colour and immediately grabs your attention with its firm tannin structure and vibrant Italian acidity. The perfect foil for rich dishes. - you'll find notes of blueberries, raspberries and lots of savoury spice. It's rich and tasty and over several hours, opens up beautifully.
"Deep ruby red. Complex and intense, with hints of red fruits, especially strawberries and raspberries, and spices such as vanilla, tobacco, cocoa and coffee." Winemaker's notes.
"Beautifully vibrant young red with plenty of dark spice perfume – cassia, bay, star anise – bold purple fruit and sinewy but supple tannins." Max Allen AFR. He doesn't score (which I like).
I can offer it for $40 a bottle. Order here
---

2. Mastroberardino Radici Taurasi 2014
Also within the region of Irpinia, you'll find Taurasi. Like so many European wine terms, Taurasi refers to a village, a wine and a DOCG (highest Italian appellation). It became a DOCG in 1993 and produces one of Italy's most admired red wines.
The Oxford Companion to Wine describes Taurasi as: "The best-known, high quality wine of the Campania region and arguably the whole of Southern Italy. Taurasi demonstrates the heights which Aglianico can reach."
Taurasi wines are made predominantly from Aglianico, however they are permitted to have up to 15% of Barbera, Piedirosso and Sangiovese. They must be aged a minimum of 3 years prior to release, with at least one of those in oak.
The term 'Radici' means roots and signifies the family's long-term connection to the region. The Mastroberardino Taurasi 'Radici' is made from 100% Aglianico with the fruit coming from the Montemarano and Mirabella vineyards which sit at an elevation of around 400m.
"Even though they're in the hot south in Campania, the vineyards that produce this Aglianico in Taurasi are 400 to 600 metres above sea level and the grapes don't ripen until November. As a result, the wine has lots of ripe licorice-black, sunlight-soaked fruit, but is also profoundly elegant and savoury, with sooty, mouth-coating tannin and amazing earthy length. It's easy to see why Piero Mastroberadino predicts it will live for 50 years or more in the cellar." Max Allen AFR.
"The 2014 Taurasi Radici is a rich and darkly concentrated expression of Aglianico with a generous bouquet. The wine's aromas are stacked high and tall with dried cherry, prune, Indian spice, tar, tobacco and campfire ash. Perhaps the mouthfeel is less powerful compared to a warmer vintage, but that cooling acidity and compact flavor profile suits this wine very nicely." 92 points, Monica Larner, The Wine Advocate.
This is a superb expression of the ancient Taurasi terroir and is considered a landmark wine. Best of all, it can be enjoyed now but has what it takes for some serious ageing - think decades. For a 92-point Wine Advocate rated wine it's an absolute bargain.
You'll find it at Neil Perry's Rosetta Trattoria in the Rocks for $195 a bottle.
I can offer it for $85 a bottle. Order here
---
These days Aglianico isn't just grown in the south of Italy, small plantings having made their way to both Australia and the US.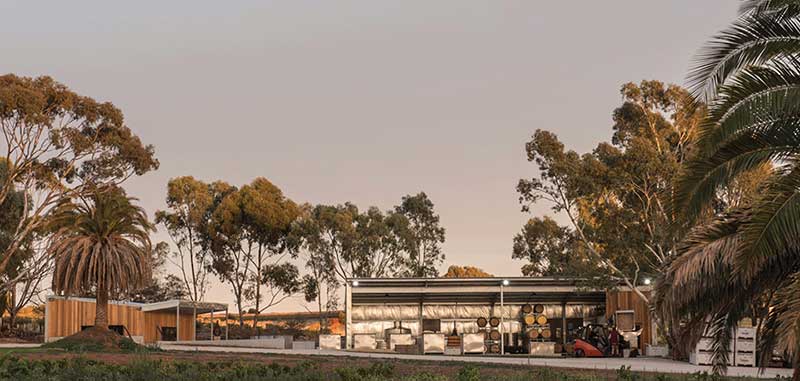 Izway Wines
When I visited the Barossa several months ago a couple of friends had both independently suggested I visit this tiny winery. I hadn't heard much about it but when I started asking around it seemed it's well-known amongst the top somms.
Started as a handshake between two friends, Craig Isbel and Brian Conway while travelling in Beaujolais, the pair retuned to Australia and made their first wine in the Barossa in 2003. In 2006 they purchased 8 acres in the sub-region of Seppeltsfield, in the western Barossa (just down the road from Quin Wines (link) and in 2018 Craig and his wife Kathryn bought out Brian's share.
Craig Isbel was Senior Winemaker at Torbreck for 11 vintages from 2006-2017, during which time he turned out at least four 100-point Wine Advocate wines and countless 99-pointers. He has also blended or made every Laird, Torbreck's top wine that sells for about the same price as Grange. Not surprisingly Craig makes some incredible Shiraz and Grenache, but interestingly, the other variety he's into is Aglianico, seeing it as perfectly suited to the increasingly warm Barossan summers.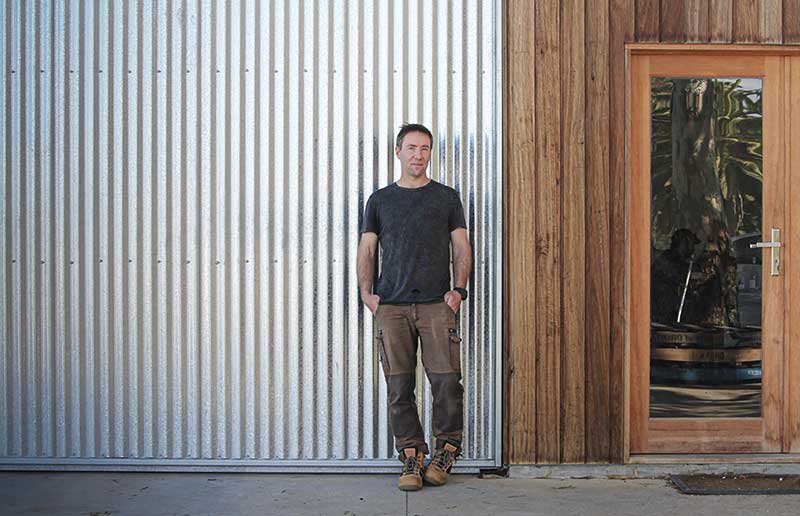 Craig favours a minimalist approach in both the vineyard and winery. He uses indigenous yeasts, minimal additions, low doses of sulphur and does not fine or filter. His tiny winery's not connected to the grid, relying entirely on solar power.
Izway don't advertise, don't have a distributor and don't submit their wines for reviews or praise. It's refreshing to see a producer eschewing the limelight, preferring to let the quality of their wines speak instead. The wines are eagerly sought out by a bunch of loyal supporters and those in the know.
Both wines offered below are from 2018, which Craig described as "another spectacular vintage". Both are also sold mainly through the cellar-door, so you won't find them around town.
Craig often referred to the purity and energy, as well the intensity and elegance of his wines, and after a visit I can only agree. He's another one of the new breed of Barossa winemakers, redefining what we've come to expect from this iconic region.
---

3. Izway Mates Aglianico 2018
Izway wines are named after various family and friends. This entry level wine covers a broader category, as Craig explains, "each year, the Mates is dedicated to people who have inspired, influenced and entertained us; our Mates."
First made in 2004, Mates was originally a traditional Barossa blend of GSM (Grenache, Shiraz, Mataro/Mourvedre), but as Craig's tastes evolved towards a fresher, lighter style, the wine became Grenache dominant. In 2014 it changed again to Aglianico and Mataro, before finding its way to this wine, the first vintage to be 100% Aglianico.
The Aglianico for this wine comes from a vineyard planted in 2009 in the Koonunga district of the Barossa, where Craig told me it seems to thrive, well suited to the rocky ground and warm conditions.
The wine was fermented in stainless steel using natural yeasts. Red wine is fermented 'on skins' to give colour and tannin, with the skins gently pressed down (they float) into the juice once a day. There was no need to temperature control the tank as it was outside in May, which in the Barossa is pretty cool. When the ferment finished, the free-run juice, (ie the juice that flows before any pressing takes place) was used for this wine. It was run into a 2,400L old barrel known as a foudre, where it spent a few months. Craig told me "the wine pretty much looked after itself." Don't you love how experts make it sound so easy? The wine saw no additions and minimal sulphur. The finished wine is 13.7% alcohol and sealed with a screwcap.
This is a drink now style - lighter and more approachable when young than many Aglianicos. The colour is a clear dark crimson. On the nose you'll find cigar box, raspberry jube, blueberry and flint. And on the palate it's fresh and juicy - crisp raspberry, pomegranate and beetroot notes meld with savoury violet, pepper and graphite on the finish. Flavours are intense and long - a deft balance between fruit and savoury. With bright acid and soft but firm tannins, it's a mile from old school Barossa (high alcohol, oaky fruit bomb). This has brightness and energy.
"The 2018 Mates is fresh, vibrant and pure with a savoury edge. The tannin structure and crisp natural acidity make this vintage different from its predecessors and we love the evolution of Mates as a drink and a style." Winemaker's notes.
I can offer it for $26 a bottle (limited). Order here
---

4. Izway Angelo Aglianico 2018
Nearly all the Izway wines are named after people (Maurice, Don, Harold, Bruce, Rob and Les) and this one is in honour of Craig's great mate and "concreter to the stars" Angelo Bertin. Angelo and his team did such an outstanding job at the winery that Craig thought it only fair to name a wine after him, made from their Italian grape variety!
The fruit for this wine is sourced from the same vineyard in the Koonunga subregion as the Mates Aglianico. Indeed, the Mates and the Angelo start as the same wine, but at completion of ferment, while the Mates is sourced from the free-run, the Angelo comes from the pressings, which means deeper colour, more tannins, more body and generally more oomph. The wine is run into two 500L puncheons where it spent about 16 months. Again it has minimal additions, minimal sulphur and no fining or filtering. The finished wine is 13.4% alcohol and is sealed with cork.
This wine is unashamedly Barossan, but in the mid-palate and finish there is a little Italian edge. Still quite primary on the nose with spice, red fruits and leather, the palate has lovely dark cherry and plum, and finishes long with clean acidity, lovely drying tannins and a savoury lick..
"Pure and perfumed, the aromatics are classically Aglianico; rose petal, cherries and plums, with an element of dark chocolate that completes a Turkish Delight feel. The palate is defined by the zingy acidity and assertive tannin, but layers of dark fruit, earth, spice and musk create a bewildering, complex and energetic drink. The smooth texture on the palate and balanced acidity makes this wine a prime candidate for wine and food pairings. This wine will certainly please lovers of Italian varieties. The Angelo can be enjoyed now or can be cellared for up to 20 years." Winemaker's notes.
You'll find this on the fantastic wine list at Nomad Restaurant in Surry Hills for $92 a bottle.
I can offer it for $40 a bottle (limited). Order here