With glorious autumnal afternoons finally here, I'm in the mood for reds, but not full-bodied winter warmers just yet. I'm enjoying cabernet franc, which most people know as one of the varieties used in Bordeaux. There you'll find it blended with cabernet sauvignon and merlot, as well as petit verdot and malbec. But there's a lot to like about cab franc as a stand-alone variety.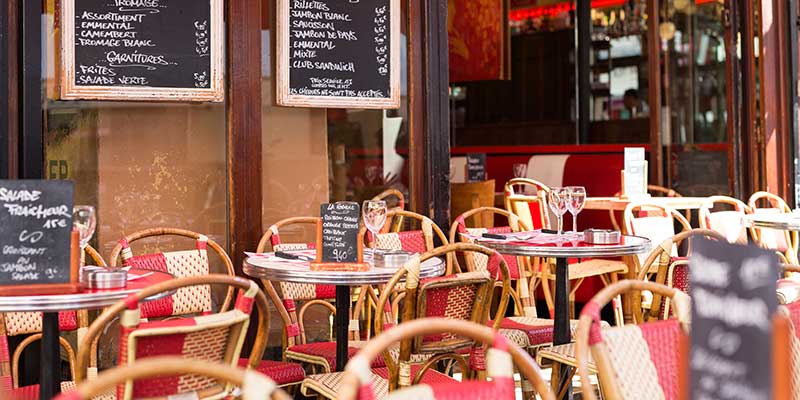 Cabernet franc is related to cabernet sauvignon, but it tends to produce more subtle and aromatic wines. The wines are usually lighter in colour, less tannic and smoother than cab sauv. I find they have the structure and acidity of cab sauv, without the weight and that's what I like about them.
It seems I'm not the only one. Jancis Robinson MW: "I'm not a huge enthusiast of the sexual stereotyping of wines but even I can see that cabernet franc might be described as the feminine side of cabernet sauvignon. It is subtly fragrant and gently flirtatious rather than massively muscular and tough in youth. Because cabernet sauvignon has so much more of everything - body, tannin, alcohol, colour - it is often supposed to be necessarily superior, but I have a very soft spot indeed for its more charming and more aromatic relative, cabernet franc."
Common descriptors for cab franc include raspberry, blackcurrants and violets. You may also get peppery, spicy aromas and, depending on what soils they're grown in and the vintage conditions, the wines can be light, fresh and ready to drink or full bodied, well structured, intense and suitable for cellaring. The variety's character spans from elegant and delicate through to rustic and chewy, so it's interesting drinking but it also shows it's important to know the producer.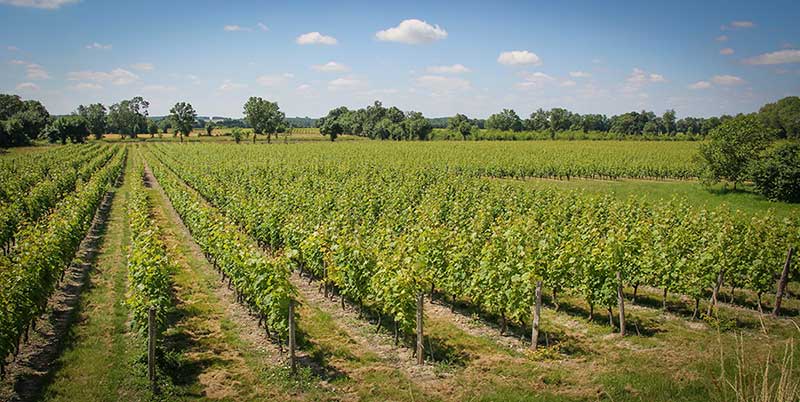 Bernard Baudry cab franc vines in Chinon.
France has the world's largest number of cab franc plantings at about 37,000 ha, but globally cab sauv still outnumbers it by about 6 times. Cab franc likes a slightly cooler climate than cab sauv and its spiritual home is the beautiful Loire Valley. Traditionally, the Loire has not been considered one of France's prestige wine regions; the honour falling to Burgundy, Bordeaux and Champagne. The upside of this is that while the quality of Loire wines has improved significantly in the last few decades, the traditional view of the region is slow to change in the French psyche. Generally, prices have remained modest, which is tough for Loire Valley producers, but great for astute wine lovers.
The Loire is the longest river in France and runs north and then west from the centre of France all the way to the town of Saint-Nazaire, which sits on the Atlantic coast. Traditionally the Loire has been segmented three ways, one Upper, Middle and Lower Loire. But lately the Loire divides itself into the following five subregions: Pays Nantais, Anjou, Saumur, Touraine and Centre-Loire.
While you'll find cab franc in several appellations of the Loire, the best known of them is Chinon, which lies within Touraine, an area known not only for some of the most beautiful landscapes in France, but also for the stunning Châteaux, many of which were built between the late 15th and 16th centuries.
The town of Chinon sits just west of Tours, on the northern banks of the Vienne River, which is a tributary of the Loire. Aside from a formidable castle, the town is also known as the birthplace of Francois Rabelais. Those of you familiar with his works will know of 'Gargantua and Pantagruel', a father and son duo whose adventures are set in and around Chinon.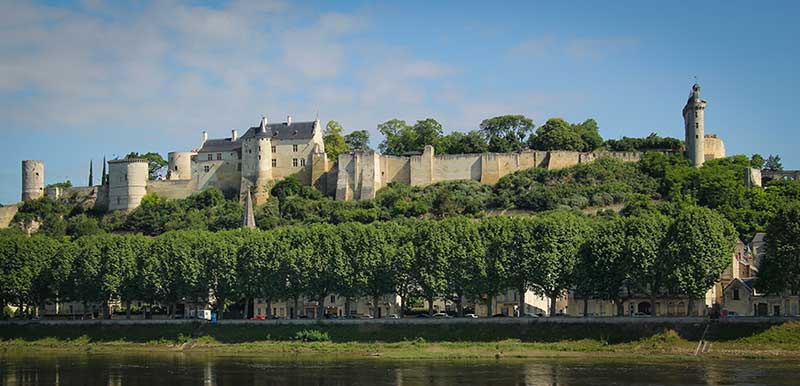 Château de Chinon on the bank of the Vienne river in Chinon.
The 2,400 ha appellation lies around the town, on both side of the Vienne River, with the dominant variety being cabernet franc, which is known locally as cabernet breton. About 90% of Chinon is red, the remainder being rosé and a relatively rare white Chinon made from chenin blanc. Cabernet sauvignon is allowed in red Chinon, but may only make up to 10% of the wine.
The Oxford Companion to Wine: "Chinon is quintessentially a wine of refreshment, being light to medium bodied, often extravagantly scented (lead pencils is one common tasting note), and with an appetizing combination of fruit and acidity. The wines have become markedly richer and more satisfying as growers grass over their vineyards and use higher trellises, de-budding, and deleafing to ripen grapes more successfully. The best wines can benefit from bottle ageing, but that is not the point of the wine, which keeps the Chinon market free of foreign speculation on the part of collectors. Chinon is essentially a Frenchman's wine, and it takes some local knowledge to seek out the best, often artisanal, bottlings."
You've probably noticed a shift away from burly, oversized wines at many leading restaurants, with a preference for lighter, more drinkable styles. Good cab franc, a Paris café staple, fits the bill perfectly for this friendlier approach, but outside of Paris and the Loire itself, Chinon flies pretty much under the radar. Elsewhere it's an unknown, underrated and undervalued gem. Here's one that I like.
---

Bernard Baudry Chinon Les Granges 2019
Bernard Baudry is recognised as making some of, if not the best wines Chinon has to offer. He managed to snare a 'Producteur de trés grande vins' Le Meilleurs Vins De France in 2019. Yes, I had to look it up - suffice to say Baudry is one of only two in Chinon with this highest of ratings.
He also gets a rave from Chris Kissack of the Wine Doctor, a Loire Valley specialist. "Bernard Baudry is, here and now, one of the leading domaines of the appellation. Some would say the leading domaine of the appellation. The wines are of exceptionally high quality..." Chris Kissack, The Wine Doctor.
"Based in Cravant-les-Coteaux in the heart of one of Chinon's privileged viticultural hamlets, they are fortunate to have not only five excellent sites but also an incredible cellar chiselled out of the tuffeau behind the winery. While they are sometimes labelled traditionalists, I find them to be more naturalists. Everything here is organic, harvested by hand and bottled without fining or filtration. In any case, theirs is a style that I admire: they make cabernet franc taste as suave and succulent as pinot noir." Joel B. Payne, Vinous (a big-wig wine review publication).
I visited the estate several years ago and true to French form, they're not really too interested in visitors. It's a modest setup, without much of what we would call a cellar door or tasting room.
The estate makes several wines, this being their entry level offering. It's 100% cabernet franc sourced from the estate's younger vines planted between 1985-88 and grown on the gravel and sandy soils on terraces by the river Vienne. The fruit was picked by hand and fermented cool, before being aged for a short period of time in a mix of concrete (9 months) and large wooden vats (12 months). Sealed with cork, 13% alcohol.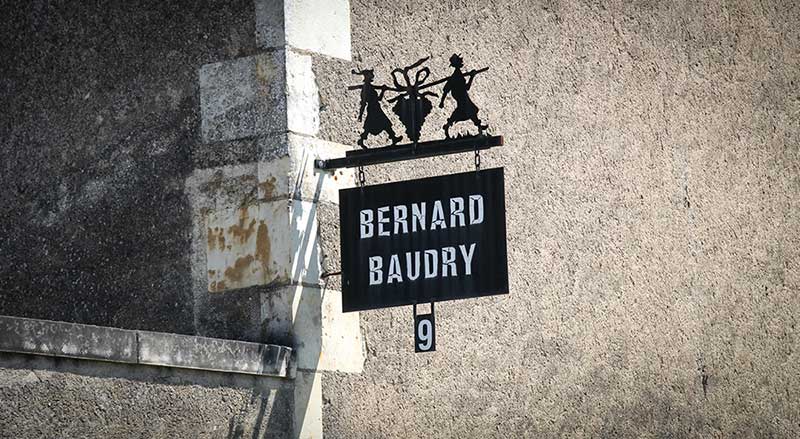 In the glass this is a dark, dense rosy red. On the nose you'll find cherries and roses with a hint of asparagus and graphite. On the palate - a lovely mouthfeel with super silky tannins. Nice as it opens up with juicy red fruit with fresh acid, rose petals, pepper and graphite. Lovely rich inky texture.
The Baudry family refer to this as their 'vin de bistro.'
I can offer it for $39 a bottle. SOLD OUT