Last month I had the pleasure of meeting renowned winemaker Philip Shaw when I travelled to Orange with my offsider Archie, for a few days.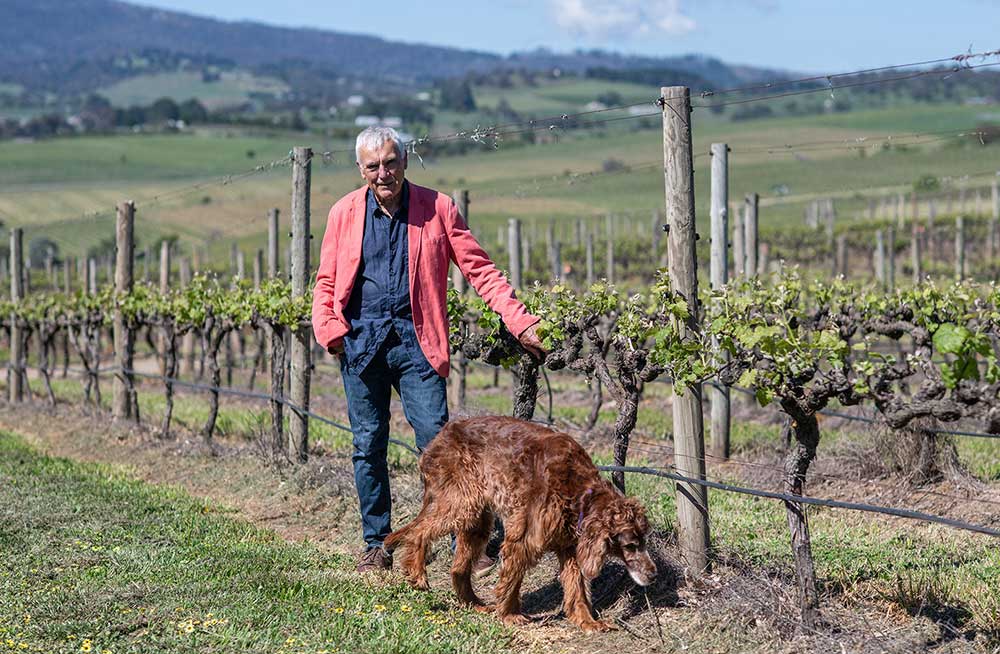 Winemaker Philip Shaw: "We should be able to pursue quality for quality's sake. Importantly, in my work, it has always been difficult to align the best vineyards and the best fruit with the opportunity to make top wines. Hoosegg is my opportunity."
Nestled in New South Wales' Central Tablelands, Orange sits about 250km (3.5 hours drive) west of Sydney. While the area was settled by Europeans in the late 1820s, it was not until 1846 that a town bearing the name of Orange was officially proclaimed, in honour of Prince William of Orange. The surrounding area was well suited to agriculture, and a history of mixed farming, grazing and fruit-growing, especially apples, ensued.
These days the town has a population of around 40,000 and aside from becoming a highly regarded wine region, has also become a bit of a gourmet hotspot, with a multitude of terrific restaurants, bars and food festivals. But the more recent development of Newcrest's huge gold and copper Cadia Mine is not mentioned in too many tourist brochures.
What separates Orange from other wine regions is its elevation. Indeed, the GI (appellation) of Orange is based on a minimum elevation of 600m, with the highest vineyards sitting at 1,100m on the slopes of both the Great Dividing Range and Mt Canobolas, an extinct volcano. These elevations make Orange Australia's highest vineyard area, providing a climate that's typified by summers with warm days, cool nights, and cold winters. The mean January Temperature (MJT)is a relatively cool 21.9 degrees, making it a great place to grow grapes.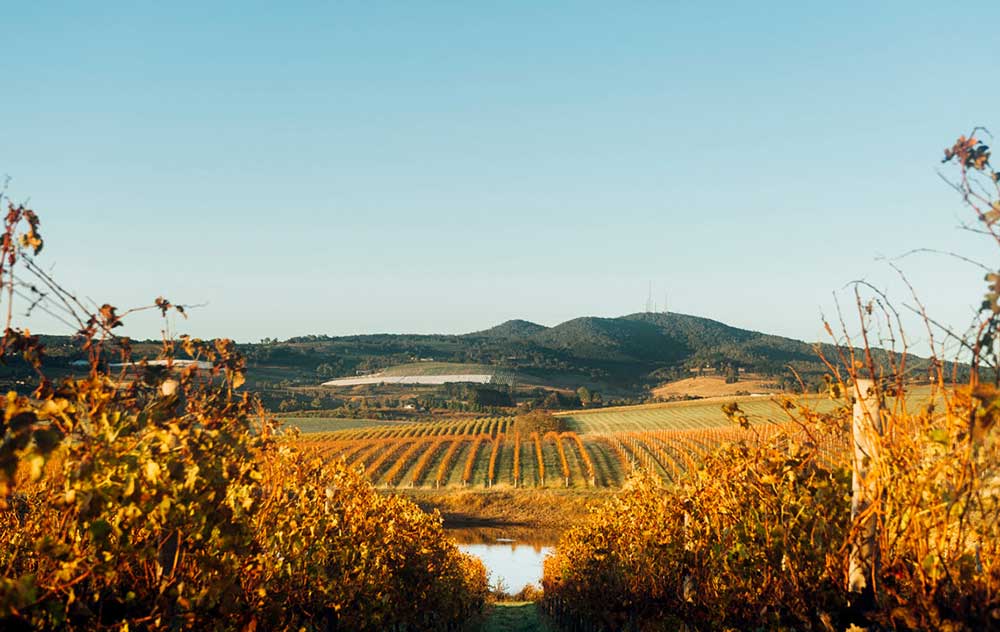 The Koomooloo vineyard.
Vines planted in the region as far back as the 1800s didn't amount to much, and it wasn't until the 1980s that things really started to get going. There were plantings in 1980 and 1981 by the Fardells at Nashdale (Nashdale Vineyard) and the Bourkes at Millthorpe (Sons & Brothers), with Bloodwood establishing the first commercial vines in 1983. Several others followed close behind, but as the Wine Australia website notes, "things were slow to take off - until one high-profile winemaker lit the spark and the wine scene exploded." That winemaker was Philip Shaw.
These days the region boasts over 60 wineries and just over 1,000ha of vines which accounts for about 1% of the nation's vineyards. The 2023 vintage saw 4,319 tonnes of fruit crushed, a mere one third of 1% of the national crush. A wide range of varieties are grown, the main ones being (percentages are share of the region's total tonnage): shiraz (23%), chardonnay (13%), cabernet (12%), pinot gris/grigio (11%) and sauvignon blanc (11%). Not surprisingly given the cool climate, pinot noir is also grown, albeit in small quantities
Archie and I spent a few days visiting several wineries, including De Salis, Ross Hill, Bloodwood, Swinging Bridge, Bryne Hill and Printhie. We also visited Charred restaurant which has the most amazing wine list, and on the last night we checked out the très groovy wine bar Hey Rosie, where we shared a bottle of the Hoosegg Merlot 2018, a wine made by none other than Philip Shaw, and which absolutely blew us away.
The next morning, we drove out to one of the region's most famous sites, the Koomooloo vineyard to meet and taste with Philip, in what was undoubtedly the highlight of the trip. It's always a privilege to taste with someone whose experience and knowledge is so deep and extensive. The wines Philip's tasted and stories he has to tell… amazing.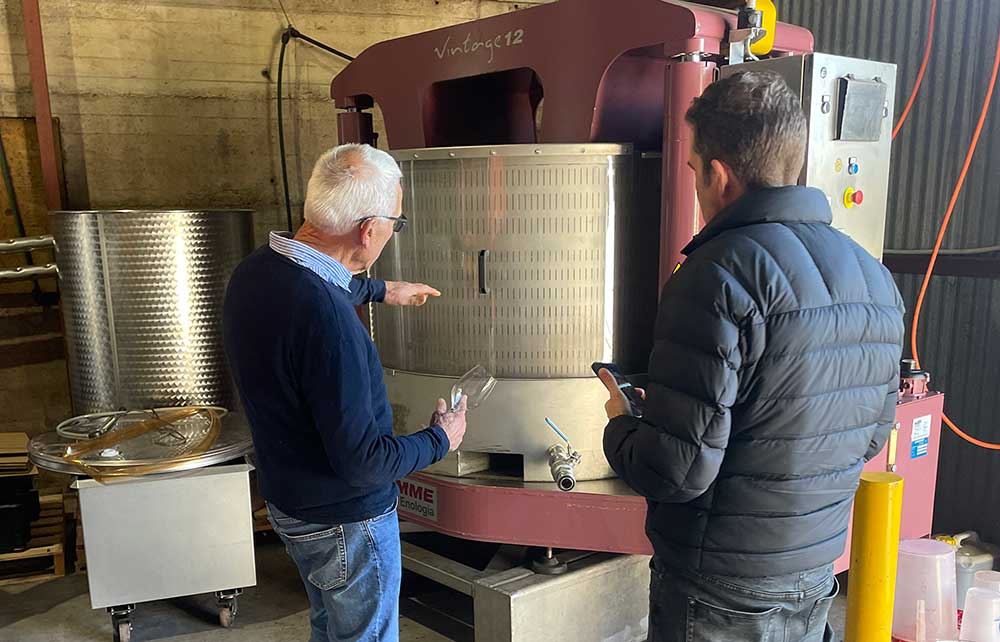 Philip Shaw's long and extraordinary career has seen him running some of the country's largest wineries pioneering Orange as a serious wine region and finally founding Hoosegg, a tiny high-quality, hands-on venture. There are of course many gaps to fill in, so let me tell you a little more about him.
Philip started working at Penfolds and Wynns Magill at the age of 14 while still at school, where he shared classes with Brian Croser. Post-school, Philip attended Roseworthy College, graduating as a winemaker in 1969. Archie who's just about to turn 23, was blown away by the fact that at the same age, Philip was employed by Lindemans, at the time Australia's largest wine company, to build their massive 200,000 tonne capacity Karadoc winery in Mildura, the biggest in the country. In 1982 Philip was appointed winemaker for Rosemount and oversaw an increase in production from 20,000 to 6,000,000 cases. When Rosemount was taken over by Southcorp in 2000, Philip became head of production for Southcorp (think Penfolds, Lindemans, Wynns, Rosemount, Seppelts, Coldstream Hills... and more). At this time, Southcorp was producing 23 million cases of wine from 17 wineries across the globe, making it the largest premium wine company in the world.
During this time, accolades included:
- Twice wining the coveted International Winemaker of the Year at the London International Wine & Spirit Competition (1986 & 2000).
- Awarded 1999 Gourmet Traveller Wine Magazine's Australian Winemaker of the Year.
- Awarded the 2000 Graham Gregory Trophy for his outstanding contribution to the Australian wine industry.
In 1988/89 while still at Rosemount, and after considerable searching for what he considered to the best site to make premium wine, Philip planted the Koomooloo vineyard at Orange at an altitude of around 900m. In the initial years Rosemount took fruit from the vineyard, but by 2004 having left Southcorp and moved to Orange, Philip released the first vintage of his own Philip Shaw Wines. In 2015, after significant success and growth, Philip handed the reins of Philip Shaw Wines over to his two sons, Damian and Daniel, and started Hoosegg, with HOO being Philip and EGG symbolising a new beginning.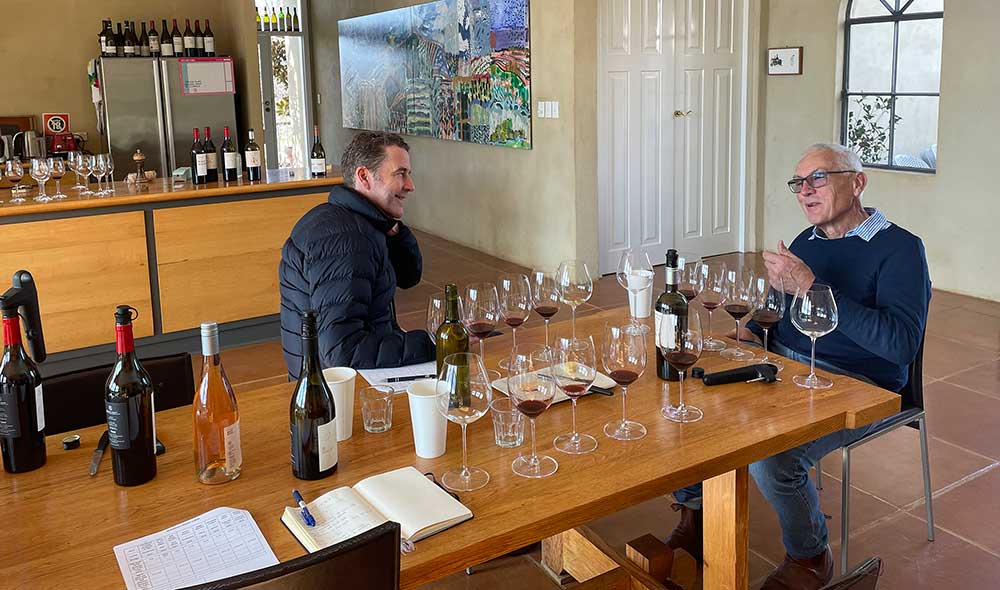 Hoosegg is the distillation and culmination of Philip's distinguished 60-year career in wine. It's a final chance for him to make the best wines he's capable of, with absolutely no restrictions. It's hard to fathom all that experience and knowledge going into one small project! From overseeing some of the largest winemaking facilities in the world, Philip now fastidiously hand-tends fruit from the best sites in the now 30-year-old Koomooloo vineyard to make a range of extraordinary wines from his tiny, but state-of-the-art winery. I couldn't help but be struck by the vast contrasts in scale of Philip's career as helped me hand-load cases of his precious wine into the back of our little van.
Philip makes two ranges of wines, HOO, which sports names such as Everything is Going to Plan Chardonnay, Self Made-Up Man Red Blend and Sorry for the Slow Reply Rosé, and are designed for current drinking. The EGG wines, with equally interesting names and packaging, are his more expensive, reserve wines and were the ones that really grabbed me. The aromatics on all of them are incredible and they're simply delicious to drink.
These highly desirable wines are made in tiny quantities and are currently not available in any retailers outside of Orange, so I was thrilled when Philip agreed to let me take a small amount to offer exclusively to the customers of Bottle and Glass. I hope you enjoy these oustanding wines as much as I do.
---

Hoosegg Seven Heaven Chardonnay 2018
Assorted clones. Handpicked fruit, wild yeast ferment after which it spent 15 months, all in new French wood. 12.5% alcohol. Screwcap. 900 bottles produced. So much intensity and complexity.
"Excellent bright light straw with hints of green. The aroma very fresh varietal fruits very integrated oak adding complexity. Very vibrant fresh fruit flavours with a great length of flavour. The wine is a lovely drink now but will age and complex for a considerable length of time." Philip Shaw.
Gold Medal - Global Chardonnay Masters 2022.
"Remarkably reserved, light yellow colour, with a strong matchstick sulfide aroma coupled with taut, concentrated fruit and nicely harmonised oak. The wine has intensity and precision, the flavours focused and long, the aftertaste clean and very dry. An appetising food wine. Still young for its four years, with time ahead of it, but probably at its peak now for drinking complexity, balanced with freshness and verve." 95 points, Huon Hooke (a great score from him).
"Stone-fruit allusions, creamed cashew and almond-powder lees notes. Toasted hazelnuts and truffle. A great aromatic spectrum. The finish, slippery and classy all the same." 94 points, Ned Goodwin, Halliday Wine Companion.
I can offer it for $140 a bottle.

---

Hoosegg Jade Moon Cabernet Franc Blend 2018
This is one of the best Australian cab francs I've tried, with none of that weediness you can sometimes get when unripe. The wine is a blend of 89% cabernet franc, 6% merlot and 5% cabernet sauvignon. Think right bank Bordeaux rather than Loire Valley red. 13.2% alcohol and sealed with cork. 1350 bottles produced.
"Deep, red colour, intense fruit, strong blackberry with very fine integrated oak aromas. Strong intense varietal flavours. Showing great complexity and balance of fruit flavours, spicy oak and firm tannins. A beautiful example of Cabernet Franc varietal. At least 25 years of careful cellaring. The 2018 is finer and softer than previous year but similar varietal intensity." Philip Shaw.
Double Gold, Global Fine Wine Challenge, 2022.
"Youthful, complex and enticing bouquet, winemaker Philip Shaw has crafted an excellent wine - deep purple core with purple and ruby hues at the rim. Aromas of black berries and olive, violet and plum, a soft sage herb quality, gun-flint and mineral with a powerful backbone of youth, oak and barrel spice. On the palate the core of ripe fruit is contrasted by the texture of tannins in abundance, plenty of acidity and flavours that mirror the bouquet, centering on dark berries and sweet oak, barrel spice, roasted nut and gun-flint. A delicious wine with power and charm." 95 Points, Cam Douglass MS (Master Sommelier).
"Bright, deep red-purple colour, the aromas of blueberry, raspberry and mulberry, with some earthy/slaty/flinty mineral notes. Fruit drives the wine and it's very charming fruit indeed. The wine is medium-full bodied and elegantly formed, with taut, persuasive tannins that are in excellent balance with the fruit. There's a touch of graphite in the aftertaste that compounds the savouriness. A very smart wine, much more than simple fruit." 94 points, Huon Hooke.
I can offer it for $140 a bottle.

---

Hoosegg Magic Monkey Shiraz Blend 2018
Terrific cool climate shiraz. Lean yet generous. 13.5% alcohol, sealed with cork. 2,500 bottles produced.
"It has an excellent bright deep red colour, a strong rich spicy peppery aroma. Lovely soft full intense fruit flavours, a long persistent, firm, pronounced varietal, cool area shiraz. Integrated oak, but with fruit dominating." Philip Shaw.
"Deep and youthful red-purple colour, young for its age. The bouquet is likewise youthful and shows pepper/spice and earthy/ironstone aromas with a curious iodine overtone. A whisper of toasty oak. The wine is full-bodied but not a blockbuster: rounded and supple, with a taut, tensioned focus. There is refinement of structure – it's not your bulky, full-throttle style of shiraz. Good length and backbone: a wine worthwhile cellaring although it's already drinking well." 93 points, Huon Hooke.
I can offer it for $115 a bottle.

---

Hoosegg Mountain Dragon Merlot 2018
Handpicked fruit and micro-fermented in small open pots, 30% whole bunches, fermented with natural yeast and aged in barriques (75% new) from quality French cooperages. 13.4% alcohol and sealed with cork. 1,350 bottles produced. I have to say... this was my favourite wine of the lineup. Smooth, ripe and complex. Absolutely delicious.
"A deep vibrant red. Amazing rich varietal aroma very bright with very integrated oak adding complexity. The wine has amazing rich fruit palate, but still maintains its vibrance with a mass of soft tannins and varietal red fruits character - fabulous wine." Philip Shaw
"But on this occasion, it was the merlot and cabernet sauvignon from what was clearly an excellent 2018 vintage at Koomooloo, that stopped me dead in my tracks." Max Allen, AFR,
The 2023 Global Merlot Masters competition was judged on 2 February at 28-50 Chelsea, London, employing experienced judges and a unique sampling process. The top wines were awarded Gold, Silver, or Bronze medals according to their result, and those expressions that stood out as being outstanding received the ultimate accolade – the title of Merlot Master - presented to Hoosegg Mountain Dragon Merlot.
Double Gold - Global Fine Wine Challenge 2022.
"Make no mistake, the qualitative barometer is set to aspirational. The pricing and monikers, reflective. Very good merlot. Plummy, with a subtle underbelly of tomato leaf and scattered garden herb. The mocha-cedar oak, a welcome addendum. A smooth operator with a salubrious sheen." 94 points, Ned Goodwin, Halliday Wine Companion.
I can offer it for $115 a bottle.

---

Hoosegg Double Happy Cabernet Sauvignon Blend 2018
And it seems this is the critics' favourite. 13.5% alcohol and sealed with cork. 2,000 bottles produced. A top-level cabernet.
"The wine has a deep red/purple colour. The wine has bright intense varietal fruit character with added complex of very fine oak (100% new French). Intense berry varietal fruit flavours supported by a combination of fruit and oak tannins. A wine that will age for a substantial time, continuing to complex and integrate. A beautiful varietal expression." Philip Shaw.
Awarded the Gold Medal at the 2023 Global Cabernet Sauvignon Masters in London.
"But on this occasion it was the merlot and cabernet sauvignon from what was clearly an excellent 2018 vintage at Koomooloo that stopped me dead in my tracks."
Max Allen, AFR.
"Deep red with a tinge of purple and a typical cabernet nose of blackcurrant and mulberry, the fruit ruling the aromas and flavours, the palate full-bodied and quite powerful but also refined and elegant. The tannins are appropriately firm and tense yet supple and easy on the tongue. Tremendous persistence; great potential. An outstanding cabernet."
96 points, Huon Hooke (an excellent score from him).
"By far the best of the suite. Hand harvested, cold soaked for colour and open-fermented under the aegis of spontaneous yeast. The cap kept wet with agitation all but absent until dryness. Then plunged vigorously to extract tannin and aroma. A fine approach in the context of the warm year. The oak, lavish as is de rigueur. The result, excellent. Statuesque, yet light on its feet. A mid-weighted wine that feigns power, unafraid to reveal the greenery of cabernet's DNA amidst the foil of blackcurrant, olive, mocha and bay leaf, sage and bouquet garni notes. Long, refined and exciting."
95 points, Ned Goodwin, Halliday Wine Companion.
I can offer it for $140 a bottle.