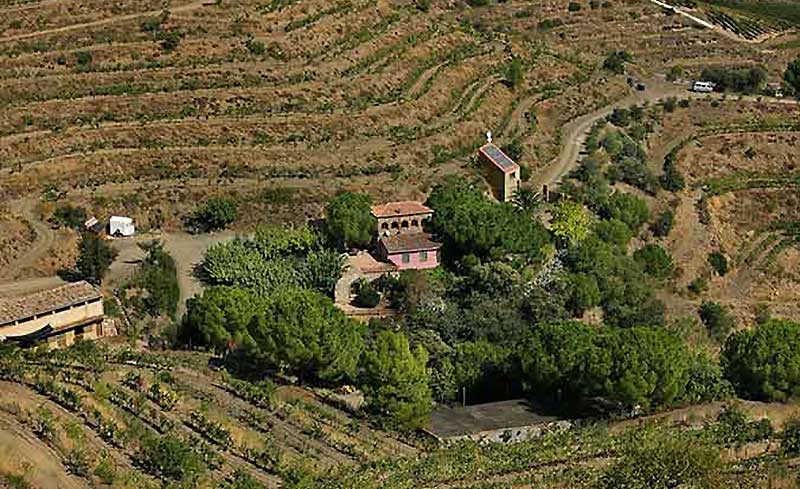 I can still remember the first time I came across this wine several years ago. The flavours and intensity were seriously impressive, especially for a Grenache based blend. And hearing more about the harshness of the landscape, the labour intensive methods this requires and the low yielding vines, it all made sense.
Clos Mogador is widely recognised as one of the great red wines of Spain. It comes from the region of Priorat which, along with Rioja, are the only two regions designated DOCa (Denominación de Origen Calificada), the highest qualification in the country. Priorat is in the south west of Catalonia, about 20km inland from the Mediterranean and 150km south of Barcelona.
Carthusian monks established viticulture in this region in the 12th century and by the mid-1800s there were several thousand hectares, devoted mainly to sacramental wine. Like most of Europe though, phylloxera wiped out vines here in the late 19th century, so by the time René Barbier arrived from France in 1979, less than 600 hectares remained. Barbier is credited with rediscovering the region, recognising the potential and driving its development and subsequent success. He attracted 5 other ambitious enthusiasts, all naming their wines with the prefix 'Clos' (French for 'enclosed' and in wine usually refers to a walled vineyard), with Barbier's own bearing the name Clos Mogador. These days he's considered a living legend in Priorat.

Clos Mogador is located in the hills of Priorat near the small town of Gratallops. A vast amphitheatre of crumbling slate, the landscape here is dramatic and central to understanding the greatness of these wines. Surrounded by mountains of up to 1,200 metres, the vineyards' lower edges touch the Siurana River. This, combined with barren soils, most importantly the licorella (loose grey-brown mineral slate), creates incredibly low yielding vines, concentrating flavour in the berries.
"The 'Gratallops pioneers' proved beyond doubt that garnacha and cariñena are perfectly capable of producing highly complex, quality wine - as long as yields are low. The result is that Gratallops wines are amongst the most stunning in all of Spain: their concentration and character are outstanding as is their price." John Radford, The New Spain.
"Stunning example of what Spain can produce but so rarely does… is a magnificent example of what Spain can produce at the top quality level." Robert Parker.
"Suave and sophisticated. Clos Mogador, 40 percent Grenache, 35 percent Cabernet Sauvignon, 20 percent Syrah and small quantities of Pinot Noir, Merlot and Mourvèdre, an eclectic mixture but what a wine it produces." Wine Spectator.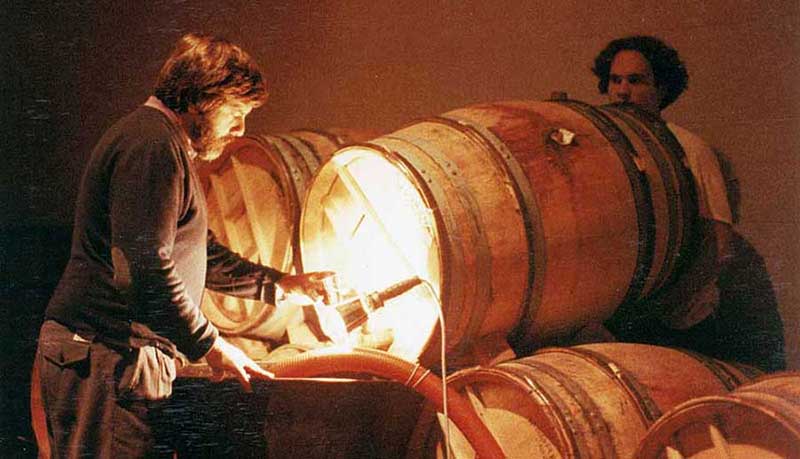 René Barbier confesses he has a weakness for Grenache.
In addition to the DOCa Priorat certification, Clos Mogador also has the additional qualification of "Vi de Finca." While not a well known accolade, Clos Mogador was the first wine in Spain to receive this prestigious gong. It certifies that all grapes used to make the wine have been sourced from a single vineyard and that the wine is deemed to have received international acclaim for at least ten years.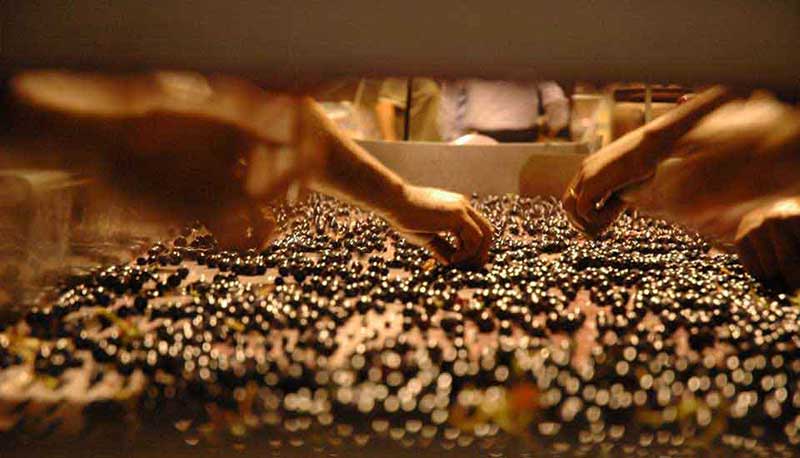 Clos Mogador: All our vineyards are harvested by hand and we wait for optimum phenolic ripeness before we pick. The grapes are quickly taken to the winery in small 10kg crates and are put onto our double sorting tables - we sort first the clusters and then the berries.
This Grenache-dominant blend may vary slightly from year to year. It's basket-pressed in an old, repurposed olive press and most of it is aged in 500 litre French oak casks for up to 18 months. After blending, the wine spends the second winter in vat. Interestingly, no stainless steel is used, only fibreglass and wooden vats. The wine is bottled unfined and unfiltered.
The beautiful texture, the velvety tannins and the deep richness will draw you in. This is an intense and complex wine with an incredibly long, smooth finish. I have the most recent vintage (2015), which has received stunning reviews, as well as the 2010, which with a few years in bottle is drinking beautifully. They're worth every cent.
---

R. Barbier Clos Mogador Priorat 2015
"In this warmer vintage, there is a little more Cariñena (Carignan) in the blend, with the final breakdown something like 45% Garnacha, 29% Cariñena, 16% Syrah and 10% Cabernet Sauvignon. This had the same vinification and ageing as the 2014: fermentation with indigenous yeasts and a 35- to 45-day maceration, followed by an élevage in 300-litre barrels and 2,000-litre foudres that lasted 18 months. 2015 is a rounder and easier year than 2014, and it feels a little riper, supple but with good freshness. It's clean and precise with nicely integrated oak. This was an easy vintage for the winery, and the wines are easy to understand and more approachable early on. Drink: 2019-2030" 97/100, Luis Gutiérrez, The Wine Advocate (Apr 18).
"It grows more savoury towards the finish: plum and stone modulate towards pine and Mediterranean scrub. A Priorat of total assurance, its alcohol invisible other than in the wine's suffusing and necessary warmth." 97 Points - Decanter Magazine.
I can offer it for $ 150 a bottle. Click here to order
---

R. Barbier Clos Mogador Priorat 2010
"It has a stricter, fresher bouquet than the 2009, with great minerality and sparkling precision. The palate is medium-bodied with very fine tannins and wonderful purity. It exhibits notes of dark cherries, crushed stone, slate and touches of thyme and white pepper towards the finish, which has immense precision and focus. This is going to be a razor-sharp Clos Mogador - do not wait to place your order!" Neal Martin, The Wine Advocate #200 (2012) 94-96 points.
"The 2010 vintage Clos Mogador is an intense cherry red colour with purple flecks and high viscosity. On the nose, its initial aromas tend to be lovely hints of sweet dark fruit such as plum and prune followed by a touch of gaminess. After a few minutes, these aromas move towards fresher fruits, with leafy notes and a hint of black pepper. It is truly an extremely aromatic nose, which is bursting with elegance. On the palate, this wine gives us the impression of a ripe red wine with chocolate, vanilla and stewed cherries. It is a well-balanced wine, with good acidity and firm tannins. Its palate is complex with notes of cedar wood, sweet spices, vanilla and coffee aromas. After decanting this wine and leaving it to breathe for a few hours, Clos Mogador 2010 takes on new dimensions: it has become rounder and more aromatic with touches of sultana, blackcurrant, licorice and a lovely intense, floral note. Such purity and balance, this wine's tannins are ripe and are starting to integrate well. It is a wine with ageing potential. My advice would be to lay it down for another ten years before drinking." Yohann Jousselin, UK Sommelier of the year 2011.
The wine has obviously benefited from a few years ageing since these notes were written.
I can offer it for $160 a bottle. Click here to order