Most people associate the term Anjou with rosé; hardly a surprise given that about half the wines labelled with the term are indeed rosé. But there are a few other wine styles from Anjou.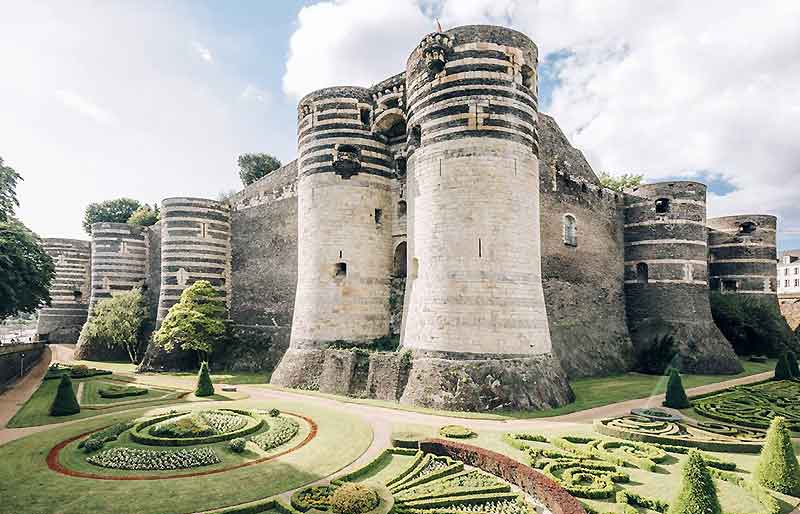 Château d'Angers
Anjou is a wine region located within the magnificent Loire Valley. Traditionally, the Loire has not been considered one of France's prestige wine regions; this honour falling to Burgundy, Bordeaux and Champagne. The upside of this is that while the quality of Loire wines has improved significantly in the last few decades, the traditional view of the region is slow to change in the French psyche. Generally, prices have remained modest, which is tough for Loire Valley producers, great for astute wine lovers.
The Loire is often divided into 3 areas: the Upper, Middle and Lower Loire. You'll find Anjou in the Middle Loire, in an area that has some of the most stunning landscapes in France. Aside from Anjou, the Middle Loire's other well-known appellations include Savennières, Touraine, Vouvray, Chinon, Bourgueil and Saumur.
Anjou sits around the lively university town of Angers, home to the Cointreau distillery as well as the imposing Château d'Angers, which houses one of France's most monumental medieval works, the 103m long Apocalypse tapestry.
Medieval work, the Apocalypse tapestry.
Within Anjou you'll find many sub-appellations. These include:
Anjou Rouge
Anjou Blanc
Anjou-Villages
Anjou-Villages Brissac
Cabernet d'Anjou
Rose d'Anjou
Anjou Gamay
Anjou-Coteaux de la Loire
Anjou Mousseux
Anjou Pétillant
Also, there are several white wines (dry and sweet) made within Anjou, whose quality and reputation have earned them their own appellation: Coteaux de l'Aubance, Bonnezeaux, Coteaux du Layon, Quarts de Chaume and Savennières.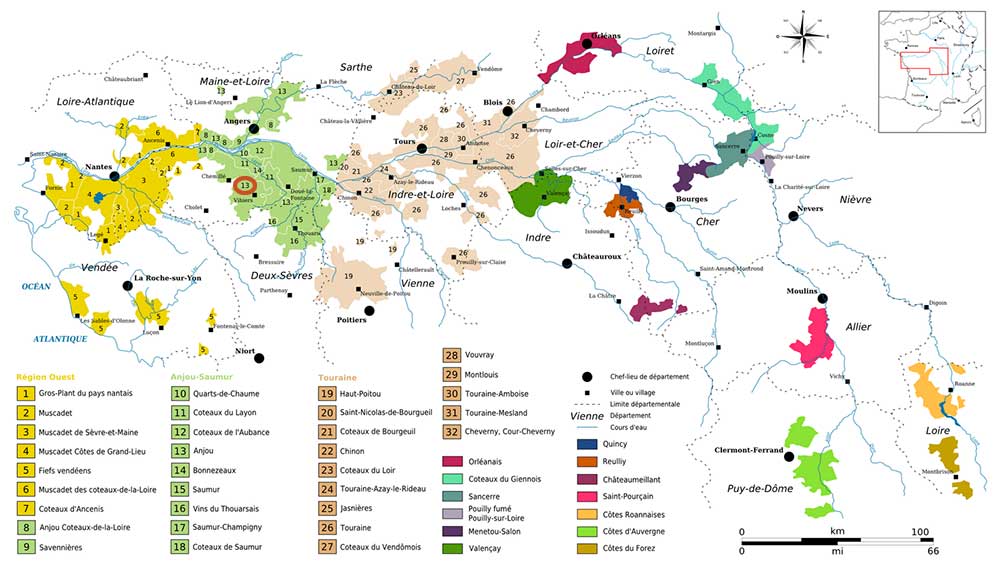 Having complicated matters, I'm actually going to keep it simple and tell you about one of Anjou's wines made for everyday drinking.
Anjou Blanc is the most common dry white from Anjou, and it must contain at least 80% chenin blanc. Chardonnay and sauvignon blanc are also permitted.
I've written about chenin blanc several times before when offering Vouvray, Savennières and Saumur. The variety is not well known in Australia but in the Loire it's used to make dry, sweet and sparkling white wines. The Oxford Companion to Wine says Chenin is "probably the world's most versatile grape variety."
One of Chenin's distinctive characteristics is firm acidity, a quality I love as it brings freshness and vivacity. In her weighty tome, Wine Grapes, Jancis Robinson MW refers to "the real chenin flavours of honey, straw and apples."
Anjou is a region undergoing a renaissance, indeed The Oxford Companion to Wine already describes it as "revitalised." This delicious entry level wine epitomises the new quality of Anjou.
---
CEP by CEP is a recent-ish collaboration between brothers Thierry (right) and Philipe Germain (left).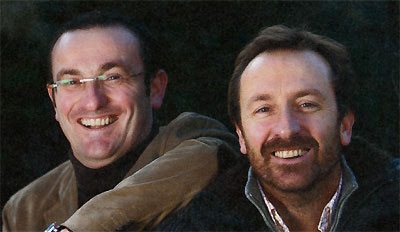 Thierry Germain is a big name in the Loire. He got his start in Bordeaux before relocating to the Loire in the early 90s and starting Domaine des Roches Neuves. Of particular note is his pursuit of biodynamic cultivation, in which he has become one of France's leading authorities. His estate focuses entirely on Chenin (from Saumur) and Cab Franc (from Saumur-Champigny) and according to US wine guru Kermit Lynch, produces "some of the most exciting wine in the Loire Valley today." In terms of prestige, the estate is second in Saumur only to the exclusive Clos Rougeard. Not surprisingly wines of this quality are not cheap and Roches Neuves wines in Australia start at $60 and head north.
Thierry has teamed up with his brother Philipe Germain, who owns Château de la Roulerie in Anjou and is a top grower in his own right, with a view to producing more affordable (but still good quality) Anjou wines. The brothers have chosen to stick with the mainstays of the region, chenin blanc and cabernet franc, and it's this focus on just two varieties that's behind the name of their collaboration. Cepage is the French term for grape variety and with much of the wine sold into the UK market, there's also the intentional resemblance to 'step by step.'
The brothers don't own any vineyards together for the project, instead Thierry makes sure the growers they work with are all in step with his way of thinking. The vineyards are farmed using organic principles and utilise techniques such as minimal intervention and handpicking. All the vineyards are located in western Anjou, where the soil is predominantly volcanic, quite different to the limestone soils of Saumur.
CEP by CEP offers fantastic mid-week drinking, promising outstanding value.
---
CEP by CEP Anjou Blanc 2018
This wine is made from 100% chenin blanc, organically grown on stony clay over schist of Rochefort-sur-Loire in Anjou's Layon valley. The grapes were handpicked and the wine did see some oak, however it was old and larger format barrels so the effect is subtle.
The wine is a clear pale gold. The nose, clean and aromatic - you'll find lime, white blossom and lush dairy aromas before it opens up with fresh hay and gooseberry. On the palate sherbety lemons and limes overlay softer honeydew notes. Crisp and dry with a lovely mineral finish.
If you're up to eating out, you'll find it at Bopp & Tone in Wynyard at $92 or Mr Wong at $98 a bottle.
Perfect drinking as we head to warmer weather.
Usually $35-$40 a bottle. I can offer it for $33 a bottle.