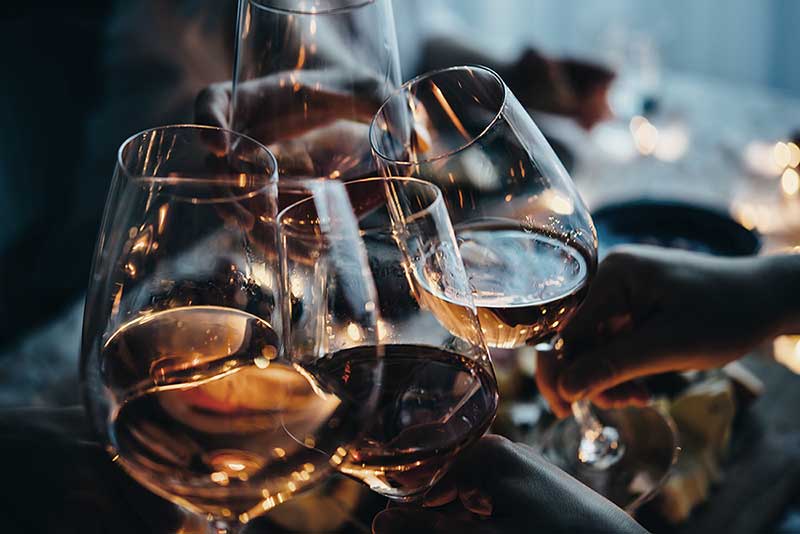 Rosé consumption continues to rise in Australia. It's on every wine list and as a must-have at every function - with good reason. We've realised just how suited rosé is to our climate, lifestyle and the way we entertain. In France rosé has outsold white wine since 2008 and I think we might follow suit.
The juice of nearly all grapes is white, so how is rosé made? Well, the colour comes from the skin of the grapes and winemakers do this in a number of ways:
1. Red grapes are fermented in contact with the skins. After 6-48 hours the partially fermented juice is squeezed out. Because contact with the skins is limited, the partially fermented juice is pink rather than red. Ferment is completed without the skins.
2. Some winemakers bleed off (saignée) some of the juice from their red ferments at an early stage, when the juice is just pink, and use this to make rosé. This increases the skin to juice ratio in the remaining red ferment - the aim being greater depth of colour and tannins. In this case rosé is a by-product rather than the primary aim.
3. Red grapes are crushed and pressed before fermentation takes place. The juice has just the lightest touch of pink and is then fermented like a white wine (ie. not on skins). This technique is sometimes referred to as 'Vin Gris'.
4. Finally, but not often done, a winemaker may simply blend red and white wine.
Enough technical stuff, here are a few drops I'll be enjoying this summer - one from Australia and two from the home of rosé - Provence.
---

Medhurst Rosé 2018
This is my pick for Aussie rosé for sure. It's dry, delicate and refreshing - perfect for long lunches or warm summer evenings.
Medhurst Estate was founded by Ross Wilson, who made his fortune as the former CEO of Southcorp and Tabcorp. Ross has a long association with the wine industry, in particular the Yarra Valley, and it was here he acquired a wonderfully positioned property in the mid-1990s. With astute planning and admirable patience, Ross planted vineyards, built an incredible winery and more recently hired talented young winemaker Simon Steele (ex Brokenwood). Ross's strategy of putting pieces into place for long-term success is paying off, with the winery receiving some serious recognition.
Ross is a major fan of rosé, so much so that in 2000 he had a dedicated rosé vineyard planted with Shiraz and Cabernet. Most estates treat rosé as an afterthought.
Similar to previous vintages, the 2018 is a blend of 56% Cabernet and 44% Shiraz. Vines are low-yielding with fruit handpicked then left overnight in a coolroom to ensure it was cold for pressing the next morning. This minimises both oxidation and colour development. Only 500L per tonne of juice was obtained, usual rates are around 700L/tonne, showing just how softly the fruit is squeezed. The gentle pressing not only explains the pale colour, but also means this wine is more expensive to make - even though it's still sold at such a good price. Five percent of the ferment took place in old French oak, the rest in stainless steel. The wine was fermented to dryness and bottled with light filtering and minimal sulphur. It's 13% alcohol and sealed with screwcap.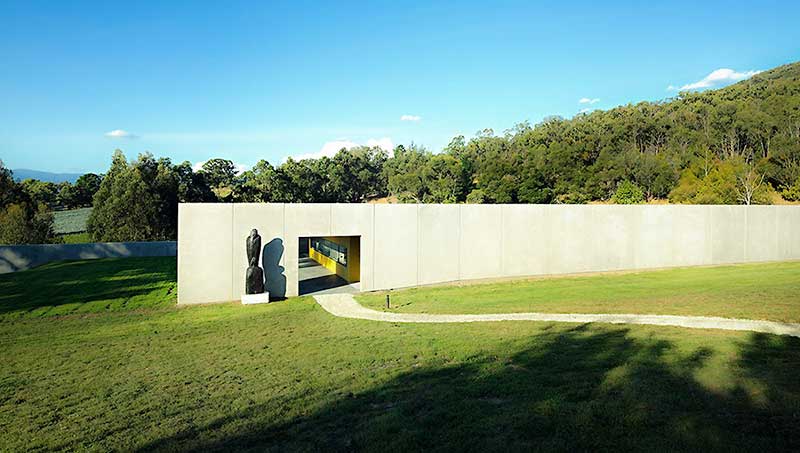 The Medhurst winery in the Yarra Valley.
The wine is clear, bright and very pale copper. On the palate it's clean and bone dry, with subtle notes of strawberry, musk, honeydew and coconut, finishing long with delicate savoury notes. Its depth, weight and smooth mouthfeel belie its pale colour. Simon has balanced the acid in this wine so well it gives it freshness and vitality without being tart or linear. Its beautiful structure and integration set this wine apart - so generous and drinkable.
"Delicacy with length" is how Simon describes this wine. "Very pale copper with a bright vibrant pink hue. Deliciously elusive fresh fruits including strawberry and raspberry are supported by hints of fennel and white blossom of jasmine. The palate is savoury and refined with a supple creamy texture. The finish to the wine is superb, fresh fruits and a long chalky delicate phenolic edge that is trademark of this single vineyard wine." Winemaker Simon Steele's notes.
Everyone I show this wine to absolutely loves it.
I can offer it for $24 a bottle. Order new vintage here
---

Château Riotor Côtes de Provence Rosé 2017
Riotor is textbook Provençal rosé. It's an old favourite of mine and here's why: "Had a blind tasting last year with over 40 rosés at all price points. And not only was this (Riotor) the best in show, it was also the least expensive." Michael Madrigale, Head Sommelier, Bar Boulud and Boulud Sud (acclaimed New York restaurant group).
Riotor is one of the best Provençal rosés for the price.
Château Riotor is located in the magnificent mountains west of Saint-Tropez, within the Côtes de Provence appellation. This beautiful estate has been owned for four generations by the Abeille family, who also own the famed Château Mont-Redon in Châteauneuf-du-Pape (southern Rhône). Since 1988 they've worked to extensively renovate the vineyard, winery and chateau, which has paid off handsomely in the quality of their wines.
The blend is pretty much the same every year: 40% Grenache, 50% Cinsault, 7% Syrah and 3% Vermentino (white). I'm told there's always been a bit of Vermentino in the blend but they've only started declaring it in the last few years. The wine also spends a few months on lees which gives it a pleasant silky texture. It's 13.5% alcohol and sealed with screwcap.
The wine is a pale rose gold. Crisp, dry and aromatic, you'll find white peach and cranberries, mingling with melon and musk. On the finish it's clean and slightly savoury with hints of white pepper and plenty of fresh sherbety acid. Elegant and delicious.
"Attractive hints of struck flint add complexity to the peach and raspberry aromas, while the light to medium-bodied palate draws to a mouthwatering, softly textural close." 90 Points, Robert Parker's The Wine Advocate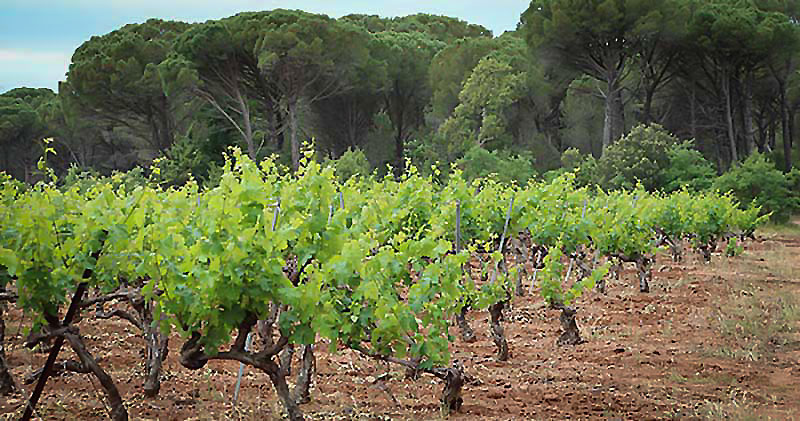 Chateau Riotor vineyards in the Côtes de Provence.
"Everyone I serve this wine to devours it. It is a pale, savoury, grenache-based Provençal rosé with nuances of strawberries and cream. The palate is weighty and textured, and there is loads of flavour. It has presence, weight and, most importantly, balance. One of the standouts in the French rosé category." 93 points, Toni Patterson MW, The Real Review, July 2018.
Hard to beat for the money. You'll find it at all the best places around town, but I reckon you can't go past a bottle for $60 at uber cool 'Maybe Sammy' down in the Rocks, which was included in the World's 50 Best Bars 2019 (London).
I can offer it for $25 a bottle. Order here
---

Château de L'Aumerade Marie Christine Côtes de Provence Rosé Cru Classé 2018
Not to be confused with Origine Rosé the cheaper second wine of the estate, Marie Christine is the flagship wine of Château L'Aumerade, located in Provence, the world's most celebrated rosé region.
Provence sits on the Mediterranean coast, with the Rhône Valley to the west, and the Côte d'Azur to the east. Within the region you'll find several appellations, the mains ones being Côtes de Provence, Coteaux d'Aix en Provence and Coteaux Varois en Provence, as well as smaller appellations like Cassis and Bandol.
At 27,000ha Côtes de Provence is the largest and most significant appellation of Provence, producing around 75% of the region's wine. Within Côtes du Provence lie five geographic subregions. Sainte-Victorie, La Londe, Fréjus, Pierrefeu-du-Var and since 2019 Notre-Dame des Anges. Close to 90% of wine produced in Côtes de Provence is rosé.
Château L'Aumerade is located in Pierrefeu-du-Var, a 30 min drive NE (inland) from Toulon or if you're flying in by private jet, it's less than an hour's drive west of St Tropez airport. There's been wine at this site since the 1st century AD, but things got serious in 1594, when the then King, Henry IV, ordered his prime minister Duke Sully to spruce the place up. The Aumérat family acquired the property in the 18th century renaming it Château de l'Aumerade, before Henri and Charlotte Fabre acquired the estate in 1932 and set about significantly expanding and improving it.
This paid off when in 1955, 80ha of the reinvigorated estate was awarded Cru Classé status, the top classification rating for Provence and one of only 18 properties to carry the title. Nowdays the estate covers 300ha of which 85% goes to rosé, 10% to reds and 5% to whites.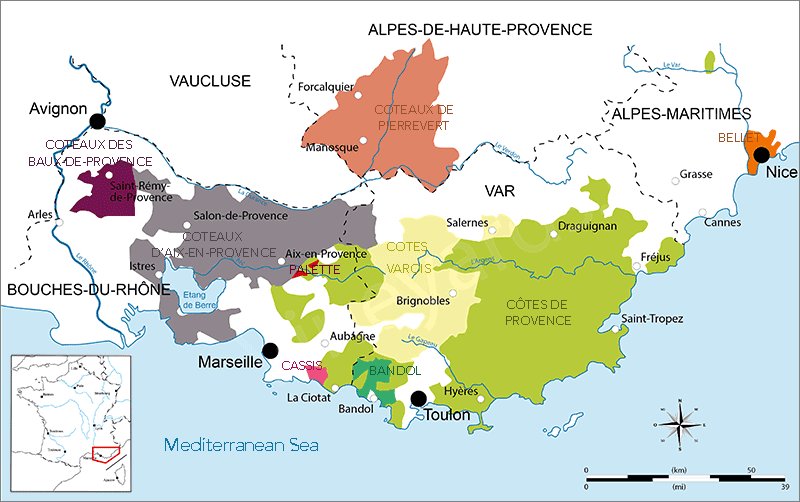 Bottle shape has always been a bit of a thing in Provence, with the traditional bottle called a skittle, shaped like an hour glass and nicknamed the 'Mae West.' By 1950, two or three estates had their own bottle and not to be outdone, in 1956, Charlotte Fabre designed a unique bottle for L'Aumerade, taking inspiration from famous Art Noveau artist Emile Gallé's 'pâtes de verre' vases. The bottle was named Marie-Christine after the latest member of the Fabre family.
The wine itself is a blend of 41% Cinsault, 34% Grenache and 25% Syrah. The 2018 has literally just arrived off the boat, so no reviews or accolades yet, but it's exactly what you expect and love about Provence rosé. The colour is light and clear with a hint of copper. On the nose it's lifted and fresh with an abundance of sweet red fruit, white peach and rosewater. A taste reveals red berries, white peach and musk with a touch of white pepper - all ably supported by concise fresh acid. A delicate yet generous drop with a deliciously dry mineral finish. 12.5% alcohol and under cork.
Yum.
I can offer it for $31 a bottle. Order here
---
Here are some other rosés worth sampling…

Head Rosé 2018 - $24 Susan Andrew's top wine at the recent 'Young Guns of Wine' Rosé Tasting. Read more

Akarua Rose Brut NV - $35 Top rosé fizz from Central Otago. Read more


Château de Pibarnon 2018 - $69 New vintage of this serious Bandol rosé. Read more