I'm pleased to offer what I think is one of the most underrated wines from one of the most underrated regions, Terre a Terre Wrattonbully Red 2016, made by Xavier Bizot.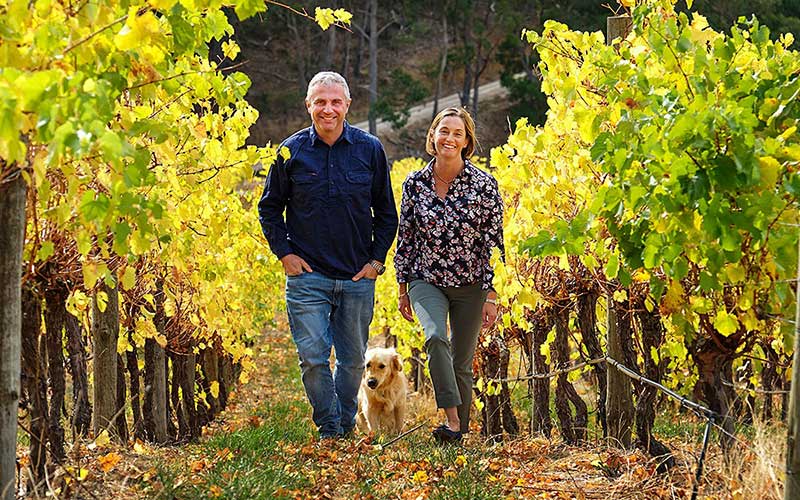 "Wine is a long-term thing. Wine families look beyond the short-term and have the ability to focus on quality as a long-term goal," Xavier Bizot and Lucy Croser.
I've offered several of Xavier's wines over the years - for good reason. I like the French aspect he brings to Australian wine, utilising our sun-filled fruit and giving it a line, delicacy and structure more often associated with French wine. While his whites and reds have great depth and intensity of flavour, they also have a common thread - elegance. And I like his prices, especially in this case, when it's even sharper than usual.
Xavier is married to Lucy Croser. If these two names seem familiar, there's good reason. Xavier's father was Christian Bizot, Bollinger patriarch and chairman from the late 70s to the mid 90s, and his great aunt was the famous Lily Bollinger. When Bollinger looked to expand their interests in the 80s, they invested in Petaluma, the iconic South Australian winery, started in 1976 by Brian Croser. Brian is a leading figure in the Australian wine industry and also Lucy's father.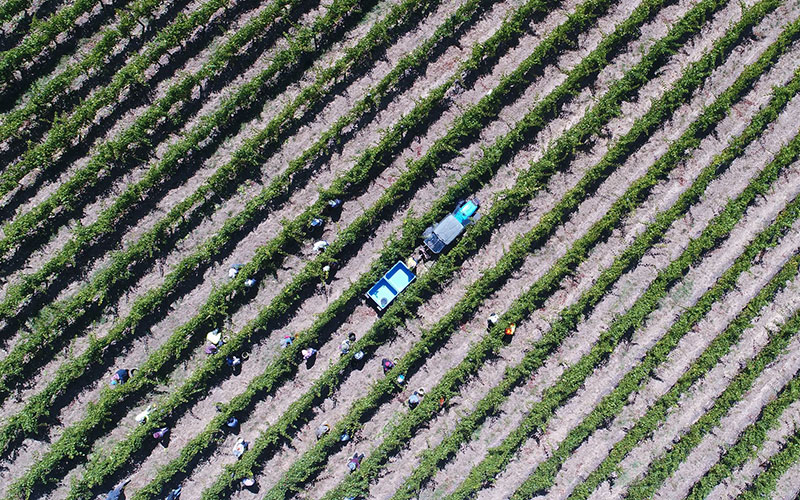 Handpicking grapes in the Crayères Vineyard.
Lucy and Xavier married in 2003 and I think you'd be hard pressed to find better winemaking credentials in a couple. In 2005 they moved back to Adelaide from Paris where Xavier worked as a lawyer, to establish a small domaine in Wrattonbully, naming it Terre à Terre, meaning 'down to earth'. The wines they're producing are wooing critics, with Halliday rating the winery 5 stars in his latest guide.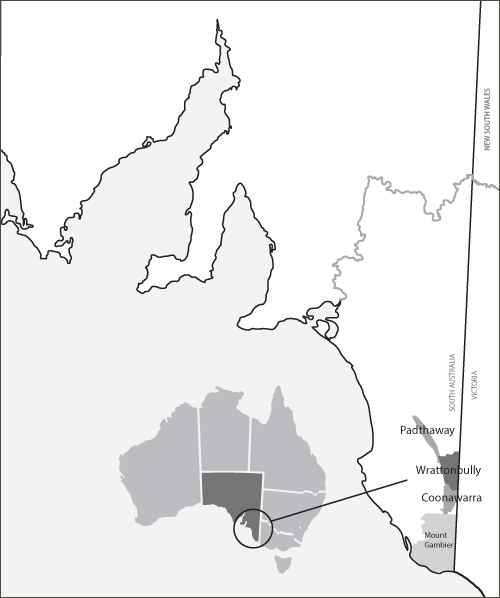 Wrattonbully's a great region that few have heard of - amazing given that it directly joins Coonawarra's northeastern boundary. It shares a similar climate to Coonawarra (and Bordeaux), as well as the same prized terra rossa soil over limestone, although the limestone in Wrattonbully is much older than that underneath Coonawarra. In fact, the limestone caves that sit below Wrattonbully are part of the Naracoorte Caves National park, South Australia's only World Heritage site.
The first vineyard was planted in Koppamurra, as the area was originally called, in 1969, and another in the mid 70s, but these were the only two for many years. That changed when the Australian red wine boom took hold in the early 90s, after which all hell broke loose. With Coonawarra full, the rush was on to find suitable sites and Wrattonbully was the obvious choice. It shared the great soil of Coonawarra, was close to existing winemaking facilities and best of all, it was cheaper. A massive expansion ensued and by the mid 90s big names like MiIldara, Hardys and Yalumba had moved in and were using fruit from Wrattonbully for their Coonawarra wines. This might sound a little dodgy, but it was totally legitimate as Australia's Label Integrity Program (LIP) requires only 85% of fruit to come from a stated region. The region was officially recognised with its own Geographical Indication (GI) in 2005 and it was at this time that it officially changed its name from Koppamurra to Wrattonbully. Nowdays Wrattonbully has 2,600ha of mature vines producing exceptional fruit, mainly Cabernet, with Treasury Wine Estates (TWE) using fruit from the region in both its iconic Penfolds Bin 707 and St Henri wines. Unfortunately for Wrattonbully, the majority of its fruit goes into blends and the region doesn't get the recognition for quality it deserves.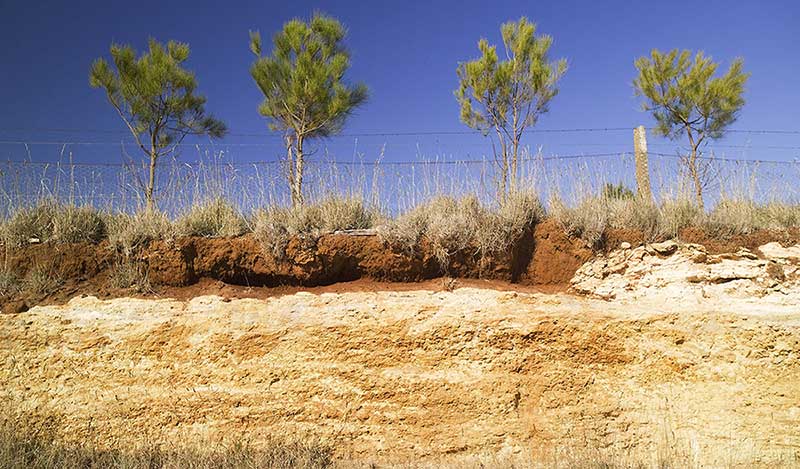 Wrattonbully has a similar climate to Coonawarra, as well as the same prized terra rossa soil over limestone.
Brian Croser acquired the Koppamurra Vineyard, one of the original two, in 2002, renaming it the Whalebone Vineyard, after the bones of a massive whale were found beneath it. Lucy and Xavier bought a site next door to this in 2004, calling it the Crayères Vineyard, which means limestone in French, after the limestone subsoil. Conditions here are very similar to St Emilion in Bordeaux. In 2008 they planted Cabernet, Shiraz, Cabernet Franc and Sauvignon Blanc. The vineyard is not certified organic but is managed with minimal use of chemicals.
Aside from Terre à Terre, Xavier and Lucy also have a cheaper range called 'Down to Earth' as well as a top notch Adelaide Hills sparkling wine named Daosa.
---

Terre a Terre Wrattonbully Red 2016
The wine is a blend of 46% Cabernet Franc and 42% Shiraz, both close-planted and hand-picked from the Crayères Vineyard, as well as 12% Merlot from the family's Summertown Vineyard in the Adelaide hills.
The fruit was transported to the Tiers winery in the Picadilly Valley in the Adelaide Hills, where the Cab Franc and Shiraz were fermented in open top fermenters, before being aged in French barriques (225L) of which 40% were new, for 10 months. The Merlot was then added and the final blend spent another 18 months in a three-year-old foudre (4,300L). The wine was bottled without filtration in Dec 2018. It's 13.8% and is sealed with a screwcap.
"It's a swish red wine. Characterful. It tastes of blackcurrant, dark chocolate, mint and anise and while it serves a significant amount of flavour and is spread with tannin, it feels elegant, seamless and svelte from start to finish." 95 points, James Halliday Wine 2020 Companion.
"The texture is soft, the oak creamy, the impression seamless. This is a red wine to settle in and relax with. It's classically styled, you might even say. Graphite, clove, blackcurrant, hay and gum leaf characters sweep confidently through the palate, choc-pencil notes helping it all along. The finish is sound. The wine is good." 93 points, Drink 2020-2027, Campbell Mattinson, The Wine Front.
"Light red colour when poured, the aromatics are explosive with red cherries leaping. It's supple and classy - judicious blending resulting in a fresh, raspberry-driven wine with finely-grained tannins. Lovely." 92 points, Nick Butler, The Real Review (Huon Hooke's gig).
"It's such a substantial wine. Lots of French oak, complete with oak tannins too. An onslaught. But underneath it's such an even wine - perfectly weighty and quite seamless. I know comparing this to Bordeaux is lazy, but there's plenty of ambitious Right Bank in the style here, complete with powdery tannins… Best drinking: wait for a few years. Or decant early. The tannins and power will ensure that twenty is a viable number." Andrew Graham, Australian Wine Review January 2020 (he doesn't score).
Great reviews for a wine of this price.
I can't stress enough how very few, if any, reds at this price point see such an expensive oak regime. I also love that this wine is a blend (Cab Franc, Shiraz and Merlot) that you'll only see in Australia, a combination that produces great aromatics, length and power, yet remains elegant. For a wine that usually RRPs at over $30, this is an absolute bargain.
I can offer it for $24 a bottle. SOLD OUT
Order Terre a Terre Crayeres Vineyard Cabernet Franc Shiraz 2018 here