Champagne - was there ever a tipple so suited to both summer and celebration? We never really need an excuse to drink it. As they say, always keep a bottle of Champagne in the fridge for special occasions, even if the special occasion is that you've got a bottle of Champagne in the fridge.
But why drink generic NV Champagne when you can enjoy a top notch small producer like AR Lenoble?
'Considering the small scale of the operation and quality, AR Lenoble could be charging a lot more for their Champagnes. For me they are in a select forward-thinking group who are making some of the most exciting wines in Champagne right now.' Davy Zyw, 101 Champagnes and Other Sparkling Wines to Try Before You Die.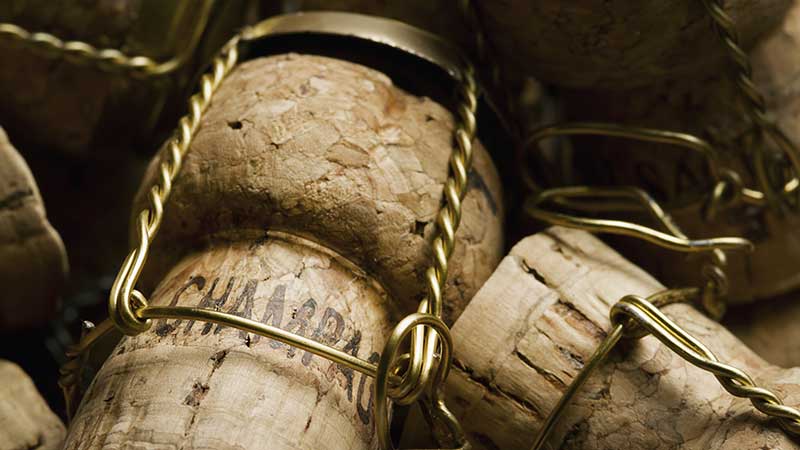 Last year, 67 Pall Mall held their annual 'new-wave champagne' tasting. This extraordinary London establishment is quite simply the best place to drink wine. It has a list offering 4,000 bottles and the largest by-the-glass list on the planet, featuring over 750 wines. Notes for the event were provided by Tim Hall, a regular contributor to jancisrobinson.com, who really knows his stuff. There were some impressive houses in the line-up, including Agrapart and Jacquesson, as well as bigger names like Dom Perignon and Louis Roederer.
Here's what Hall had to say about AR Lenoble:
"AR Lenoble is probably the most admired boutique family house right now. There is an international buzz and it reflects the outburst of family creative energy in the past few years from brother and sister owners Antoine and Anne Malassagne. …intense fruit and fresh precision in all their wines. Here is a small house making a big point. Incidentally, the A R Lenoble wines have been the house champagne pour at Michelin two-star Le Gavroche in London for over 20 years."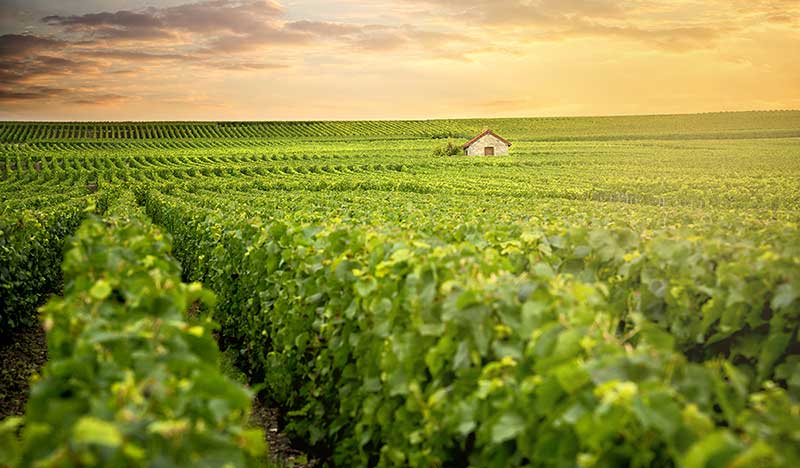 He's not the only one singing its praises. For those of you who love Champagne, Tyson Stelzer's annual Champagne Guide is a must read. Stelzer is a world authority on Champagne and an Aussie to boot. He's a contributor to the Oxford Companion to Wine as well as Wine Spectator and Decanter magazines. He's won a swag of awards, including International Wine & Spirit Communicator of the Year 2015, Wine Communicators of Australia Australian Wine Communicator of the Year 2015 & 2013, and International Champagne Writer of the Year 2011. His guide is the definitive resource (and a wonderful Christmas present).
In his 2018-2019 edition, Stelzer rates Lenoble 7 (out of 10), putting the house alongside big names like Veuve Clicquot, Ruinart and Agrapart, and above big names like Lanson, Piper Heidsieck, Henriot and Laurent-Perrier. It gets better… in the most affordable category of 'The Best Champagnes of the Year' Le Noble Cuvée Intense NV came in with the second highest score! The two top scoring wines, only one point above, are not available in Australia.
Anne and Antoine Malassagne.
Lenoble is one of a dwindling number of family owned, independent Champagne producers. Most having been acquired by large corporates like LVMH and Pernod Ricard. The house was established in 1915 when Armand-Raphael Graser arrived from Alsace to protect his family during WWI. A few years later, he moved into an 18th century building in the town of Damery and started to produce Champagne under the AR Lenoble name. The AR came from his initials and Lenoble was a rather grand nod to the nobility of Champagne. The domaine is still run from the same building, by Armand-Raphael's great-grandchildren - brother and sister, Anne and Antoine Malassagne.
What I admire about this duo is that they both had successful careers elsewhere when they inherited the business and could easily have sold up to live handsomely off the proceeds. But their passion, uncompromising commitment to quality, long hours of hard work and expensive initiatives, both in the vineyard and winery, have seen the house returned to its former glory.
I've had the pleasure of meeting Antoine a few times, once over lunch at my house, which gave me not only an insight into his wines, but an appreciation of the quality of Lenoble's 18 hectares of vineyards. They own vineyards in the Grand Cru village of Chouilly (Chardonnay) and in the Premier Cru of Bisseuil (Pinot Noir). Pinot Meunier comes from growers in the village of Dameray. Owning such excellent vineyards and having such a high level of self-sufficiency ensures a continuity and quality of fruit that's fundamental to the success of the house.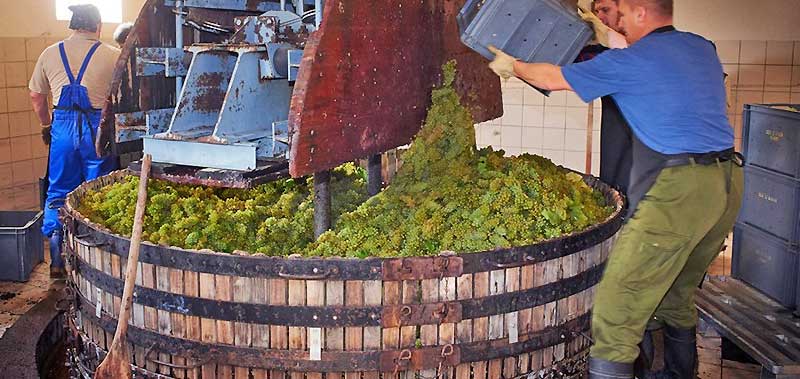 Out of 320 villages in Champagne, there are only 6 Grand Cru Chardonnay villages, which can provide only a fraction of the Chardonnay required for the millions of bottles of Champagne produced each year. Top houses such as Louis Roederer (Cristal), Bollinger and Pol Roger are unable to use just Grand Cru Chardonnay in all of their blends. I was stunned to learn that Lenoble's Chouilly holdings combined with their small production means they are the only house in Champagne able to use Grand Cru Chardonnay in all of their wines, even the entry level Cuvée Intense NV. It makes you realise just how special this house is.
Before assuming his place in the Champagne world, Antoine was an engineer, the profession to which he attributes his meticulous and scientific approach in the vineyard. High rainfall in Champagne makes mildew a constant threat, but Lenoble's vineyards are managed without the use of chemical sprays and the house was the second (after Bollinger) to receive the Haute Valuer Environmental HVE (High Environmental Value) Certification.
Back in 2013, AR Lenoble was ranked 14th of the 50 Best Champagne Houses by the highly acclaimed French wine magazine La Revue du Vin de France. "A must discover!" they exclaimed, putting Lenoble ahead of big names such as Veuve Clicquot and Taittinger. Considering there are over 300 Champagne houses, it was a huge gong for such a small house.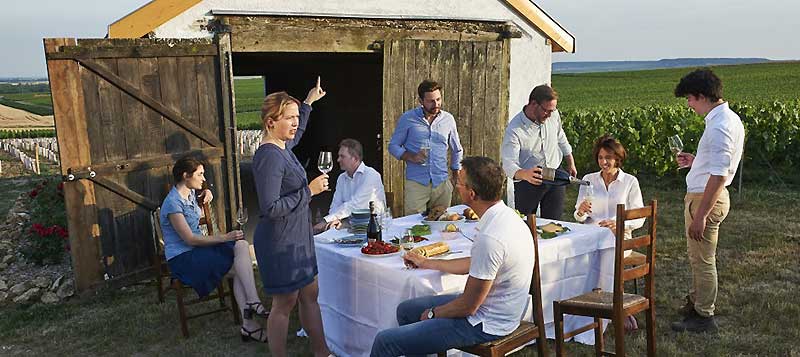 Here's Robert Parker on A.R. Lenoble: "The Domaine A. R. Lenoble proved to be an exciting discovery. As I have frequently written, one of the more positive developments in Champagne is the number of small domaines that are getting recognition for the high quality of their selections… particularly those offering wine with a quality/price rapport such as Domaine A. R. Lenoble." Wine Advocate, #107
For non-vintage Champagne, the blending process (known as assemblage) requires great skill in order to create continuity of house style. I find the Lenoble NV style more at the Bollinger/Krug end of the spectrum for weight and complexity, rather than the lighter, fruitier (and dare I say industrial) style of Moët.
---

A R Lenoble Cuvée Intense NV
The blend of this wine is similar to that of previous years with 30% Chardonnay, 35% Pinot Noir and 35% Pinot Meunier. Being non-vintage, the wine is a blend from various vintages, but the majority (about 65-70%) is from 2013.
As noted above, the Pinot Noir is from the Premier Cru village of Bisseuil (very chalky soils), the Chardonnay is from the Grand Cru Village of Chouilly and the Pinot Meunier is from Damery (where the house is based), as well as a few other vineyards in the Marne Valley. The remaining 30-35% is reserve wine, which is a blend (from solera) of much older vintages, providing that bit of additional complexity, weight and richness. The wine does not go through malolactic fermentation, which helps to retain freshness. The dosage is 5 g/l, making it a dry style.
"An impeccably crafted wine from noble fruit sources, offering value for money. Crunchy apple and grapefruit define a well-focused fruit profile, backed by the biscuity complexity of bottle age and a touch of oak, culminating in a finish of well-focused malic acid line and neatly integrated low dosage. A touch of phenolic texture does not interrupt its flow or mineral mouthfeel. A cuvée of integrity and poise." 93 points, Tyson Stelzer - The Champagne Guide 2018-2019.
To give some perspective: Veuve NV 91 points, Moet NV 88 points, Mumm NV 89 points, Piper Heidseck NV 91 points, Pommery 86 points, Taittinger 93 points.
"Remember gentlemen, it's not just France we are fighting for, it's Champagne!" Winston Churchill.
The good stuff, from a producer that avoids the limelight. I know what I'll be drinking this Christmas.
I can offer it for $65 a bottle Order here
---

Find our full list of Champagne and sparkling here
Find our full list of rosés here