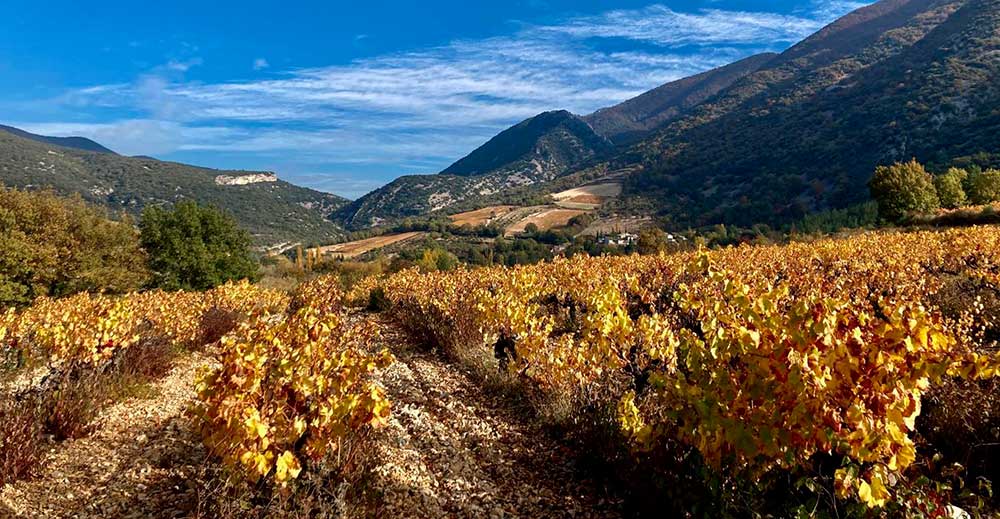 Domain St Damien was renamed in 1979, after a Chapel, that once stood near the vineyards.
The magnificent Rhône region of France follows the Rhône river from Vienne in the north, to Avignon in the south. Neatly divided into two sub-regions, the Northern Rhône and the Southern Rhône, the catchall Côtes du Rhône appellation theoretically covers wine from anywhere within the region. In reality though, nearly all wine labelled Côtes du Rhône (CDR) comes from the vast and sunny Southern Rhône.
I've offered CDRs many times in the past, but it's important to realise there are CDRs and there are CDRs. It's not often made clear, but this is because there are actually 3 Côtes du Rhône classifications, which are, in ascending order:
- Côtes du Rhône
- Côtes du Rhône Villages
- Côtes du Rhône Villages (with a named village).
Côtes du Rhône AOC (Appellation D'origine Contrôlée) covers about 32,000 hectares and permits the use of 21 grape varieties, both red and white. However the majority of wines (87%) are red and made from grenache, syrah and mourvèdre. Since 1996, red Côtes du Rhône must contain at least 40% grenache but (isn't there always an exception?) wines made in the northern Rhône, where syrah is the favoured grape, are exempt from this rule. Red Côtes du Rhône is, at heart, an informal wine - not too structured, usually mid-weight, fruity, fragrant and easy to drink. Most red Côtes du Rhône is enjoyed young and it offers terrific value. Wine writer Andrew Jefford describes it as "Delicious and supremely drinkable red wine. Almost nowhere in the world can match the Côtes du Rhône at its best."
Côtes du Rhône Villages AOC is a step up from straight Côtes du Rhône, with about 95 villages identified as superior. The appellation covers only about one tenth of the area of standard Côtes du Rhône. It allows 9 grape varieties and requires higher minimum alcohol levels and lower yields in the vineyards. The wines tend to be more full-bodied, and spicy in style than standard CDR.
Côtes du Rhône Villages AOC (with geographical name) is another distinct step up in quality, with requirements regarding production more stringent still. The wines offer more depth and flavour and may also have been aged for a few years. Last time I wrote about this in detail there were 18 villages, now there are 22 singled out for the superior quality of their wines and so are allowed to add their actual name to the label.
In the beautiful department of Vaucluse, there are eleven of these so called named-villages, one of which is Plan de Dieu, about a 35 min drive north of historic Avignon, gateway to the Southern Rhône. The official 'Vins Rhône' website proffers a nice story on the origin of the name Plan Dei or Plain of God; "In the Middle Ages, crossing this vast bandit-infested forest of scrubland could mean taking your life into your own hands; all you could do was commit your soul to God."
While the term Plan de Dieu goes back as far as 1326, the area didn't gain named-village appellation status until 2005. These days the appellation covers over 900ha of fairly sparse landscape that yields barely a bottle per plant. The idea with yields is that less is often more in terms of the resulting quality. Plan de Dieu is a red-only appellation, with grenache, syrah and mourvèdre that produce "well-coloured, dense and concentrated wines, with aromas reminiscent of the surrounding Garrigue scrubland: thyme, bay and undergrowth."Vins Rhône. In true southern Rhône style, local winegrowers have designed their own snazzy bottle featuring the embossed words "Plan de Dieu" as well as a bunch of grapes topped with a halo.
---
Domaine St Damien
Just to the east of Plan de Dieu, in the Cru du Côtes du Rhône appellation of Gigondas, lies the seriously underrated Domaine St Damien. The estate has been run by the Saurel family since 1821, with the current custodians Joel and Amie Saurel at the helm since 1978. The couple changed the name to St Damien in 1979, naming it after a Chapel, long since fallen down, that stood near the estate, honouring St Damien, an early Christian saint who was martyred in 287AD. In case you were wondering, Damien is the patron saint of doctors, surgeons, blind people and barbers.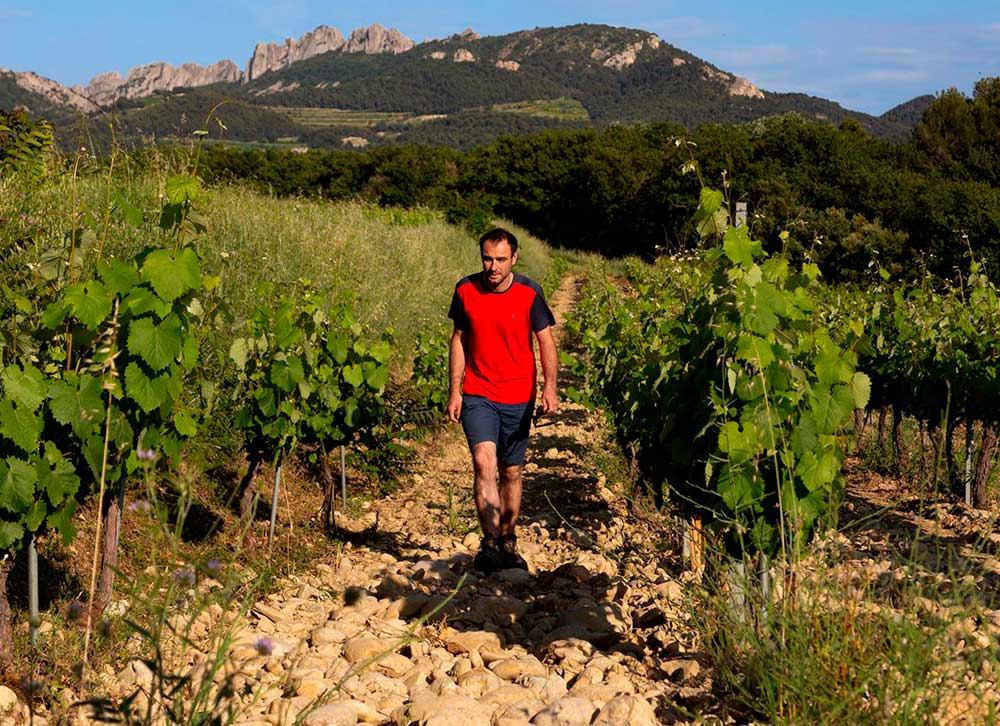 Romain Saurel in the vineyard.
The estate traditionally sold its fruit to négociants, however Joel and Amie started to make their own wine in the mid-90s, soon after engaging renowned consultant Philippe Cambie, with admirable results. "Proprietor Joel Saurel, backed up by the inimitable Philippe Cambie as his consultant, has transformed this estate into one of the greatest locations in Gigondas, rivalling the two top producers…" Robert Parker, The Wine Advocate.
Joel is largely responsible for the domaine's current (insider) fame and was also the one who got the vineyards up to Agriculture Biologique certification in 2012, which means they're certified organic.
These days the estate has a total of around 45 ha of vines, most of which are quite old and cropped low. Joel and Amie's son Romain is in charge of winemaking and tends to age the wines in large, traditional concrete vats and old foudres, and then bottles them on the young side to preserve freshness. He also bottles without fining or filtration.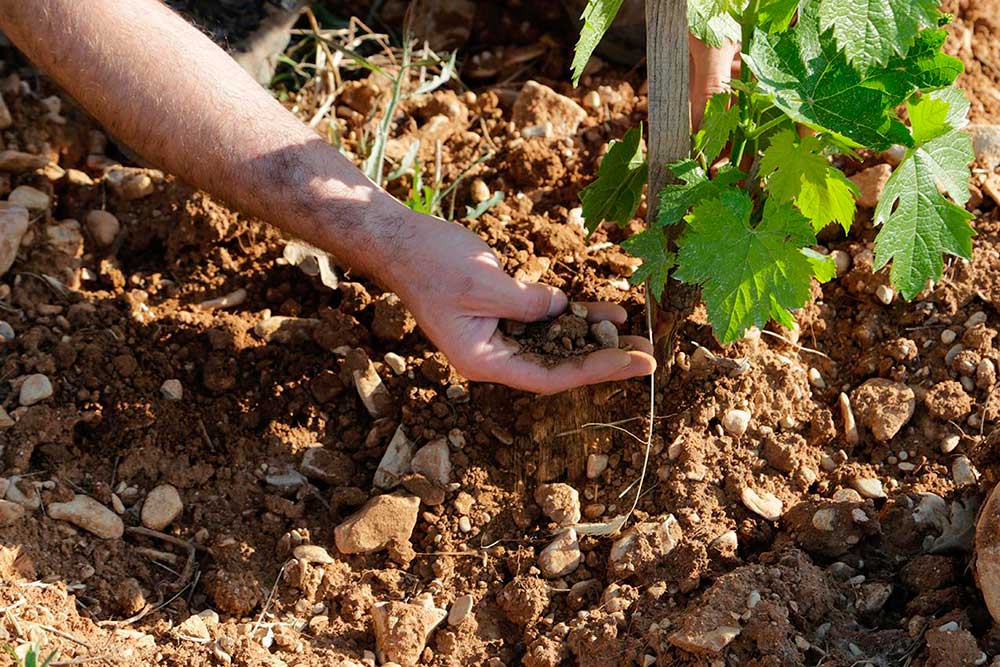 The estate only uses natural products to protect vines from different diseases. Fertilization is done only with manure from organic farms located in the Alps.
"Domaine Saint-Damien has been producing some of the region's most elegant wines for years, but for some reason they rarely get the attention they deserve. Pricing here is also admirably fair, which makes this an address to be reckoned with for savvy Rhône wine lovers. These wines are now consistently delivering some of the southern Rhône's greatest values in high-end wine." Vinous Media, February 2020.
"All of the wines I tasted at the domaine were outstanding, and it is something to say that there is not a dog in the lineup." The Wine Advocate, September 2018.
Aside from the estate's Gigondas wines, (a couple of which we have here), St Damien also has vineyards a few kilometres away in Plan de Dieu, from which they source the fruit for this absolute bargain of a wine.
---

Domaine St Damien Côtes du Rhône Villages Plan de Dieu Vieilles Vignes 2019.
This wine is a blend of 80% grenache and 20% mourvèdre, with the vines located on terraces in the village appellation of Plan de Dieu, which itself is within the commune of Violès. Vieilles Vignes means old vine, which is apt given the grenache vines date from 1948. The mourvèdre are from 2010. The grapes are co-fermented for 30 days in concrete vats before 8 months of aging (again in concrete). The wine is bottled without fining or filtration. The finished wine is 14.5% alcohol and is sealed with a cork.
In the glass this is a rich rosey red. On the nose you'll find dark cherry with a hint of barnyard (in a good way). On the palate, dark cherry and raspberry jubey fruit meld with pepper, pith and graphite. Generous, medium to full-bodied with tannins firm but smooth. Lipsmacking and juicy.
"To my palate, this is a baby Gigondas and is a superb value!"
John Gilman, View from the Cellar.
"The 2019 Cotes du Rhone Villages Plan de Dieu Vieilles Vignes is an excellent option for consumers who don't want to spend the extra money for the Saurel family's Gigondas bottlings. The garrigue on the nose is a bit more subtle than normal this year, with the bulk of the aromatics being super ripe cherries and berries. Full-bodied and intense, with a helping of firm tannins that keep the jamminess in check, it finishes dusty and savory, with ample length. This is a big wine, yet one I suspect will mature relatively quickly; drink it over the next 5-6 years."
90-92 points, Joe Czerwinski – Robert Parker's The Wine Advocate.

"The 2019 Plan De Dieu Vieilles Vignes gives up beautiful notes of black cherries, raspberries, flowers, and peppery garrigue. Medium to full-bodied, silky and just beautifully balanced, this is a no brainer Southern Rhône to enjoy over the coming 5-7 years as well."
90-92 points, JebDunnuck.com
These are simply outstanding reviews for a wine of this price.
You'll marvel at the depth and complexity this wine compared to standard CDRs. Stock up quickly - I only have a limited amount.
I can offer it for $29 a bottle (limited). SOLD OUT