Ask any winemaker from the Barossa and they'll tell you it's the best place in the world to grow grapes. Local bias aside, it's pretty fair to say the Barossa is recognised as one of the great wine regions of the world.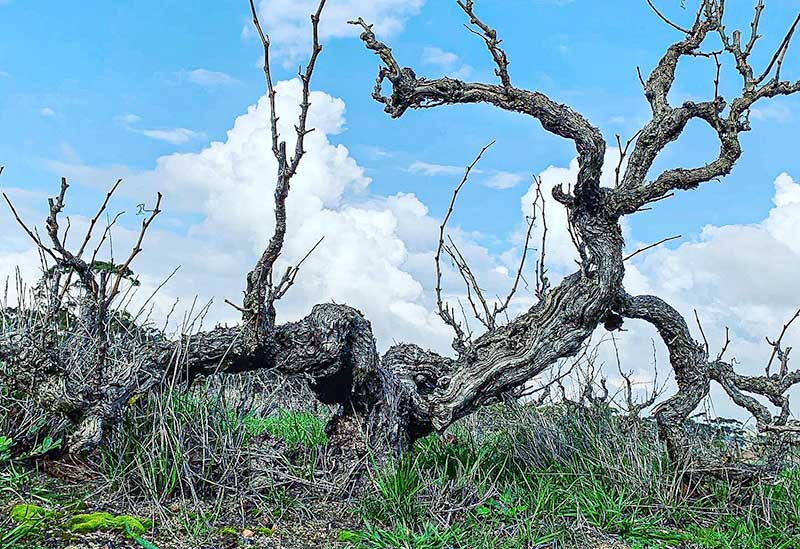 Spinifex sources its fruit from vines between 75 years to over 150 years old. The grenache vine above is 110 years old and dry grown in deep sand.
The Barossa Valley lies about 60km northeast of Adelaide and while originally settled by the Brits, much of the region's Germanic culture comes from Silesian (ie. Prussian) Lutheran immigrants who settled here in the mid 1830s. The origin of the Barossa name is care of Colonel William Light, who fought in the Battle of Barrosa (note the two Rs and one S) near Cadiz in Spain in 1811. The different spelling is a clerical error that stuck.
The climate in the Barossa is considered Mediterranean, typified by warm to hot summers and moderate rainfall, mainly during mild winters. Pretty nice really. While over 40 different grape varieties are grown here, the signature variety is of course shiraz, however other important reds most notable grenache, mataro and cabernet are also grown. Worth noting are Barossa vines greater than 125 years old, making them some of the oldest producing vines in the world.
During the 90s the Barossa became known for a style that suited the palate of influential US wine critic Robert Parker. Characterised by high alcohol, rich, ripe fruit, and masses of sweet new oak, it was first brought to prominence in the Barossa by Torbreck in the mid-90s.
Despite the global success of this style, it wasn't long before a small bunch of winemakers were looking to challenge the so-called 'Parkerisation' of the Barossa, and redefine the classic Barossa red, giving rise to wines that were made in a leaner, less-oaked and more savoury style.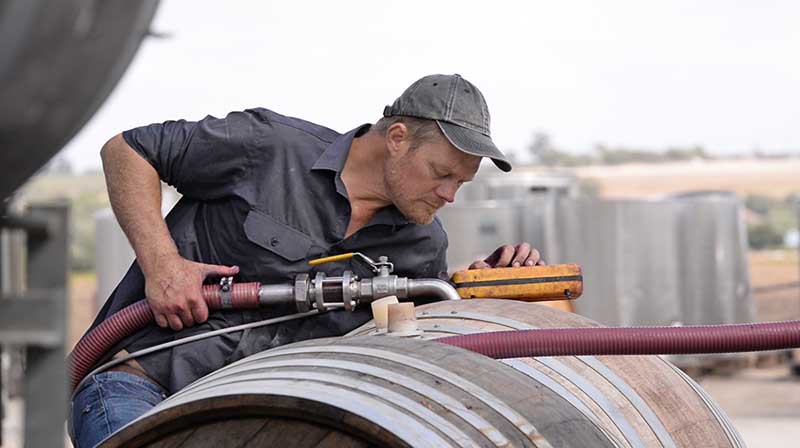 Peter Schell at the Spinifex winery.
Spinifex Wines:
At the forefront of this wave was NZ-born Peter Schell and his French-born wife Magali Gely. They established Spinifex in 2001, and it's since become one of the Barossa's most exciting and highly regarded wineries.
Peter is a trained oenologist (winemaker) and has made wine in Burgundy, Bordeaux, Provence, Languedoc, Switzerland and NZ, and Magali's family has been growing wine near Montpellier for over 10 generations. The couple source their fruit from a small group of dedicated growers in both the Barossa and Eden Valleys, concentrating on varieties from the south of France.
"Pete [Schell] and his partner Magali Gely operate what I think is the best new-wave of small-scale Barossa wine companies to emerge at the beginning of the 21st century… These weren't big, blockbuster, showy wines designed to impress. They were wines that managed to take the best of the Barossa's sometimes forgotten varietal traditions and fuse them onto a very European flavour sensibility." Max Allen, The Future Makers.
"Wow what an impressive newcomer this is... Great wine and immaculate packaging is a heady mixture." James Halliday Wine Companion.
"Peter Schell, a New Zealander transplanted to the Barossa, is one of the stars of the region, producing composed, elegant wines from vineyards across the region." James Suckling 2015.
5 stars - Outstanding Winery, James Halliday Wine Companion.
Winery of the Year, 2009 Penguin Australian Wine Guide.
The couple makes a wide range of excellent wines, including several interesting white blends, a couple of super-duper rosés and some serious reds including a GSM.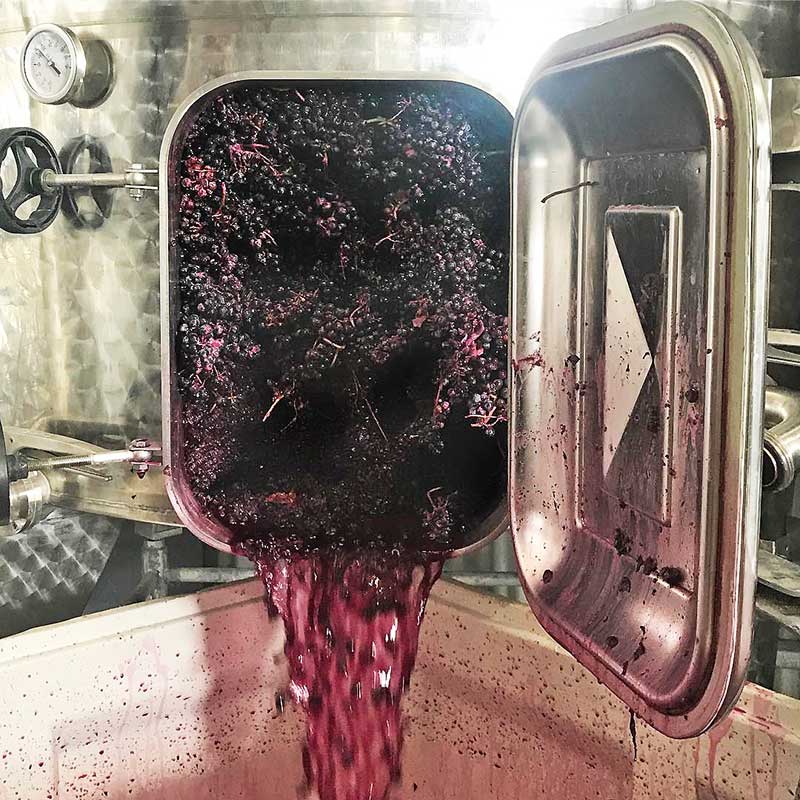 About 40% of the fruit was left as whole bunches.
GSM is of course grenache, shiraz, mourvèdre/mataro (same variety) and like many aspects of Australian wine, it's not an original concept. You'll traditionally find this blend in the southern Rhône, most notable in Châteauneuf-du-Pape and Côtes du Rhône. You'll also find it in Languedoc and California where it's promoted by the aptly named Rhône Rangers.
The two leading regions for this blend in Australia are the Barossa and McLaren Vale. "Both of these warm, dry regions have demonstrated that they are ideally suited to the late-ripening grenache and mourvèdre grapes". Decanter Magazine, Sept 2018.
Max Allen explains the Barossa style of GSM… "gutsy, spicy, leathery, complex and rustic barbecue red wines often made from very old vines". The grenache provides lighter, red fruit flavours as well as perfume and spice; shiraz contributes richer fruit flavours and structure; while mataro brings earthy and spicy elements and texture to the mix. The three varieties often seamlessly mesh together as a complete blend."
---

Spinifex Esprit 2018
More GM, than GSM, this delicious wine is a blend of 56% grenache, 40% mataro and 4% shiraz, and what I really love above it, is that while it offers plenty of flavour, it's not all about sweet fruit or sweet oak. The wine offers superb earthy, savoury and spicy characters all while showing balance and restraint.
The handpicked fruit is sourced from several very old vineyards on the northern (Ebenezer), western (Moppa) and eastern edges (Angaston Foothills) of the Barossa, as well as from Springton in Eden Valley. The vines range in age from 75 to over 150 years, and all are dry grown (ie no irrigation) with minimal vineyard inputs - old vineyards grown the old way.
Ferment was carried out using natural/wild yeasts and minimal intervention. About 40% of the fruit was left as whole bunches. This practice of leaving stems on was considered old fashioned, but in the last decade or so it's made a comeback. The effect that stems have on a ferment is complex, with winemakers citing several differing outcomes, but the most often referred to are fragrance and elegance. Post ferment the wine spent time in a combination of large old oak and stainless steel, and was finally blended and bottled without filtration. The finished wine is 14.5% alcohol and sealed with a screwcap.
"Earthy, savoury bouquet with dried but fresh-feeling berry fruits, some dark chocolate notes, but faint, black jelly bean and anise. The palate is supple, draws long to a fine pucker, feels a bit 'emery board texture' and shows some inky concentration though the wine rides high on cool acidity. It's quite an elegant wine at the same time as being a bit rugged, in the best sense. I like this." 93 points, Mike Bennie (The Wine Front).
"A distinctly spicy bouquet, and the medium-bodied palate plays follow the leader, plush and welcoming, neither tannin nor oak doing anything more - this leaves the spicy, juicy palate free to roam across the palate." 94 points, James Halliday (Halliday Wine Companion).
"Really beautiful and floral on the nose with dried flowers, as well as sage, highlighting the pretty berry character. Full-bodied, tight and chewy with lovely fruit and freshness. Linear centre palate. Drink or hold."96 points, James Suckling (JamesSuckling.com)
You'll find it down on the wharf at Kinglsey's Woolloomooloo for $80 a bottle.
Or you can enjoy it at home for $31 a bottle. SOLD OUT
---
Also available from Spinifex...

Spinifex Rose 2019
"It's true that this displays juicy fruit and an element of texture but it offers a lot more besides. It's spicy, slipped with pomegranate, pale salmon in colour, and carries highlights of orange peel and fennel. It works simply as a refreshing drink but those who stop to contemplate will be rewarded." 94 points and Special Value Rating, Halliday Wine Companion.
"Excellent rosé. High drinkability, fair amount of texture, fruitiness, savouriness and more. Complex but not at the expense of straight-out more-ishness. Orange oil and redcurrant, pomegranate and woodspice. Such good mouthfeel, such good flavour." 94 points, Campbell Mattinson, The Wine Front.
I can offer it for $23 a bottle. SOLD OUT