What's the wine style you most associate with Australia? Is it Barossa shiraz, Coonawarra cabernet, Margaret or perhaps Clare Valley Riesling? My two picks would have to be the magnificent fortified wines of NE Victoria and Hunter semillon, but given we"re seeing the last vestiges of summer, I know which of these I'd prefer to be drinking right now.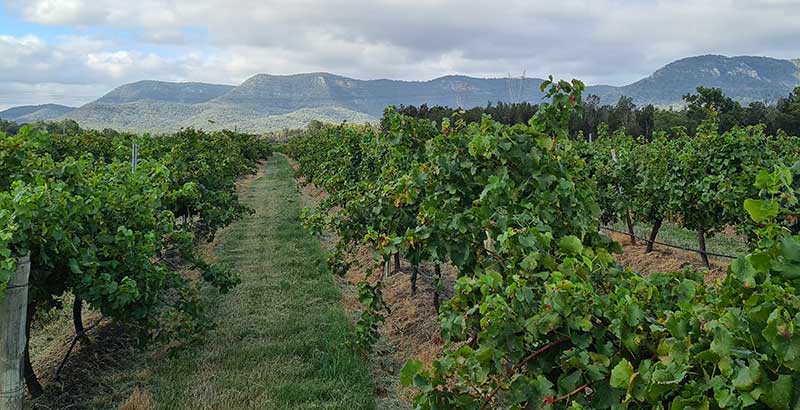 Braemore semillon vineyard in the Hunter Valley.
Hunter semillon is a uniquely Australian wine, with nothing else made like it anywhere in the world. And despite all the praise, it remains very much Australian wine's unsung hero.
"One of Australia's great gifts to the wine world." Jancis Robinson MW.
"Among the greatest and most distinctive in Australia, if not the world." Huon Hooke.
"One of Australia's miraculous wines." Decanter Magazine.
"One of Australia's great wine treasures." James Halliday.
Of course, semillon isn't just grown in the Hunter. Most of it is grown in France, principally in Bordeaux where you'll find it as a dry white in Graves and Pessac-Léognan, as well as in Sauternes and Barsac where it produces some of the greatest sweet wines of the world. In Australia the majority of semillon is grown in the large Riverland area and aside from the Hunter, you'll also find various styles from the Barossa, Clare, Adelaide Hills, Great Southern and even Margaret River.
It's clear many overlook semillon and some would say with good reason. In her must have reference book Wine Grapes, Jancis Robinson doesn't beat around the bush, describing semillon as "not a fashionable variety." Despite this, and more importantly, she goes on to say that "it has a noble history of being responsible for some of the most distinctive dry white wines in the world." And there's no doubt it's the unique semillons of the Hunter Valley that she's referring to.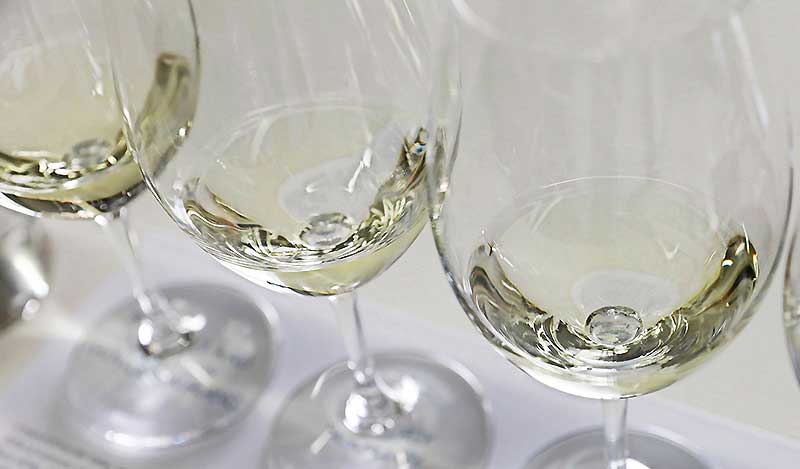 Classic Hunter Valley semillon is picked early, fermented to dryness, and bottled early without exposure to oak. Because they're picked early, the grapes have plenty of natural acidity and lower levels of sugar, the latter of which results in lower alcohol in the finished wine. The great thing about semillon is that, unlike many other varieties, it's able to reach flavour ripeness at these lower sugar levels. German Riesling also has this capability.
Hunter semillon has an incredible ability to age while still being eminently drinkable along the way. When young, it's bright, racy and refreshing, with crisp acidity and lemony flavours. With age, it transforms, becoming darker in colour and taking on honeyed, toasty oakey notes to such an extent you'd swear it was oaked. With age, Hunter semillon gains flavour and complexity, but due to its low alcohol and bright acidity, it retains its delicacy.
Hunter semillon usually has an alcohol content of around 10%-11.5% which I like as it doesn't knock you around like the 14-15% wines common these days. Its bright acidity makes it great with a wide range of food, and best of all, largely due to its unfashionable status, it's very affordable. Now you can have your cake and cellar it too.
"Hunter Valley semillon is unique in the world of wine, famed for its ability to transform from a super-bright, super-fresh wine into one that's nutty, honeyed and complex. Young Hunter semillon is lean and citrusy, while mature styles display sweeter, softer characters." James Halliday.
Video Courtesy of Wine Australia
News of the 2020 vintage in the Hunter was dominated by smoke taint. Fortunately, the region lost no vines to fire, but outbreaks in the nearby national parks and state forests lead to significant smoke issues, especially in the Broke-Fordwich sub-region, which was the worst affected.
The effect that smoke has on vines, their grapes and the subsequent wines is not clear or simple. The Hunter's local Newcastle Herald ran an article back in Feb 2020 that dealt with the issue:
"Smoke-taint compounds are made up of volatile phenols that permeate the skin of the grapes and bind to the sugars where they stay and accumulate. The more smoke the grapes are exposed to, the more phenols can bind to the sugars and accumulate in the grapes," says La Trobe University professor and smoke-taint researcher, Dr Ian Porter. "You need to get above a certain threshold of phenol compounds in the grapes to end up with a noticeable sensory taint in wine."
Smoke-taint can manifest itself anywhere between the pleasant smell of bacon to the filthy taste of a used ashtray. It all depends. The science of smoke-taint is still new. What researchers like Porter do know, is that the composition and levels of specific phenols in the smoke determines the severity of smoke-taint.
Dr Porter makes it very clear: "It's not wise to dumb it down to just smoke presence equals smoke-taint, because it's not that simple."
"Grape variety, moisture levels, UV radiation, wind direction, geography, topography and distance can all have a variable effect. People think it's just a matter of measuring smoke and assuming that any levels above 100µ/kg, (micrograms per kilogram) will be detrimental. It's just not that simple," Porter explains.
Many of the large wineries declared significant crop loss, some didn't make any wine. The issue is compounded by the fact that it can take months after ferment for smoke taint to appear in a wine.
While we all prefer vintage generalisations, it's important to realise that smoke was not a universal issue in the Hunter in 2020. Not all vineyards were affected and the good news for those who did make wine is that there is some schmicko technology at The Australian Wine Research Institute (AWRI) that, combined with in-house tasters, can detect even the faintest trace of smoke taint.
And to show you how generalisations can obscure the true picture, while smoke taint got all the headlines, for many vineyards, a bigger issue affecting the 2020 vintage in the Hunter was drought. 2020 was the fourth vintage without any significant rainfall and yields in some vineyards were down between 40 and 60 percent!
---
Thomas Wines
Late last year I had the pleasure of a visit from Andrew Thomas, or Thommo as he's known by all. For someone who's done over 30 consecutive vintages in the Hunter, it's a surprise to learn that Thommo grew up in McLaren Vale. His first job out of Roseworthy College in 1987 was with Tyrrell's and a combination of hard work and skill saw him work his way to the top, eventually becoming chief red winemaker.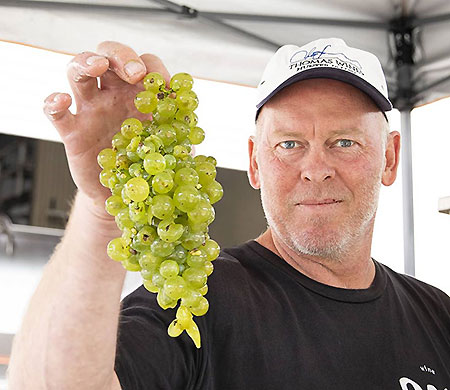 In 1997 he started his own gig, specialising in semillon and shiraz. Over the ensuing years he received considerable recognition for his talent, including being named Hunter Valley Winemaker of the Year in 2008 and 2014, and collecting a swag of trophies and hundreds of medals along the way.
"One of the most awarded of a new generation of Hunter winemakers." AFR.
"Andrew Thomas is acknowledged as one of the best practitioners of the fine art of coaxing young semillon to grab attention without compromising a 15+ year life, adding yet more to the flavour span." James Halliday.
"Andrew Thomas is actually re-inventing Hunter Valley semillon. He's developing more complex, minerality and texture in his young wines, without sacrificing any of the styled notes of longevity…" Jeremy Oliver.
"These days clever winemakers such as Andrew Thomas are producing semillon that is so refined, soft, beautifully balanced and delicately fruity, it is utterly delicious drinking within a few months of harvest." Huon Hooke, SMH.
"Andrew Thomas continues to be a shining light in the Hunter Valley." SMH Good Food Guide.
"Winemaker Andrew Thomas is an emerging superstar of the Hunter, producing peerless semillon and classy shiraz." Peter Forrestal, Qantas Magazine.
"A standard bearer of Hunter semillon." Decanter Magazine.
So back to the 2020 vintage - Thommo told me yields were down an incredible 60% and that some, but not all vineyards were affected by smoke taint. In typical Thommo style though he still 'had a crack' at this most difficult of vintages.
---
Thomas Synergy Semillon 2020
This is the first time I've offered this wine and that's because the 2020 is special. Usually it's sourced from several old vine Hunter semillon vineyards but conditions in 2020 meant that these vineyards were smoke affected.
So for the first time, 100% of the fruit for this entry level wine was sourced from Thommo's own Braemore Vineyard, which was largely protected. This site on Hermitage Road in Pokolbin was planted in 1969 and "is considered to be one of the Hunter Valley's best sites for semillon," Daniel Honan, The Newcastle Herald. In every other year the vineyard is earmarked for the aptly named Braemore semillon, Thommo's most recognised, awarded and significantly more expensive, white wine.
Despite this wine coming from areas of the vineyard that did have some smoke effect, there's not a hint of smoke taint in the finished wine. Thommo had the wine analysed at the Australian Wine Research Institute to confirm this.
In the glass this is clear light gold. On the nose you'll find notes of baked pineapple, tropical fruit, melon and beeswax. On the palate: Lemon zing and honeydew mingle with musk and white pepper - a pleasant nuttiness on the finish. Fresh, light to mid-weight and delicious, this is 11.5% alcohol and sealed with screwcap.
This was included in Halliday's 2020 Top 100 Wines at the end of last year, in the 'Top Whites under $25' category - one of only two Semillons.
"There's nothing usual about the depth of varietal fruit expression on the palate. Lemongrass/lemon curd flavours run throughout, Hunter acidity the staff of the long life ahead. Great success in a difficult vintage." 95 points, James Halliday. Hardly a surprise that it also received a Special Value Award.
"A brilliant pale yellow/green in colour, this wine has a generosity of fruit not usually expected in Hunter Semillon. Floral aromas of orange blossom, Thai spices and lanolin dance around the glass, and are kept in check by a linear, lime-like focus. The palate offers pleasing flavours with ripe pear and lemon/melon fruit, and a lengthy, subliminally taut acidity providing a pleasing freshness to the finish. An absolute perfect accompaniment to fresh seafood dishes." Winemaker's notes.
The devastating circumstances of vintage 2020 saw this wine adapt. The silver lining in the smokey cloud though is the incredible value it offers to those in the know. This really is a one-off wine.
I can offer it for $22 a bottle.


---

Thomas Wines Cellar Reserve Braemore Semillon 2013
As I mentioned, Thommo makes several semillons. His best/most recognised is the Braemore, named after a vineyard on Hermitage Road Pokolbin, planted in 1969.
"Braemore is considered to be one of the Hunter Valley's best sites for Semillon," Daniel Honan, The Newcastle Herald. Not surprisingly the Braemore Semillon is Thommo's most awarded white wine and while he has been sourcing fruit from the vineyard for years, at the end of 2017 he got the chance to purchase it.
Thommo did make a Braemore Semillon in 2020, albeit in vastly reduced quantities, due to the 60% reduction in yields. Unsurprisingly it sold out in double time, but to keep his loyal followers happy, he released the 2013 vintage, and how lucky we are that he has!
"I'll say this on the record… The 2013 vintage Braemore Semillon is THE BEST vintage I have produced in the 21 years of making wine from this iconic vineyard. Awarded 12 Trophies and 21 Gold medals to date,"Andrew Thomas, winemaker. This is a big call and one not made lightly.
Simply a delight to drink, this is past that stage of shutdown that Hunter semillon can go through after a few years, where they have neither freshness nor fruit. It's showing plenty of both, as well as some delicious nutty development. It's still so fresh - amazing! 10.7% alcohol. Screw cap.
"With seven years in bottle, this wine is just starting to emerge with those classic bottle-aged Hunter Semillon complexities. Bright mid-yellow/green in colour, the nose has nuances of buttered toast and honeycomb, layered over fresh grassy, citrus-like fruit. The palate has developed an attractive richness, yet maintains an amazing delicacy and freshness with vibrant fruit and a fine, focused line of acidity. The wine is in a superb drinking zone right now, but cellared well it will also continue to evolve over the next decade and beyond..." Winemaker's notes.
Here are some notes at the time of release.
"The 2013 Thomas Wines Braemore Semillon is getting the highest point score I have ever given to a Semillon. The colour of this wine is a pale straw colour. The wine is very crisp on the palate, with an intense citrus and lime flavour. The wine is very precise and linear, leading to a clean finish. This is a step up from the very good previous years. This wine is perfectly balanced and will last for at least 15 years, obviously changing its character to more honeyed flavours over time. I could not think of a better expression of this grape." 95+ points, Andrew Graham, Australian Wine Review, 27 December 2013.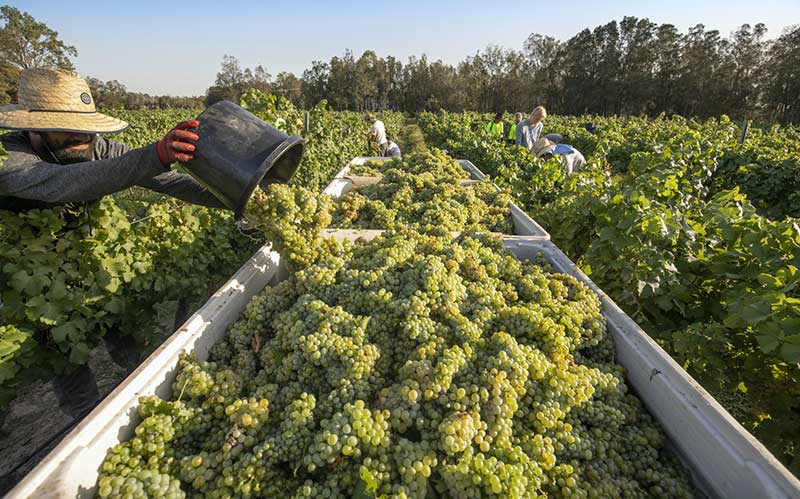 Semillon picking in the Braemore vineyard.
"An example of a master winemaker of semillon at play with a great vineyard and a great vintage. The expectation was sky high, but easily cleared by this beautiful semillon, with its gleaming rivulets of polished lemon and honeydew melon, its balance already wondrous, its length impeccable. Drink it tonight or 20 years hence." 97 Points Halliday, 26 July 2014.
I managed to get a few of the last cases. Be quick.
I can offer it for $64 a bottle.