I get asked how to store wine all the time, and rightly so. If you're serious about wine, then cellaring is crucial. I can tell you, from many years of experience, that good cellaring conditions make a huge difference to the condition and enjoyment of aged wines. So what are ideal storage conditions?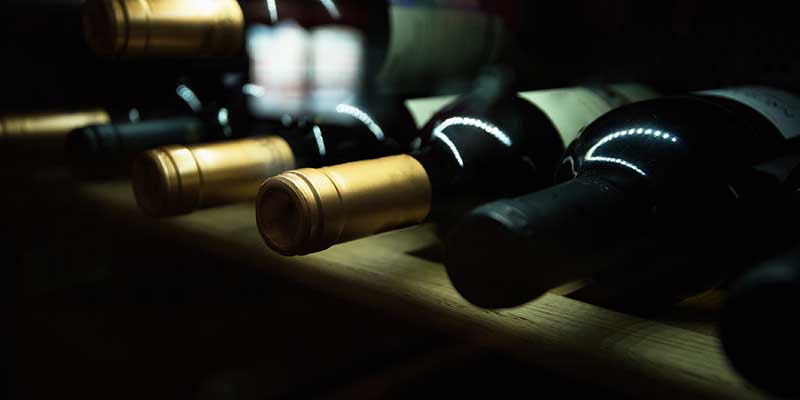 Temperature: No doubt you're aware that wine exposed to excessive heat will deteriorate significantly. But there are risks associated with extremely low temperatures as well. The thermostat on my friend's wine fridge failed, resulting in the temperature plunging and his precious wines freezing and pushing out the corks. Disaster! The ideal temperature range for long term storage is somewhere in the range of 10-15 degrees celsius. Having said that, constancy of temperature is more important. It's better to have a steady 18 or even 20 degrees, than the usual 15-20 degree variation that occurs in most cellars in Australia over the course of a year. Temperature fluctuation is a wine killer.
Humidity: If conditions are too dry, there is a risk that corks will dry out, shrink and stop forming an effective seal, oxidising the wine. On the other hand, while damp conditions are good for the wine, too much moisture seriously damages labels. Most sources say somewhere between 55%-75% humidity is safe.
Light: Having your prized bottles beautifully lit up might look good, but strong light, especially sunlight, is detrimental to wine, particularly sparkling wine. The less light the better.
Security: Adequate security is a must. I've heard of several heartbroken collectors who've had their precious cellars stolen. You need to weigh up the level of security versus ease of retrieval.
Odours: A cellar should be free of strong odours (eg paint, chemicals) which over time may permeate the cork and taint the wine.
Vibration: There is still some debate about the effect of vibration on ageing wine. Some say vibration causes particles to remain suspended in the wine, rather than sinking to the bottom, affecting chemical reactions during the ageing process. Others, like Jancis Robinson, say there isn't hard evidence for this yet and it's more of a hunch. If you can, avoid storing your wine against walls shared with large appliances such as washing machines.
The cellar we all dream of is one that meets all these requirements, and sits right underneath our home. Of course creating a cellar like this is beyond the reach of most, but two other options have emerged in recent years. Wine cabinets are versatile and cost effective but still require you to find the space. For those without much space, there's commercial wine storage.
Aside from the obvious benefits of providing ideal cellaring conditions, one of the things I like about commercial wine storage is that it prevents impulsive opening of treasured and usually expensive wines at the end of a long night. The amount of wine consumed earlier in the evening (usually the cause of such a fit of well-meaning generosity) diminishes the capacity for genuine appreciation. Having your wine stored off-site is sometimes a good thing!
Speaking of cellaring - I just found a couple of nice Barolos you might like. This world-famous wine is made from Nebbiolo, grown in the Piedmont region in the northwest of Italy. It's appeal lies in its seemingly contradictory ability to combine subtlety and perfume, with power and structure. Barolo is a wine built on the back of serious tannins and high acid, which explains its incredible ability to age.
Common descriptors for Barolo include; "tar and roses, violets, cherries, truffles, mushrooms, chocolate, woodsy spices such as liquorice and cinnamon, potpourri, leather, tobacco and boot polish." Jane Faulkner, James Halliday's Wine Companion.
Unfortunately, due to global demand, Barolo is expensive, but here's a top estate that I think by Barolo's standards, represents value for money.
Massolino is a top producer, whose Barbera I offered last week. But like many good Barbera producers, their reputation has been built firmly on Barolo. The estate regularly wins praise from big cheese critics such as Robert Parker's The Wine Advocate.
Massolino was awarded Winery of the Year 2010 by high profile US based Wine & Spirits Magazine.
---

Massolino Barolo DOCG 2012
This is the estate's entry level Barolo and is sourced from seven vineyard sights.
"… is a super-attractive mid-weight wine. Freshly cut flowers, mint, raspberries and sweet red cherries all lift from the glass in a feminine, gracious Barolo built on pure class and nuance. Fine, silky tannins add to an overall impression of grace and class. There is so much to like here." 90 points, Antonio Galloni, vinousdotcom, Nov 2015.
"Very pretty aromas of terra-cotta, ripe fruit and hints of chilies. Full body, round and silky tannins, bright acidity and an attractive combination of citrus and plum. Drink or hold." 93 points, James Suckling, jamessucklingdotcom, March 2016.
"Saturated with cherry, strawberry, white pepper and mineral flavors, this red is lean yet intense, offering a fine balance between dusty tannins and sweet fruit. Best from 2019 through 2035." 92 points, Wine Spectator.
"From a selection of vineyards in Serralunga, aged for 24 months in large oak casks. Spice, cherries, bit of aniseed, floral notes - aromatic and almost pretty, you might say. Fragrant rosy mouth-perfume, raspberry and cherry, a seasoning of orange rind, gentle chewy tannin that grips if you push it around, and then pulls grainy and firm on the finish. Aftertaste is all the charm of perfume, spice and fresh red fruits. Evolves well in the glass, and while it drinks well now with a bit of air, I'd say it's going to shape up and improve further with a few years cellaring. It's a lovely thing to drink." Gary Walsh, Wine Front, Rated: 93+ Points, Tasted: September 2016, Alcohol: 14%, Closure: Cork, Drink: 2018-2028+
This is a more modern style of Barolo, that's less extractive having spent less time on skins. Don't fret, it's still full of power and has all the Nebbiolo tannins and acid to age, but unlike old-style Barolo it doesn't have to be stuck away for decades before it's approachable. It's good for 5-15 years in a cellar, but the great thing, unlike old-style Barolo, is that if you just can't wait that long, it's still great now.
Fantastic value entry level Barolo.
I can offer it for $85 a bottle. Click here for current vintage
---

Massolino Barolo DOCG Parafada 2012
This is one of Massolino's three single vineyard Barolos. It's sourced from one of the estate's best vineyards in Serralunga and spends more time in oak (old and large format) than the wine above - offering far greater depth and power.
"… is the deepest of the Massolino Barolos. Dark red cherry, plum, spice, mint and licorice are fused together. Texturally, the Parafada is dense and beautifully textured, with a lovely sense of inner poise that gives the wine its direction. Naturally, the Parafada is a bit tight today. It will be interesting to see how much it blossoms in bottle." 92+ points, Antonio Galloni, vinousdotcom, Nov 2015.
"… with plenty of fruit and spice character including chilli and red pepper. Full body, firm and silky tannins and a long and flavorful finish. Very polished tannins. Lasts for minutes. Better in 2019 when the tannins slightly soften." 93 points, James Suckling, jamessucklingdotcom, March 2013.
"When it comes to ease of access, as it were, Barolo from the top vineyards in Serralunga (Parafada is certainly one of them) are most often the hardest to approach as young wines. Barolo, La Morra etc. can be quite manageable, or at least they are for me, given my love of tannin. Here's another vinous Serralunga black hole, from which it's hard to escape, though admittedly, I'm not struggling too hard. Black cherry, framboise (liqueur), baking spices, liquorice and new leather. Full bodied, dense and packed with firm emery tannin, brooding earthy flavours, alongside fragrant tea, precise and fresh acidity, and an almost marzipan scented finish of superb length. The motor is purring, the boot is fully packed, there's a long journey ahead, but be patient; the destination is Pleasure". Gary Walsh, Wine Front Rated: 95+ Points, Tasted: September 2016, Alcohol: 14%, Closure: Cork Drink: 2022-2040+
This is a perfect medium-to-long-term cellaring proposition. If stored well it will go for 20 years, but once again, if you can't wait that long you won't be disappointed.
I can offer it for $170 a bottle. Click here to order