I'm not a cyclist, but usually at this time of year I'm staying up late for the Tour de France, albeit for the sweeping footage of countryside and vineyards. Particularly stunning, Stage 17 of last year's race started at the incredible ancient Roman aqueduct, Pont du Gard, near Nîmes and finished 200km north east in the town of Gap.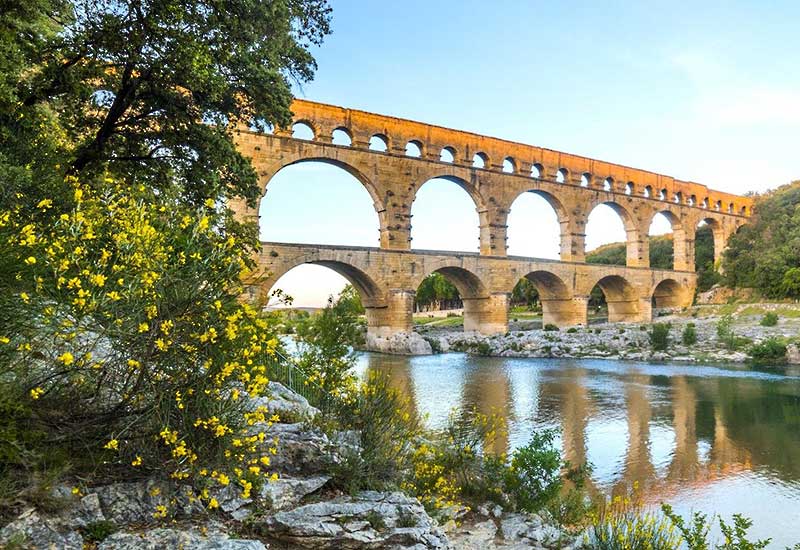 The race took cyclists through Orange and into the heart of the magnificent southern Rhône. Mmmmm… Côtes du Rhône. This year though I'm making do with a delicious glass of said wine and letting my imagination do the rest until August.
The catch-all Côtes du Rhône appellation covers wine from anywhere within the entire Rhône region, but in reality, nearly all wine labelled as Côtes du Rhône comes from the vast and sunny Southern Rhône. Centred around the towns of Orange and Avignon, it's characterised by olive groves, lavender, herbal scrub and of course vines, and is a great place to find value for money.
There are 3 different Côtes du Rhône classifications:
• Cotes du Rhône
• Côtes du Rhône Villages
• Côtes du Rhône Villages (with a named village)
Côtes du Rhône AOC covers about 32,000 hectares and permits the use of 21 grape varieties, both red and white, however the majority of wines (89%) are red, made from grenache, syrah and mourvèdre. Since 1996, red Côtes du Rhône must contain at least 40% grenache, but (and isn't there always an exception?) wines made in the northern Rhône, where syrah is the favoured grape, are exempt from this rule.
Côtes du Rhône Villages AOC is a distinct step up from straight Côtes du Rhône, with about 95 villages identified as superior. The appellation covers only about one tenth of the area of standard Côtes du Rhône and allows 9 grape varieties, requires higher minimum alcohol levels and lower yields in the vineyards. Red wine dominates (96%) and these wines tend to be more full-bodied and spicy in style than standard CDR. There is a minimum of 50% grenache, 20% syrah and/or mourvèdre and a maximum of 20% of other grape varieties permitted.
Côtes du Rhône Villages AOC (with a named village) 18 villages are allowed to add their actual name to the label. Once again this is a step up in quality, with more stringent requirements regarding production. The wines offer more depth and flavour, and may have been aged for a few years.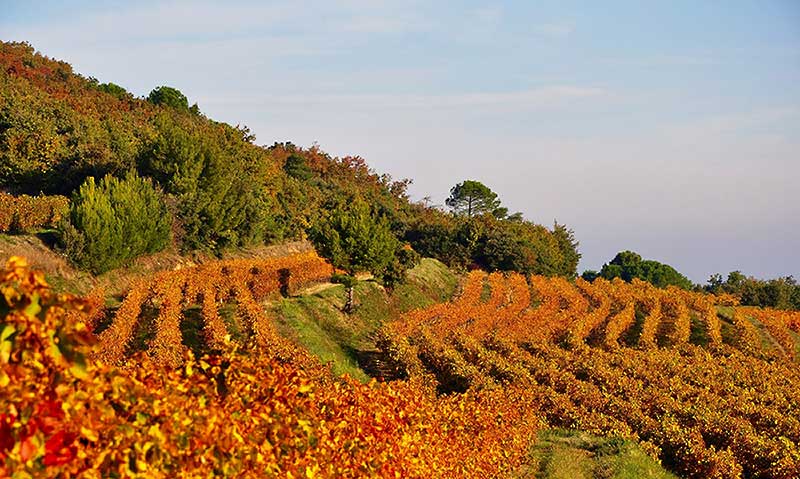 Réméjeanne's 35 hectares of vines are farmed organically to promote the development of living organisms, and to allow the expression of this unique terroir.
The Côtes du Rhône concept is well-known in Australia with popular GSM blends (grenache, shiraz, mourvèdre) produced in the Barossa and McLaren Vale. While it's tempting to put these ripe, generous and powerful wines in the same basket, remember how much warmer South Australia is than the south of France. The latitude of Avignon, in the Southern Rhône, is the southern hemisphere equivalent of just below Tasmania!
Red Côtes du Rhône is, at heart, an informal wine - not too structured, usually mid-weight, fruity, fragrant and easy to drink. Most red Côtes du Rhône is enjoyed young and offers terrific value. Respected wine writer Andrew Jefford describes it as "Delicious and supremely drinkable red wine. Almost nowhere in the world can match the Côtes du Rhône at its best."
Here's a Côtes du Rhône that I reckon is a perfect mid-week winter tipple.
---
Domaine la Réméjeanne
"This domaine is one of the best kept secrets of the right bank of the Rhone and convinces us year after year by the accuracy and the righteousness of its wines." Guide des vins Bettane+Dessauve 2018. (Big wig French critics - not sure about you but I love a righteous wine).
Olivier Klein, is the cool new kid on the block. Olivier's grandfather established Domaine la Réméjeanne in the obscure village of Sabran in the Ardeche, about 35km west of Orange back in the 1960s and Olivier's father, Rémy Klein, took over in 1988.
The vineyards are located in the north western hills of the Côtes du Rhône appellation and aside from being beautiful countryside, the combination of soil (sand and limestone) and altitude make the Réméjeanne wines fresher, more highly refined and brimming with fruit and character, than those lower down on alluvial soils.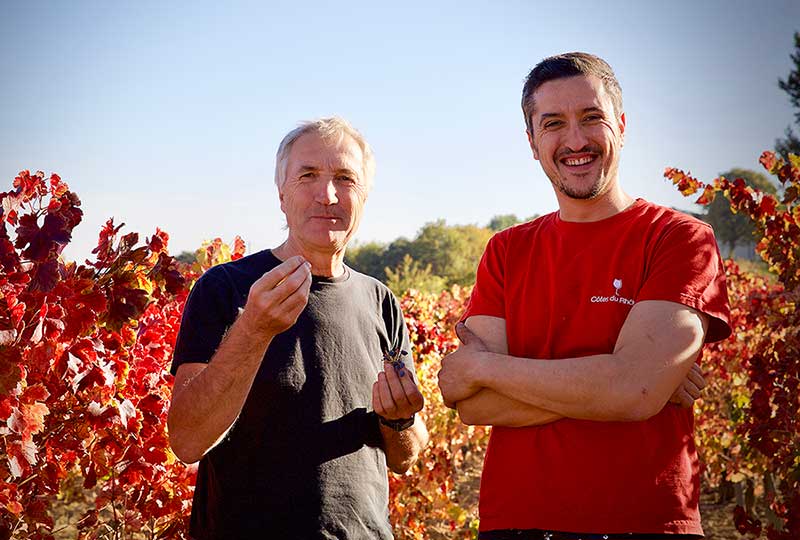 Rémy and Olivier Klein jointly manage the estate today, from the vineyard to the winery. Father and son share the values ​​of peasant winemakers: authenticity, respect for the soil and an epicuriean love of life.
Rémy Klein is the real deal. A talented, hardworking and highly regarded winemaker - best illustrated by his inclusion as one of only 4 individually profiled Rhône winemakers in Andrew Jefford's acclaimed book The New France.
"Klein laughingly dismisses the suggestion that he adheres to a winemaking philosophy. It occurs to me that this makes him, perhaps, the best kind of winemaker: committed, yet completely open-minded." Beverley Blanning MW, Decanter
"… one reason why the Domaine la Réméjeanne makes such beautiful Côtes du Rhône wines is that Klein is constantly researching, trialling and testing new techniques and approaches…. The result is a range of wines that, like their creator, combines finesse with friendliness."
"Proprietor Rémy Klein is one of the most consistently top-flight winemakers among the Côtes du Rhône producers." Robert Parker.
Olivier has been working on the estate since 2009 and is himself proving a precocious young talent. Aside from helping his father, he also makes his own entry level Côtes du Rhône 'Un Air de Réméjeanne' complete with groovy label.
---

Domaine la Réméjeanne Côtes du Rhône Un Air de Réméjeanne 2018
The 2018 'Un Air' is a blend of 70% grenache and 30% syrah and as you would expect from a young dude, it has the organic-minimal-intervention-thing going on. He uses natural yeast, there's no fining or filtering and only minimal use of sulphur. The finished wine is 14.5% and sealed with cork.
"His 2018 is right in line with what we have come to expect; an aromatic, supple and juicy Côtes du Rhône that's medium-bodied and filled with perfumes and flavours of blackberry, dark cherry, lavender, thyme and anise. There's good pulpy fruit leading to a finish that's crisp and refreshing, courtesy of the wine's high-country origins. Simply a terrific Côtes du Rhône for the money." Bibendum Wine Co.
In the glass this is a rich purpley red. On the nose it's lifted and aromatic, with plenty of pure, juicy, unworked natural fruit - cherries and plums touched with burnt sugar and hazelnut. On the palate, raspberry jubes, cracked pepper and pomegranate are given a savoury edge with anise and graphite. Super soft tannins, nicely balanced and smooth. Vibrant and quaffable, this is definitely a righteous wine.
You'll find it at the très quaint Provençal 'Loluk Bistro' in Surry Hills for $72 a bottle.
Enjoy it at home for $26.50 a bottle.