A snippet of Madame Bollinger's now famous interview which appeared in the Daily Mail (London) in 1961.
It's safe to say more champagne is consumed at this time of year than at any other – so best stock up. But I do think if Madame Bollinger were alive today, she'd be dismayed to see her beloved champagne losing its long-held monopoly on all things celebratory. Where once there was only champagne, these days there's a wide range of top-quality sparkling wines that are at least as good. Zut alors! But I think she'd be even more surprised, and surely a little proud to know that her great-nephew Xavier Bizot is making his mark in faraway Australia with his delicious sparkling wine Daosa.
The big news is that Xavier's Daosa Blanc de Blanc 2015 was recently awarded Platinum at the 2020 Decanter World Wine Awards. To put this in perspective, of the 16,500 wines submitted only 178 achieved a Platinum award. The Daosa Blanc de Blanc 2015 was awarded 97 points, making it both the highest scoring Australian sparkling wine, and the only one to achieve a Platinum Award, also placing it ahead of many big names in Champagne. Impressive.
Not only that, it was also recently included in James Halliday's Wine Companion 2021 'Best of the Best' Sparking Wines, where it was also scored 97 points.
Xavier's Daosa Blanc de Blanc 2015 (ie. 100% chardonnay all sourced from vintage 2015), was made in the Piccadilly Valley in the Adelaide Hills, an easy 30-minute drive east of Adelaide and part of the Mount Lofty Ranges. Vines were planted here as far back as the 1840s, and from then until 1900 there were 225 grape growers in the area, including big names like Penfolds and Hardys. But according to Wine Australia, the peak industry body, "unfortunately, due to the challenges of cool climate viticulture, most of these had been grubbed up (dug up) by the 1930s."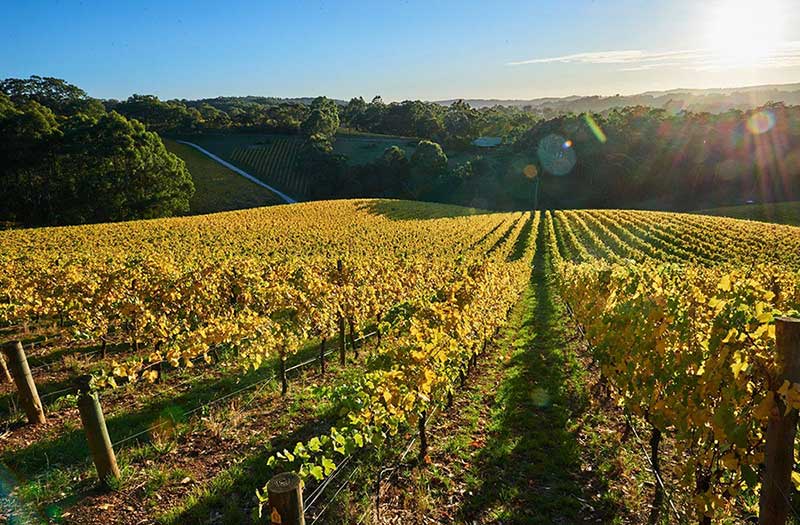 Bizot vineyard in the Picadilly Valley.
It was not until the 1970s that Brian Croser identified the area as suitable for cool-climate varieties. He planted the Tiers Vineyard in the Piccadilly Valley in 1979. He was followed by other pioneering names such as Tim Knappstein, Stephen and Prue Henschke, Geoff Weaver and Stephen George (Ashton Hills).
But it was Croser who really brought the region to prominence, and by the mid-90s it was recognised as a premier cool climate site, especially for chardonnay and sauvignon blanc, as well as for pinot noir and shiraz. When Penfolds set out to create their 'White Grange' from chardonnay in the early 90s, the first Yattarna was finally released after 144 trial wines in 1995, with the majority of the fruit (55%) sourced from the Adelaide Hills. The following vintage 92% of the fruit came from the Adelaide Hills and in 2003 it was 100% Adelaide Hills. Interestingly, while much of the fruit for Yattarna is now sourced from Tassie, it's the Penfolds Reserve Bin A, sourced entirely from the Adelaide Hills, that often outscores it. Not that I sell any wine from Penfolds.
It's exciting that Australia now produces such good fizz and not just from Tassie. Because Adelaide Hills one of the best places to grow chardonnay in Australia, it's also one of the best sparking wine regions. Aside from Daosa, there are several other top producers in the region, Deviation Road and Ashton Hills spring to mind.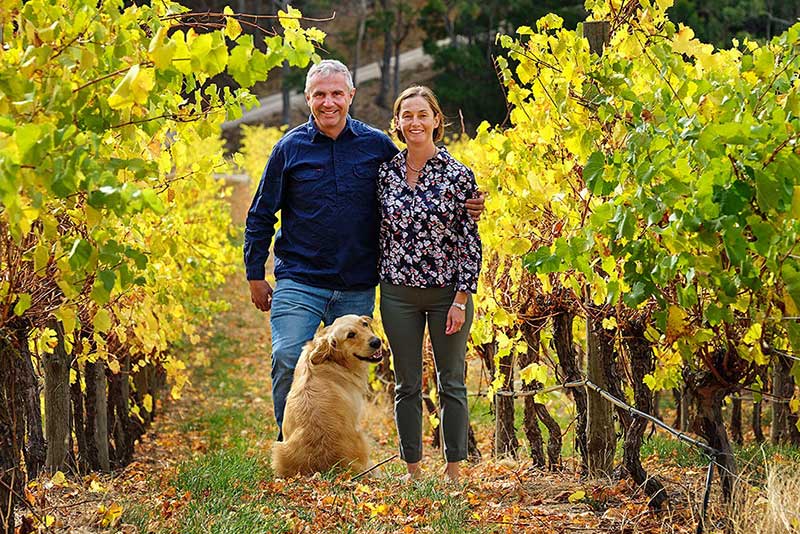 Xavier Bizot and Lucy Croser.
The emphasis on Brian Croser is serendipitous - his daughter Lucy married Xavier in 2003. Not only that, in a homecoming twist of fate, Brian reacquired the original Petaluma winery in 2014, so it's here that Xavier now makes his two Doasa sparkling wines (he does a non-vintage as well).
What's always fascinated me about sparkling wine is the complexity of the process - it's why I worked for a top sparkling wine producer many years ago.
The abridged version of what these days is called the Traditional Method, Méthode Traditionelle or Method Classic (used to be called Méthode Champenoise) goes like this: Only three grape varieties may be used; chardonnay, pinot noir and pinot meunier. The grapes are picked early to ensure high acidity, pressed gently and the juice fermented, some seeing oak and some stainless steel. Parcels from different vineyards, varieties, oaked or unoaked are kept separate. The next, and most important step is the assemblage, where different parcels are blended to make a cuvée. This may include wines from previous vintages, referred to as reserve wines. Great skill is required to combine characteristics of the various parcels in quantities to create the desired outcome. Generally speaking, chardonnay gives freshness and elegance, pinot noir contributes weight, roundness and creaminess and pinot meunier contributes to the front palate, giving fruitiness and bouquet.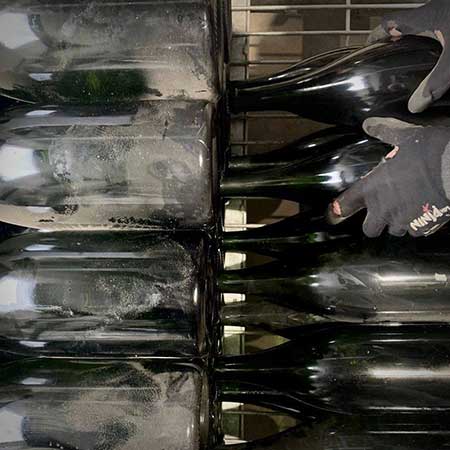 Once the cuvée is made, it's bottled under crown seal with the addition of the tirage liqueur, a sugar and yeast mixture which initiates a secondary fermentation and creates the famous bubbles. The bottles are then laid on their side and aged on the lees (dead yeast cells) to give complexity. Next, the bottles are riddled (remuage) – gradually tipped on end and rotated over a period of about 2 months, to move the yeast solids into the neck of the bottle. This was traditionally done by remueurs by hand, but these days it's done by machines called gyropalettes in a much shorter time.
With all the sediment in the neck, it is then plunged into a freezing brine solution, solidifying the yeast, after which the bottles are disgorged (dégorgment). Here the seal is removed and the pressure from the bubbles blows the frozen plug of yeast out of the bottle. A tiny amount of liquid (liqueur d'expedition) is added to the bottle, in a process known as dosage, to top it up after the loss of volume. The dosage will have varying levels of sugar depending on the desired sweetness of the finished champagne. After all that, the bottles are corked, wired, washed and dressed.
It's an extraordinary amount of skill, time and money that goes into making top quality sparkling wine. Bear in mind the cheaper stuff is not made with this method, it will have the secondary ferment carried out in tank rather than the bottle.
---

Daosa Blanc de Blanc 2015
This wonderful sparkling wine is 100% chardonnay sourced from the elevated Bizot vineyard in the Piccadilly Valley. The fruit was handpicked and very gently whole-bunch pressed, with primary fermentation, followed by malolactic fermentation carried out in 'old' French barriques. Total time in barrel was around 23 months. Secondary ferment was initiated in the bottles, which were then laid on their side for 30 months on lees. Disgorgement occurred in August 2019 with a dosage of 7g/l, which is considered dry. The wine spent a total, in bottle and barrel, of over 4 years on lees, which is a hell of a long time to gain complexity. When you consider all the effort that's gone into this wine you can't help but feel it's great value.
Xavier regards this as his best Daosa release to date and the critics agree.
"Beautifully perfumed with hints of peach, bright citrus and heady, rich brioche notes, then to a palate braced with a fine acidity, clean, focused fruit and a layered textured finesse." 97 points, Platinum Award, Decanter World Wine Awards 2020.
"Bright straw-green; it's very elegant, very long, and superbly balanced." 97 points, Halliday Wine Companion 2021. It's also included in 'Best of the Best' Sparking Wines, Sparkling Varietal Winner 2021, Halliday.
"A cracking vintage wine from Xavier Bizot showing aromas of coconut, nougat, cashew nut, lemon curd and hints of oak barrel. Full bodied and weighty. Displays concentration and richness, the finish long and powerful. A most impressive sparkling wine." 96 points, Gourmet Traveller Wine, January 2020. Top rated Australian Sparkling in Gourmet Traveller Wine.
"Medium to full yellow colour, with a very nutty, nougat-like bouquet which incorporates fresh oak and nutty lees-derived characters. It's full-bodied and powerful, dry, savoury and lasting, with some tannin grip which helps dry the palate and aftertaste. Oak makes a strong statement and the wine is full-bodied, powerful and dramatic." 96 points, Huon Hooke, The Real Review, Jan 2020 (a big score from him).
"The ripeness of the warm 2015 vintage is showcased in pear, grapefruit, golden delicious apple and even notes of fig, backed with the spicy, roast almond complexity of full oak fermentation. Age and oak brings creamy texture, well integrated with beautifully poised acid drive and integrated dosage. It concludes with outstanding line and length, confirming a characterful and masterfully assembled style." 93 points, Tyson Stelzer, WBM Magazine - 100 best wines of the year 2019.
You'll find it on multi award winning wine list at Café Sydney for $175 and as Andrew Graham of the Australian Wine Review recently said "why drink industrial NV champagne when you have Adelaide Hills sparkling like this?" I couldn't agree more. This is what I'll be celebrating with over Christmas.
I can offer it for $85 a bottle. Yes it's really that good.

---
Try some of our other interesting fizz...
Prosecco Canella Prosecco Superiore DOCG 2018 - $26.50
Domaine J.Laurens Moulin Blanquette de Limoux Brut NV - $30
Langlois-Chateau Cremant de Loire Blanc Brut NV - $32
Daosa Natural Reserve NV - $39.50
Eric Bordelet Poire Granit 2016 - $49
Akarua Vintage Brut 2011 - $53
Thienot Brut NV - $75
Agrapart Grand Cru Terroirs Blanc de Blanc NV (Disgorged 2019) - $119