With summer well underway and the festive season a mere memory, it's time to break out some of the crisp and refreshing summer whites we have on offer.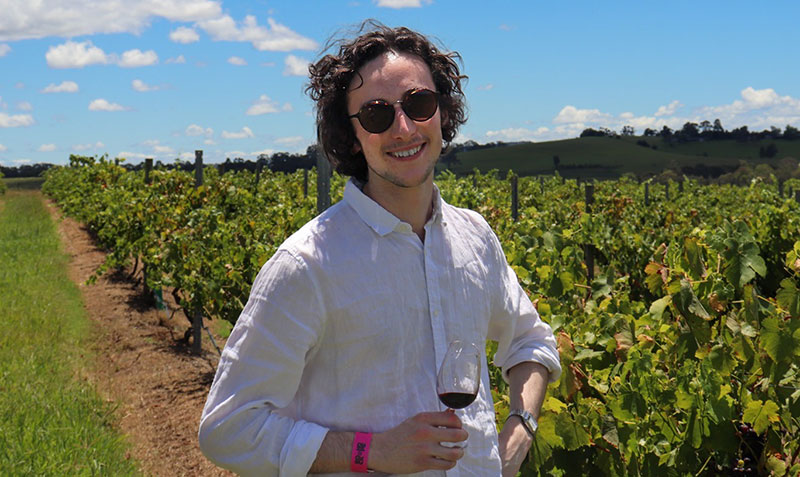 Hi everyone, my name is Archie and I have been working closely with David over the past year - tasting, writing and learning. Now I'm getting to share some of my thoughts and experiences with the fantastic wines we have here at Bottle and Glass.
Currently I am undertaking my last year of undergraduate study in geology at the University of Sydney. At the same time my love for wine under David's watchful eye has become a passion. So this February I'm starting my WSET level 2 in Wine to expand my knowledge. I'm no master sommelier but I've developed a decent palate and a keen interest in French, Italian, German, and Australian wine. Working at Bottle and Glass has let me experience many tastings and even a few trips to some of the best wine regions in Australia. Of course Zoom tastings and virtual winery tours have kept me sane throughout last year's lockdown. Thank goodness wine is an essential service.
While I do have favourites, I enjoy pretty much all wine and 'old world vs new world' depends on the moment, the food and the company. But during warmer months you'll find a good selection of whites in my fridge. Here are three wines that became my favourites this summer.
First off let's visit to the Loire Valley - specifically to taste a beautifully fragrant, citrusy, and tropical chenin blanc from Samur. Perfect if you're in the mood for something French.
In contrast with the aromatics of Samur, I'd like go to Italy with a new vintage of an old favourite - the Scala Ciro Bianco 2020. This is delightfully crisp and I've found it particularly refreshing on some of the more humid evenings we've had lately.
Finally, summer wouldn't be complete without something Australian. After a very recent trip to the Hunter Valley, I'm excited about one of the best value semillons around. Andrew Thomas offers another brilliant vintage of his award-winning semillon, and highlights everything that's great about The Hunter. Drink it now or cellar for a few years, this Semillon is a must have.
So whether you're catching up with friends, having a glass with dinner (or while you make dinner), try these three new vintages of my favourite summer whites.
---

Langlois-Chateau Saumur Blanc 2019
In the Loire valley chenin is well known and highly regarded, unlike here in Australia. Jancis Robinson MW describes Chenin as "probably the world's most versatile grape" and in her book Vines, Grapes and Wines, it has earnt classic status. (She classifies grapes of the world as classic, major or other).
The House of Langlois-Chateau was created in 1912 by Edouard Langlois and his wife Jeanne Chateau, with the house specialising in sparkling wines. Edouard was tragically killed in 1915 during WWI and subsequently awarded the Military Cross. Jeanne took over the running of the estate, aided later by her son and son-in-law. The 70s saw the estate's high-quality vineyards and wine come to the attention of Bollinger who purchased a majority share in 1973. Bollinger's investment saw a revamp of the winery and these days the estate takes advantage of all the modern tools of the trade. State of the art pneumatic presses, temperature-controlled tanks and high-quality French oak. Sustainability has also been at the forefront of Langlois Chateau as it become one of the first estates to obtain the Terra Vitis label, a French classification system that indicates sustainable winemaking and vineyard practices.
This 100% chenin blanc drop is sourced from the estate's own Terra Vitis certified vineyards in Bron and St-Florent. The fruit was handpicked and pressed with the juice then fermented in temperature controlled stainless steel tanks and cool ferments to protect delicate aromas/flavours. After ferment, the wine spent around 4 months on fine lees (the dead yeast cells that sink to the bottom of the tank). They're stirred every now and again to add a little bit of extra weight, texture and complexity.
"Light yellow colour. Intense nose, with aromas of white flowers and exotic fruit. Sharp at first, fruity and full-bodied on the palate. A citrus fruit finish." Winemaker's notes.
The wine is a clear, very light gold. The nose is French as anything - green melon, subtle grassy notes with a hint of butterscotch. On the palate you'll find lemon sherbet and musk. Super dry with a nice line of clean, crisp acid. Regarded by many as the home of great-value drinking, this Loire valley staple is a perfect mid-week French drop. Alcohol is 13% and sealed wth a screwcap.
We can offer it for $29.50 a bottle

---

Scala Ciro DOC Bianco 2020
This delicious wine is 100% greco, also referred to as Greco di Tufo, a variety described by Ian D'Agata in his book 'Native Wine Grapes of Italy' as "one of Italy's most famous wine grapes," and "typical aromas and flavours include yellow flowers, honey, peach, pear and ripe tropical fruits." Greco is mostly found in an inland region close to Naples, however it's also grown in Calabria - the 'toe of the Italian Peninsula'. While mostly agricultural, Calabria's vineyards only make up about 2% of its arable land, with most of the 10,000 ha of vines near the coastline.
Like Sicily, Calabria, traditionally produced bulk wine, the demand for which has declined in recent decades. Add to this an ageing workforce working hilly vineyards and a vine-pull scheme in 2008, it's hardly surprising that the region has seen a 30% decrease in vineyard plantings since 2000. These days Calabria has 9 DOCs (2nd top Italian appellation) the best known of which is Ciro, which sits on the slopes above the town of the same name, halfway up the east coast of Calabria.
In the glass this is a clear light gold. On the nose - subdued aromatics of fresh fennel and burnt sugar. On the palate this is super dry - refreshing lemon acidity, citrus pith and mineral on the finish. At 12% alcohol and a groovy label, the Scala is perfect for pairing with nibbles and casual dining. I think this would be superb with a dozen oysters.
We can offer it for $27.50

---

Thomas Wines Synergy Semillon 2021
Making the move from the McLaren Vale to the Hunter many years ago, winemaker Andrew Thomas spent years perfecting individual-vineyard shiraz and semillon. Then in 1997, Thomas started his own venture. He was named Hunter Valley Winemaker of the year in 2008 and 2014 and I reckon a large part of his success comes from his wines reflecting the climate and soils of the Hunter subregions in which they grow. Another factor is his agreements with various well established and long-term growers - the most notable being the James Estate Winery on Hermitage Road. About 15 hectares of these vineyards are dedicated to semillon. Low in alcohol, delightfully quaffable and yet complex, the 2021 Synergy Semillon is excellent. I'll let these critics do the talking though…
"One of the most awarded of a new generation of Hunter winemakers." AFR.
"Andrew Thomas is acknowledged as one of the best practitioners of the fine art of coaxing young semillon to grab attention without compromising a 15+ year life, adding yet more to the flavour span." James Halliday.
"Andrew Thomas is actually re-inventing Hunter Valley semillon. He's developing more complex, minerality and texture in his young wines, without sacrificing any of the styled notes of longevity…" Jeremy Oliver.
"These days clever winemakers such as Andrew Thomas are producing semillon that is so refined, soft, beautifully balanced and delicately fruity, it is utterly delicious drinking within a few months of harvest." Huon Hooke, SMH.
"Andrew Thomas continues to be a shining light in the Hunter Valley." SMH Good Food Guide.
"Winemaker Andrew Thomas is an emerging superstar of the Hunter, producing peerless semillon and classy shiraz." Peter Forrestal, Qantas Magazine.
"A standard bearer of Hunter semillon." Decanter Magazine.
In the glass this is a very light gold, almost colourless. On the nose you'll find intense aromatics of pineapple, honeysuckle and lemon sherbet. On the palate lemon zing and honeydew mingle with musk and white pepper - a pleasant nuttiness on the finish. Fresh, light to mid-weight and delicious, it's 11.5% and sealed with screwcap.
We can offer it for $22 a bottle.