I remember an Austrian wine delegation arriving at a winery I was working at in the mid-90s. They were on a road trip, working to rebuild Austria's reputation after the 1985 antifreeze scandal in which a small number of merchant companies (not producers) doctored their sweet commercial wines with additives, including diethylene glycol (DEG). This was done to imitate higher quality wines by adding body and even more sweetness. While the headlines focused on DEG being a toxic component of antifreeze, the reality was that in the tiny quantities used, it was harmless. And while a minuscule number of wines had been dosed, the effect on the broader Austrian wine industry was devastating. Austrian wine exports plummeted from 48 million litres in 1984 to 4 million litres in 1986, and it took until 2001 for exports to reach pre-scandal levels.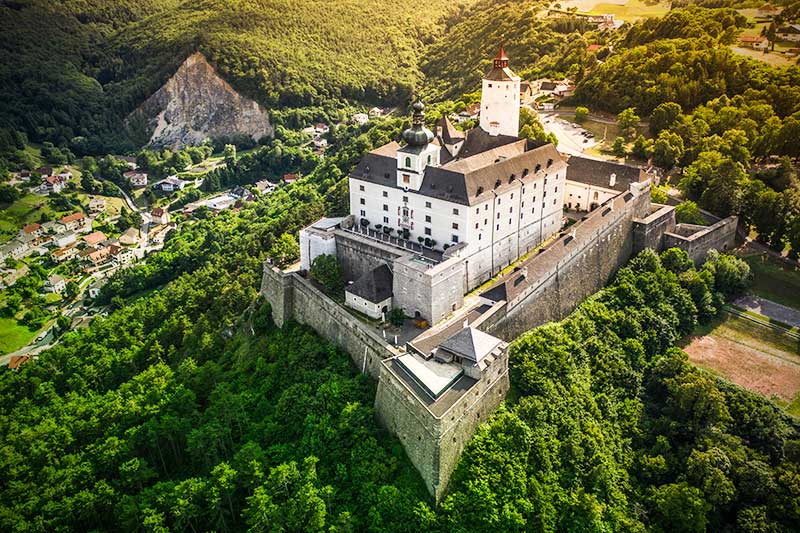 Forchtenstein Castle in Burgenland Austria overlooks the Wulka River which flows into Lake Neusiedl.
It's hard to imagine anything good coming from such a crisis, but it did. The Austrian wine industry was forced to rebuild itself, with an intense focus on quality. New wine laws were implemented (the strictest in Europe) and there was a move by the smaller, quality-focussed producers to market their own wines, rather than rely on the old network of negociants and wholesalers who'd been responsible for the scandal. Dare I say that these days it's hard to find a bad bottle of Austrian wine.
With around 46,000ha of vines, Austria is not a major producer. To give that some context, France has around 786,000ha, Australia 145,000ha and New Zealand 40,000ha (source: OIV State of the Vitiviniculture World Market April 2018, with the figures from 2016).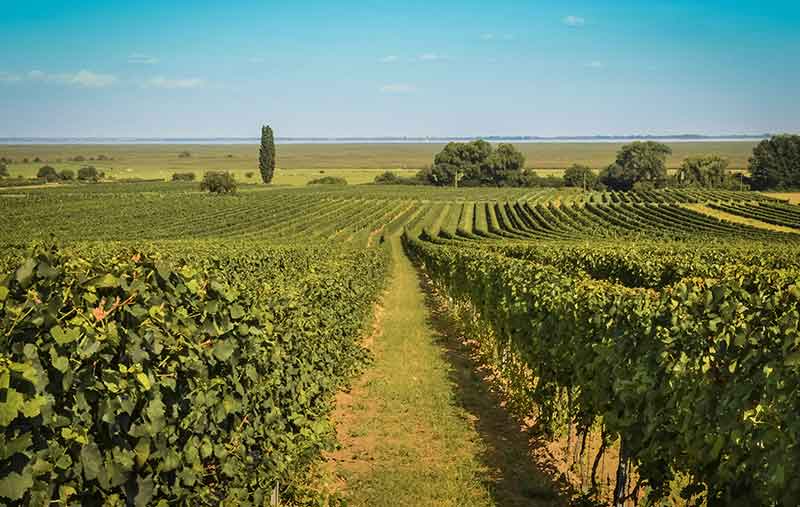 Burgenland vineyards with Neusiedlersee (Lake Neusiedl) in the distance.
Given the cool climate in Austria, it's no surprise that white grapes dominate, accounting for 67% of plantings. Indeed, the country's most planted variety is the white grape Gruner Veltliner, which alone accounts for 31% of plantings.
But you may be surprised to learn that Austria also turns out a few decent reds. The second most planted variety is the red grape Zweigelt (13.8% of plantings) and the fourth is Blaufränkisch (6.5% of plantings), also red. I have to say I was unfamiliar with these varieties until last year when I finally got to taste a few.
Zweigelt is a cross between Blaufränkisch and St (Sankt) Laurent, bred in 1922 by a Dr Zweigelt. It's described as having the bite of the first with the elegance of the second, which means nothing if you don't know the grapes. This is little more informative: "Sour cherry, raspberry, black pepper, liquorice and chocolate," Wine Folly.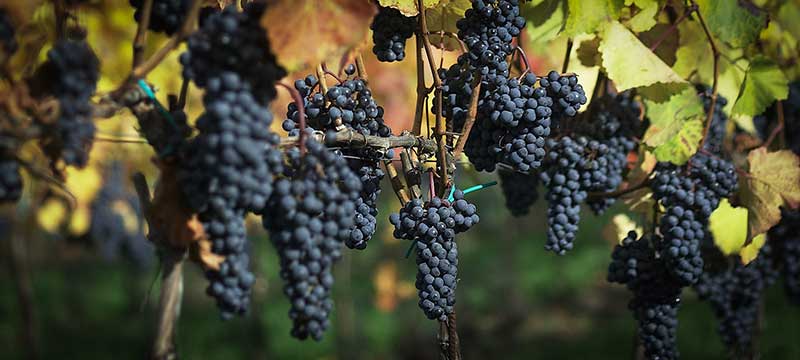 Blaufränkisch on the vine.
Blaufränkisch is seen as one of Austria's best red varieties. "Blackberry bramble, black cherry, dark chocolate, allspice and black pepper," Wine Folly. "Gives varied wine styles with red fruit flavours, firm acidity, and generally good weight, deep colour, and spicy character." Oxford Companion to Wine. It's also known as Kekfrankos next door in Hungary.
I find the Austrian viticultural demarcation a little confusing. There's a system of regions, sub-regions and districts and there are several quality classifications, one of which is DAC (Districtus Austriae Controllatus) status, which is kind of based on the French/Italian/Spanish appellation system. There are currently 13 DACs and they are still being rolled out. In conjunction with this, is a complex German-like quality hierarchy, part of which is based on must weight, ie. ripeness of the grapes when picked.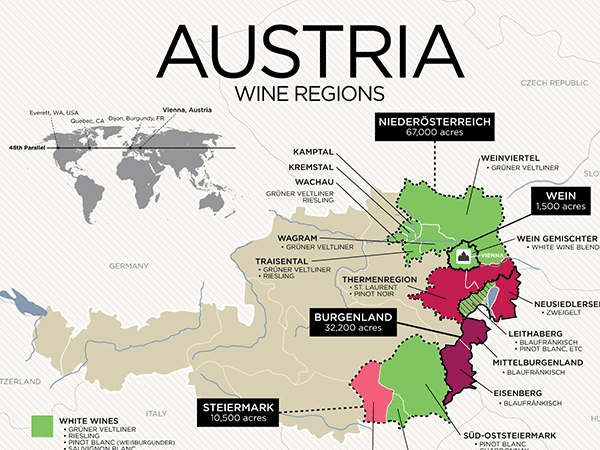 But let's concentrate on geography for a moment. Simplified, the 4 main areas, all of which are in the east of the country, are:
1. Niederösterrreich (lower Austria) 28,145 ha (in 2015)
Includes the important DACS of Kremstal, Kamptsal and Weinviertal, as well as The Wachau.
2. Burgenland – 12,248ha (in 2015)
3. Steiermark (Styria) - 4,324ha (in 2015)
4. Wein – 581ha (in 2015)
The one we're interested in is Burgenland because it's where all the good reds come from. In fact, it's the only region in Austria where there are more red grapes than white. The most planted variety in Burgenland is Blaufränkisch - 22%, followed by Zweigelt - 19%.
Situated on the eastern border of Austria adjoining Hungary, Burgenland is at the western end of the Pannonian Basin, which runs through Hungary and into western Romania. The region sits on the shores of the Neusiedlersee (Lake Neusiedl), which is a very large (32 km long), but very shallow (nowhere deeper than 2m). The lake exerts a key influence on the local climate, moderating what would otherwise be an extremely continental climate, making it less cold in winter and less hot in summer. The lake also provides humidity which facilitates world class, botrytis affected, sweet white wines.
Burgenland can be broken down into several subregions, the most important of which are:
Neusiedlersee (north and eastern side of the lake)

Neusiedlersee-Hügelland (western side of lake)

Mittleburgenland (south of the lake)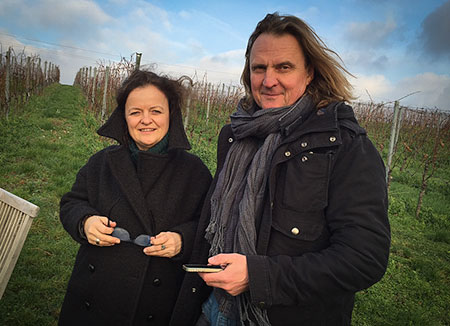 There are several high-quality red producers in Burgenland one of which is Weingut Pittnauer.
Left: Gerhard and Brigitte Pittnauer.
I had the pleasure of meeting Gerhard Pittnauer (known locally as Pitti) when he visited Sydney a few months ago. He and his wife Brigitte are considered one of Austria's best and most progressive red producers. The tiny 3.8ha estate is located in Gols, a town on the eastern shore of Lake Neudedle, right near the border with Hungary
Gerhard took over the estate in 1985, when he was only 18, after the unexpected death of his father. In 2001 he built a modernist looking winery, right in the middle of the vines and for many years has farmed along biodynamic principles which means (among other things) that no chemicals are used. Minimal intervention is the aim in the winery and as you would expect for such a groovy couple, the labels are way cool.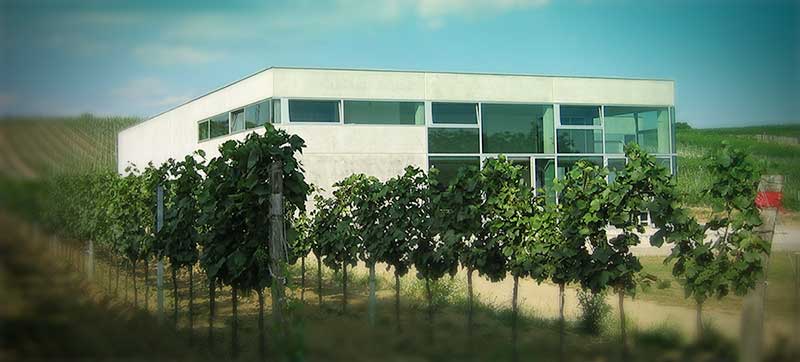 Weingut Pittnauer winery amongst the vines.
Gerhard was named Winemaker of the Year by Falstaff magazine in 2014 - the highest accolade in Austrian wine. Falstaff is Austria's oldest and highest circulation wine magazine and the Austrian wine authority.
The estate makes several wines but you can't go past their entry-level offering.

Pittnaiuer Pitti 2016
The 'Pitti' is a blend of 50% Blaufrankisch, 40% Zweigelt and 10% Merlot, although it may vary slightly each vintage. The fruit comes from vines with average 12-15 years age and are planted in a mix of sandy clay and limestone. The grapes are hand harvested, de-stemmed and left for 18 days on skins before being fermented in steel tanks using natural yeasts. After the ferment the wine is left on lees (ie in contact with the spent yeasts cells) for three months. The wine is then aged for 6-12 months in steel (ie. no oak) and roughly filtered before bottling. The finished wine is 13% alcohol and sealed with a screwcap.
"Plum, new leather, cola, fennel seeds, a little spice. Medium-bodied, ample dark fruit but savoury with it, furry suede-like tannin, strawberry acidity, dark and slightly bitter in the aftertaste. Quirky. Fun with a bit of a frown." 91 points, Gary Walsh, The Wine Front.
"An intriguing touch of salty licorice hangs over the nose before black-cherry notes reassert themselves. They burst on the juicy palate and deliver dense but easy pleasure, bags of fruit and tons of charm. This is medium bodied, dry, with a slight tannic grip. The finish is juiciness itself." 90 points, Wine Enthusiast Magazine.
"Bright, medium dense crimson appearance. Fresh, cool aromatics of red and blue berry fruits front some "damp woodsy" backnotes. The attack on entry is surprisingly shapely and lively, and leads to a medium weight plush mid palate full of bright red and darker berry fruits which finish long and are buttressed with integrated chalky tannins. Those wanting drinkability akin to that of good Beaujolais but with a little more "grunt" would do well to tuck into this." Frank Wilden, Business Insider.
Great reviews for a wine at this price.
The wine is a clear, dark rosey red. On the nose you'll find ripe cherry, blueberry, almond and turkish delight notes. On the palate, crisp red berry fruits meld with dried herbs, pepper and aniseed. This is mid-weight with fine but firm tannins and lovely bright acidity to balance its generous and youthful red fruit.
Fresh, bright and so quaffable - the most delicious wine you'll have, made from grapes you've never heard of.
This is terrific value at $24 a bottle. Order here