With spring in the air is it too early to think of rosé? I'd say definitely not. Rosé has gone from summer-only tipple to year-round must-have.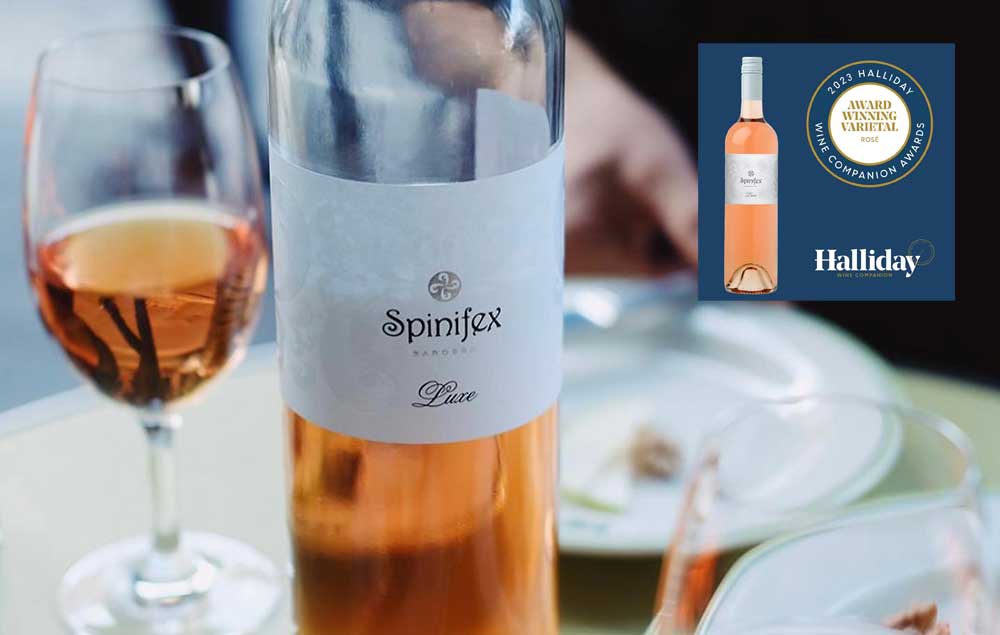 While there are many great regions associated with rosé, such as the Rhône and the Loire, the most famous is of course Provence, which produces a pale pink, dry style that's very popular in Australia. There are several appellations within Provence, including the largest and most significant - Côtes de Provence, and Bandol - the most famous.
Bandol is referred to by many, including Decanter Magazine's Andrew Jefford, as the 'one true Grand Cru' of Provence. With its name taken from the small, chic, seaside town of Bandol, the appellation's vineyards extend inland, nestled in hills, many of which are steep enough to warrant terracing. In this idyllic setting you'll find beautiful villages surrounded by vines, with the deep blue waters of the Mediterranean in the distance. There is a collection of elevated, south facing amphitheatres here that capture the sun to create a unique microclimate for vines. Bandol gets an average of 3,000 hours of sunshine a year compared to Burgundy, which gets around 2,000 hours in a good year and only 1,600 in a dim one. Despite all the southern French sun, Bandol's proximity to the Mediterranean and the persistent Mistral wind, means this warmth is tempered, ensuring coolish nights - ideal for ripening grapes.
Bandol's rosés are based on mourvèdre with the balance made up of grenache and/or cinsault. The thick skinned, late ripening mourvèdre (also known as mataro in Australia) which thrives in Bandol, also does well in the heat in parts of Australia.
So let me introduce the unashamedly Bandol inspired rosé that was recently awarded Australia's Best Rosé of the Year at James Halliday's Wine Companion Awards 2023.
---

Spinifex Luxe Rosé 2021
The Spinifex Luxe is an homage to Bandol, which for many is the pinnacle of global rosé production. Given the inspiration, it's no surprise that, like Bandol, the Luxe is a mataro (mourvèdre) dominant blend, the 2021 being 66% mataro (mourvèdre), 26% cinsault and 6% vermentino.
Established in 2001 by NZ-born Peter Schell and his French-born wife Magali Gely, Spinifex is one of the most highly regarded and exciting wineries in the Barossa. Peter is a trained oenologist (winemaker) and has made wine in Burgundy, Bordeaux, Provence, Languedoc, Switzerland and NZ, and Magali's family has been growing grapes near Montpellier for over 10 generations. The couple source their fruit from a small group of dedicated growers in both the Barossa and Eden Valleys, concentrating on varieties from the south of France.
5 stars - James Halliday.
Winery of the Year - 2009 Penguin Australian Wine Guide.
"… what I think is the best new-wave of small-scale Barossa wine companies to emerge at the beginning of the 21st century." Max Allen.
"Peter Schell, a New Zealander transplanted to the Barossa, is one of the stars of the region, producing composed, elegant wines from vineyards across the region." James Suckling 2015.
The couple makes a wide range of excellent wines, including several interesting white blends and some serious reds. They also make a couple of super rosés. Not surprisingly, both are made in a southern French style. They do a very popular entry level rosé, which is a grenache dominant affair, much in the style of a Côtes de Provence. But it's their top, or Luxe rosé that's grabbed the critics' attention.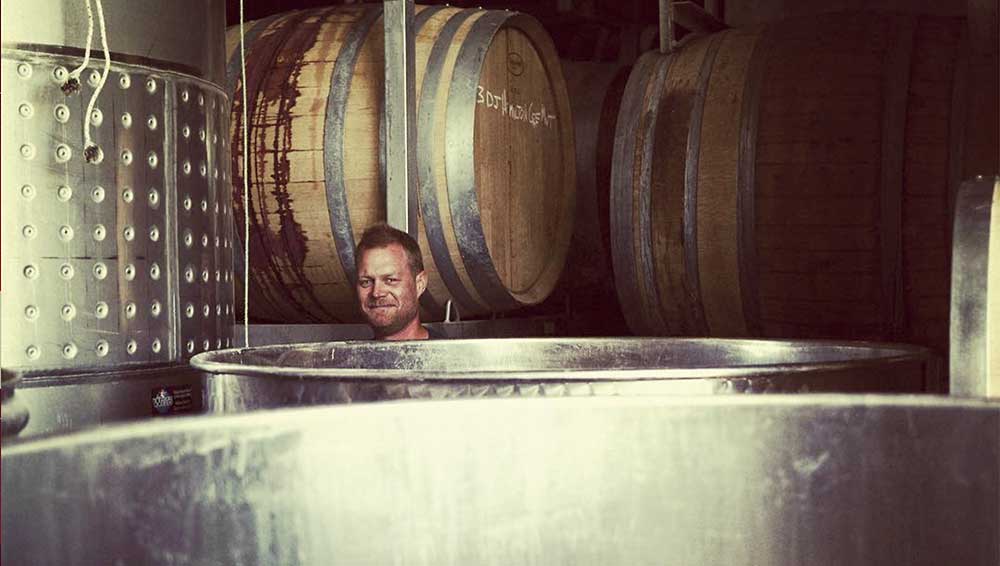 Winemaker Peter Schell.
The Luxe rosé is only made when conditions are deemed good enough. The previous release was the 2017 vintage, which was also equal winner of the Best Rosé of the Year in Halliday's 2020 awards.
I had a chat with Peter and he told me the fruit for the Luxe comes from several dry-grown (ie. no irrigation) vineyards at the southern end of the Barossa, which boast an average vine age of an astounding 60 years. He emphasised the importance of fruit quality: "if you get the fruit right, the flavour right, the maturity right, it all pretty much looks after itself." Don't you love the way experts make it all sound so easy? The fruit was handpicked and cooled prior to pressing. Time on skins was short, about 6 hours, just enough to get the pinkness out of the skins, with the fruit from each vineyard kept separate throughout the entire process.
The real difference with this wine though is that the juice was fully fermented in old French oak barrels. Not only that, when the ferment was complete, the wine stayed in barrel on lees (the dead yeasts cells), seeing a total time in oak of around 6 months. It's important to emphasise that the age of the oak meant no flavour was imparted to the wine, instead, Peter is looking to give a textural element to the wine.
Peter says with the Luxe he's looking for succulence, fleshiness and savoury complexity - it's important to remember to place such descriptors in the context of rosé.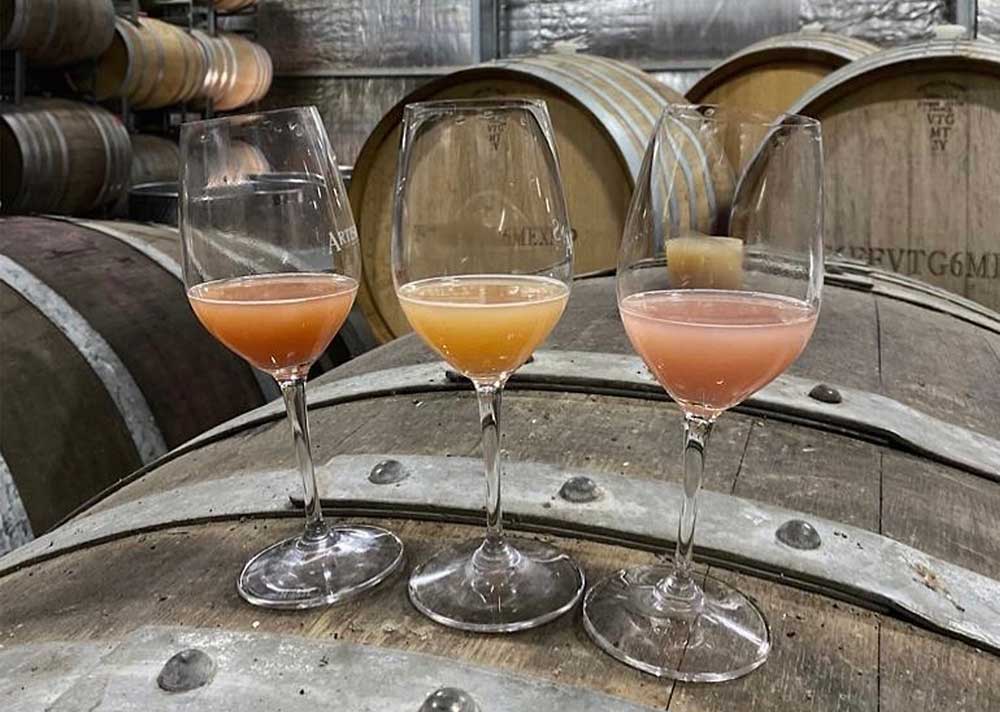 Fruit from each vineyard is kept separate throughout the fermentation process.
"Luxe is selected from only those parcels that have particular aromatic and textural complexity. We are drawn to sections that display what we call secondary fruit - fresh and dried flowers, herbs, spice, minerality, white and green tea-like aromatics - rather than primary fruit - fresh berry fruits etc." Winemaker Peter Schell.
"Winemaker Pete Schell is a fan of Bandol rosés and the Luxe is a tip of the hat to the rosé styles of the Mediterranean. Red cherry, watermelon and pomegranate with hints of soft spice, crushed rock, blood orange and wild herbs. Slinky and textural with crisp acidity and a wicked stony, savoury finish." 93 points, Dave Brookes.
Rosé of the Year 2023, James Halliday's Australian Wine Companion.
"With more grip, more texture, and more savoury depth than their regular rosé, Luxe is Spinifex's self-confessed homage to the textural rosés of France's coastal Mediterranean vineyards - Bandol in particular. It's incredibly vivid and focused, displaying enticing aromas of blood orange, cassis, pepper and bay leaf. The palate is energetic and chewy, crammed with silken texture and crunchy brightness, rousing to a reverberating, savoury finish. Totally delicious. If Australian Rosé gets any more exciting than this, do drop us a line with the details!" Bibendum Wine Co.
Seriously good Aussie rosé.
I can offer it for $32 a bottle.

---

And… I also have the Spinifix Rosé 2021
The 2021 is a blend of 52% grenache, 30% mataro, 16% shiraz and 2% cinsault. It was fermented predominantly in stainless steel, with 5% in old French large oak barrels. Post ferment it spent 2 months on lees. The finished wine is 13% alcohol and sealed with screwcap.
"A peachy pink, this is vibrantly fruitful, with a wash of red-berried fruit, wild raspberries, white strawberries and redcurrants, with watermelon rind and orange oil, some dusty mineral notes adding a gentle earthy complexing quality. The palate follows that theme, with super-bright fruits that never drift into confection, a burr of grape tannin pairing up with the acid to give maximum refreshment value though the dry, mineral finish." Young Gun of Wine (not scored).
"The wine offers the kind of vibrant texture and crunchy line that were once the exclusive domaine of Provençal rosé. Not anymore. With delicate red fruits, watermelon and a little white peach, it's a bone-dry and gently textured wine with lip-smacking energy and nervy cut. The finish is long, pristine, and focused. Gorgeous stuff." Bibendum Wine Co.
I can offer it for $25 a bottle.

---
And for those of you for whom it has to be Bandol, you can find a few of my favourites here.