With autumn in the air, I feel like drinking Gamay, best known as the red variety of Beaujolais. This region though, it's fair to say, hasn't been seen in a particularly flattering light for years, some would even say centuries.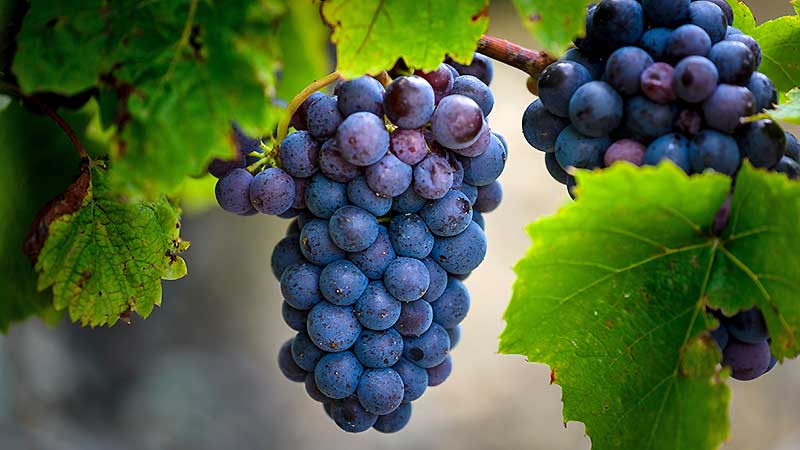 Gamay grapes.
Case in point, I was in touch with a Burgundian friend a few weeks ago to get some vineyard stats. When I asked him for figures for Burgundy, which Beaujolais is technically part of, he responded: "Total 30,000ha, Chablis 5,000ha and Beaujolais, I don't know but who cares… just kidding." It's true, Burgundians regard Beaujolais as a bit of a joke.
But it's not just the Burgundians - many people don't take Beaujolais seriously. I'd hazard a guess and say Beaujolais Nouveau has a lot to do with it. This cleverly marketed wine is the public face of the region, accounting for about half the region's production in the 1980s and still about a third of it today. Released each year to great fanfare on the 3rd Thursday in November, this light, simple and fruity wine is, more often than not, dilute and commercial. Unfortunately the rest of Beaujolais has been tarred with the same brush.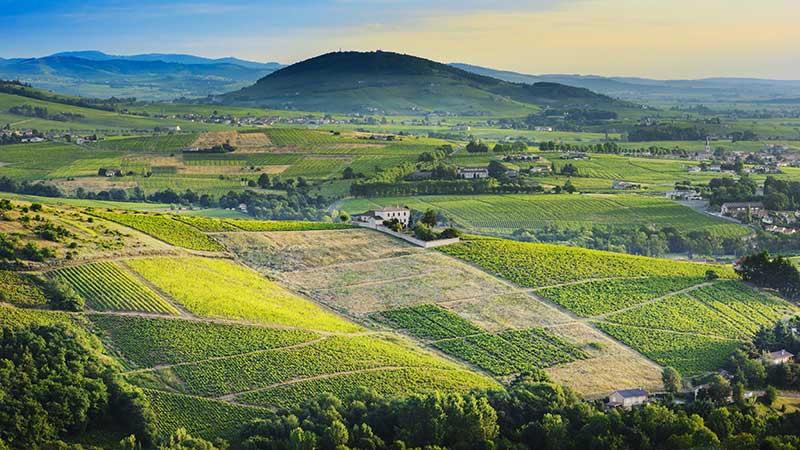 Mont Brouilly landscape.
What's not widely known is that there is decent Beaujolais to be drunk - wine that's interesting, complex and even age-worthy. And best of all, given the jaundiced view most have of Beaujolais, these beautiful wines are some of the best value drinking around.
Gamay is the red variety of Beaujolais, where it produces a unique style of light red wine that's elegant yet vibrant, with low tannins, high acidity and flavours of raspberry, cherry and cranberry.
The Oxford Companion to Wine describes Gamay as "paler and bluer than most other reds, with relatively high acidity and a simple but vivacious aroma of freshly picked red fruits, often overlaid by the less subtle smells associated with rapid, anaerated fermentation such as bananas, boiled sweets, and acetone."
The Oxford Companion to Wine notes: "Beaujolais… is increasingly being made in a more concentrated, 'Burgundian' style." Better winemakers are tending to use more traditional Burgundian vinification methods (ie. yeast, crushed grapes and skin contact) in conjunction with, rather than relying solely on, carbonic maceration. The favoured technique of producing Nouveau, carbonic maceration, involves fermentation within the uncrushed grapes and can result in the weird flavours of bananas and acetone mentioned above.
In the late 1990s and early 2000s a series of scandals and a downturn in Nouveau production saw the emergence of a handful of serious Beaujolais producers. They presented Gamay in a new light "showing more purely its fine, refreshing and sometimes peppery, red fruit," Jancis Robinson in her book Wine Grapes.
Beaujolais is located north-west of Lyons (the gastronomic capital of France) and while technically part of Burgundy, it's always had its own identity and charm. Lying between northern and southern France, it stretches a good way south of Burgundy to the top of the Rhône Valley. In a good year Beaujolais produces more than the whole of greater Burgundy.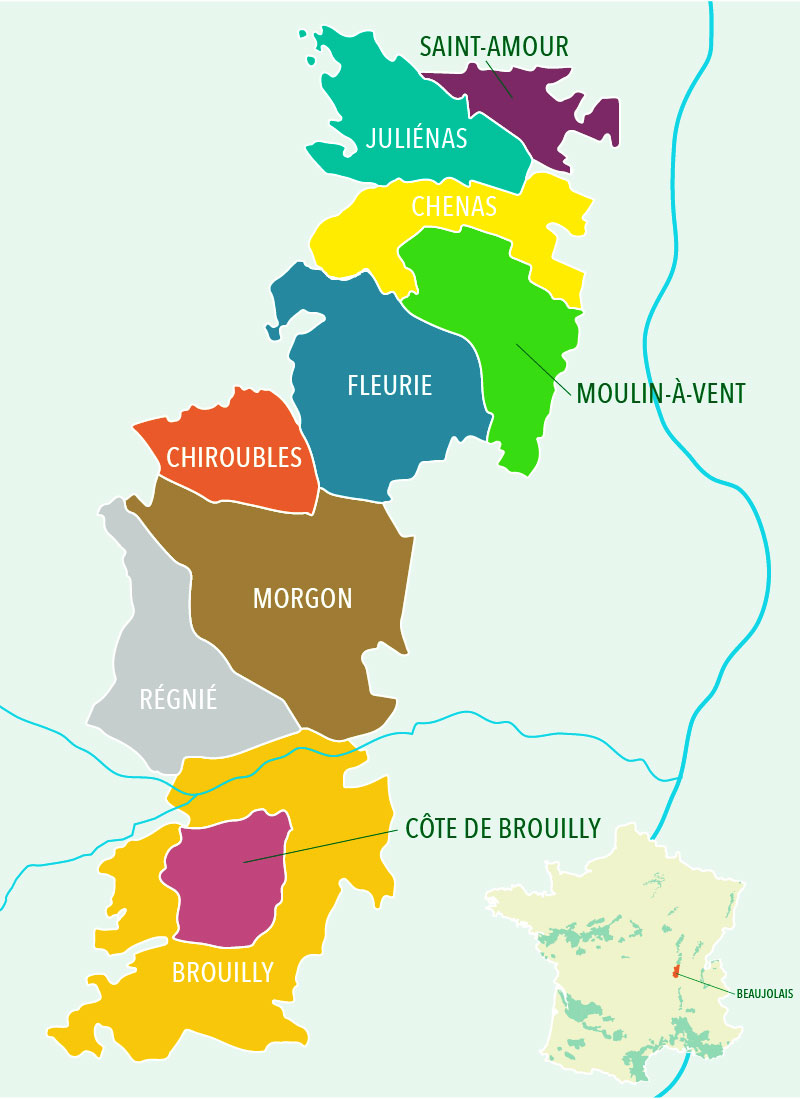 There are 3 Beaujolais classifications and note that Beaujolais Nouveau is not one of them. It's just a marketing term applied to a style of wine from the first two classifications.
1. Beaujolais AOC - basic Beaujolais from anywhere within the appellation.
2. Beaujolais Villages AOC - a step up from Beaujolais AOC. Tends to be a little deeper in colour and character. Comes from any of the 38 named villages based in the northern, hillier area of the appellation.
3. Cru Beaujolais - the most serious Beaujolais, from one of the 10 named village 'crus,' each slightly different. In some cases may be cellared for up to 10 years. From north to south they are:
- Saint-Amour
- Juliénas
- Chénas
- Moulin-à-Vent
- Fleurie
- Chiroubles
- Morgon
- Régnié
- Côte de Brouilly
- Brouilly
Cru Beaujolais is where the excitement is. These days the better Cru Beaujolais estates are producing lovely clean, interesting and complex wines; terroir driven, single vineyard, barrel-aged and estate-bottled. These are winning the critics over and providing serious competition for entry level Burgundy.
Nick Stock (writing for James Suckling's website) notes; "There is little to argue against the merit of a good Cru Beaujolais ahead of generic Bourgogne Rouge. The former delivers distinctive wines full of interest, wines that improve reliably with age, are farmed with greater attention to detail and in a region that is a leader in sound, sustainable farming practice. They carry much greater depth complexity whether young or old. Bourgogne Rouge can lay claim to little of this."
Here are two producers I highly recommend, both epitomise the quality and value now available in Beaujolais.
---

Pierre-Marie Chermette 'Les Griottes' Beaujolais 2018 (Domaine du Vissoux)
Pierre-Marie and Martine Chermette's renowned Domaine du Vissoux is located in Saint-Vérand in southern Beaujolais. This 5th generation, family run estate, has vineyards across the region (eg. Moulin-à-Vent, Fleurie and Brouilly) and were one of the first in Beaujolais to eschew all chemicals in the vineyards and adopt sustainable farming practices. It gets kind of confusing with some of the wines, like this one, labelled as Pierre-Marie Chermette and some as Domaine du Vissoux.
Vissoux remains the highest-rated Beaujolais producer in the leading French wine guide, Les Meilleurs Vins de France, and you'll find Chermette's wines in high demand in many of France's top restaurants. His top end wines are serious stuff and suitable for the cellar.
"From his base in southern Beaujolais, Pierre Chermette has become one of the beacons of Beaujolais quality…" David Schildknecht, The Wine Advocate.
"Few Beaujolais growers are in a position to pronounce on the region's different terroirs with the authority of the affable Pierre Chermette..." Andrew Jefford, The New France.
"His crus would be quite at home at a three-star restaurant," Jacqueline Friedrich, The Wines of France
Les Griotes mean 'small cherries' and refers to a grove of cherry trees surrounding the 20-40 year old vines, from which this wine is sourced, which themselves surround the Chermette house. The winemaking is decidedly minimalist, using traditional wild yeasts and whole-bunch, semi-carbonic fermentation in tanks, followed by maturation in tank and very old oak casks (ie. neutral impact). Minimal sulphur, sealed with a screw cap and 13% alcohol.
This is ruby red in the glass. On the nose you'll find juicy ripe red fruit, violets, chocolate, graphite and pepper. And on the palate, raspberry fruit gums and black pepper mingle with fresh vegetal notes. Deliciously crisp acid gives this pleasing balance, with tannins soft and fine (but surprisingly firm for Beaujolais).

"Chermette's aim here is to produce something light-bodied and cherry-fruited with reach-for-another-glass charm - something the juicy-crunchy 2018 nails with ease. It's a punchy and buoyant red, from one of the region's great addresses, that goes down dangerously easily," Bibendum Wine Co.
"The 2018 Beaujolais Griotte reveals a lovely bouquet of cherries, blackberries and licorice, followed by a medium to full-bodied, fleshy, fruit-driven palate framed by melting tannins." 88 points, William Kelley, The Wine Advocate. (A decent score for an entry level Beaujolais)
When restaurants re-open, you'll find this wine at the European in Melbourne, the Hilton in Sydney, and Merivale's Felix, at $70 a bottle.
Fresh, fun and full of value.
I can offer it for $29 a bottle. Order here
---

Château Thivin Côte de Brouilly 'Les Sept Vignes' 2018
Château Thivin is regarded as the leading estate in the Côte de Brouilly, reputedly the oldest and at just 300ha, one of the smallest crus of Beaujolais. The appellation covers the steep slopes of the extinct volcano Mont Brouilly and the wines are at the more robust and concentrated end of the Cru Beaujolais scale. James Lawler MW for Decanter Magazine describes Côte de Brouilly as; "Blue stone and shale on steep slopes. Dense wines with fine tannins, pepper and mineral notes; fine ageing potential."

Thivin is the oldest estate on Mont Brouilly, the date 1383 still visible above one of its cellar doors. Its modern success dates back to the purchase of the property by the Geoffray family in 1877, at which time there were only two hectares of vines. Today Claude and Evelyne Geoffray run the 25ha estate with their talented son Claude-Edouard as 6th generation winemaker. Château Thivin has vineyards mostly on the southern side of Mont Brouilly, with some as steep as 50 degrees. The estate's farming practices are certified organic, so no herbicides or insecticides are used.
The Oxford Companion to Wine refers to only one producer in its entry on Côte de Brouilly, "Château Thivin is a landmark producer."
"Chateau Thivin is one of the finest producers in Beaujolais' Cote de Brouilly appellation." Nick Ryan, The Australian, March 2019.
In Andrew Jefford's acclaimed book New France, Château Thivin receives the equal highest rating for an estate in Beaujolais.

The estate was also one of only a handful of producers recommended in Decanter Magazine's article "Beaujolais: Revival of the Fittest" (May 2015). "Château Thivin… are helping take Cru Beaujolais to the next level."
"This is benchmark Beaujolais." Jamie Goode, Wineanorak.
US wine guru Kermit Lynch also describes it as "the benchmark domaine of the Côte de Brouilly; everything about it is exceptional."
"The wines of Thivin are a great introduction to top quality beaujolais: they combine fresh, appealing, juicy red and black fruit with enough structure and savour to keep the palate keen." Max Allen, AFR Sep 2019.
The estate turns out several wines, with 'Les Sept Vignes' being their 'traditional' or entry level. As the names suggests, the wine is sourced from seven of the estate's vineyards on Mont Brouilly (La Chapelle, Clos Bertrand, Les Griottes, Godefroy, L'Heronde, Henri and Les Fournelles). As you'd expect on such steep slopes, the old vines are hand-picked, with the fruit returned to the hillside winery where gravity is utilised instead of pumps. Interestingly, there is a little Chardonnay in the blend as well. Winemaking is carried out with as little intervention as possible. The ferment is a semi-carbonic maceration, finished in large, old (some up to 100 years old) oak, for 7 months. Each of the seven plots are vinified separately so the final step is to blend them.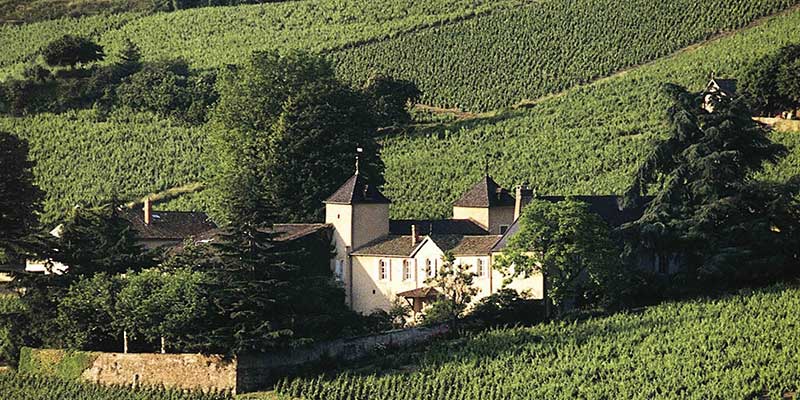 Thivin is the oldest estate on Mont Brouilly, the date 1383 still visible above one of its cellar doors.
"Garnet red with bluish glints, bouquet of hawthorn, peonies, cherry, with a touch of minerality, round on the palate with black fruit, and a spicy finish." Winemaker's notes.
"Has a kind of stony aroma, latent cranberry whiffs, touch of mushroom but mostly chalk and stone. Fleshy in the palate but retains lightness of fruit flavour and weight - a kind of gossamer spread in the mouth, fresh, just ripe cherry flavours. It's what you'd call A Savoury Wine but you get the gist that just ripe fruit has a place here. Lithe, sinewy wine of good character and detail. I like it." 93 points, Wine Front, Mike Bennie.
Blind tasted by Sarah Jane Evans MW (at Decanter Magazine's January 2020 issue Wines of the Year Tastings Feature, 23 Oct 2019). Included in Most exciting red wines of 2019. "Alluring aromas, promising succulent fruit. Vibrant and youthful, with flavours of cherry, violets and wet earth. Oak spice adds complexity. Drinking Window 2020-2023" 93 points, Decanter Magazine.
This is a wonderful wine, simply head and shoulders above what you'd get in Burgundy for the price.
I can offer it for $47 a bottle. Order here