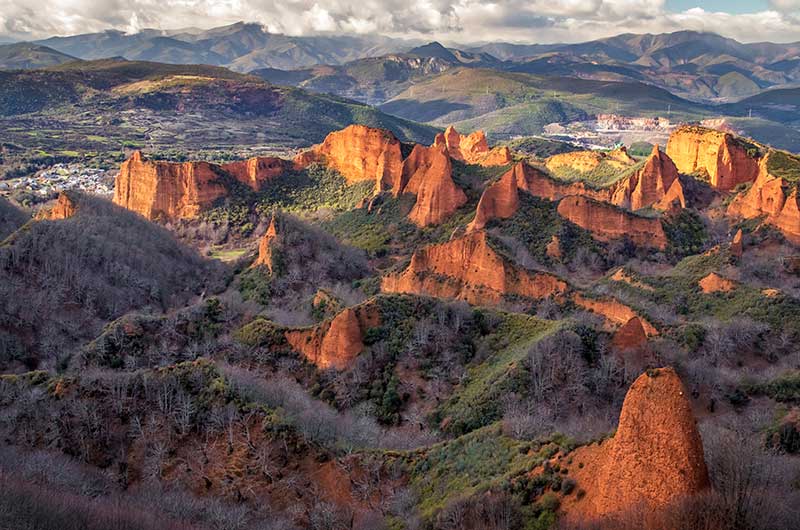 UNESCO World Heritage Site, Las Médulas.
I've got Mencia (men-thee-ah) on my mind and not just because it's been raining. I had a great bottle of this Spanish variety last year and since then, developed a bit of a crush on it.
"If you get the opportunity to taste a good bottle, with its haunting, exotic wildflower, licorice and fruit flavors, you can't help but remember it," NY Times.
With its medium weight, firm structure and floral and red fruit flavours, I find it kind of like Cabernet Franc, another favourite of mine. Having said that, and just to confuse you, it can also seem to combine the aromatic depth of Pinot, with the intensity of Syrah.
"Mencía contains high levels of a sub-group of aroma compounds called terpenoids which translate into lovely flowery aromas, strawberry, raspberry, black licorice, pomegranate and cherry sauce. When you look at a glass of Mencía, you'll notice its deep red color with subtle hues of violet towards the rim. The color tells us that Mencía has high anthocyanin (the red pigment in wine). On the palate you'll be greeted with peppery flavors of sour cherry, red currant and pomegranate along with a bitter cherry pit flavor which comes from the wine's tannin. In the regions where it grows in Spain and Portugal, you will taste a subtle crushed gravel or granite-like minerality in the texture, which often contributes to its black peppery taste," Wine Folly.
"What was once tragically misused as a workhorse being churned into simple regional table wine is now, with the proper love and handling in both the vineyard and winery, making some of the most unique and exciting wines in Spain. Mencia varies from lighter to medium bodied but almost always with a perfume of wild herbs and florals with flavours of smoky earth, berries and spice," Movida Restaurant Melbourne.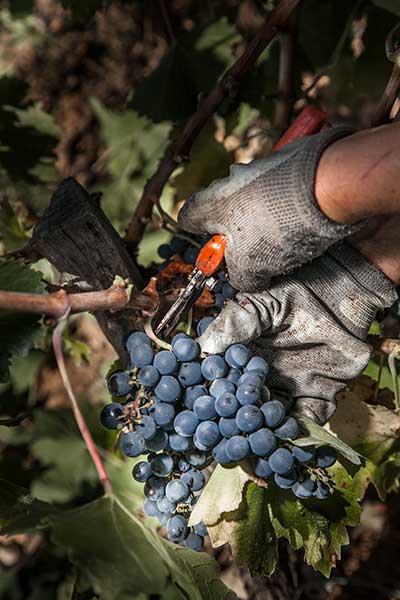 While Mencia is grown widely across northwest Spain as well as in Portugal (where it's known as Jaen), the region most associated with variety is Bierzo, where it accounts for an astounding 80% of plantings. The northwest corner of Spain is best known for the Galician wine region of Rias Baixas and its highly fashionable white wine made from Albarino. Bierzo is just a little further inland, centred around the town of Ponferrada and while close to Galicia, the region is just inside Castilla Y Leon.
Bierzo is a beautiful place that sits on the Camino de Santiago (Way of St James) pilgrimage route, more specifically, the most popular of the routes, the Camino Francés (French Way). Another notable feature of the region is Las Médulas, supposedly the largest open-pit gold mine in the Roman Empire. The Romans employed a technique based on hydraulic power that involved undermining mountains with large quantities of water via a complicated system of aqueducts, galleries, lakes and tunnels. After two centuries of working the deposits, the Romans withdrew, leaving a devastated, dramatic and unique landscape that is now a UNESCO World Heritage Site.
The remote region comprises an elevated plain and a series of valleys, with altitudes between 450-1,000 metres. It's relatively small with around 4,500 acres (1,820ha) of vines and 75 registered wineries. The climate is highly continental, with hot summers, and cold snowy winters. While there are alluvial soils lower down in the region, the soil at higher altitudes is slate. The elevation and surrounding mountains protect Bierzo from any Atlantic influence, so it's much dryer than Rias Baixas. Most vines are un-irrigated bush vines (ie. free standing, not trellised).
While vines have been grown in Bierzo for thousands of years, by the 1970s the region was pretty much unknown, with co-operatives turning out pretty basic wine. But in the late 90s the distant region was 'discovered' by a group of young growers/winemakers. Of particular note was Alvaro Palacios who just a decade earlier had gained fame as a pioneer of the resurrection of Priorat (north east Spain). And in a similar story to Priorat, Palacios and his cohorts reclaimed old vineyards on slate in Bierzo, producing wines of "grace and finesse not found in a generation of concentrated, oak-heavy products," The World Atlas of Wine.
Since then"(Bierzo) has become a magnet for bright stars of Spain's new generation, and the best of Bierzo fully deserves international recognition. They should be ranked alongside Rioja, Ribera del Duero and Priorat with an elegance that's in tune with modern tastes," Decanter 2016. Despite recent developments in wine and the constant stream of pilgrims, Bierzo is still very much a low-key place.
The Oxford Companion to Wine refers to a handful of producers from Bierzo, including the two below, both of which I highly recommend.
---
Luna Beberide Mencia 2008

Founded in 1987, Luna Beberide comes from the surnames of the original owners, Bernardo Luna and Merche Beberide. These days Alejandro Luna (law graduate and son of Bernardo) is both owner and winemaker. "Alejandro is one of the region's most influential winemakers," Marguerite Thomas, Wine Review Online, June 2017.
The estate is around 70ha, big for the region, with plantings between 450-900 metres elevation on the southern slopes of Bierzo. The focus is on Mencia and Godello (white), but several other varieties are grown as well. Clay at moderate altitude gives fruitiness, and slate at higher altitude gives minerality and diversity. The vines are farmed organically (not certified) with no herbicides or pesticides used in the vineyard. The average age of vines on the estate is 70 years, which makes them some of the oldest in the region.
This wine is 100% Mencia, with handpicked fruit coming from 40-year-old vines. Fermentation was carried out using native yeasts in stainless steel. The wine does not see any oak.
"It was raised in stainless steel and bottled without filtration. Dark ruby-colored, it reveals an enticing perfume of spicy black fruits. Concentrated and rich on the palate, it is dense and packed with spicy, savory fruit. It is sensational value." 90+ Points, Robert Parker's The Wine Advocate. A great score for a wine of this price.
"This is always a champion in its category... Ideal for the table." Luis Gutiérrez, Robert Parker's Wine Advocate.
What's amazing about this wine is that it's still going so well after so many years.
Philip White, described by Max Allen (amongst others) as "the best wine writer in Australia," wrote a piece on this wine last year. It's worth a read if you have the time. Philip has written for many of the big mastheads over the years and has his own blog, Drinkster which is also worth perusing.
Here are some highlights of the article:
"…Having been completely entertained by that aroma for as long as it usually takes to drink a glass, I eventually drank some. I'd been reluctant to be disappointed. Never happened. Man, I was tantalised. It was tight and wiry, and shiny like a whip aerial until those nightshade/hempen tannins loomed up to surround it. After an hour of air, these were being overtaken by the sweeter pipe tobacco flavours: Mac Baren's Plumcake, fresh from the tin via a good Stanwell Danish briar. While tighter and less soulful, that tobacco reminded me of the lovely Basket Range Merlot of the Broderick family...This tight style: ungiving; taut; narrow – the opposite of gloopy – is what a great deal of finer wine was like before Robert Parker made big alcohol jampots fashionable. Lower alcohols, less puppy fat, better focus, longer lives…This lovely wine blew me away. Its wild individuality; its intensity; its elegance."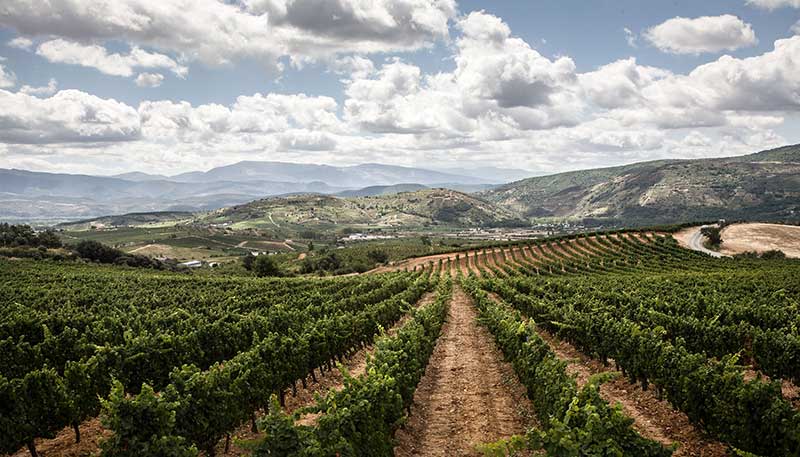 In the glass, this is a lush ruby colour with a bricky edge, as you'd expect for a wine of this age. Medium colour density. Initial sweet cherry fruit on the nose opens up to become more like rose, strawberries, balsamic, star anise, cigar box and antique furniture. On the palate it's lean and dry with firm acidity - a perfect foil for the richness of charcuterie or tapas. Tannins have softened but still give a bit of grip and structure. At first taste it's very much lean red fruit. But it evolves in the glass to more complex aged flavours: cranberry and raspberry are joined by prune, rose, subtle musk, interwoven with pepper and neatly contrasting leafiness. I agree - it's an elegant wine.
It's simply absurd that a wine of this age, that's drinking so well, is selling for only $25!
I can offer it for $25 a bottle. Click here to order
---
Mengoba Mencia 2014

"Gregory Pérez is one f***ing talented winemaker," Alice Feiring (New York based wine writer who's written several great books and has her own blog, The Feiring Line. She's won a few gongs including the James Beard, Louis Roederer and Gourmand writing awards).
Founder/winemaker of Mengoba, Gregory Perez, is a Bordeaux native, having worked at several top estates, including Chateau Grand-Puy-Lacoste and Chateau Cos d'Estournel (bigwig 'super 2nd growth). He completed studies at the Bordeaux Blanquefort School of Oenology and Viticulture in 1998.
On the advice of a friend he went to Bierzo, where he worked for several years before establishing Mengoba in 2007. Perez likes to say he has his origins in Bordeaux and his heart in Bierzo.
The estate's vineyards are located in the town of Espanillo, at the head of the River Cua. The elevation here is 600m and the soil is a mixture of clay and decomposed slate. The vineyards are located near a wooded area which provides an abundance of natural diversity.
The vines are grown as bush or goblet vines, which means they are free standing, ie. no trellising. Bush vines are more common in hot climates, and you'll see a small number of them in Australia, eg. old Grenache vines in McLaren Vale.
The winery is located in San Juan de Carracedo, home to the historic Monastery of Carracedo, one of the most impressive in the region. The winery has all the bells and whistles, with stainless steel and temperature controlled tanks, and high quality oak.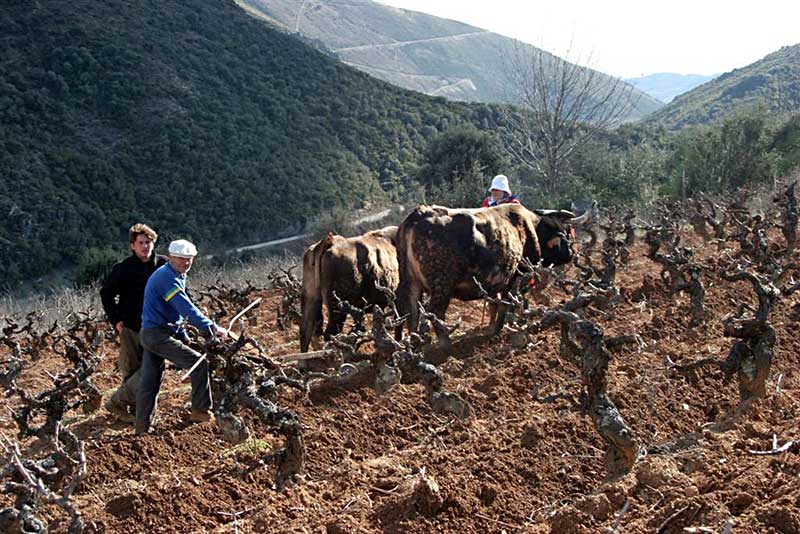 Gregory Perez (above left) is one of the new generation of Spanish winemakers. He follows a sustainable philosophy, which he outlines as: "knowledge of the soil, protect the biodiversity, indigenous varieties, non-aggressive treatments, prohibit the use of herbicides, low yields, vineyard selection and maturation, and traditional winemaking."
The wine is 85% Mencia, from two slatey sites. The first site with 80 year old vines, the second (40% of the blend) are 30 year old and at 550m elevation. The other 15% is Garnacha Tintorea (Alicante Bouschet, which Rockford fans will know).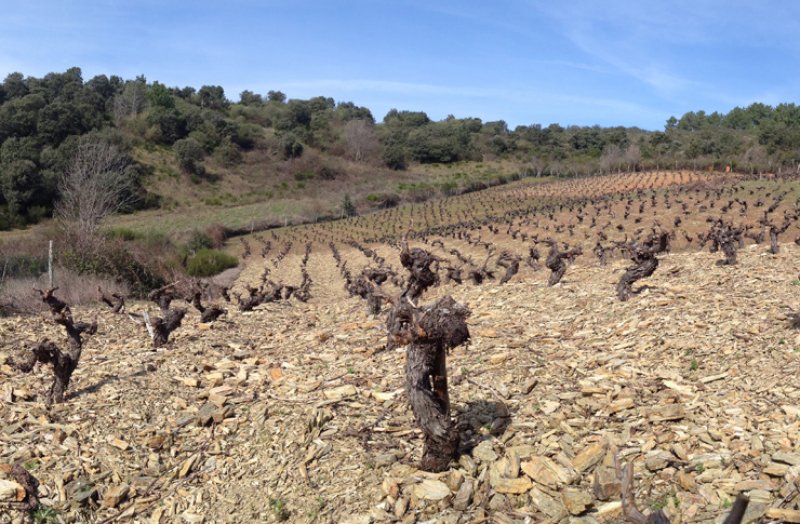 "The result is a lovely, juicy, medium bodied Mencía; fresh, jubey and supple, with the Garnacha T. adding drive, perfume and powdery tannin. There is considerably more finesse and fruit purity here than in the bottlings under the Flor de Brezo name (their cheaper range). More perfume and freshness too. That said, it has more stuffing than many Mencía you might find at this price point and expresses its high grown origins with its perfume, intensity and brightness. A lovely value from the new Spain." Bibendum Wine Co.
This is a dark rosey red colour with medium density. The nose has subtle aromas of plums, sweet pea and graphite. And on the palate, plums and pomegranate meld with violet, almond and peppery spice. Once again fairly soft tannins and silky smooth in the mouth. This is really nice drinking.
I can offer it for $37 a bottle. Click here to order