A friend in the restaurant game recently mentioned that Brunello is suddenly the hottest thing on her wine list. But what exactly is it?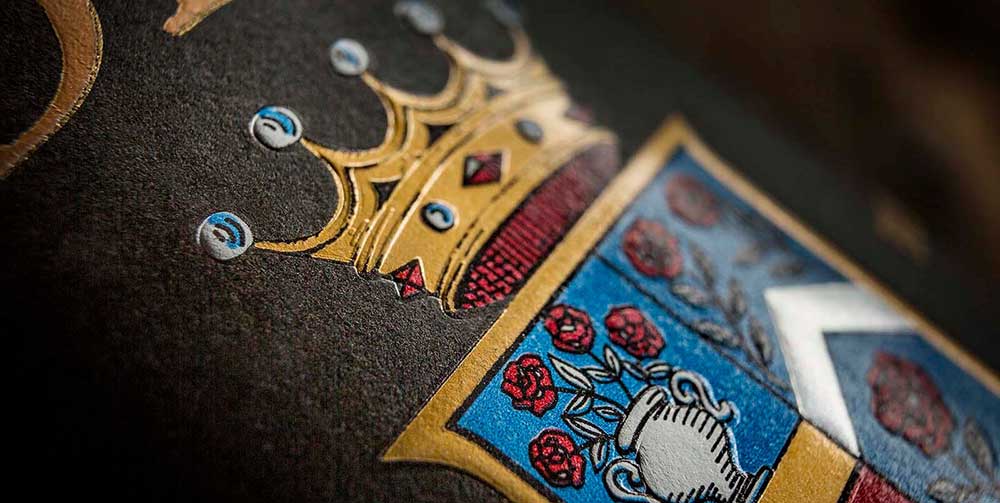 Biondi-Santi not only put the region and its signature grape on the map, it also defined the elegant but powerful style of classic Brunello di Montalcino.
Brunello di Montalcino, often referred to simply as Brunello, is an Italian wine term you've no doubt heard but may not know well. It's easily confused with Montepulciano, Vino Nobile di Montepulciano, Montepulciano d'Abruzzo and even Barolo, but Brunello is worth singling out.
"A great Brunello is a wine of incomparable refinement, power and age worthiness."
Decanter Magazine.
"Italy's most famous and premium wine appellation." James Suckling, who visited in the early '80s and then lived there for several years.
"Tuscany's grandest wine zone." Jancis Robinson.
Brunello is one of Italy's most prestigious and expensive wines and, along with Barolo, is often referred to as the 'King of Italian Wines.' It's a red wine originating from the vineyards around Montalcino, a stunning medieval hilltop town located about 110km south of Florence, in Tuscany.
While wine has been made in this area for hundreds of years, it was not until 1865 that wine labelled Brunello appeared, and 1888 that it was bottled under the specific name Brunello di Montalcino. Brunello was recognised as a DOC (appellation) in 1966, soon after the scheme was first implemented, but remained relatively unknown until two events set Montalcino and Brunello on a path to worldwide acclaim.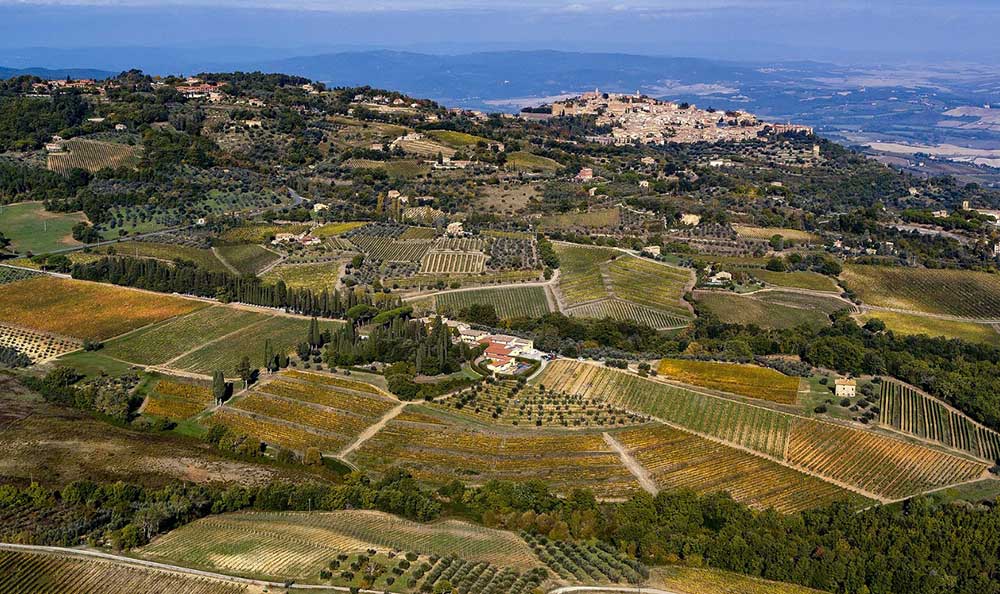 The Biondi-Santi Estate in Tuscany.
First, the Mariani brothers, Italian New Yorkers importing the hugely successful Lambrusco, travelled to Montalcino in the late 70s, in search of new suppliers. The timing was perfect. Impoverished locals were all too happy to sell their wine and, at a nudge, their land. The Marianis created Banfi winery, paving the way for Brunello's success in the American market. Second, a terrible frost in early 1985 destroyed many of the region's olive trees and seeing the recent success of the two brothers, local vignerons were inspired to replant vines.
In the meantime, in 1980, Brunello was upgraded to one of the first five DOCGs - the highest level in the Italian wine classification system. The other 4 were Barolo, Barbaresco, Chianti and Vino Nobile di Montalcino. The region has grown from a mere 65ha in 1960 to 3,500 ha today - still tiny compared to Bordeaux at around 120,000 ha.
The term Brunello was the name traditionally given to the grape variety grown around Montalcino. These days we know it to be a strain of sangiovese, Italy's most widely planted variety. Aside from Brunello, sangiovese is responsible for several of Tuscany's most notable wines; Chianti, Vino Nobile di Montepulciano and most of the 'Super Tuscans.' But it's in Brunello that sangiovese finds its most famous expression, producing the richest, fullest and boldest examples of the variety. The reason for this is the climate. Even though Brunello is fairly close to Chianti, it's slightly warmer and drier than most of Chianti during the day, and with the sea only 25km away, Brunello also enjoys a cool maritime breeze, ensuring excellent ventilation and cooler nights. This diurnal variation means a long growing season (good for flavour development) and maximum ripeness.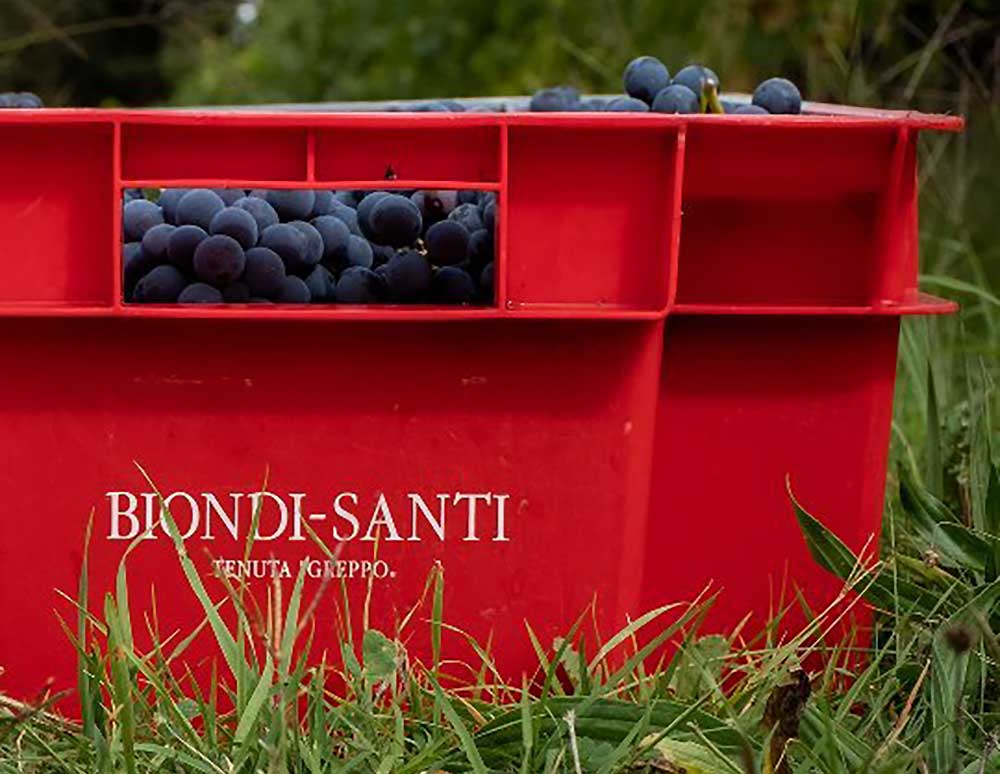 Brunello is characterised by firm acidity and moderate to high tannin. The best examples have "luscious, bold, rich black and red fruit flavours," Wine Spectator Magazine. More specifically you'll find flavours of blackberry, cherry, raspberry, chocolate aged balsamic and minerals, ageing to fig, sweet tobacco, espresso and leather. If stored well, it'll cellar for between 10-30 years. As the Oxford Companion to Wine notes: "Brunello is one of Italy's most noble and long-lived wines."
In terms of DOCG requirements, Brunello must be made from 100% sangiovese, aged for a minimum of 2 years in oak and a minimum of 4 months (6 for Riserva) in bottle. It cannot be released until 5 years (6 years for Riserva) after the date of harvest. Since 1984, there's been a separate appellation known as Rosso di Montalcino DOC, also 100% sangiovese. It has no minimum aging requirements and can be released on the 1st September, following the year of harvest. Interestingly, all three (Rosso, Brunello and Riserva) can only be sold in Bordeaux shaped bottles.
I'm pleased to be able to offer you wines from one of Brunello's most famous and difficult to procure producers.
---
Biondi-Santi
In 1999, prestigious US magazine Wine Spectator ran an article proposing the ultimate mixed dozen of the 20th century. Alongside several anticipated gems such as 1900 Château Margaux, 1921 Château d'Yquem, 1937 Domaine de la Romanée-Conti, 1945 Château Mouton Rothschild and 1955 Penfolds Grange was a 1955 Biondi-Santi Brunello Riserva. It's no surprise Biondi-Santi is regarded as one of, if not the greatest estate in Tuscany, or indeed Italy.
The estate was founded by chemistry graduate Clemente Santi in the mid-1800s. His first wine to bear the Brunello name was an 1865 vintage red, entered into the nearby town of Montepulciano's agricultural fair. Then the 1888 vintage saw his grandson Ferruccio Biondi-Santi produce a wine that officially became the first Brunello di Montalcino.
"Only four vintages -1888, 1891, 1925 and 1945 were declared by Bondi-Santi in the first 57 years of production, contributing an aura of rarity to the wine that translated into high prices and, in Italy at least, incomparable prestige. The Biondi-Santi were the only commercial producers until after the Second World War and a government report of 1932 named Brunello as an exclusive product of the family and estimated its total annual production at just 200 hl/5,280 gal," Oxford Companion to Wine. When the time came to officially form the appellation of Brunello, "the DOC regulations of 1960 were largely written by Biondi-Santi on the basis of the family's oenological practises," Oxford Companion to Wine.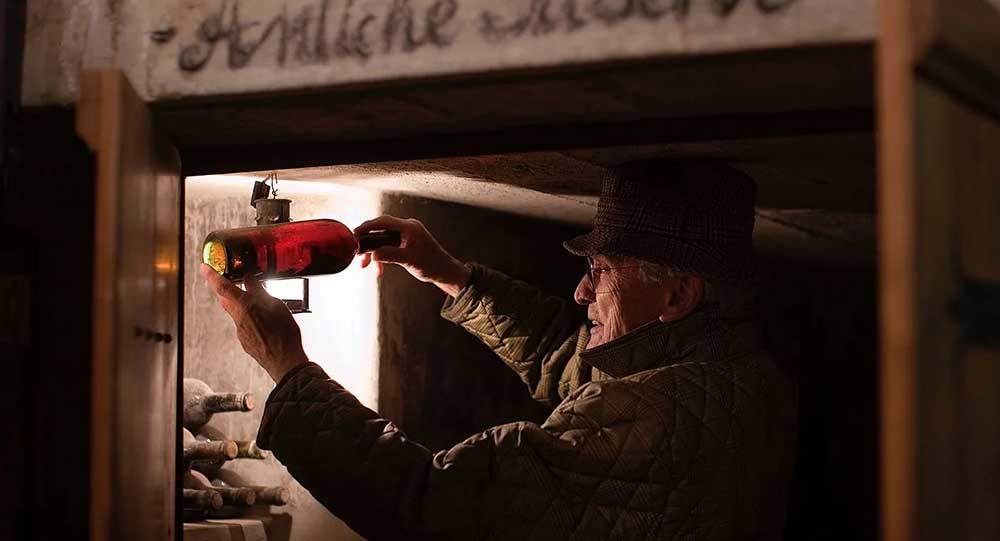 Franco Biondi Santi checking on his la Riserva 1888.
Biondi-Santi is renowned as a 'traditional' producer, which during the 80s and 90s fell out of favour as a new generation of Brunello producers pursued a more 'modern' style, favouring richer and more concentrated wines. Similar to the so-called Barolo wars, a group of Brunello winemakers started producing wine utilising riper fruit, shorter maceration times (ie. time spent soaking on the skins) and ageing in newer and smaller oak. A few of the big-wig Italian critics favoured these earlier drinking styles, as did the all-important US market. The schism reached a peak in 2008 with the so-called Brunellopoli (Brunellogate) blending scandal where wines labelled as Brunello were found to illegally contain international varieties. A proposal was successfully carried to ban the use of international varieties and the subsequent return to the traditional style put the unchanged Biondi style (non-interventionist, elegant and long-lived) back in the spotlight, where it has remained since.
As Christie's Auctioneers observed in 2018, collectors love the Biondi-Santi Riserva because the wine possesses history, quality, rarity and incredible longevity. It was noted that in 1970, the 1888 Biondi-Santi was tasted and recorked - by all accounts remaining "elegant, fresh and full of vibrancy."
When legendary Franco Biondi-Santi died in 2013 aged 91, his son Jacopo and grandson Tancredi (7th Generation) took over the reins. In December 2016, French luxury group EPI, who also owns Charles Heidsieck and Piper-Heidsieck Champagnes, acquired a large stake in the business and in 2020 EPI took full ownership, with as you would expect, a strong desire and commitment to preserving and continuing the unique legacy of the Biondi Santi estate.
I've just received these wonderful wines, any of which would make the perfect Christmas gift for that special winehead, or even point Santa in this direction.
---

Biondi-Santi Brunello di Montalcino 'Tenuta Greppo' Annata 2017
This wine is produced from estate fruit with vines aged between 10-25 years. Post ferment, the wine spent 3 years in Slavonian oak and finished up at 13.5% alcohol. It's sealed with cork.
The estate lists each wine's tasting note as "Emotion" - oh to be Italian.
"An encounter of fragrant fruit and balsamic spice, the bouquet of the 2017 Brunello is initially quite timid, gradually revealing the width and depth of its aromatic elegance. Notes of red cherries rise from a bouquet of red berry fruits, accompanied by cool spicy scents and soothing sensations of dried tobacco leaves, licorice root and citrus peel. The palate is surprisingly fragrant with an enviable equilibrium of fine-grained tannins, refreshing acidity and a fruity core. The savoury finish is long and enveloping, releasing subtle hints of thyme and rosemary." Winemaker's notes.
"A delicately sweet note of fresh summer cherry is a precursor to budding complexity and a very articulate bouquet that opens quickly in the glass. Immediately pleasing fruit is a characteristic of the 2017 growing season that had above average temperatures and drought throughout the summer. The resistant 2017 Brunello di Montalcino takes on these challenges without missing a beat. The wine's celebrated acidity and its small berry nuances remain intact. The tannins are silky and the wine's flavors fade slowly even after you have taken your last sip." 96 points, Monica Larner, The Wine Advocate.
"The 2017 Brunello Di Montalcino is surprising in its freshness considering the warmth of the vintage and speaks to the cooler northern-facing exposition of the estate. It is refined with ripe red cherry raspberry anise and incense and is fresh with cherry fruit warming spices macchia and herbes de Provence. It is ripe though it maintains a medium frame with well-managed tannins and balanced acidity. It is a lovely and charming wine and is rather approachable now. Drink 2024-2040." 96 points, Jeb Dunnuck, March 2023.
"Sweet berry orange peel cedar bark and forest flower aromas follow through to a medium to full body with linear and fine tannins and a crunchy undertone. It's very subtle and fresh for a 2017. Crisp and vivid. It's refined and acid-driven. Needs three to four years more to soften. Try after 2026." 96 points, James Suckling.
I can offer it for $450 a bottle (6 bottles available).

---
Biondi-Santi Brunello Riserva
The 1888 Biondi-Santi Riserva was the first official Brunello di Montalcino in history and incredibly there's still a few bottles in their cellar. The wine is only made in exceptional years and is sourced from vines older than 25 years. The increased age of the vines is the key difference between it and the standard Brunello. Post ferment it spent 3 years in Slavonian oak barrels. The last vintage I offered was the 2013, there was no 2014.
---

Biondi-Santi Brunello Riserva 2015
2015 vintage is the 41st release. The finished wine is 14.5% alcohol and sealed with cork.
"The 2015 Brunello di Montalcino Riserva is a truly majestic wine. The bouquet is packed with intense fruity notes of black berries, pomegranate and plums, intertwined with scents of Mediterranean herbs such as thyme, rosemary and sage, rising from a carpet of forest floor. On the palate, the wine seduces with exuberant charm and caressing sweetness. The youthful tannins reveal its immense structure and contribute to creating a distinctive sensation of freshness which leads us towards a long-lingering, savoury finish." Winemaker's notes.
"The Biondi-Santi 2015 Brunello di Montalcino Riserva is initially a reticent wine and one that does not immediately subscribe to the overstated abundance and exuberance of the vintage. Give it time. I wrote this review after several tastings over several days so I could ensure a more accurate account of the wine's elegant reveal. Contemplative and exceedingly nuanced in personality, with wild berry, underbrush, ferrous earth and candied orange peel, this has everything to look forward to in terms of its future evolution in the bottle. It displays a pretty ruby color that borders on garnet and polished copper. A silky, mid-weight palate is accented by beautifully managed and silky tannins (this aspect of the mouthfeel is extraordinary), bright freshness and long-lasting fruit momentum. The alcohol is a bit more powerful in this release (at 14.5%), but the effect is supple and smooth nonetheless. I tasted bottle number 256." 98+ points, Monica Larner, The Wine Advocate, Feb 2022.
"Complex yet pure, subtle and refined nose that gently evolves, with mossy red cherries, dried roses, chalk, tar and dried orange peel. There is a lift of clove and eucalyptus that makes it so distinctive. A powerful, medium-to full-bodied Brunello, but seamless and bright, with a fine, transparent mid-palate and restrained, mineral austerity." 97 points, James Suckling, Apr 2022.
I can offer it for $1,400 a bottle (3 bottles available).

---

Biondi-Santi Brunello Riserva 2016
2016 is one of the most lauded vintages in Brunello, with The Wine Advocate rating it 98 points, describing it as "Extraordinary. Still tannic, youthful or slow to mature." To give this some context, The Wine Advocate vintage chart for Brunello goes back to the early 80s and this is the highest score awarded, with only one other vintage receiving it, 2010.Similarly, Wine Spectator awards the 2016 Brunello vintage 99 points, the highest rating for any vintage back to when its vintage charts for the region started in the mid 90s.
The 2016 vintage is the 42nd release. The finished wine is 13.5% alcohol and sealed with cork.
"Structure and grace, tension and fragrance form the personality of this Riserva where dark cherries and dried violets find depth in infinite balsamic sensations and scents of Mediterranean herbs, menthol, vintage leather and flint. On the palate the tightly-bound structure of youthful tannins, still pleasantly lively, and vibrating freshness is the testament of a vintage destined for a long, long life. The finish is long-lingering and seductive with hints of dried herbs enveloped by savoury, iodine sensations." Winemaker's notes.
"Wow, here is a vintage I've been anxiously waiting to try. The 2016 growing season was one of the best in recent memory in Montalcino… The prestigious 2016 Brunello di Montalcino Riserva proves a mighty collector's bottle that will undoubtedly gain in complexity and depth with careful bottle age. The wine offers wild nuances of forest berry and tart cherry, and there are herbal side notes as well as floral tones of dried violet and lilac. The tannins are soft, powdery and feel like they melt away on the palate. (5/2023)." 99 points, Monica Larner, The Wine Advocate.
"The 2016 Brunello Di Montalcino Riserva is layered and unfolds in the glass with incense, baking spice, ripe red cherry, and cedar. It has more concentration and length through the mid-palate and offers an impeccable balance of structure, ripeness, and tension. It is expressive on the nose, but it is even more impactful at this stage with its intensity through the palate, with nearly electric energy of wild raspberry, rose petal, tea leaf, and orange zest. Allow for cellaring another 3-4 years." 98 points, Jeb Dunnuck, 3/2023.
"Aromas of strawberries, flowers, fresh mushroom, forest flower, sandalwood, and hints of balsamic. Full-bodied and tight on the finish. This is a linear and fine-tannined red. Available in March 2023. Needs another five years or so to show its full potential. New classic." 98 points, James Suckling, 8/2022.
"A harmonious, balanced red, this sets the stage perfectly for the cherry, strawberry, floral, iron and tobacco flavors. Fresh and detailed, with a linear profile and refined structure driving the seemingly endless finish. Superb." 98 points, Wine Spectator, 4/2023.
I can offer it for $1,450 a bottle (750ml - 3 bottles available).

I can also offer it for $3,200 a magnum (1500ml - 1 bottle available).