Recently, Cousin Richard headed to the Barossa with his family to celebrate a significant birthday. They stayed in very nice digs - a luxuriously restored 1840s cottage, set amongst the vines, just off the iconic palm-lined Seppeltsfield Road, in an area known locally as the Western Barossa.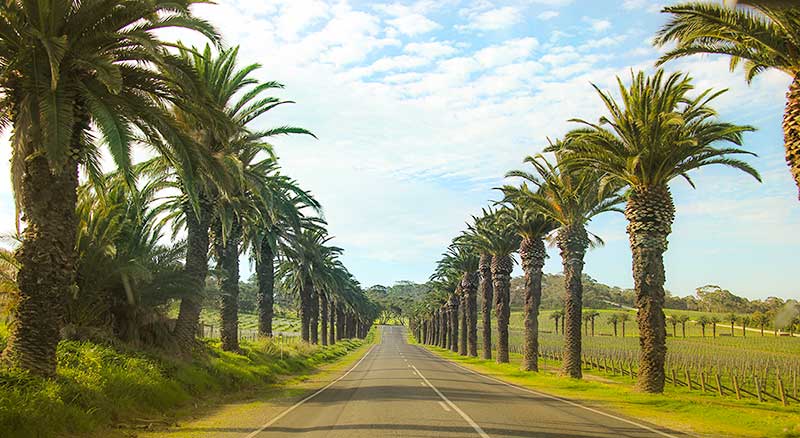 Seppeltsfield Road, Barossa Valley.
The Barossa Valley lies about 60km northeast of Adelaide and is one of Australia's best-known regions. While it was originally settled by the Brits, much of the region's Germanic culture comes from Silesian (ie. Prussian) Lutheran immigrants who settled here in the mid 1830s. The origin of the Barossa name is care of Colonel William Light, who fought in the Battle of Barrosa (note the two Rs and one S) near Cadiz in Spain in 1811. The different spelling is a clerical error that stuck.
Left: Winemaker Andrew Quin dropped in to our tasting room.
The climate in the Barossa is considered Mediterranean, typified by warm to hot summers and moderate rainfall, mainly during mild winters. Pretty nice really. While over 40 different grape varieties are grown here, the signature variety is of course Shiraz, accounting for over 65% of the crush. Barossa Shiraz is known for its flavours of "blackberry, blackcurrant, plum, black pepper, liquorice and chocolate" (Wine Australia) and tends to be full bodied, with medium to high tannin and alcohol. More recently there's been a move towards less power and less American oak, which I prefer.
Back to cousin Richard who, being a bit of a wine man himself, sniffed out a few wineries and brought me back a few bottles. Two of these were from Quin Wines - side venture of Andrew Quin, chief winemaker at Hentley Farm.
It isn't often I get the chance to taste a wine, knowing nothing about it, especially the price and accolades. We all know how much better a wine tastes when you've paid a motza for it.
I tasted the two bottles the best way - without expectation. The result? They were impressive, super impressive. Dense, powerful and complex, yet intensely focused, concentrated and smooth. A perfect balance of strength and vibrancy, restrained use of oak and firm but smooth tannins. Power with finesse. A top example of 'new' Barossa.
All became clear when I started googling. Andrew Quin has been chief winemaker at the highly regarded Hentley Farm since 2008, during which time he has accumulated an impressive list of awards including:
Wine Society Young Winemaker of the Year nominee 2011 and 2013
Best Red Wine of the Show at the Barossa Valley Wine Show 2013
James Halliday Winery of the Year 2015
Barons of Barossa Winemaker of the Year 2017
The cottage where Cousin Richard stayed is known as Cambourne, named after the vineyard that surrounds it, and is run by Andrew and his wife Skye Quin. The 7.2ha vineyard was planted between 1995 and 1999, with the fruit from the vineyard traditionally being sold to nearby Hentley Farm. But in 2014, Andrew and Skye purchased the vineyard and in the same year kept back a small amount of fruit for Andrew to start making his own wines under the Quin Wines label, which was only officially established in 2018.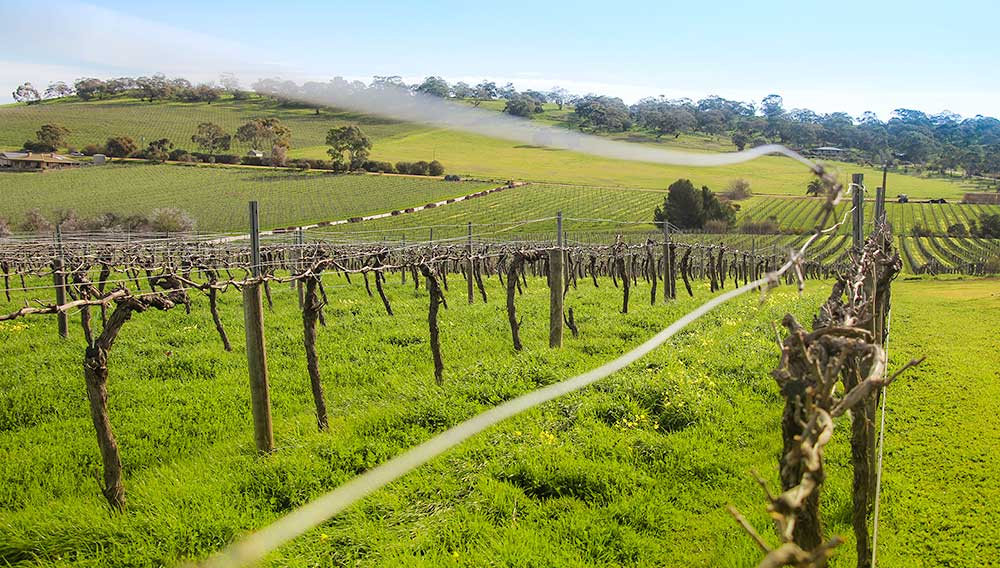 Quin Wines Cambourne vineyard - growing premium Shiraz.
Andrew makes his wines in a corner of the Hentley Farm winery and at the most recent Barossa Wine Show his wines won the most coveted of awards:
Trophy for Best 2017 Shiraz
Trophy for Best 2016 Shiraz
Trophy for Best Shiraz
Trophy for Most Successful Exhibitor - Small Producer.
Yikes!
To add to this, just last month Quin Wines were included in The Real Review's (Huon Hooke) Top Wineries of 2019. "Andrew Quin has – like some magician – conjured some outstanding wines for his debut." Coming in at 77th position, placing above the likes of Mt Langhi Ghiran (79th), Bass Phillip (89th) and Leeuwin Estate (100th), is simply an amazing achievement for such a recently established winery.
Would you believe, by chance just a week later, Andrew was in town and I got to meet with him in our tasting room. Aside from being a top winemaker he's a nice guy to boot!
'Top winemaker starts own project on the side and trumps everyone.' These are the undiscovered gems you wish for as a wine drinker. Thanks Cousin Richard.
---

Quin Wines Eden Valley Shiraz 2017
The fruit for this wine is sourced from a vineyard planted in the early 80s, high up on the south eastern edges of the Barossa, in the Eden Valley. Conditions in the Eden are noticeably cooler than the Barossa, producing more elegant and perfumed wine. Shiraz from the Eden is typified by flavours of "raspberry, black pepper, mulberry, blackberry, sage, black olive and spice" (Wine Australia).
On the eastern side of the Barossa and up into the Eden Valley, you'll also find more pronounced aromatics in the reds.
The fruit was picked in the cool of the morning and quickly delivered to the winery where it was destemmed and fermented using cultured yeasts. After ferment the wine spent a further three days on skins to extract more colour, tannin and complexity. The soggy grapes were then pressed out using a traditional basket press, after which the wine spent 10 months in old oak, before being bottled into a bloody heavy bottle. The finished wine is 14.5% and sealed with a screwcap.
Andrew entered the wine into the most recent Barossa Wine Show where it was awarded:
97 points
Gold medal and top score for 2017 Shiraz
and the highly coveted Trophy for Best 2017 Shiraz
The colour is deep rosey red. The nose is very aromatic - rose, plum, blueberry with a slight earthiness and light touch of vanilla. The palate reveals plums, roses and red berry fruit touched with sarsparilla and pepper. Deft bright acidity keeps plushness in check, giving this wine its luxurious mouthfeel and superb length, without being heavy handed.
"Youthfully deep red/purple colour, the bouquet likewise fresh and bright, with vibrant fruit and lashings of tannin, the acidity and oak in harmony. A full-bodied gutsy wine with lots of presence and boldness. It has a core of sweet fruit and excellent structure. A very smart Shiraz indeed." (Drink 2019-2034). 94 points, Huon Hooke, The Real Review (unlike many critics, Huon is a hard marker so this is a great review from him).
"Nose: Sarsaparilla, mulberries, tea leaf and fresh vanilla bean. Palate: Great tannin focus through the middle, flavours of red fruits and earth." Winemaker's notes.
Only 90 cases made so you're not going to find this around town. Enjoy it now or after several years in the cellar - see how good Eden Shiraz can be.
I can offer it for $55 a bottle. Order here
---

Quin Wines Barossa Valley Shiraz 2016
The fruit for this wine was sourced from three separate blocks within the Quins' own Cambourne block. This western part of the Barossa is known for the power of the wine it produces. 10% was left as whole bunch in the ferment, which was carried out using cultured yeasts. Post ferment the wine spent up to 20 additional days soaking on the skins to extract more colour, tannin and complexity. The soggy grapes were then pressed out using a traditional basket press, after which the wine was transferred to aged French oak for a total of 20 months. The wine was bottled into the same heavy bottle as the Eden Shiraz, is 14.5% alcohol and sealed with a screwcap.
Andrew also entered this wine into the most recent Barossa Wine Show where it scooped the pool:
• 97 points
• Gold medal and top score for 2016 Shiraz
• Trophy for Best 2016 Shiraz
• Trophy for Best Shiraz
In the glass this is dark, dense purpley red. On the nose, sweet dark plum and blueberry fruit mingle with spice and vanilla. And on the palate you'll find plum, blueberry and pomegranate with a hint of anise. This is lush and viscous but with fresh acidity a counterbalance to its power and depth. A long finish and firm tannins complete the structure in this concentrated wine. Seems effortlessly balanced as only a good wine can - this is a beauty. 14.5% alcohol.
"Deep, dense, concentrated red/purple colour, with a deep, super-ripe, fruit driven aroma, which is classic chocolaty, dark plum Barossa shiraz, and the lets the fruit do the talking. It's likewise dense and concentrated in the mouth, powerful and structured for ageing. A big serving of tannin - in balance, impressive wine." (Drink 2019-2041). 95 points, Huon Hooke, The Real Review. As noted above, Huon is a hard marker so this is a great review from him.
"Nose: Blueberry, blackberry and red currant. Palate: Soft round palate with layers of rich fruit." Winemaker's notes. Andrew describes this as a modern Barossa Shiraz.
Best Shiraz at the Barossa Show… need I say more? Maybe just that quantities are limited.
I can offer it for $55 a bottle. Order here