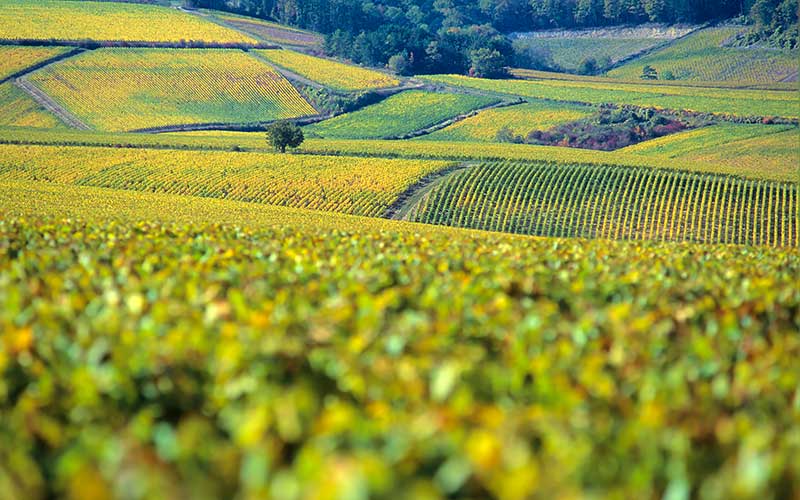 Autumn vineyards in Chablis.
There was a bit of hoo-ha in the wine press last year over the boundaries of Burgundy. Although Chablis sits a considerable 130km north west of Beaune (the heart of Burgundy), it's still always been considered part of the region. There was talk of separating it - zut alors! As you would expect, protests outside the offices of the Institut national de l'origine et de la qualité (INAO) ensued. Christian Paly, head of France's national appellation committee, calmed the waters when he announced "I will not be the president who take Chablis out of Burgundy." The real issue seems to be the push by some producers in Beaujolais, also considered part of Burgundy, to use Bourgogne on their labels, forcing the general reconsideration of Burgundy's boundaries and identity. But whatever happens with Beaujolais, I can't see Chablis being cut adrift from Burgundy.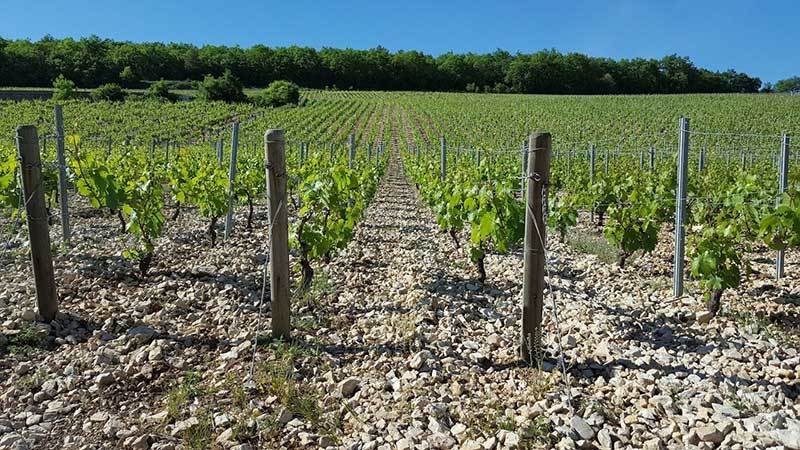 "For many years yet, we have moved towards a sustainable and more ecological farming. Organic farming is the logical result of all this work." Didier Defaix.
This got me thinking about Chablis and what a wonderful wine it is. I love its elegance and clean, piercing acidity and would hazard a guess it's the first wine that comes to mind for a crisp, dry white. And compared to the other whites of Burgundy, it still offers good value. As one of my favourite wine books notes: "For all its fame, Chablis is one of the wine world's most underestimated treasures." The World Atlas of Wine.
From Max Allen in Gourmet Traveller Magazine: "I love Chablis. I love it because it's one of the most downright delicious white wines you can drink: thirst-quenching, brilliant with seafood, brilliant on its own. I love it because it's a fun, accessible wine education in a glass: the differences between Petit Chablis, Chablis, Chablis Premier Cru and Chablis Grand Cru - all made from the same grape, chardonnay - are easy to taste, easy to understand, endlessly fascinating. And I love it because it can be great value (relatively speaking): if you feel like splashing out on a bottle of fancy French white Burgundy, most good Chablis costs substantially less than an equivalent quality chardonnay from posh Burgundian appellations such as Puligny-Montrachet further south." Max Allen, Gourmet Traveller, Oct 2018.
The town of Chablis sits on the western bank of the River Serein, about two and a half hours drive south east of Paris. Back in the 60s vineyards covered around 500ha of the surrounding hills, but testament to the popularity of Chablis, these days that figure is around 5,600ha.
Despite being a long way north west of Beaune, Chablis is considered part of Burgundy. It's cool this far north, too cool to ripen reds and even if you were mad enough to want to, you wouldn't be allowed, as the only variety permitted in Chablis is chardonnay.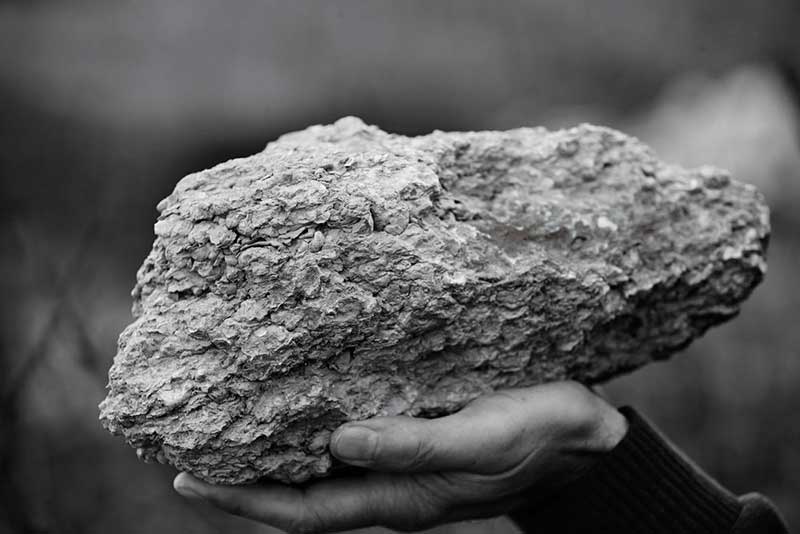 Kimmeridgian clay.
In terms of quality, like all French regions Chablis has a hierarchy with 4 levels, which in ascending order are:
Petit Chablis - tend to be from more outlying areas.
Chablis - this area has expanded significantly in the past 30 years.
Chablis Premier Cru - has also expanded in the last 30 years and has involved debate about the soil types (see below) on which new vineyards have been planted. There are 40 sites, the best known of which are:
Montée de Tonnerre
Mont de Miliue
Fourchaume
Montmains
Chablis Grand Cru - these 7 sites are on the right bank (ie northeast side) of the river, opposite the town of Chablis. They all sit next to each other, facing southwest to catch the sun:
Les clos
Bougros
Vaudésir
Blanchots
Preuses
Grenouilles
Valmur
Two issues you'll often hear discussed with Chablis are soil and use of oak.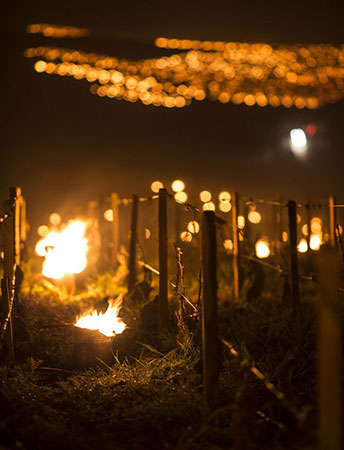 Left: Heating the vines in Defaix vineyards in winter to protect new buds from frost.
The key soil in Chablis is Kimmeridgian clay (above), which contains the fossilised remains of tiny oyster shells. The other soil type is Portlandian clay. When the Chablis appellation was originally established in 1938, it was decided that Chablis should only be produced on Kimmeridgian. Protagonists of Kimmeridgian believe it gives greater finesse to the wines. Pro-Portlandians argue that other factors such as gradient, position, and mesoclimate are just as important. In the 70s, the Portlandians, led by Jean Durup, argued that Chablis should be expanded onto Portlandian soil and after several years (1976-78) of bitter disputes and appeals by the Kimmeridgians, led by William Fèvre, the Portlandians won and Chablis expanded significantly. While all of the Grand Cru vineyards are on Kimmeridgian and most of the outlying Petit Chablis are on Portlandian, there is division over several premier crus planted on Portlandian.
Chablis is traditionally made without the influence of oak, which pre-1960 meant using old oak (ie. used many times to remove the flavour) and post the 60s meant using stainless steel. These days, while there are traditionalists like Raveneau who use old oak, there are also winemakers who believe in the use of new oak, most notably William Fèvre. There is much debate about what the style should be, I think there will always be a divergence, but my preference is definitely for an unoaked style. I take the view that if you want oak, go for white Burgundy! Let the arguments begin…
I should also note that frost in Chablis poses a major threat of damage to vines one year in every three or four, and severely affected the region in 2017. Hail is another issue and in 2016 decimated the crop, leading to severely restricted supply and significant increase in price.
Here's a fantastic Chablis producer I know you'll love.
---
Bernard Defaix
"Brilliant winemaking, brilliant wines." 3 Star Rating (the highest rating awarded to only 9 Chablis producers), A Guide to The Wines of Chablis, Austen Biss (UK).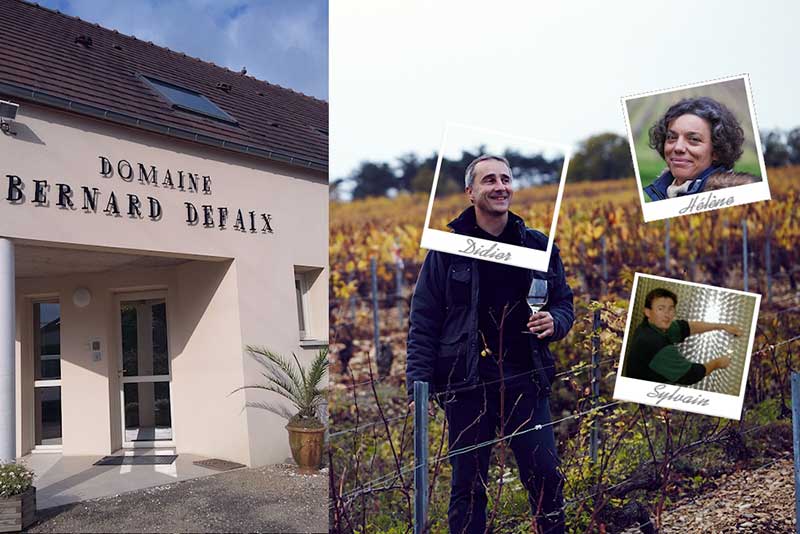 "The improvement at this estate has been nothing short of phenomenal and as the scores and individual wine reviews suggest, this is a flat out spectacular group of wines and in both vintages. Chablis fans should add the Defaix brothers to their short list of rising stars." Allen Meadows, Burghound, Issue 24.
"I've noted this before, it bears repeating: The quality of the Defaix wines now puts the domaine among the top 10 in Chablis." Allen Meadows, Burghound.
Back in 2018, Defaix was one of only a handful of "standout vignerons" recommended by Max Allen in his 'Chablis explainer' article in Gourmet Traveller Magazine.
The Estate owns 27 ha of vineyards in Chablis, half of which are premier cru. Sylvain and Didier Defaix, the sons of Bernard Defaix, run the Domaine with Didier's wife Helene. The estate is one of very few in Chablis managed organically, so no herbicides or pesticides, and they use organic compost, herb teas and biodynamic horn manure. The wines are pure, fresh and mineral, and I think offer good value for Chablis.
---
The fruit for this wine comes from four parcels of mature, 30-plus-year-old vines situated around Milly and Poinchy, on the left bank of the Serein River. The wine was fermented using natural yeasts and was aged on fine lees (the dead yeasts cells) for ten months in stainless steel tanks. It's sealed with screwcap and is 12.5% alcohol.
This is definitely a step up from their petit Chablis for not much more money. There's a real lift in intensity, flavour and especially texture.
"It's a floral and detailed wine for the level, and the interplay of texture, complexity and palate-cleansing freshness suggests a great wine at the table. There are beautiful lemon sherbet, nectarine and floral notes on the nose and terrific vibrancy in the mouth, with juicy fruit, ripe acidity and a generous lick of oyster shell to close. Lovely wine!" Bibendum.
"Domaine Bernard Defaix is a highly-rated family estate based in Milly, with the vines for this bottling averaging 30 years age. Ten months lees ageing adds to the complexity on both the nose and palate. Refined, classy and complex characters on show here, which meld beautifully with the ripe peachy fruit notes. A very fine, expressive, distinctive Chablis which is ready to drink now but will age very well for many years." 92 points, Decanter Magazine
I can offer it for $52 a bottle.