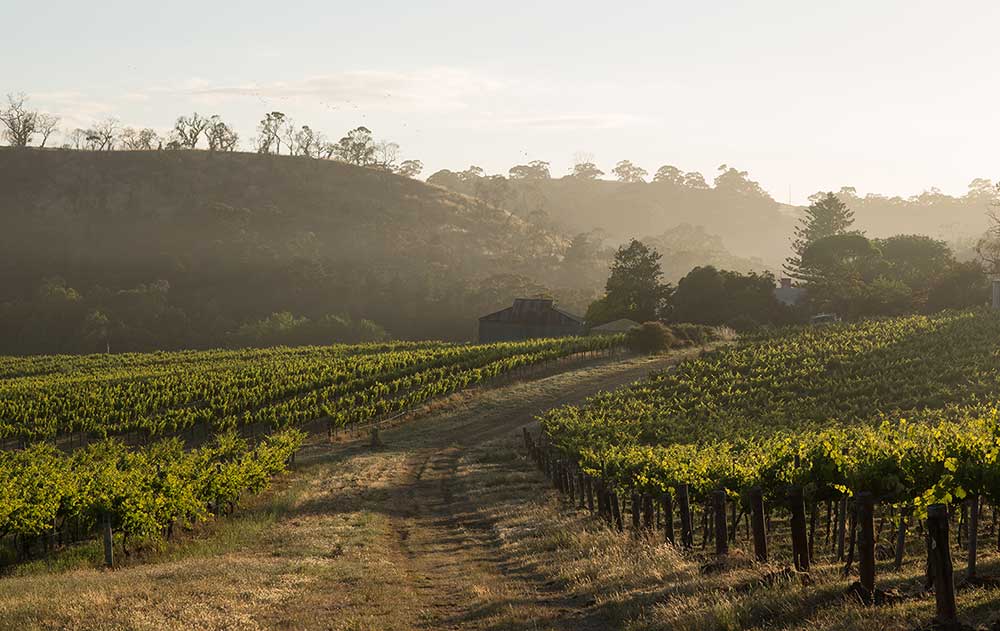 Mitchell Wines Clare Valley vineyards.
I've heard it said, and tend to agree, that wine is like fashion, with trends coming and going, and prices higher for what's in vogue. But don't confuse fashion with quality. It's easy to do, but quality is a much more objective term. How about buying something that's good quality, but not cutting-edge? This is the secret to finding value and something fashionistas might even refer to as 'classic'.
The good news for wine drinkers is that there are many wineries in Australia that fall into this category - having had their hey-day and been displaced by the next bright young thing - be it Jura, Georgia or Lebanon. But these wineries, more often than not, improve with age, all the while benefiting from older vines, more experience and expertise, as well as the rise of technology.
I'm always on the lookout for good quality wineries that, for whatever reason, have been overlooked. And I recently rediscovered one, hailing from one of Australia's most recognised wine regions, the Clare Valley.
The Clare sits about 2 hours north of Adelaide, in the rolling hills of the Mount Lofty Ranges. Looking at the region on a map, it's hard to believe grapes could be grown so far north - with dry and arid country less than 50km away, but the climate enjoyed by the Clare is totally different. The region is characterised by a continental climate, which means hot summers and cold winters, however it also experiences afternoon breezes with cold nights, both of which temper the heat. In addition, the region generally sits at between 400-500m elevation, which also reduces temperatures.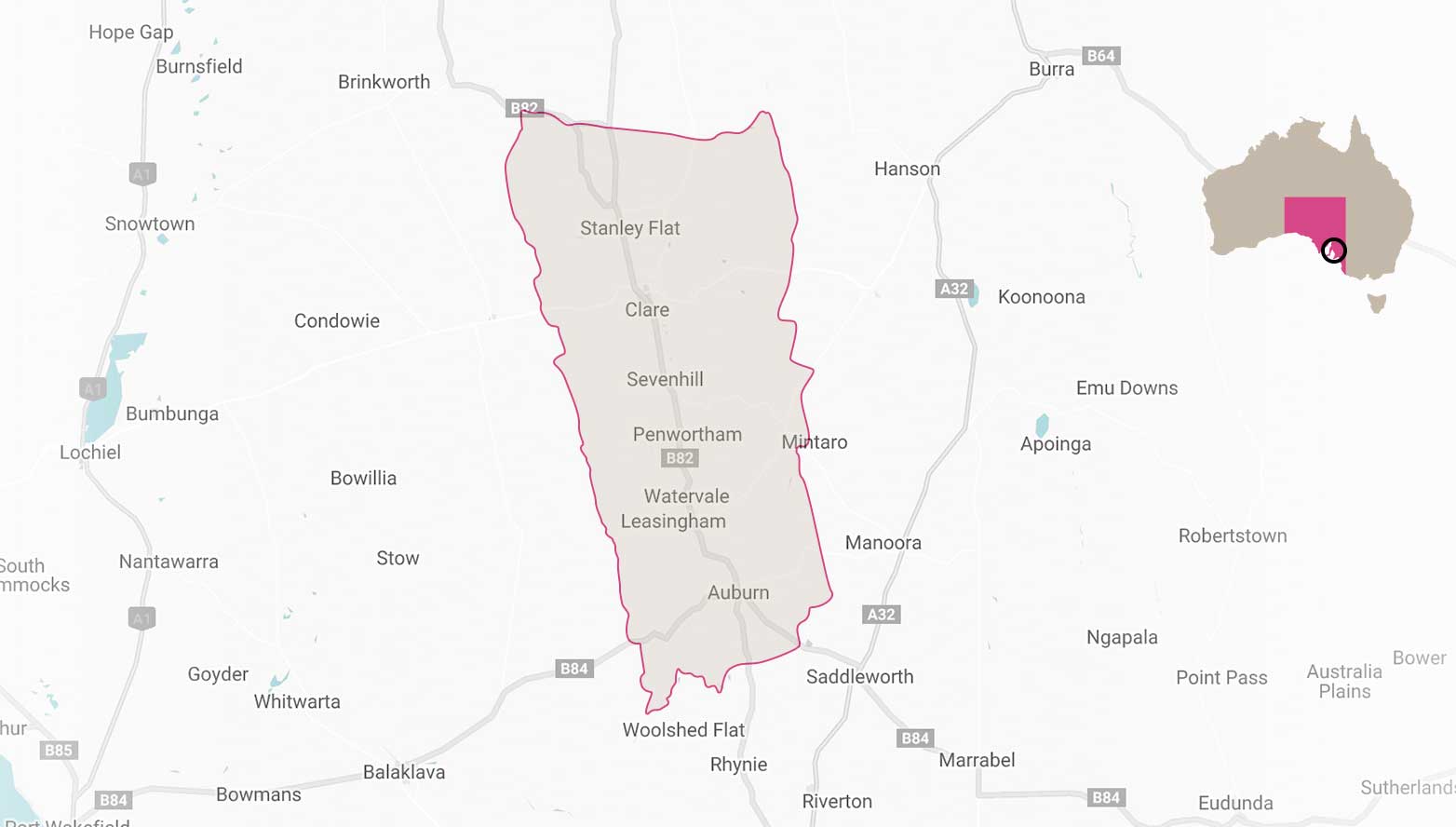 Map courtesy of Wine Australia.
Vines were first planted here in 1840 by Englishman John Horrocks, with the Jesuit Brothers following soon after, establishing the first winery, Sevenhill, in 1851. These days the Clare has over 5,000ha of vineyards - which to put in context, in 2021 accounted for about 1% of the total Australian crush. Clare comprises 5 districts, which from south to north are; Auburn, Watervale, Sevenhill, Polish Hill River and Clare. There are over 80 wineries in the region, ranging from small family run ventures, through to exciting new and emerging producers (Wines by KT, Koerner), established names (Jim Barry, Taylors) and top end icons (Wendouree, Grosset).
Whilst the three most planted varieties, by a big margin, are riesling, shiraz and cabernet, it's shiraz and especially riesling that are most synonymous with the region. Here's what the peak industry body, Wine Australia has to say about both of them:
Riesling - This is Clare Valley's signature wine. Famed around the world, it's light, fresh and citrusy with flavours of lime. The best wines can be aged for years and even decades.
Shiraz - Generally full-flavoured with notes of blackberry, spice and mint. It's a more savoury Shiraz than you might expect from Australia.
---
Mitchell Wines
These wines are the current release from Mitchell Wines, a family run affair in the Clare, whose wines I enjoyed back in the 90s, but have since well and truly fallen off my radar.
Peter McNicol Mitchell started mixed-use farming in the Clare in 1949, which included a small number of vines. Peter's son Andrew continued and expanded the vine side of things, eventually establishing Mitchell Wines in 1975 with his wife Jane. Their three children Hilary, Angus and Edwina are now at the helm. The three have brought not only a generational change, but also a focus on innovation.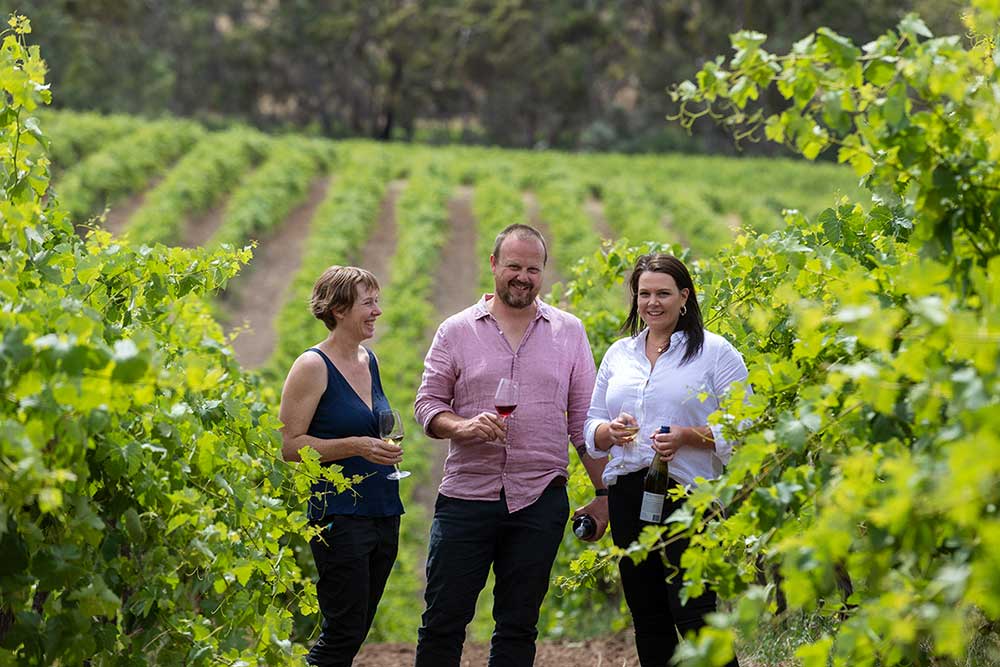 Hilary, Angus and Edwina in the vineyards.
I had a chat with Angus Mitchell a few days ago and he told me the family now have 60ha of vines spread across 4 well positioned sites, including the Sevenhill Vineyard, which is the original site Peter NcNicol Mitchell purchased back in 1949. It was planted with vines in 1982, which now surround the winery and cellar door - which by the way was named best Tasting Experience in Gourmet Traveller Wine Australia's Best Cellar Door Awards 2021.
The winery has enjoyed a constant regime of upgrades over many years and now boasts all the bells and whistles, enabling the family to carry out and control all tasks, including bottling, which (contrary to what you might think) isn't always done on site.
While there are plenty of winemakers touting their 'natural' credentials, Mitchell has, without fanfare, pursued an emphasis on sustainability for almost 15 years, including the elimination of artificial herbicides and pesticides. They are currently in the process of obtaining certification. Similarly, the family has been following a process of minimal intervention in the winery for over 45 years!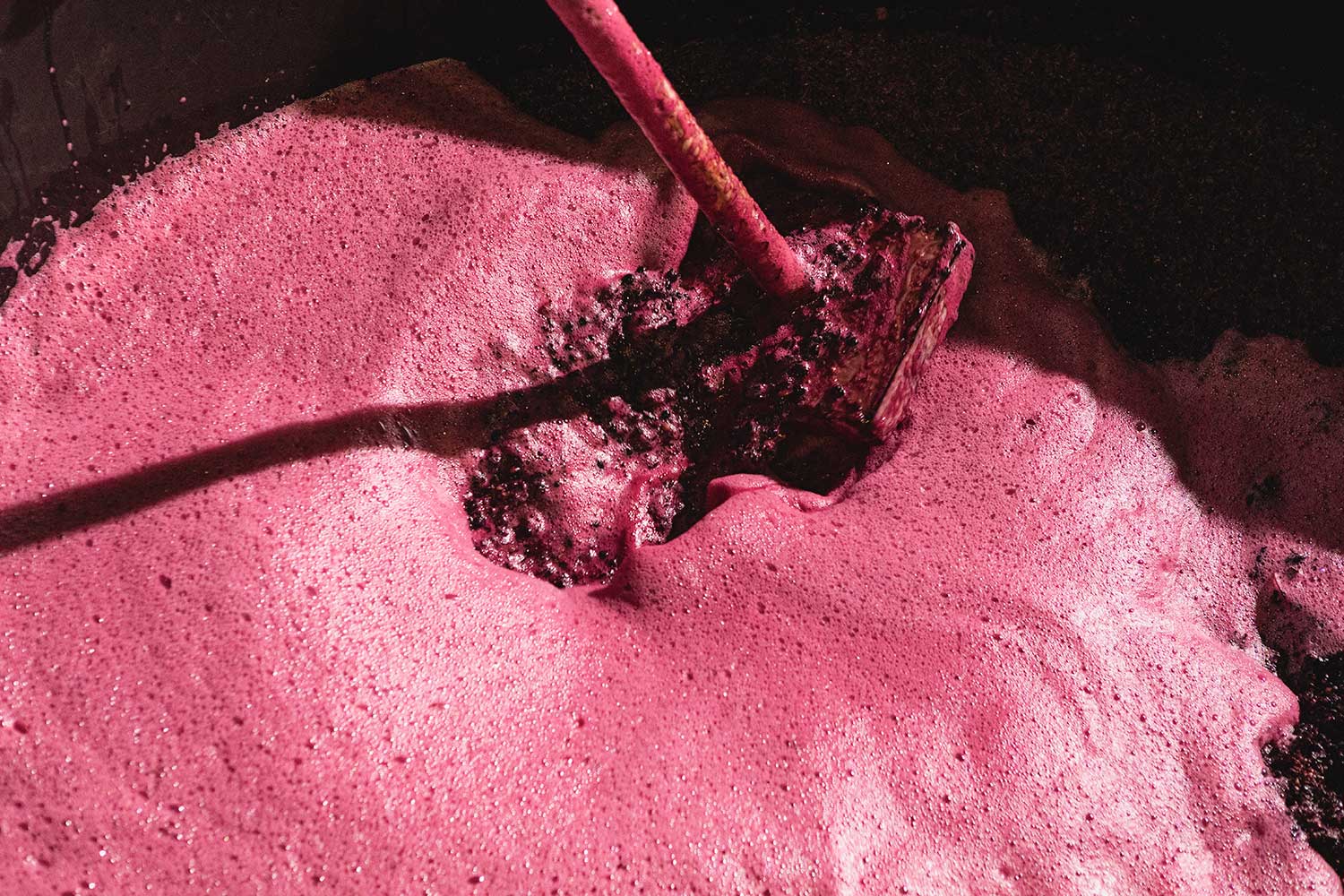 Shiraz in the Mitchell winery - fermented using wild yeasts, small batch parcels in open-top fermenters.
Mitchell is a family-owned winery with a rich history, great vineyards, sustainable practices, and great reviews for its current release wines - a clear case of a great winery, no longer on the tip of wine drinker's tongues. In Angus Mitchell's own words, they offer "consistent wines that you can rely on and trust," - I'd say he's being a little modest. In any case, these wines represent extraordinary value and given the change of guard, are ones that I hope will renew the recognition this producer deserves.
"(Mitchell)… widely regarded as one of the world's great Riesling producers" Huon Hooke's The Real Review.
---

Mitchell Watervale Riesling 2021
2021 was an outstanding vintage in the Clare and it really shows in the quality of this delightful wine. The fruit was handpicked and gently crushed, with only the free-run juice collected. It was fermented using natural yeasts in stainless steel tanks to retain as much freshness as possible. Post ferment, it was left to sit on the fine lees (dead yeast cells) for a few months, which served to soften the natural acidity and make the wine more balanced, textured and approachable. The finished wine is dry, 13.5% alcohol and sealed with screwcap.
In the glass, this is a clear pale gold. On the nose, pineapple, lemon and green grass aromas are embellished by a richer leesiness. On the palate, zingy lemon acidity complements tropical fruit notes. Lees contact ensures nice weight and mouthfeel. Skillful balance between acid and fruit.
"Flinty wet sand minerality with kafir lime and lemon blossom. The flavour is fresh and bright. Struck match flintiness with exotic limes. Long and linear with sweet fruit and textural tangents giving the wine complexity and generosity."Winemaker's notes.
"Pale colour. Fragrant lemon curd, lime, camomile aromas with herb garden notes and a hint of tonic water. Beautifully concentrated wine with lovely lemon curd, grapefruit lime flavours, some tonic water notes, fine lacy slightly al dente textures and long fresh crisp acidity. Lovely density and line. Now-2030."
96 points, Andrew Caillard MW, The Vintage Journal.
"A quality winemaker, a classic year and a regional speciality grape. What else could you want? Absolutely nothing. A top riesling here showcasing Watervale's celebrated elegance combined with steely resolve. Bouquet of lemon balm, citrus oil, lime cordial and zest. Make that VERY limey and so Clare! Striking citrus - imagine sucking on a lemon drop or pastille with a mouth-puckering fruit intensity - marries perfectly to the (still) emerging succulent texture. As with all young Clare Valley rieslings, racy acidity is the driver and key. Rest assured, it's in place and in preparation for years of excellent drinking."
94 points, Jeni Port, Wine Pilot Sep 2021.
Clean, fresh and beautifully balanced. Enjoy it now or put it away for several years. An absolute bargain and shows exactly why so many in the industry constantly sing the praises of this wonderful variety.
I can offer it for $21 a bottle.

---

Mitchell Peppertree Shiraz 2017
The majority of fruit for this wine was sourced from the Peppertree Vineyard (Watervale), with the remainder coming from a few select vineyards in the wider Clare Valley - the blend giving a classic regional feel to the wine.
The fruit was fermented using wild yeasts, in small batches, in several, small open-top fermenters. A portion of the fruit was left as whole bunches, providing a lifted and aromatic component to the wine. Post ferment the wine spent around 18 months in large format French oak barrels (500L puncheons and 3,000L foudres) of varying ages. The wine was unfined and only lightly filtered prior to bottling. Once bottled it was left to age at the winery for a few more years before release. The finished wine is 14% alcohol and sealed with screwcap.
"A Classic Peppertree Shiraz, Forrest fruits on the nose, slightly funky - in the best way possible! Clean acid, surrounded by primary fruit flavour, Plum and blueberries that lead into dry, leathery tannins through to the finish. Drawing inspiration from traditional Syrah style wines, this elegant Shiraz is slightly lower in alcohol, sitting at 14%."Winemaker's notes.
"Medium deep crimson. Lifted cranberry, redcurrant, blueberry, sage aromas with dark chocolate vanilla notes. Gentle cranberry, redcurrant, blackberry chinotto flavours, fine loose knit slinky bittersweet textures and underlying vanilla, hint ginger oak. Finishes chalky firm with plentiful fruit sweet notes. Very attractive medium bodied style with controlled tannins and lovely mid palate richness. Drink now - 2028."
93 points. Andrew Caillard MW, The Vintage Journal.
"A long time favourite of many red lovers, this Peppertree Vineyard Shiraz is another very fine release from the line-up, the first of which was way back with the 1984 vintage. There is a little whole bunch used in the preparation of this wine, which is presumably what contributes to the ever-so-slight brambly note it offers. The colour of the wine is a deep red with flickers of purple throughout. It is immediately evident that there is some complexity here. Aromas of red fruits, chocolate, spices, cloves and florals. The palate is tight, yet supple, and offers good balance throughout its very long length, finishing with slightly gritty tannins. Certainly up for drinking now but it will sail through another decade in the cellar, if you can resist."
92 points, Ken Gargett, Wine Pilot, Sept 2021.
Again, an absolute bargain with 5 years age on it to boot!
I can offer it for $25 a bottle.

---

Mitchell McNicol Riesling 2012
This extraordinary wine from the stellar 2012 vintage is made like no other Australian riesling that I have encountered. The fruit was handpicked from a single vineyard that's never been irrigated, from a beautiful site, behind the winery. It was fermented using wild yeasts, in a mixture of stainless steel and a large (3,000L) old French foudre. Post ferment it spent 24 months on lees (dead yeasts cells), before being bottled and left to age at the winery for a further decade, resulting in a beautiful balance between the residual sugar and acid. The finished wine is 12.5% alcohol and sealed with screw cap. It has 18.5g/L of residual which is considered off-dry, however the acidity balances it perfectly so the sensation is one of richness rather than sweetness.
Wow. This really is an incredible wine. When I spoke with Angus Mitchell a few days ago he described it as "rich, complex and yummy" and I have to agree.
"Deep golden-yellow colour: a mature riesling with powerful, complex bouquet of buttered toast slathered with lime and grapefruit marmalade. Some nutty overtones, too. It's rich and full-bodied, loaded with flavour and backed by impressive structure which includes a certain tannin backbone, which contributes to a very long carry. The finish is clean and dry and resonant. A monumental riesling, now fully mature."
96 points, Huon Hooke, Nov 2019 (great score from a notoriously hard marker).
"The mid-gold hue of an aged, dry Riesling and its wonderful flavour follow. Lime marmalade and buttered toast and poached stone fruit drizzled with honey. It's sweet and luscious but not heavy, and there's still a freshness with its lemony acidity. Enjoy a glass now rather than later."
95 points, James Halliday, The Wine Companion 2020.
"This is a serious Clare Valley Riesling at the peak of its powers which shows the benefits of detailed winemaking. Mid golden in colour, despite its ten years of age the fruit is still relatively youthful with kaffir lime now joined by buttery, honeyed complexity. The palate is power-packed but what stands out most is supreme balance and its well integrated acidity. There are also subtle complexing elements - spice and beeswax adding interest to what is a long and textural finish. Nice wine that would be perfect with King George Whiting straight off the grill. Drink 2020-2026."
94 points, Angus Hughson, Wine Pilot, Nov 2020.
Not much more to add to these incredible notes.
I can offer it for $42 a bottle.

---

Mitchell McNicol Shiraz 2009
The fruit for this wine is selected from the most age-worthy small-batch fermented parcels of shiraz that the winery produces. This decision is based on years of experience and the blend is aged in 500L French oak barrels for 2 years in a humidified cellar. The wine is then bottled and aged for a further decade in the winery's cellars. Incredible.
This is great drinking now - in that perfect spot where the benefits of ageing combine with youthful primary notes.
"Medium deep crimson. Complex, voluminous and smooth with developed blackberry, mocha, roasted chestnut, polished cedar, hint bush-garrigue aromas and flavours, velvety/ chocolaty textures and fresh long mineral acidity. Finishes firm with a lovely tannin plume. Superb complexity, density and balance. A lovely-aged Clare Shiraz showing the inherent provenance of Mitchell vineyards. Drink now - 2028+."
97 points, Andrew Caillard MW, The Vintage Journal.
"A great rendition of the traditional Australian dry red that is more regional than varietal but carries with it great fruit power and structure. It is bright deep ruby and is aging at a snail's pace with youthful and fleshy dark cherry, kirsch and blackberry jam fruits with oak in the background. There is also some baked stone Clare Valley character thrown in. This all leads to a dry and full-bodied palate with a core of dark berry fruits underpinned by some serious tannins that are chewy and balanced providing tremendous backbone and supporting a long finish. It is a big red no doubt from a big vintage but also carries with it superb balance and underlying complexity. There is also a Bordeaux like balance and feel here that bodes well for a long future. Drink 2020 - 2035."
95 points, Angus Hughson, Wine Pilot, Nov 2020.
"It's a delight to be able to experience a 12-year-old elite shiraz at such a respectful price. Its maturity is barely discernible, the colour still vibrant while the nose is just starting to show a little development in and around its regional/varietal stamp of mint and eucalyptus. Now for the big show, for it's in the drinking department this wine impresses, rich with crushed, crimson berries, raspberries still lifting out of a full-bodied core, lingering in the upper registers while through the palate there's a tight, yet balanced, tannin underlayer. In the end, the fruit just keeps resonating. Deliciously. Quite a powerful Clare Shiraz statement that has stood the test of time. Drink: 2020-2030."
94 points, Tony Love, Wine Pilot. Nov 2020.
I can offer it for $52 a bottle.