The wines of Côte Rôtie are considered by many to be the finest in the world.
"One of France's most historic and greatest red wines," Robert Parker.
But it hasn't always been. As recently as the 1960s there was only 60ha of vines planted in Côte Rôtie, with the wines generally unknown. Back then it was more profitable for farmers to grow crops like tobacco and apricots, than grapes. But in the 80s, winemaker Marcel Guigal and his biggest fan, influential wine critic Robert Parker, changed the region forever. Thanks to these two, the wines of Cote Rotie shot to global prominence becoming not only some of the most fashionable, but also unfortunately some of the most expensive, in the world.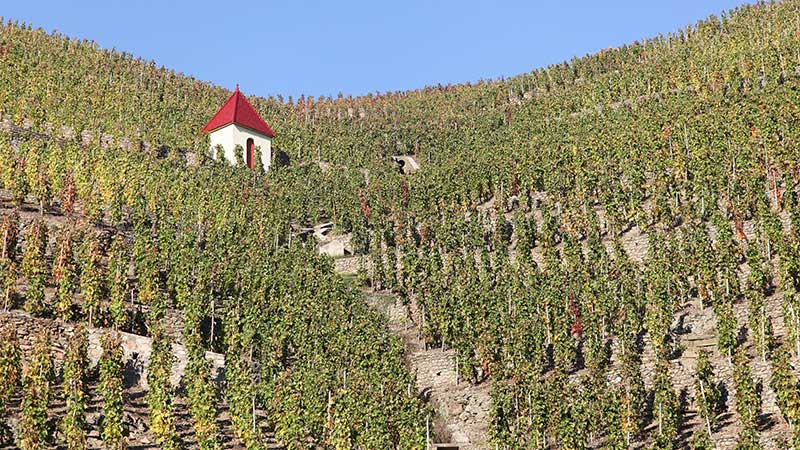 Côte Rôtie is the most northerly appellation of the Northern Rhône and while plantings have increased significantly since the 60s, at 308ha it's still very small. The vineyards sit on the western bank of the Rhône river, around the town of Ampuis, just south of the city of Vienne.
It's important to clarify that the climate of the Northern Rhône is nothing like that of the sun-drenched Southern Rhône. In the north, a penetrating wind known as the mistral blows non-stop through the steep valley and it's strong enough to rip young shoots clean off a vine. The vineyards of Côte Rôtie sit tucked behind a bend where the river makes a sharp turn from its south east direction, to south west. This sheltered spot provides respite for vines from the cold and damaging northerly wind.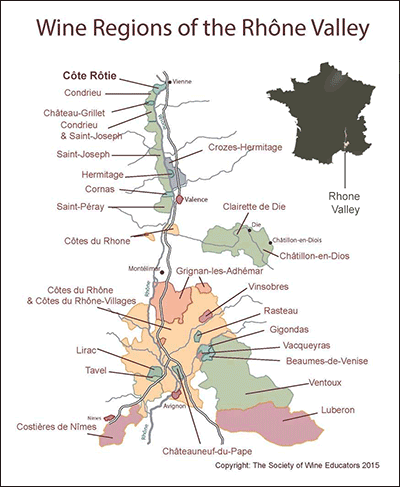 Another crucial factor in Côte Rôtie is the steepness of the slopes. While many vineyards are terraced, some sites sit on slopes in excess of 60 degrees. Machinery doesn't stand a chance here so everything has to be done by hand, with workers sometimes needing winches to assist with getting up and down the vineyards. While difficult and costly to work, the benefit of these steep south-east facing slopes is the optimal aspect they provide, capturing the sun's rays in what would otherwise be a difficult place to ripen grapes. It also explains the derivation of Côte Rôtie, which translates as 'roasted slope.'
Côte Rôtie is a red wine only appellation with Syrah (Shiraz) the dominant variety. Interestingly up to 20% of the perfumed white variety Viognier may also be included in the wine. It's designed to add a little elegance and subtle aromatic and floral characters.
Many wine drinkers imagine Côte Rôtie, as one of the world's top Shirazes, to be a thumping brute of a wine. But its surprising elegance at once sets it apart.
"… it's magical soft, fruit finesse, southern in warmth, but closer to a great red Burgundy in the way firm tannins support delicate flavours," The World Atlas of Wine, 7th Edition.
"Whether it is the extraordinary, sometimes explosive perfume often consisting of cassis, raspberry, olives, fried bacon fat and smoke, or the cascade of velvety berry-flavoured fruit flavours, Cote Rotie is an undeniably seductive, voluptuous wine that one needs little experience to appreciate." Wines of the Rhône Valley, Robert Parker.
I recently had a wonderful Côte Rôtie, which made me think - why wasn't I drinking them more often? The answer of course is the expense. Entry level Côte Rôtie in Australia starts at around $100 but can reach up to $800 for some of the famous single vineyard wines from Guigal.
There are however a few delicious options around for those in the know.
---

1. Domaine Chambeyron Syrah 2015
While wines from sites just outside the appellation boundaries sell for a fraction of the price of those within Côte Rôtie, most of it is bought by savvy locals. Good Shiraz from this part of the world is impossible to find in Australia at a decent price, so I was pretty pleased to find this one from Domaine Chambeyron.
Domaine Chambeyron has 5ha of well-positioned vineyards across several sites. They make four top notch Côte Rôties and a Condrieu (Viognier from the next appellation down the river). They also make a nice little Syrah from fruit sourced just outside the Côte Rôtie boundary. This wine is labelled as Vin de Pays on the front and IGP Collines Rhodaniennes on the back.
IGP stands for Indication Géographe Protégée and is the new-ish (2009) name for what used to be labelled Vin de Pays (VDP). It's a step up from Vin de France and is designed to give consumers some clarity about a wine's provenance. In some cases it's also used by winemakers when they want to make wines that don't conform to appellation rules; eg. using different grape varieties, using varietal names on the label or using screw caps, all of which may not be permitted in some instances. IGP Collines Rhodaniennes covers most of the Northern Rhône Valley and allows more freedom with winemaking methods and grape variety selections.
Several branches of the Chambeyron family, like many in the area, have been growing assorted crops such as tobacco, apricots, cherries and grapes since 1895. Marius Chambeyron was the first in the family to bottle his own Côte Rôtie in the 1970s, selling most of it in bulk to local cafes. It was Marius' nephew Bernard who had the foresight to start acquiring well-positioned vineyards as interest in wine grew through the 80s. It was not until the late 1980s that it was profitable for the family to rely solely on growing grapes. Bernard's son Mathieu Chambeyron has been at the helm since 2010.
Despite its low profile, Chambeyron is very much a quality domaine. Rhône guru and author of the award winning book, The Wines of Northern Rhône, John Livingstone-Learmonth describes Chambeyron as "understated."
The wine is 100% Syrah. The fruit is sourced from Boucharey (Communie d'Ampuis) which sits just outside the Côte Rôtie appellation, above the famous Côte Blonde, one of the two main slopes of the appellation.
The wine is full of redcurrant, blueberry, vanilla bean, pepper and dried herbs, as well as a dash of liquorice on the finish. Managing to weave a delicious combination of sweet and juicy with dry and savoury, the wine is lean and mid-weight yet dense, mouthfilling and concentrated, with dusty tannins giving a long finish.
It's under the radar, so it's no surprise that there are virtually no reviews. The Guides des Meilleurs Vins de France, one of France's top wine publications, describes it as "Rapport qualité-prix exceptionne" - exceptional value for money.
Delicious and affordable Nôrthern Rhône Syrah.
I can offer it for $36 a bottle. Click here to order
---

2. Yarra Yering Dry Red No.2 2015
Australia has some excellent examples of Côte Rôtie inspired reds. With the release of their first Shiraz Viognier in 1992, many consider Clonakilla to be trailblazers of the style. But back in 1973, the remarkable Dr Bailey Carradus made what lays claim to be Australia's first Cote Rotie inspired wine, with his iconic Yarra Yering Dry Red No. 2.
Dr Carradus died in 2008 but under Yarra Yering's new ownership, Sarah Crowe was appointed winemaker in 2013. An outstanding talent, Sarah shot to fame as James Halliday's Winemaker of the Year in 2017.
Yarra Yering is located in the Yarra Valley, about an hour north east of Melbourne. While the estate makes a range of excellent wines, their most famous are the original two; the Dry Red No.1, a Bordeaux inspired blend and the Dry Red No.2, a Northern Rhône inspired blend. For some reason the No.2 never gained the same following as the No.1. My theory on this is that people associate the numbers as some sort of quality hierarchy. The No.2 was simply the second blend that Dr Carrodus put together and I'm told there was no particular reason it was done in this order.
A few weeks ago Langton's released their latest Classification of Australian Wines. This benchmark list, now in its 28th year and seventh incarnation, included 13 new listings one of which was the Yarra Yering Dry Red No.2. The list is compiled on the basis of auction results, so it seems that at last everyone has cottoned on. The wine was rated 'Excellent' putting it along side gems such as Lake's Folly Cabernet, Mt Pleasant Maurice O'Shea Shiraz and Grosset Springvale Riesling.
Conditions in the Yarra in 2015 were about as good as they get. James Halliday rated the 2015 vintage for reds in the Yarra as 10 (out of 10). Wine Spectator Magazine noted in relation to the Yarra: "Winemakers are considering 2015 one of the best years in recent memory."
The fruit was handpicked and destemmed directly into custom made half-tonne open fermenters (small). As much whole berry as possible was retained to encourage perfume and stalks were added back to one third of the fermenters to contribute structure and aroma. The wine was aged for 15 months in French oak barriques (40% new), before blending and bottling. The final blend was 95% Shiraz, 2.5% Viognier, 2% Mataro, 0.5% Marsanne.
"Fragrance and headiness, this wine exudes intense perfume, mixed berry fruits, floral notes and spice. The addition of Mataro and co-fermentation with white grapes Viognier and Marsanne, intensify the Shiraz character while providing complexity, richness and generosity. Aroma: Intense perfume, mixed berry fruits, floral notes and spice. Palate: Primary fruit leads onto savoury graphite and white pepper, underpinned by stalkiness and concentrated meatiness." Winemaker's notes. Sarah reckons it will cellar for 20+ years if you can keep your hands off it.
"… this medium-bodied, graceful expression… A bright vermilion robe invites one into a kaleidoscope of violet, baking spice, black cherry and blue fruits of every description. Anise, iodine and vanillin oak sashay effortlessly with diaphanous grape tannins and a flow of natural acidity." James Halliday, 96 Points.
James Suckling's Top 100 Wines of 2017, 95 points.
In context with Côte Rôtie, people are finally understanding and appreciating this wonderful, but still undervalued wine.
I can offer it for $99 a bottle. Click here to order
---
Yves Cuilleron:
So now to some actual Côte Rôtie, but this I think is excellent value.
Although he's not a household name like Guigal, Yves Cuilleron is considered one of the leading winemakers of the Northern Rhône. It was a Côte Rôtie of his that I had a while back that reminded me just how good it is.
Way back in 2000, Robert Parker identified Cuilleron as one of a small number of young winemakers transforming the Rhône with "a refreshing new, open-minded approach to winemaking where the goal is simple - high quality… they are revolutionising the quality of wines consumers receive." Parker said later that "Yves Cuilleron has become one of the bright shining stars of the Northern Rhône."
Wine Spectator said Cuilleron "continues to assert himself as one of the Northern Rhône's most dynamic vignerons… the leader of Condrieu's new generation of winemakers."
In his book The New France, Andrew Jefford lists all the producers in his Rhône chapter (north and south combined), but features only 4. One of these is Cuilleron, about whom he writes; "the talented, dynamic, yet affable Yves Cuilleron is one of the great Northern Rhône success stories."
Cuilleron is based in the village of Chavanay just south of the town of Condrieu. Yves' grandfather Claude established the family estate in 1920, handing it over to his son Antoine (Yves' uncle) in 1960. When Antoine died without children in 1987, Yves assumed full control of the estate, at the time a mere 3.5ha. Since then he has embarked on an ambitious path of continued growth, expanding the estate far beyond its initial toeholds in Condrieu and Saint Joseph. He built a new winery in 1992, renewing and adding to it in 1999, 2007 and 2014. The estate is now 59ha, spread across some of the most prestigious appellations of the Northern Rhône, including Côte-Rôtie.
Yves has farmed sustainably, for over 20 years. In the winery "he is a modernist but not overtly, so his wines straddle neatly the divide between traditionalists and the new-wave, in that they retain their sense of place, but express their site in a slightly more approachable, immediate way. There's purity to the fruit, and where new oak is used it isn't excessive," The Wine Anorak. Yves prefers to use natural yeasts and avoid additions.

3. Yves Cuilleron Côte Rôtie Bassenon 2015
90% Syrah, 10% Viognier - the fruit for this wine was sourced from a south-facing,1.5ha vineyard in Tupin-Semons commune. Bassenon is the name of the stream at the bottom of the hill.
I think this wine is superb. The purity and density is outstanding. Cassis, dark cherry, vanilla, olive, meat, spice and pepper, with a hint of lifted florals. Simply a joy to drink.
"…(aged for 18 months in new and used barriques) Glass-staining ruby. Intensely perfumed aromas of ripe dark fruits, potpourri and olive; a zesty mineral nuance adds vivacity. Deeply concentrated blueberry, spicecake and floral pastille flavors take on suggestions of cola and candied licorice on the back half. Finishes on a suave note of candied flowers, delivering mounting tannins and superb energy and focus." 91-93 points, Josh Raynolds, vinous.com.
For a Côte Rôtie this is a bargain - well worth it for such a beautiful wine.
I can offer it for $139 a bottle (very limited). 2015 Sold out - Click here for 2014 vintage