I've been a fan of winemaker Alex Head for many years and having come to know him, I can tell you both his attention to detail and pursuit of knowledge border on fanaticism. For Alex, it really is all about the wine. He doesn't take shortcuts in the winery, even when it means a lot more time, money and effort are required. I'm not entirely sure that these factors are costed into the finished bottle - Alex makes such great wines for the price.
To show you what I mean, a couple of Alex's entry level reds, the Head Wines Head Red GSM 2019 ($23) and Head Wines Head Red Shiraz 2018 ($23), were both recently awarded 96 points by James Halliday, an outstanding achievement for any wine, let alone at this price.
But accolades like this are not new for Alex. His focus on quality means his wines have picked up a swag of awards and critical acclaim through many years. He's received Best in Shows, multiple trophies, gold medals and even a position in AFR Magazine's Top 20 Wines of the Year, not to mention countless 95+ scores from all the important critics. Alex was a finalist in the Young Gun of Wine Award in 2011, 2012, 2013, 2017 and 2018, and James Halliday has given him a 5-star rating for years. Hardly surprising given that of Alex's twelve most recently submitted wines, nine received between 95 and 97 points!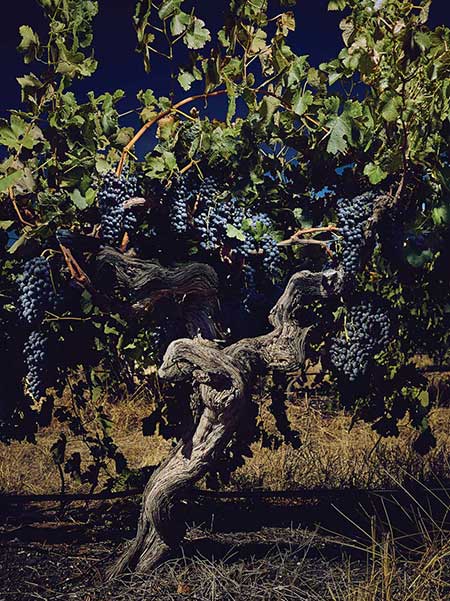 Left: Around three-quarters of the grapes that end up in Head wines are from carefully chosen, elevated vineyards tended by select growers. All of these sites are farmed sustainably using organic principles where possible; yields are controlled and grapes are hand-picked.
Never one to rest on his laurels, Alex just received another 3 accolades:
- Real Review Top Wineries of the Australia 2020
- 2020 Gourmet traveller Winemaker of the year Finalist
- Halliday's Top 10 Best Value Wineries 2021
Incredible.
A graduate in biochemistry, Alex discovered a love of wine whilst at St Paul's College Sydney Uni. The late 90s and early 2000s saw Alex working in many different areas of the wine industry, studying and tasting top wines from all over the world, something you might be surprised to learn that not all winemakers have done. I find it's this extensive knowledge that lets him put his own wines into an international context.
Alex arrived in the Barossa in 2006 and was at the forefront of the movement away from the traditional, blockbuster style that was so popular in the 90s. "It seems to me that Head Wines have always been on the more elegant side of traditional Barossa: less oaky, less tannic, less alcoholic," Huon Hooke, May 2019.
Taking his stylistic inspiration from the Rhône, Alex eschewed the common practice of picking fruit late and overly ripe. He also sought to avoid additions that were a standard part of winemaking at the time. He used no enzymes, no cultured yeasts, no added acids and no added tannins, all techniques that have since become widely practiced. He sources some of the best fruit in the Barossa, which he handpicks, before using long ferments and gentle handling techniques. It's a labour-intensive process, the result of which is a common thread through all his red wines - seductive tannins.
"Alex Head has done an amazing job in bringing a new kind of panache to the region's (Barossa) traditional varieties. He's introduced an extra touch of elegance without losing the region's essential generosity and softness." Huon Hooke, May 2019.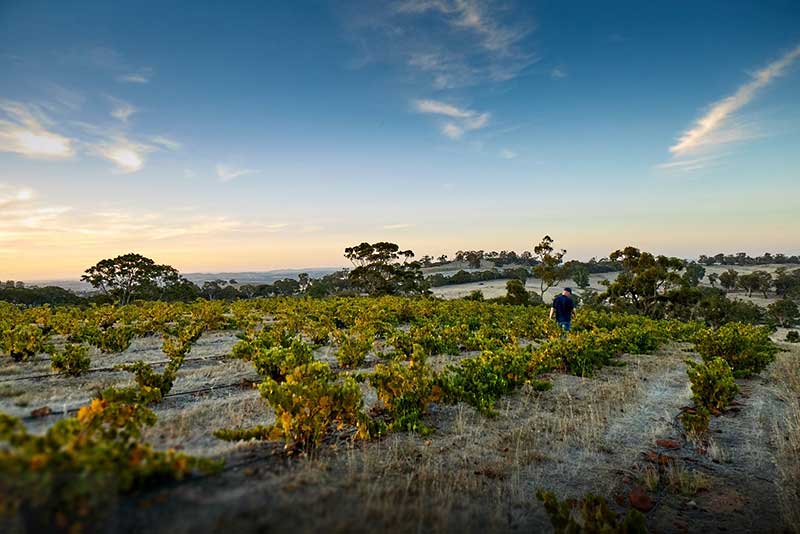 Alex Head: I've been blessed to find unique, elevated sites in the Barossa where the geology and climate allows me to explore my take on these Old World styles.
Favouring a more elegant and approachable style, it's been interesting see Alex recently change the source of his fruit, moving from the increasingly warm floor of the Barossa, up the slopes to the cooler Eden Valley area. I spoke with Alex the other day and he told me his fruit used to be 80% Barossa, 20% Eden, now it's the other way around. Amazing. Such flexibility is one of the advantages of working with growers as opposed to owning your own vineyards.
"After more than 20 years in the industry, Alex Head has earned the right to challenge traditional Barossan thinking." Peter Bourne, The Wine Man.
Alex modestly describes his approach as simply making wine that he likes to drink. He works hard and continues to make his wines without cutting corners, a costly practice, and I can't help thinking he has to put the price of these wines up at some stage. In the meantime, grab as much as you can, these really are two of the best value red wines in Australia.
---

Head Wines Head Red GSM 2019
This wine is a blend of 50% grenache, 30% mataro and 20% shiraz from 25-76yo vines, with 60% of the fruit sourced from the Eden Valley area. It's more elevated and cool here, so it's easier for Alex to make the style of wine he likes. The fruit was fermented using wild yeasts in an open fermenter with 10% whole bunches, and was hand-plunged and pumped over daily. The wine spent 9 months in large format oak (500-600L), less than previous vintages which spent 12 months in oak. Alex told me the aim of the slightly less oak time was to let the fruit shine through and bring out a real vibrance and juiciness in the wine. The finished wine was bottled unfined, under stelvin, 14.2% alcohol.
Super fresh and juicy primary fruit is the star in this drop. In the glass this is a purpley, rosey red. On the nose you'll find ripe and juicy cherries, raspberry jubes, caramel and lifted floral aromatics of fresia. On the palate, pomegranate and plums mingle with pepper and liquorice - clean bright acid ensuring nice balance. This has a lovely viscosity with soft tannins quietly shoring up its structure. Nice dry finish.
"Beautifully and harmoniously structured and textured, clarity and purity its watchwords."
96 points, James Halliday, Halliday Wine Companion.
"Raspberry jubes, pretty, some spice, hazelnut and peanuts. Medium-bodied, fresh, light tannin but enough to shape it, even feel, balance and high drinking appeal, slightly sticky texture on a finish that's clean and pretty long, a sprinkling of dried herb in the aftertaste. Vibrant, even a little bit 'minerally'. A bit of a delight, as it were." 93 points, Gary Walsh, The Wine Front.
An absolute bargain - I think you'll be impressed by it.
I can offer it for $23 a bottle

---
Head Wines Head Red Shiraz 2018
Alex told me the 2018 vintage was the best since 2012 for complexity and balance, and had a real 'x' factor. The fruit for the wine was sourced 80% from the Eden Valley and 20% from the Barossa. The two parcels were co-fermented on skins for 14 days, with hand-plunging and pump-overs twice a day. Maturation was 12 months in French oak (10% new), with barrel size ranging from 225L to 2250L. The finished wine was bottled unfined, under stelvin, 14.5% alcohol.
In the glass this is an inky-dark, purpley red. On the nose there's dark fruit - blueberries and plums mingling with graphite and vanilla. On the palate plums and spice meld with graphite and pepper. Silky mouthfeel, concentrated, with a nice line of acid and fine but firm tannins - this is skilful structure and balance. For a wine at this price the intensity and concentration is awesome.
"There's a lot happening here, all of it good. There's a poultice of red and black fruits and ribbons of fine, ripe tannins. You can't deny a wine like this." 96 points, James Halliday, Halliday Wine Companion.
"High perfume, blueberry coulis, blackberry, spice and sage, ironstone. Medium-bodied, succulent, intense fruit of perfume and weight, dark chocolate tannin, savoury elements, very long fresh finish. Super vintage. Puppy like in enthusiasm as at now. Almost 94 points, though that's kind of arbitrary." 93 points, Gary Walsh, The Wine Front.
"The bread-and-butter Head Red Shiraz in 2018 is a really smart wine, very affordable and showing excellent depth and freshness. It's a fine, fragrant, full-bodied, but keenly balanced red. The 2017 (50/50 Barossa and Eden) is also very good, from a cool year, but the '18 is a step up." 92 points, Huon Hooke, The Real Review.
Alex told me he thinks this wine will improve in the cellar (if cellared well of course). Not too many sub $25 reds can you say that about. Again, an absolute bargain that I guarantee you'll be impressed by.
I can offer it for $23 a bottle.

---
And I know I said I was only showing two of Alex's wines, but I can't help mentioning this one - it's a beauty.

Head Wines The Brunette Shiraz 2017
Within his line up, Alex makes two wines he calls The Blonde and The Brunette, referencing the famous Côte Brune and Côte Blonde of Côte-Rôtie in northern Rhône. The Brunette is sourced from a single vineyard in Moppa (Barossa) and tends to be a little more tannic, rustic and structured.
It's made with 100% shiraz, wild yeasts and open-fermented with 20% skin retention and 2 weeks on skins post ferment. Matured in French barriques (33% new) this has a Stelvin closure and is 14.5% alcohol.
"Deep crimson; superb mouthfeel and varietal expression are anchored by red and black cherry fruit. Medium to full-bodied, but not heavy." 97 points. James Halliday (Halliday Wine Companion) and a Special Value rating to boot!
Yet again such a great wine for a wine for the price. Absolutely delicious.
I can offer it for $55 a bottle.