I'll take a guess and say you haven't heard of Costières de Nîmes? I hadn't until a few years ago.

This wine region sits between the towns of Nîmes and Arles, west of the Rhône River, in an area known as the Camargue. It's one of the oldest viticultural sites in France, with the ancient Greeks first planting grapes here, followed by the Romans, then Benedictine and Cistercian monks. Post WWII the area was administered by the Gard department and considered part of the massive Languedoc region, with its wine sold under the lowly VDQS Costières du Gard designation.
In 1989 the region was elevated to appellation status becoming AOC Costières de Nîmes, but more importantly it shifted from being part of the Languedoc to the Rhône, on the basis that both its terrain and wines were more typical of the Rhône. So instead of being the most eastern of the Languedoc, the vineyards of Costières de Nîmes were now the southernmost of the Rhône. I feel this change lead to a confusion over identity, for both producers and consumers alike, one that lingers today and continues to contribute to the uncertainty and anonymity of the region.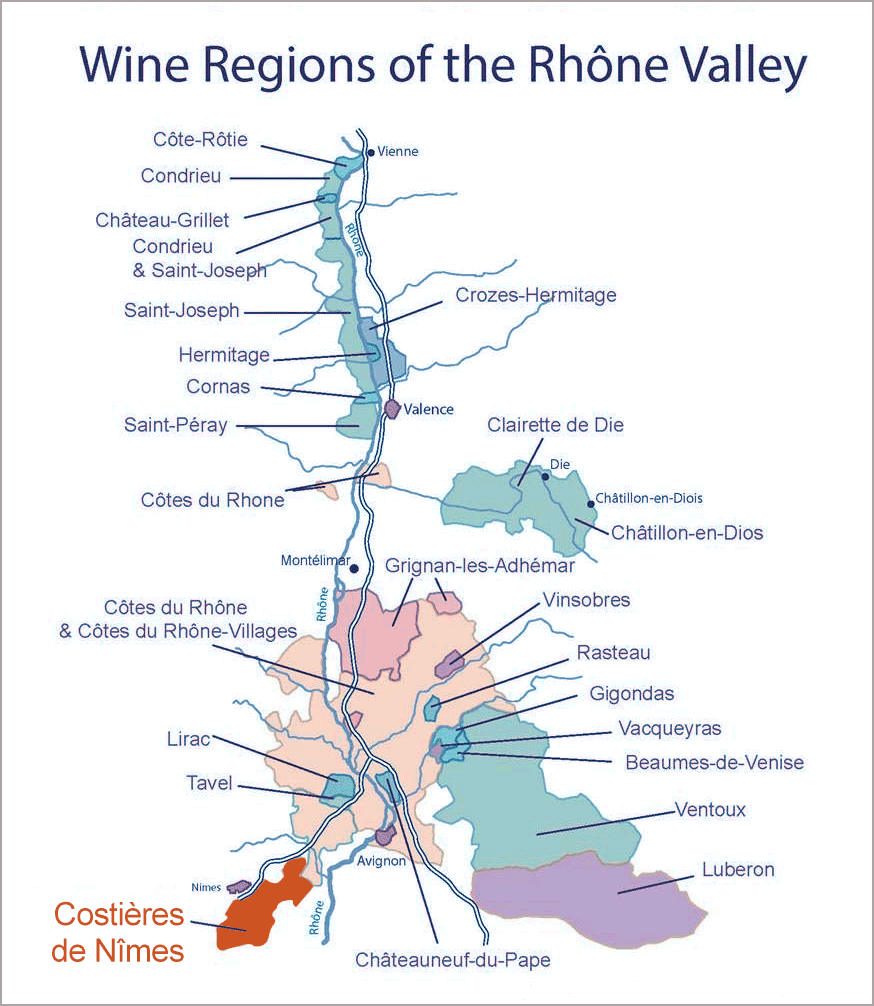 I've read that Nîmes is the most Roman city outside of Italy. I think that's drawing rather a long bow, but there's no doubt it's one of the most Roman cities in France - boasting a magnificent Roman amphitheatre, built in 70AD, one of the best preserved in the world. Amazingly, today it's still used for many festivals including bull fights, albeit in the French course libre or course camarguaise style, where the bullfighters or raseteurs attempt to snatch rosettes (silk ribbons) from the between the bull's horns, rather than kill them.
The Camargue is one of Europe's major wetlands, a place where you'll find marshland, mosquitoes, horses and flamingos - not the sort of terrain usually associated with grape growing. But over hundreds of thousands of years, the rivers flowing through the delta have carried and dumped huge amounts of pebbles, which have formed raised banks sitting many metres above the wetlands. It's on these pebbly terraces that the vineyards are to be found. You'll find the same round pebbles or 'galets' further upstream in the significantly more famous and expensive Châteauneuf-du-Pape. While the terroir and soils of Costières de Nîmes are similar to Châteauneuf-du-Pape, the climate of Costières de Nîmes is slightly cooler, due to its close proximity to the Mediterranean. The ever present wind of the Rhône, the Mistral, is also not as forceful in Costières de Nîmes.
Vines in the region cover an area of about 4,000ha with reds accounting for 55%, rosé 40% and whites 5%, making it one of the few appellations in the Rhône allowed to make all three styles. The wines kind of remind me of Australian wine with their generosity of fruit, but they still have a certain 'Frenchness' with their line of acid, structure and savoury edge. Syrah does especially well and is the key variety, offering a "fleshy, voluptuous style" as Andrew Jefford noted in Decanter Magazine (May 2018). I find this particularly exciting as it's hard to find affordable good Syrah in France. Whites are made from several of the traditional white Rhône varieties including Grenache Blanc, Rousanne, Marsanne and Viognier, a real favourite of mine.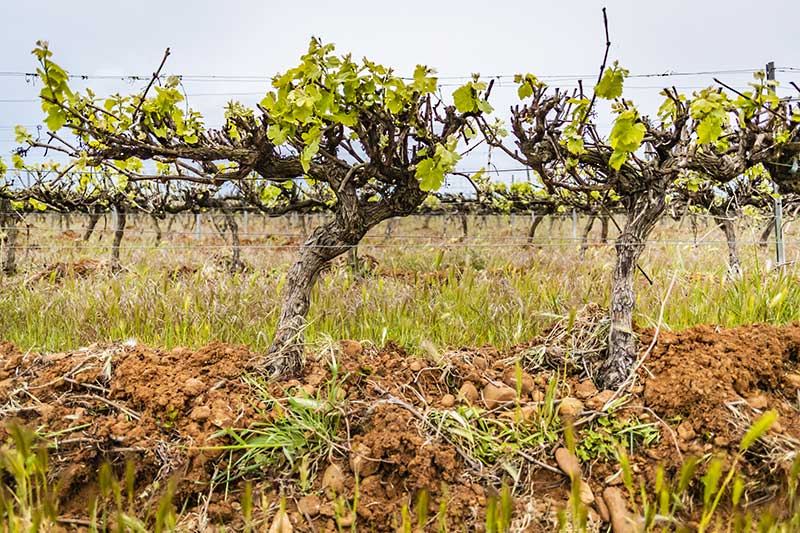 Pebbly vineyards on the Château de Campuget estate.
I get the feeling, in a region where it's not uncommon for single estates to measure ownership and reputations in centuries, many Rhône winemakers don't consider Costières de Nîmes part of the team just yet. The market also reflects a similar prejudice, with French wine drinkers not prepared to pay the same price for wines of similar quality from Costières de Nîmes as those from established southern Rhône appellations. While it's unfortunate for the winemakers of Costières de Nîmes, such bias is good for savvy wine drinkers, the caveat being of course, you need to know where to look.
An estate that typifies this outstanding value is Château de Campuget.
---
Château de Campuget
This idyllic estate is located near the village of Manduel, a short drive (about 15km) east of Nîmes. There have been vineyards at the site since 1753, hence the reference on the label. During WWII, the grandfather of the current proprietor came across the then bankrupt estate when as a soldier he was sent to the warmer climes of the south of France to recover from a German inflicted gunshot wound to the eye. He was so taken with the estate that after the war he purchased it and subsequent generations of the Dalle family have worked hard, not only to restore, but to significantly improve the estate. Franck-Lin Dalle, initially a lawyer in Paris and by all accounts quite a character, is currently at the helm. These days Campuget boasts a state-of-the-art winery and grows Syrah and Grenache for reds, and Grenache Blanc, Rousanne and Viognier for whites. They also knock out a few rosés. The wines offer fantastic value for money and show how the French are producing wines capable of competing with New World styles.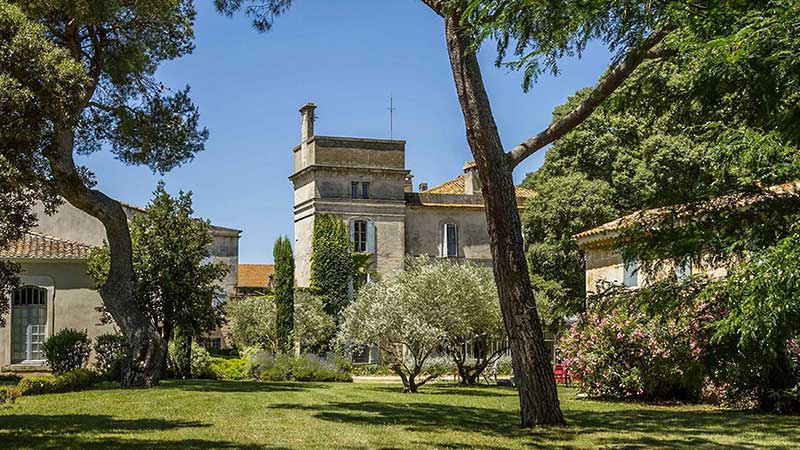 'My grandfather was lucky; he got a bullet in the eye in 1941, it meant he escaped the war and discovered this beautiful place.' Franck-Lin Dalle, owner.
Château de Campuget 1753 Viognier 2017
Quality and value in a Viognier is a difficult balance, but this one hits the spot. Offering classic Viognier flavours of apricot and musk, it's clean and fresh, with crisp acidity and none of the oiliness you can get in poorer examples.
The juice spends a brief time in contact with the skins when the grapes are initially crushed. The crushed grapes are then put through a pneumatic press, with the juice then partially fermented in oak, before spending another 4 months in oak. The bottle is sealed with an interesting glass stopper known as a Vinolok.
In the glass this is a bright and clear light gold. The nose is intensely perfumed with tropical fruit and honeysuckle, while on the palate it's all baked apricots and clean crisp acid. A mouthwatering and delicious contrast.
"Exudes a bouquet of honeysuckle, apricot orange marmalade and tropical fruits. On the palate the balance and roundness are very pleasant. Medium-bodied, generously fruity but structured, it owes its freshness and precision to the good acidity. Drink from an early age and up to 2 years. Accompaniment: Aperitif, smoked fish or a cuisine of Asian or Indian inspiration." Winemaker's notes.
It's rare to find such an affordable, easy drinking example of this variety. The perfect introduction to Viognier.
I can offer it for $26 a bottle. SOLD OUT

---

Château de Campuget 1753 Syrah 2016
Finding good Syrah (Shiraz) in France usually means heading to appellations in the northern Rhône where you'll need spend a small fortune. You can imagine my excitement on discovering this gem.
The wine is 100% Syrah and, as you would expect for a wine of this price, was picked by machine in the cool of the night. It was fermented in temperature controlled stainless steel tanks after which it was gently pressed and spent a further 6-7 months ageing in vats (no oak) in order to retain maximum freshness. The finished wine is 13.5% alcohol and sealed with cork.
This is a clear rosey red in the glass. On the nose you'll find rose petal, sweet jubey fruit, and chocolate. On the palate floral rosey notes mingle with plums, pomegranate, liquorice and dried herbs. Fine tannins, crisp acid and a nice astringency give this a delicious savoury twist on the finish. This is a lovely mix of fruity and lean. A delicious midweight midweek tipple.
"This wine is intense and deep throughout its tasting. The dress (presume this should be colour) is dark red almost black. The nose is on the fruit (blackcurrant, blackberry) and notes of cocoa. On the palate violet and liquorice explode. The tannins are elegant and round giving a sensation of velvety; They offer a very elegant and long finish". Winemaker's notes.
With a year or two extra bottle age than a current release Aussie Shiraz, this is a treat.
I can offer it for $26 a bottle. SOLD OUT