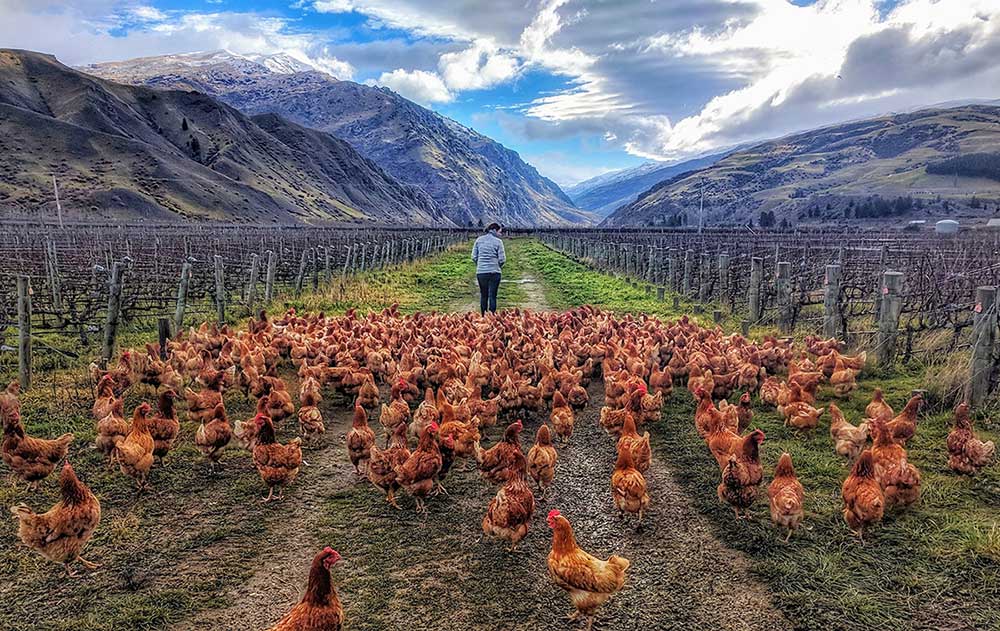 Sarah Eliott on Terra Sancta Estate in Bannockburn Central Otago NZ, with her soil health technicians, known as "The Ladies".
The rosé revolution rolls on. Just to give you an idea of how big rosé is, here's a list (in no particular order) of just some of the celebrity rosés on the market at the moment:
- Snoop Dogg - 19 Crimes Cali Rosé
- Kylie Minogue – Côtes de Provence Rosé & a Signature Prosecco
- Cameron Diaz - Avaline Rosé
- Post Malone - Maison No.9
- Sarah Jessica Parker - Invivo X Rosé, SJP
- John Malkovich - Les Quelles de la Coste Rosé IGP Vaucluse
- Brad Pitt - Miraval Rosé - from his estate in Provence
- Nicki Minaj – Pink Satin Rosé
- Graham Norton – Pink by Design
- Sting and Trudie Styler - rosato from their estate in Chianti
- Jon Bon Jovi - Langueodoc rosé called Hampton Water
- John Legend – LVE French Rosé, made by Frenchman Jean Charles Boisset
- Idris Elba - Provence rosé, made by Chateau Sainte Marguerite
- Christie Brinkley - Bellissima Christie Brinkley (Rosé Prosecco)
- Drew Barrymore - Californian rosé, Monterey Country on California's Central Coast
It's one thing for a celeb to put their name to a product that's hot right now, it's another for a luxury leviathan to run their ruler over it as a major investment, expected to generate a return on capital for years to come.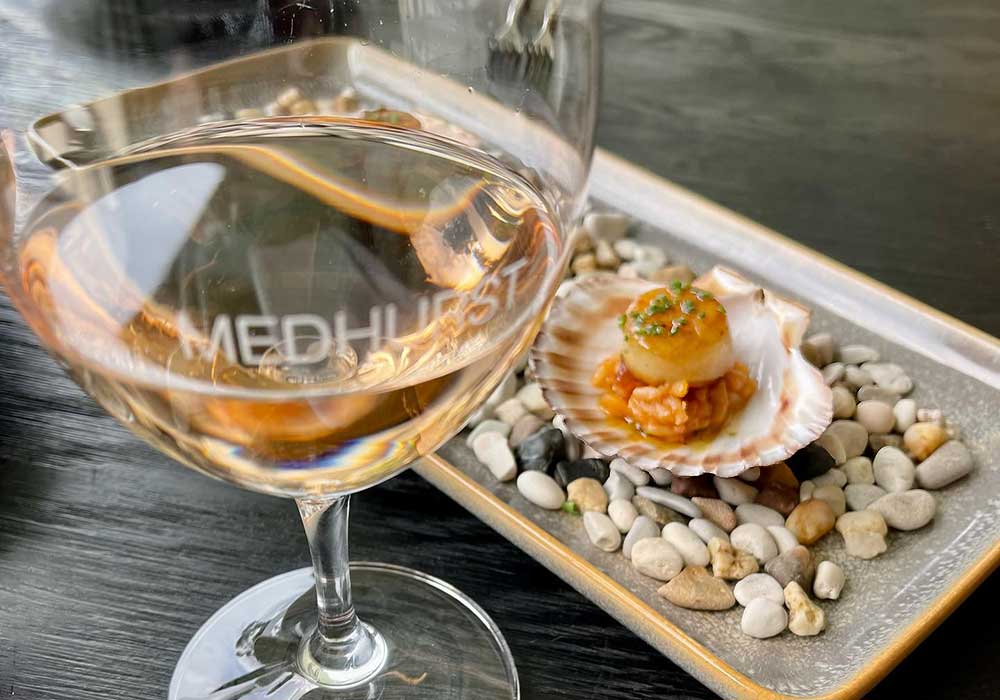 In 2019 LVMH, world leader in luxury goods, and whose portfolio of wine brands includes Dom Perignon, Krug, Yquem and Cheval Blanc, announced the acquisition of Chateau Galoupet, a 168-acre rosé producing estate in Provence. Less than 6 months later, the group acquired a 55% stake in the 660-acre Château d'Esclans, a high-profile Provence rosé producer, best known for its Whispering Angel brand.
Not to be outdone, in the same year, fashion house Chanel, who already owns estates in Bordeaux, acquired the beautiful Domaine de L'Ile, another rosé producer, located on the island of Porquerolles, just off the Côte d'Azur.
Adding to the momentum, in January of this year LVMH, announced it had purchased Jas d'Esclans, a cru classé estate adjoining Château d'Esclans. The sale included the nearby Château de Vaucouleurs (24ha). Then in February, LVMH announced it was buying high profile Provence rosé producer Château Minuty. Price details have remained confidential, but figures in Decanter Magazine suggest between AUD $560m-$720m.
The dollars involved in these investments underline the growing popularity and prestige of rosé wines. Deals like these, rather than celebs-own brands, confirm the permanence of rosé at our tables.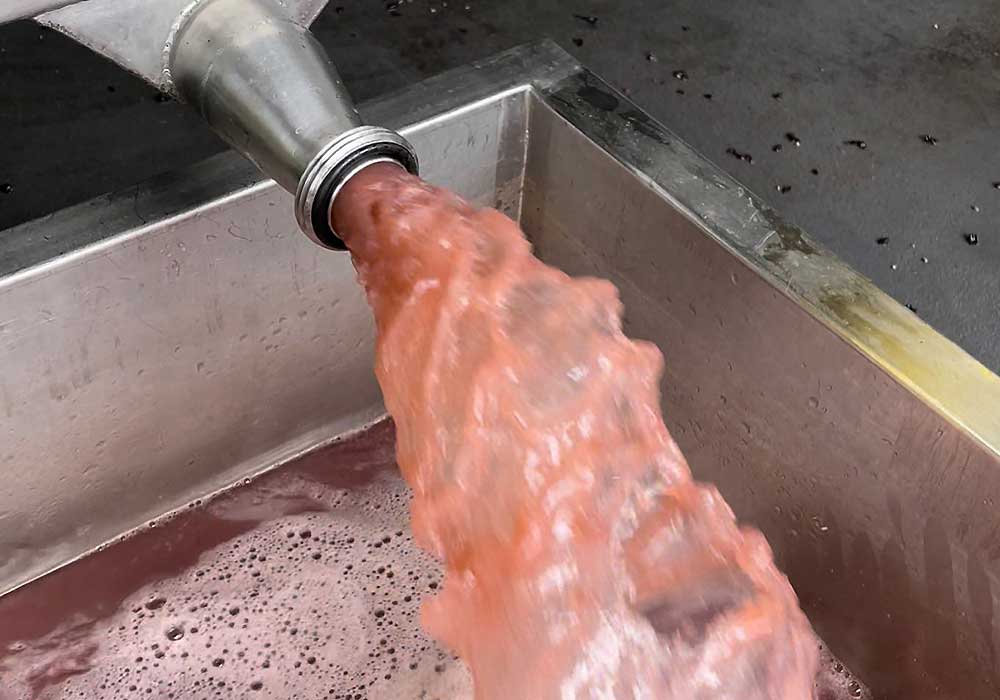 Juice flowing from shiraz grapes at Medhurst Estate, destined for their rosé.
So how is rosé made? The juice of nearly all grapes is white, so the colour comes from the skin of red grapes - and it's made in a number of ways:
Short Maceration - this is the most common method. Grapes are crushed just enough to split them so the juice can run out. The juice is left in contact with skins for a short period, usually somewhere between 6-48 hours. The longer the contact (maceration), the darker the colour. After the desired time, the juice, which is lightly coloured by this stage, is run-off and fermented like a white wine in a tank, without skins.
Direct pressing - sometimes referred to as Vin Gris and similar to above, but with no maceration. Grapes are put in a press and pressed straight away, so the only contact the juice has with the skins, is during the actual pressing process. The resulting colour is very pale. The lightly coloured juice is run-off and fermented like a white wine in a tank, without skins.
Saignée - some winemakers bleed off (saignée) some of the juice from their red ferments at an early stage, when the juice is just pink, and use this to make rosé. This increases the skin to juice ratio in the remaining red ferment, the aim being greater depth of colour and tannins. In this case rosé is a by-product of a concentration tool, rather than the primary aim.
Blending - finally, but not often done, a winemaker may simply blend finished red and white wine.
The rise and rise of rosé is great news for us in Australia where it's so suited to our climate, our lifestyle and the talented local winemakers producing it. Here are a few drops I'll be enjoying this summer - two from Australia, one that is regarded by many as the best New Zealand rosé, and a few from the home of rosé, Provence.
---

Terre a Terre Piccadilly Valley Rosé 2022
I'm a big fan of Xavier Bizot, winemaker at Terre a Terre, and this wine is a great example of why I love his wines. It's a rose that's a lot more savoury and structured than most Aussie examples, but still has plenty of attractive floral and red fruit characters.
I've told Xavier's story many times, but here's a quick recap. Xavier's father is Christian Bizot, Bollinger patriarch and chairman from the late 70s to the mid 90s. His aunt was the famous Lily Bollinger. His wife is Lucy Croser, daughter of legendary Australian winemaker and founder of Petaluma, Brian Croser. When Bollinger looked to expand their interests in the 80s, they invested in Petaluma and so the connection was made. Lucy and Xavier married in 2003 and I think you'd be hard pressed to find better winemaking credentials in a couple. In 2005 they moved back to Adelaide from Paris (where Xavier worked as a lawyer), to establish a small domaine in Wrattonbully, naming it Terre à Terre, meaning 'down to earth.' The estate also has vineyards in the Piccadilly Valley, in the Adelaide Hills, where the fruit for this wine was sourced. You may also know Xavier in connection with his sparkling wine Daosa, one of the country's best and most awarded.
This rosé is a blend of cabernet franc (35%), trousseau noir (30%), merlot (25%) and mondeuse (10%) from Xavier's Piccadilly Valley vineyards. The fruit was handpicked, chilled and lightly pressed before fermentation in small, old French oak barriques. It's a more complex style of rosé than most Australian examples and can be aged for up to 5 years.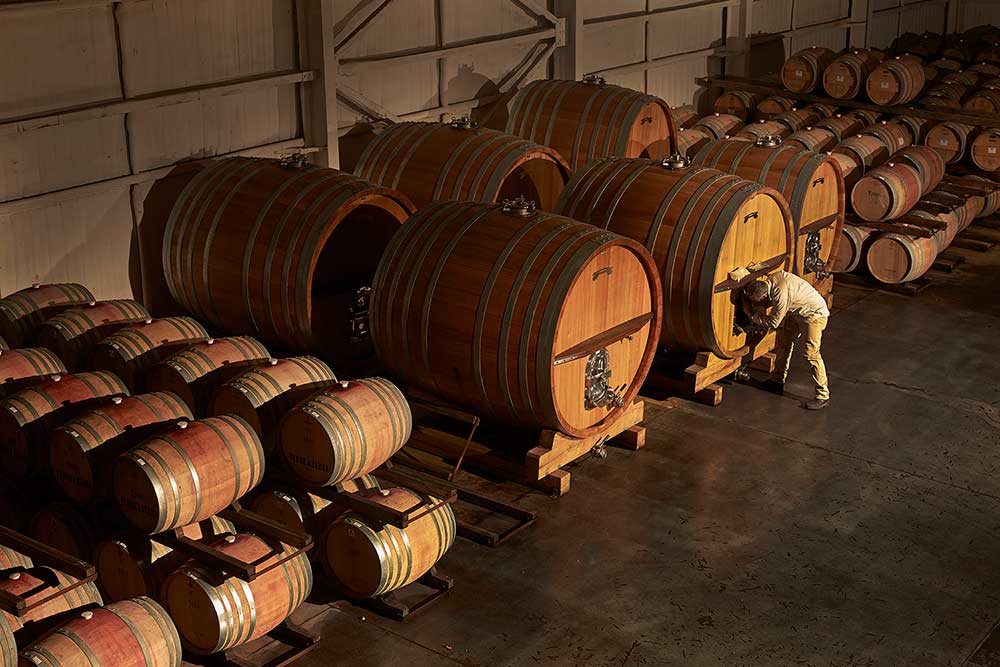 Xavier at work in the winery.
"The 2022 has the signature characters of Cabernet Franc - floral aromatics, berry flavours and a gentle tannin grip on the finish. The Trousseau Noir, Merlot and Mondeuse add some middle palate texture and pleasant bitterness on the finish." Winemaker's notes.
You'll find the beautiful people drinking it at Totti's in Bondi for $70 a bottle. Hard to resist and definitely a new favourite.
In the glass this is very light copper. On the nose you'll find peach, melon, gooseberry and musk. On the palate, fresh red berry fruit carries a wisp of savoury oak. Clean and zingy acid brings balance and a pleasant grapefruit pithiness appears on the deliciously dry finish.
I can offer it for $25 a bottle.

---

Medhurst Rosé 2022
Year on year, one of my favourite rosés.
Medhurst owner Ross Wilson is a major fan of rosé - so much so that when he established the estate in the Yarra Valleyin 2000, he had a dedicated rosé vineyard planted with shiraz and cabernet. Bear in mind that many estates treat rosé as an afterthought.
Talented winemaker Simon Steele joined Medhurst in late 2014. Simon gained his winemaking qualifications from The University of Adelaide (Roseworthy) and comes with some serious credentials. He's spent time in Burgundy, Languedoc Roussillon, Rioja, Ribera Del Duero, Margaret River, Yarra Valley, Hunter Valley and the Adelaide Hills. He's also worked for some big names in Australia including Shaw & Smith, Shadowfax, Hardy's and even Chapoutier. Immediately prior to Medhurst he spent 3 years as chief winemaker at Brokenwood.
Similar to previous vintages, the 2022 is a blend of 55% cabernet and 45% shiraz. Vines are low-yielding with fruit handpicked, then left overnight in a coolroom to ensure it's cold for pressing the next morning. This minimises both oxidation and colour development. Only 500L per tonne of juice was obtained, usual rates are around 700L/tonne, showing just how softly the fruit is squeezed. The gentle pressing not only explains the pale colour, but also means this wine is more expensive to make - even though it's still sold at such a good price. The wine was fermented to dryness in stainless steel, after which it was bottled with a light filtering and minimal sulphur. The finished wine is 13% alcohol and sealed with screwcap.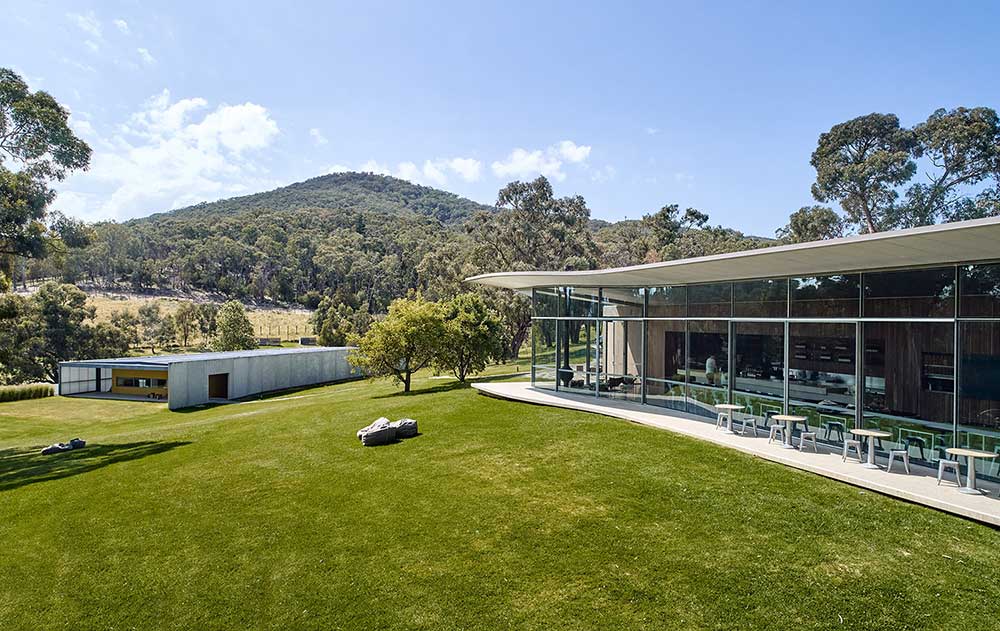 "An estate blend of cabernet sauvignon and shiraz. The faint salmon hue reflects the whole bunch pressing used to make this a purpose-built wine from the ground up." 95 points, James Halliday Wine Companion as well as a Special Value Rating.
"Brilliant appearance, pale copper blush and a vibrant pink hue. Cooler white flower and blossom of jasmine nose, with subtle cassis and strawberry notes. The palate is beautiful with red fruits that skip along and a supple creamy texture. The finish to the wine is superb, fresh fruits, lovely roundness and weight and a long chalky delicate line that is trademark of the single vineyard wine."
Winemaker's notes.
Single vineyard, perfumed, delicate and dry.
I can offer it for $27 a bottle.

---

Terra Sancta Pinot Noir Rosé 2022
This is a new find for me and boy is it good! I met and tasted with ex-corporate lawyer and co-founder of Terra Sancta, Sarah Eliott a few months ago when she visited Sydney. Wow, what a dynamo.
Terra Sancta has prime vineyards in the Central Otago sub-region of Bannockburn, which lies about 30km east of Queenstown. The area was initially settled for gold in the mid 1800s, but these days is best known as one of Central Otago's best sub-regions.
"Bannockburn is Central Otago's vinous sweet spot' I wrote many years ago after tasting an extensive selection of pinot noir from Central Otago. That statement is as valid today as it was nearly two decades ago." Bob Campbell MW.
The region enjoys a high profile and is home to such gems as Felton Road, Mt Difficulty (US billionaire Bill Foley), Akarau (Rothschild), Calvert (LVMH) and to that I would add Terra Sancta. Due to the topography, vines can only be planted in a very defined area, on the south bank of the Kawarau River, with nothing above 400M, as they'll not ripen. By 2016 the region was at 325ha, with pretty much no more room to plant.
For such a well-regarded region, it's amazing that the first vines were only planted in 1991 by the Olsen family. It's their vineyard that Sarah took the plunge and purchased in 2010 at the height of the GFC, with her partner Mark Weldon - ex-Olympic swimmer and ex-head of the NZ stock exchange. They were also able to then purchase the vineyard next door and with these created Terra Sancta. A newfangled (technical term) winery was built in 2012, and the couple moved onto the site to live. Over time they acquired several more vineyards, which are now broadly referred to as: Sancta Vineyard (est. 1991), Mysterious Diggings Vineyard (est. 1999), Terra Vineyard (est. 2001) and The Irresistible Race Vineyard (est. 2013). In line with varietal plantings across the wider Central Otago region, pinot noir accounts for 80% of the estate's plantings.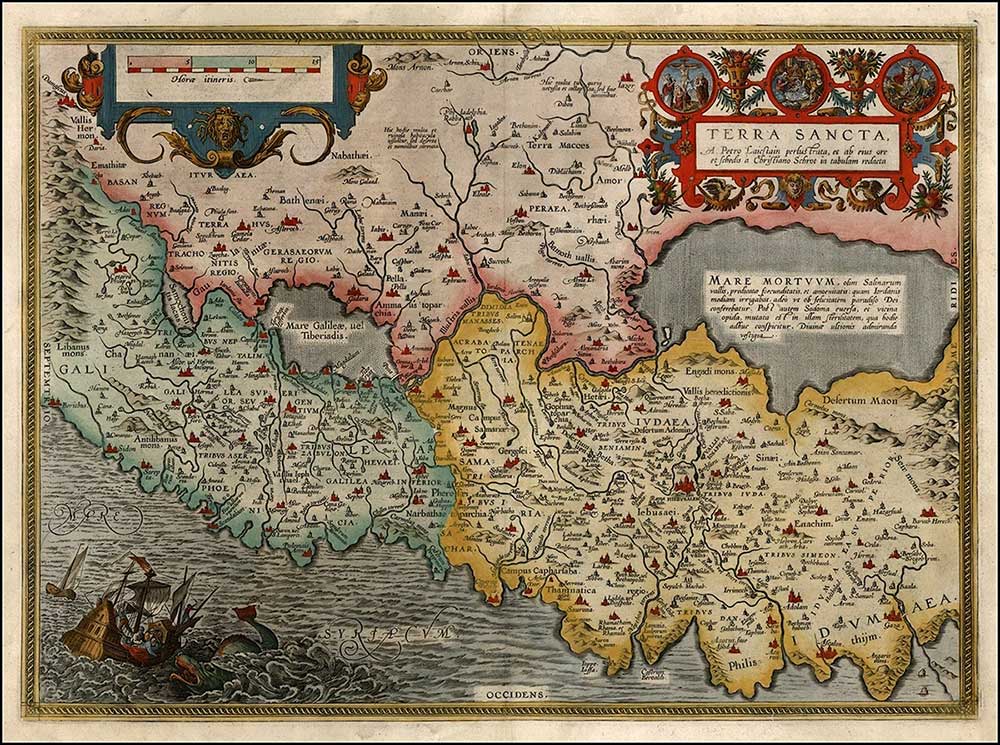 As for the name Terra Sancta, it's the name of original map of the Terra Sancta - The Holy Land - created by Abraham Ortelius in 1582. Sarah's a bit of a nut for antique maps, telling me about Ortelius' "terrarum" the first atlas (collection of maps) of the world, as well as introducing me to the term cartouche, which among other meanings, is the illustrated image or emblem that surrounds the place name of a map, and tells the story of the place depicted in the map. This concept of allegorical portraits is the inspiration for the Terra Sancta labels, which like a cartouche, aim to tell the story of the wine. A source code as Sarah likes to say.
Sarah has followed a regenerative agriculture organics program, with no tilling of the soil and no additives. The estate has the cutest flock of baby-doll sheep, as well as hens, both of which generate 51 tonnes of animal compost annually. Terra Sancta also produce beer, olive oil, an apertivo and a range of wines - red (pinot noir) and white (pinot grigio, chardonnay, riesling and gewürtz). Did I mention that Sarah's a dynamo?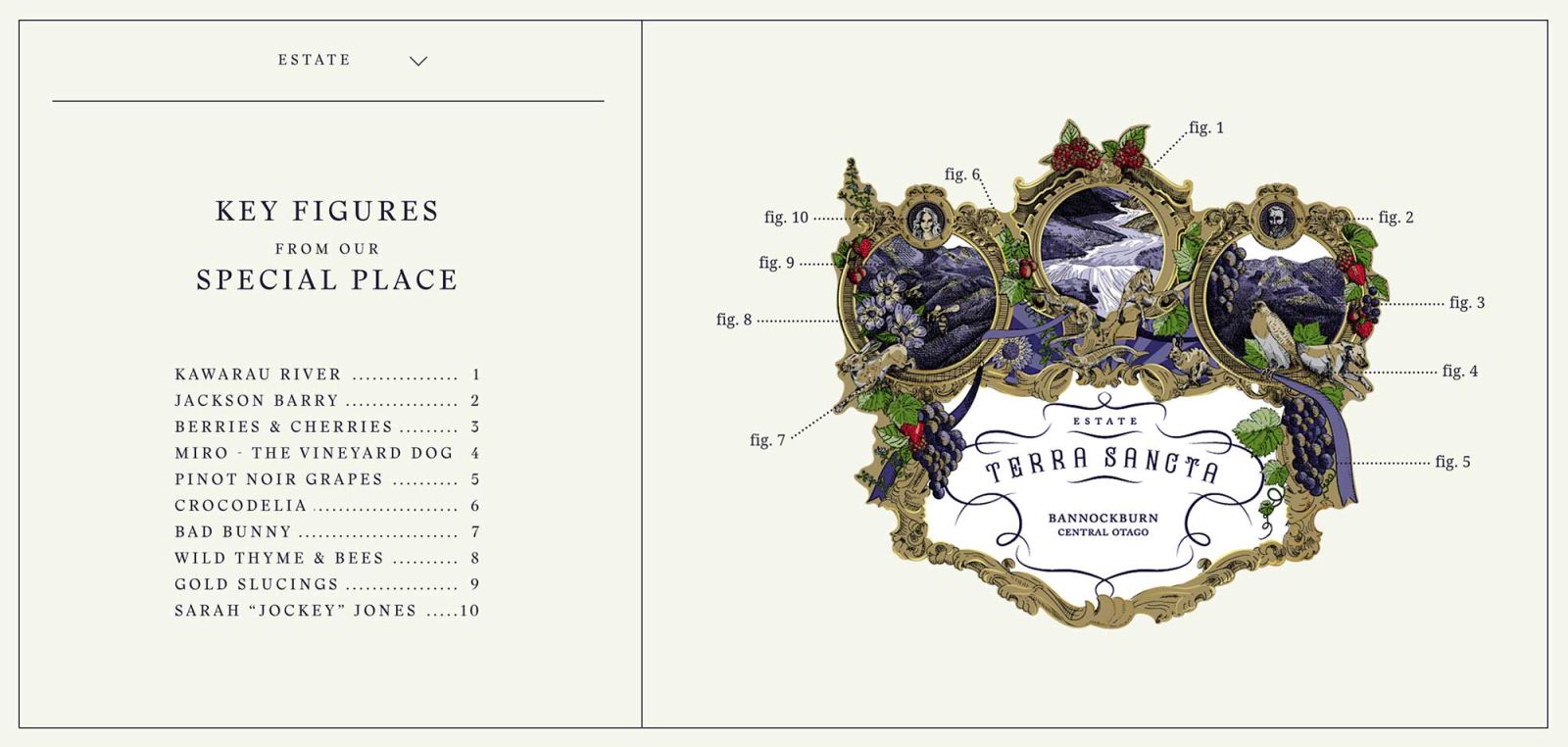 From the very beginning, Terra Sancta's aim was to produce the very best rosé and so putting their money where their mouths were, they committed to making one from 100% estate grown pinot noir, from two of the estate's premium blocks. Bear in mind, this fruit would normally be destined for a Bannockburn (Central Otago) Pinot Noir, which commands a much higher price than a Bannockburn Rosé, so you know these guys are serious.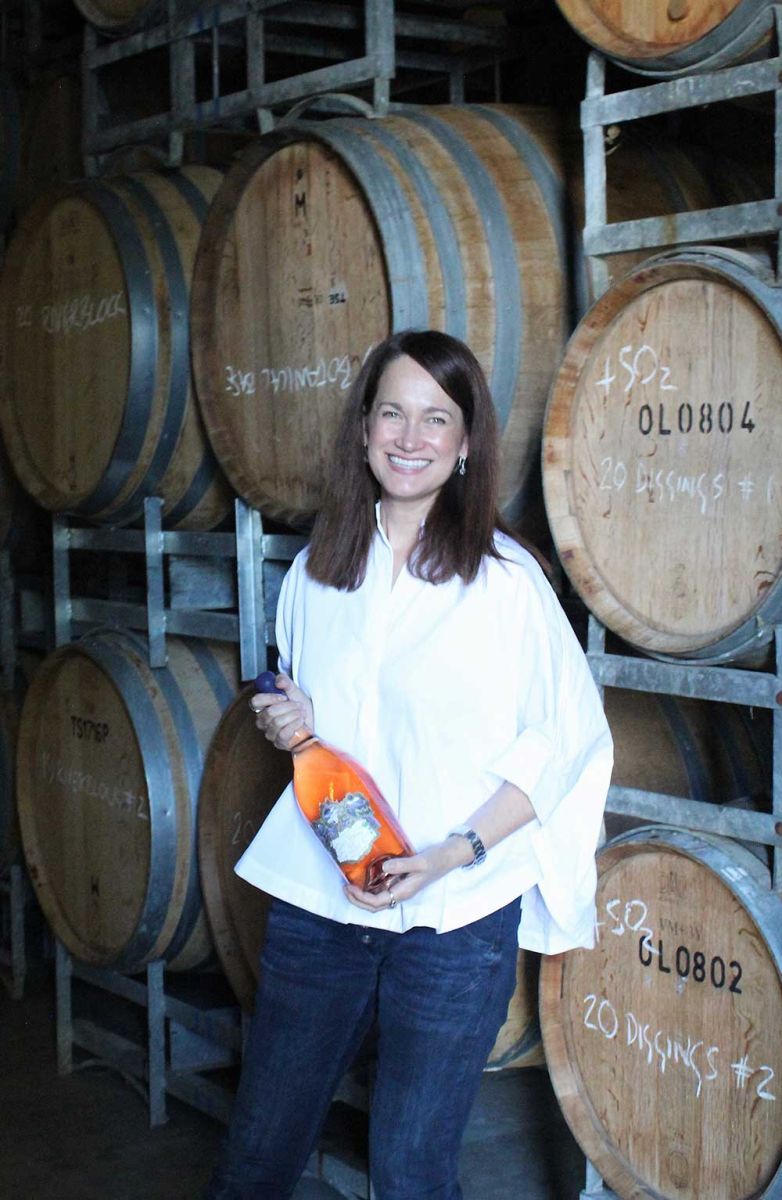 Sarah Eliott with Pinot Noir Rosé - "With every barrel and tank being a healthy native ferment, we have added nothing to any ferment. No acidification or any winemaker tricks - just pure vineyard."
And their ambitions have been realised, not just for the rosé, but for the estate in general.
- Terra Sancta was named in the Top 100 Wineries of the World by Top US guide, Wine & Spirits Magazine in 2015.
- Terra Sancta Rosé is the Top-Rated Rosé in the new Real Review New Zealand Wine Classification.
- Terra Sancta Rosé is the First and only New Zealand Rosé to achieve Classic and Super Classic classification - Michael Cooper's Buyer's Guide to NZ Wine.
Now to the label - in line with Sarah's love of allegories, everything about the label tells a story.
The wine is made from 100% pinot noir handpicked in multiple passes, ie. only the perfectly ripe fruit is picked on each pass. Who does that for a rosé? There ended up being 9 different parcels of fruit, with the juice spending between 2-26 hours on skins to pick up just the right amount of colour and texture. Fermentation occurred using wild yeasts, with about a third of the ferment carried out in old (neutral) oak barrels. The wine was bottled at the estate and finished at 13% alcohol, sealed with screwcap.
"Silken-textured rosé with raspberry, cherry/berry and savoury flavours that are subtle and lengthy. A backbone of tangy acidity and fine tannins promote a crisp and refreshingly dry finish. Serious rosé and a good food wine." 95 points, Bob Campbell, The Real Review 2022.
"From one vintage to the next, this is one of the country's top rosés. Estate-grown and hand-harvested, the youthful 2022 vintage is principally (85 per cent) from vines planted in Sarah's Block in 1995. ... it is fresh and vibrantly fruity, with strong peach and strawberry flavours, showing a distinct of complexity, lively acidity and a slightly off-dry ... very harmonious finish." 5 Stars, Michael Cooper's Buyer's Guide 2022.
"Fabulously elegant and delicately fragrant, the wine shows white flesh stone fruit, lemon pith, apple and floral aromas with a hint of sweet strawberry. The palate is equally charming with fine focus and silky flow, beautifully complemented by juicy fruit flavours and vibrant acidity, finishing lingering and delightfully crisp dry. At its best: now to 2025." 5 Stars, Wine Orbit 2022.
See how good NZ rosé can be.
I can offer it for $30 a bottle.

---
I also have a great collection on the website, including these:
Saint Max Cotes de Provence Rosé 2021 - $26.50 a bottle
Chateau de Campuget 1753 Syrah Vermentino Rosé 2022 - $30 a bottle
Daosa Piccadilly Valley Rosé 2020 (Sparkling) - $64 a bottle
Domaine de Terrebrune Rosé 2019 - $65 a bottle
Mas Jullien Rosé 2022 - $75 a bottle
Chateau de Pibarnon Rosé 2019 - $75 a bottle