A few weeks ago Tony Battaglene, Chief Executive, Australian Grape and Wine, was interviewed on ABC radio about the effects of climate change on the Australian Wine Industry. He noted that growers here have been experiencing warming in the vineyards for at least the past 10 years and because of this, reckons we're going to see big changes, including the planting of Mediterranean varieties that are more suited to warmer conditions.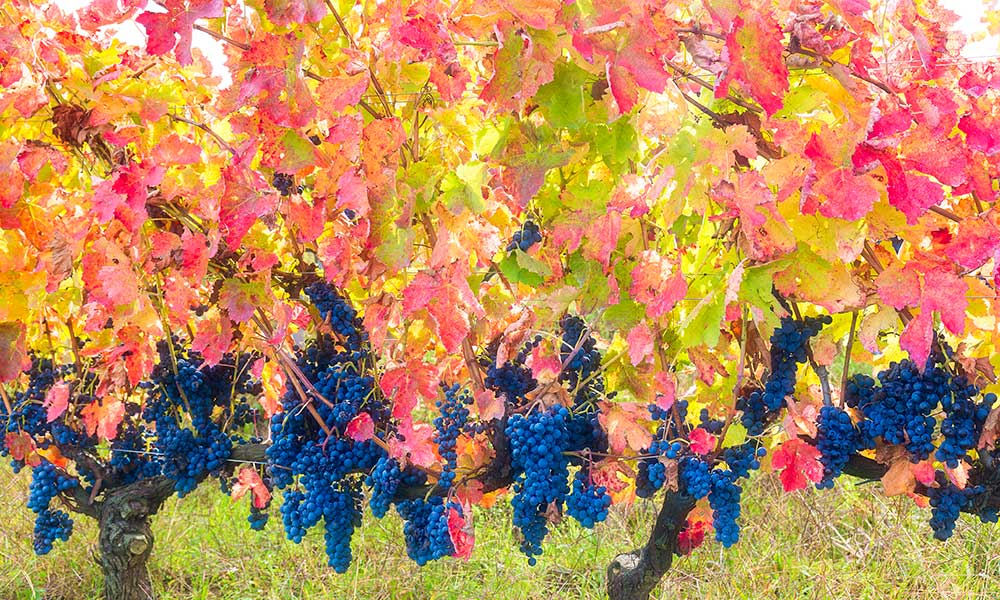 The late ripening Aglianico is often harvested into early autumn.
Mediterranean native varieties thrive in the hot regions of Spain, Portugal, Greece and southern Italy. Tony referred to a few including fiano (white) and tempranillo (red) and to these I would also add the often overlooked aglianico, traditionally found in the warmth of southern Italy.
Aglianico (ahl-YAH-nee-koe) is often referred to as the Barolo of the south - quite a compliment to be compared to the most revered Italian red. And like Barolo, top quality aglianico exhibits strong tannin, high acidity and a genuine ability to age. Aglianico produces dark, concentrated wines, much deeper in colour than nebbiolo, the variety from which Barolo is made, and best of all, without Barolo's profile, it's also a fraction of the price.
I flipped through Ian D'Agata's book Native Wine Grapes of Italy, (awarded the Louis Roederer International Wine Book of the Year in 2015) to see what he had to say about the variety. D'Agata is one of the world's foremost authorities on Italian wine and over the years has been a regular contributor to several publications, including Decanter Magazine. He's also a medical doctor, specialising in paediatric gastroenterology and paediatric liver transplants, having studied at Cincinnati, Harvard and Montreal universities.
For a full six pages D'Agata sings the praises of the variety. "Aglianico is one of the world's great red grapes, one that is finally carving a place in mainstream wine-drinking consciousness. Along with Nebbiolo and Sangiovese, it is generally believed to be one of Italy's three best wine grapes, but in my opinion, it is far more: at the very least it's one of the world's dozen or so best wine grapes."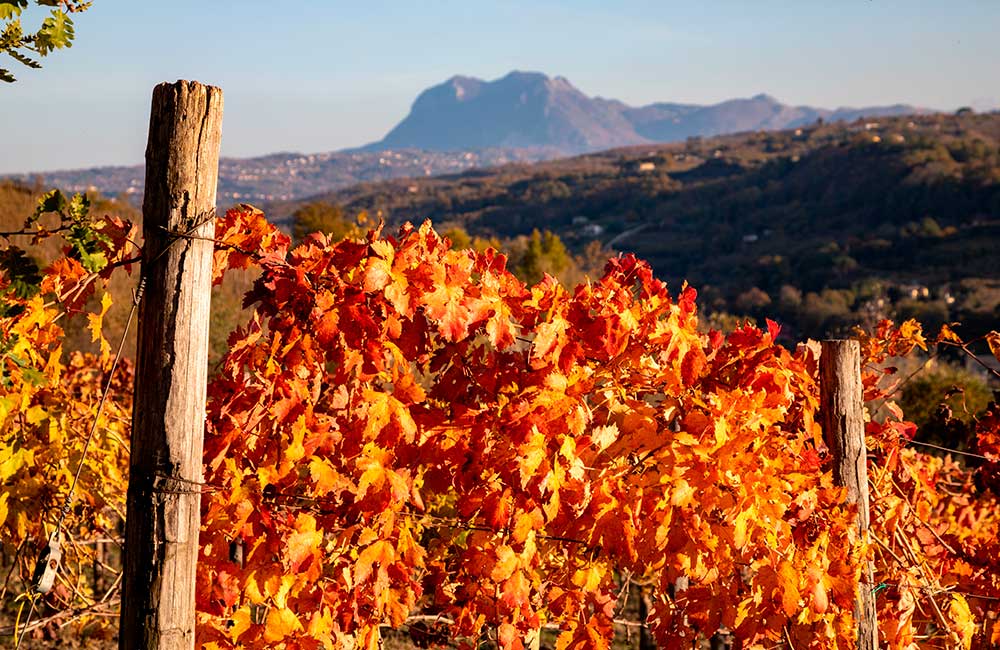 Aglianico vines in the volcanic landscape of Taurasi.
Jancis Robinson, OBE, Master of Wine, and in my book one of the world's best wine critics and authors, notes: "There are some grape varieties that, like Cary Grant and Catherine Deneuve, exude class, Aglianico is one of these." And "The best wines are deep in colour with aromas suggestive of the volcanic origin of the vineyards or of chocolate and plum. They have fine-grained tannins and marked acidity on the palate, becoming more subtle and tarry as they mature."
As a late ripening variety, aglianico is well suited to warmer climates, and while its home is southern Italy, these days you'll also find small plantings in Australia, most notably McLaren Vale and the Barossa.
I know you'll enjoy the three wines I've selected below, with all making for a perfect drink as we head into cooler weather.
---

Spinifex Aglianico 2019
NZ-born Peter Schell and his French-born wife Magali Gely were at the forefront of a new wave of Barossa winemakers when they established Spinifex in 2001. Since then it's become one of the Barossa's most exciting and highly regarded wineries.
Peter is a trained oenologist (winemaker) and has made wine in Burgundy, Bordeaux, Provence, Languedoc, Switzerland and NZ, and Magali's family has been growing wine near Montpellier for over 10 generations. The couple source their fruit from a small group of dedicated growers in both the Barossa and Eden Valleys.
"Pete [Schell] and his partner Magali Gely operate what I think is the best new-wave of small-scale Barossa wine companies to emerge at the beginning of the 21st century… These weren't big, blockbuster, showy wines designed to impress. They were wines that managed to take the best of the Barossa's sometimes forgotten varietal traditions and fuse them onto a very European flavour sensibility." Max Allen, The Future Makers.
"Peter Schell, a New Zealander transplanted to the Barossa, is one of the stars of the region, producing composed, elegant wines from vineyards across the region." James Suckling.
5 stars - Outstanding Winery. James Halliday, Wine Companion.
The couple makes a wide range of excellent wines, including several interesting white blends, a couple of super-duper rosés and some terrific reds, including this aglianico.
The fruit for this wine was sourced from a vineyard in the Adelaide Hills at 300m elevation. "Aglianico has shown a great affinity for this site with the fruit ripening very late, typically just before the break in the season, with deep flavours, fresh tannins and high natural acids." Peter Schell.
The wine was fermented using natural yeasts and without additions. Post ferment it spent about 10 months in a combination of large and small format wood as well as stainless steel, to retain as much of the variety's beautiful fruit as possible.
"Schell's 2019 brims with vivid blackberry and dark Morello fruit, while the palate is gently sweet on entry before ripe, firm and well-judged tannins kick in. This would be great at the table alongside the deep richness of lamb or beef dishes. It will soften and take on more complexity over the next five or so years." Bibendum Wine Co.
"Inky dark colour. Beautifully fragrant violet and wild-berry aromas and flavors. The palate has super succulent tannins that really stack in fine, powdery style. The finish is dry and really draws fresh raspberry and boysenberry flavors long. Drink or hold. Screw cap."
92 points, Nick Stock, JamesSuckling.com
I can offer it for $28 a bottle.

---

SC Pannell Aglianico 2020
Steve Pannell grew up at Mosswood in Margaret River, which his parents established in the late 60s. After selling it to Keith and Clare Mugford in 1985, Bill and Sandra Pannell went on to have part ownership of Domaine de la Pousse d'Or in Volnay, Burgundy. Given this lineage it's hardly surprising Steve ended up working in all areas of the wine industry and these days is regarded as one of the most talented and progressive winemakers in the country. Here are just a few snippets from his impressive CV.
- International Red Winemaker of the year, International Wine Challenge 1999
- BRL Chief Red Winemaker from 1999-2003.
- Worked at big names overseas including: Domaine des Comtes Lafon (Burgundy), Chateau Mouton Rothschild (Bordeaux) & G.D. Vajra (Barolo).
- Won Australia's most prestigious wine award, the Jimmy Watson Memorial Trophy twice.
- First winemaker to win the Bushing Trophy for Best Red wine in the McLaren Vale show 4 times.
- Two-time Max Schubert Trophy winner (Most Outstanding Red Wine at the Royal Adelaide Wine Show).
- Gourmet Traveller Winemaker of the Year in 2015.
- Named as one of the 50 most influential contributors to the world of wine by Decanter Magazine.
"It would be difficult to conjure a more complete all round wine guy than Steve Pannell. He really understands the vineyard, the winery, the market, the zeitgeist and wine quality. His wines result from this, so little wonder at his success." Huon Hooke, The Real Review.
"The future of the Pannells is limitless, the icon status of the label already established." James Halliday.
Courtesy of Wine Australia.
Steve set up his own label SC Pannell in 2004 whilst still at BRL and several years later acquired his own vineyard, winery and cellar door in McLaren Vale. Steve also makes wine from his Koomilya vineyard (McLaren Vale) and Protero vineyard (Adelaide Hills). He grows his fruit without irrigation and with an emphasis on environmental sustainability.
Being in McLaren vale, Steve obviously makes syrah and grenache. But having championed for many years the idea of making wine to suit culture and particularly climate, he believes that Mediterranean varieties are more suited to many of the warmer regions of Australia than the traditional French ones that have dominated for the past few decades (eg. chardonnay). Given this, it's no surprise that he also makes a nero d'avola, touriga, montepulciano, tempranillo and an exceptional aglianico.
In the notes for a review of the wine below, Gary Walsh of The Wine Front, noted that Steve Pannell said "I find myself wondering if in fifty years' time whether aglianico will be a more important variety for McLaren Vale than Grenache?" Hardly a surprise given that the previous vintage of this wine was awarded Top-Rated 'other red' category at Halliday 2022 Wine Awards.
The grapes for this wine were handpicked and fermented in an open-top fermenter, before being aged in puncheon. It was bottled without fining or filtration, with the finished wine 14% alcohol and sealed with screwcap.
"Flavour Profile: It smells of Chinotto, new leather, old furniture, spicy red pepper, deeply flavoured dark fruit, walnuts and Italian sausage thrown in for good measure. The palate is loaded with Maraschino cherry, satsuma plum, dusty earth and terracotta. Flavours to make you salivate. Structure and Texture: The classic example of a red variety with natural tannin grown in a warm place. This is our third release and we find ourselves wondering why we didn't plant the whole vineyard to Aglianico such is the excitement. A mouthful of wine with a tannic tail that beckons the next sip. Cellaring: Give it eight to ten years." Winemaker - Stephen Pannell.
"Well, this is very good. Black cherry essence, liquorice, sweet spice and dried flowers, with a savoury dark tobacco and ferrous quality, and maybe a suggestion of Ovaltine in there? It's deep in flavour, but fresh, popping with cherry pip acidity, ferrous feeling tannin, and subtle bitterness of orange peel and dried herb on a stony finish of excellent length." 94 points, Gary Walsh, The Wine Front.
One of Steve's big mantras is that he wants to make wine that he really loves to drink and I have to say he's hit the nail on the head with this beauty.
I can offer it for $40 a bottle.

---

In Italy aglianico is confined to the warmth of the south, with some of the finest examples found in the volcanic soils of Taurasi. This DOCG (highest Italian appellation) is found in the region of Campania, whose capital is Naples and takes in the Amalfi Coast and Pompeii.
The most famous winery in Taurasi is without doubt Mastroberardino, a producer that holds a unique and significant place in the Italian wine scene. Indeed, the Mastroberardino Taurasi Riserva 1968 is considered among one of the world's all-time great wines. The estate was established in 1750 but not officially registered until 1878 by Angelo Mastroberardino and his great-grandson Piero (10th generation) currently runs the winery.
The Mastroberardino fame lies in its specific dedication to Aglianico, as well as its work in preserving the ancient indigenous varietals of Campania, most of which I've never heard of. Piero's father Antonio is often referred to as the grape archaeologist and acknowledged as guardian of the viticultural and oenological heritage of the Roman age. One rather extreme example of his work is the 'Villa dei Misteri' project in which Mastroberardino worked with archaeologists to reintroduce vineyards to the site of ancient Pompeii. DNA testing carried out on grape seeds discovered in volcanic ash, coupled with evidence gathered from excavations, was used to identify and eventually replant ancient varieties within the city.
But Mastroberardino are more than just boffins of the Italian viticultural world. Their Aglianicos are some of the most admired red wines in Italy. Robert Parker's Wine Advocate #190 (Aug 2010) describes a tasting of Mastroberardino Taurasi spanning back to 1928! "It was a revelation… a once in a life time experience."
Courtesy of James Suckling.
Local critic Max Allen also thought it a revelation. An older vintage of the Taurasi Radici (current vintage offered below) "changed my life… It was back in the late 90s… I'd never come across the grape or the region or the producer before, but the wine completely blew me away. It was incredibly complex, profoundly tannic yet refined and balanced. Easily the equal to any of the well-known classic reds I'd tasted up to that point - and believe me, I'd tried a fair few classic Burgundies and Bordeaux."
Mastroberardino put Taurasi, aglianico and Southern Italy on the map. Despite new players emerging in the last 20 years, Mastroberardino retains its status as an iconic estate.
Mastroberardino Radici Taurasi DOCG 2015
"I love the spicy and lifted notes here of caramelized orange peel, dried meat, blackcurrants, pomegranate, sea urchin and bark. A seamless and wonderfully elegant, medium-bodied palate follows with finely grained tannins and loads of floral undertones. This wine is all about transparency and subtlety. Best Radici in years." 96 points, James Suckling.
"A benchmark for Aglianico, Radici was first produced in 1986. A wine to age for decades, yet surprisingly approachable now. Great density with concentration and depth. Aged two years in oak and two in bottle, this has intense, pure fruit allied to subtle oak, fine tannins and elegance. Some smoky, mineral flavours starting to appear. Ultra-refined. A wine with real sense of place. Drinking Window 2023 - 2050." 96 points, Decanter Magazine.
I can offer it for $85