Alsace produces some of the world's great white wines - aromatic and floral, yet textural and crisp. Amazingly, these beautiful wines are often overlooked.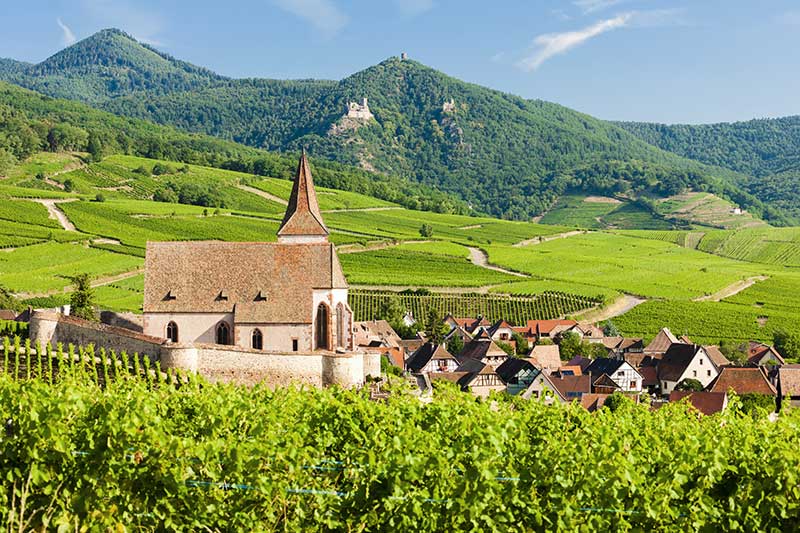 Nestled between the Vosges Mountains and the Rhine River, Alsace is located in north-eastern France on the border with Germany. It's been contested territory for centuries. After becoming German in 1871, it went back to France in 1918 at the end of WWI. Nazi victory over the French in 1940 meant it then went back to Germany, but with the end of WWII in 1945, it once again became French. Not surprisingly, the region has Germanic and French place names, and many locals speak both languages as well as Alsacian dialects. Despite the Germanic influence, the soul of the region is definitely French. As Hugh Johnson notes in The World Atlas of Wine, "Alsace makes Germanic wine in the French way."
Alsace has around 38,000 acres (15,500ha) of vineyards that run in a narrow strip from near Strasbourg in the north, to Mulhouse in the south - a distance of about 100km. In the midst of the vines are several picturesque towns, complete with narrow streets and half-timbered houses, known locally as maison à colombages.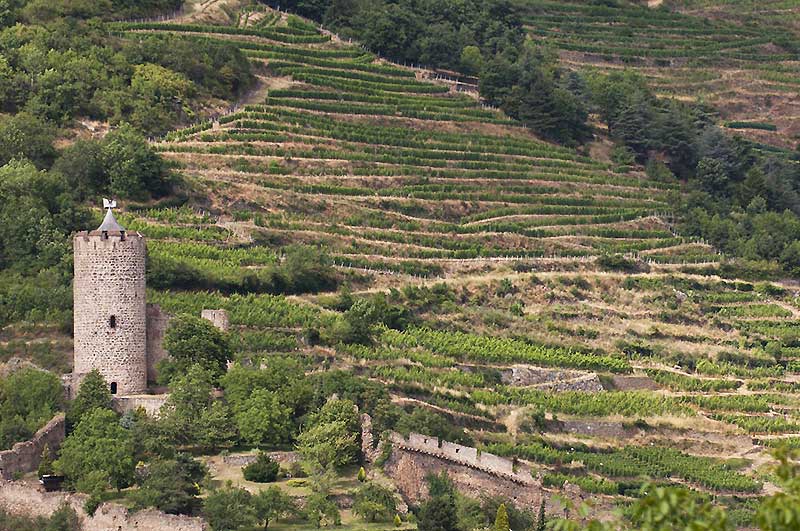 The first site to be granted Alsace Grand Cru status in 1975 was the 80ha Schlossberg vineyard
The region is a bit of a climatic anomaly. It sits around 48 degrees north, which is the southern hemisphere equivalent of about 550km south of Hobart. Grapes shouldn't really ripen in Alsace, but it's the Vosges Mountains, just west of the region, that make it possible. Cool, water-laden westerly winds blow in from the Atlantic and dump their moisture when they hit the Vosges. Just on the other side of the mountains, Alsace enjoys a sunnier, warmer and dryer climate.
Riesling is the dominant variety, accounting for over 20% of plantings, but you'll also find Gewürztraminer, Pinot Gris and Muscat (white) these four varieties traditionally referred to as 'noble'. The region also produces Pinot Blanc, Pinot Noir, Chasselas (white), Sylvaner (white), Auxxerois (white) and even some Chardonnay (in blends and fizz).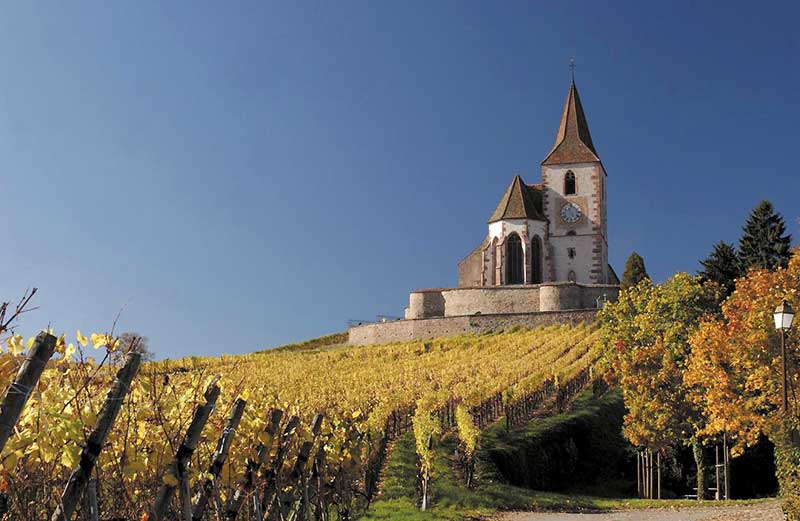 Rosacker was granted Grand Cru status in 1983 and is regarded by many as the finest Grand Cru site in Alsace.
Unlike other regions in France, and a godsend for New World drinkers, Alsace labels its wine varietally (ie. by grape variety) and you'll find both straight varietals and blends. While the region is best known for its dry wines, it's also known for luscious, sweet white wines. Vendanges Tardives indicates late harvest and Sélection de Grains Nobles indicates botrytis affected grapes. The region also produces sparkling wine labelled as Crémant d'Alsace.
Alsace attained appellation status in 1962 and implemented a Grand Cru system in 1975, which identified the best sites. It's hard to believe that prior to this there was no geographically based hierarchy of vineyards as in the rest of France, there was simply Alsace. The Grand Cru system undergoes regular revision and there are currently 51 grand crus accounting for about 4% of production.
---
Domaine Jean-Luc Mader
Domaine Jean-Luc Mader is a small, family run affair, based in the village of Hunawihr. Sitting on the famous 'Route des Vins' in Alsace, the village was founded in the 7th century by one of the country's first nobles, Lord Hunon and named after his wife Hune. Despite her nobility and wealth, Hune put herself at the service of the village's poor - lodging them, feeding them and even washing their clothes in the town's fountain. She was canonised in 1520 and is now known as the saint of washerwomen.
While the Mader estate is based in Hunawihr, it owns a total of 9 hectares of vineyards, spread over four districts: Hunawihr, Ribeauville, Riquewihr and Kientzheim. Of particular note are prized holdings of vines in the famous Rosacker Grand Cru vineyard, as well as the Schlossberg Grand Cru vineyard. The estate produces several wines including a Pinot Noir, Riesling, Muscat, Pinot Gris and Gewurtztraminer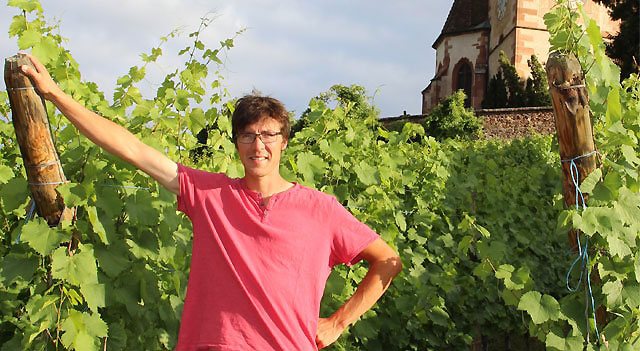 Left: Jérôme Mader
Jean-Luc and his wife Anne took over the estate in 1981, but since 2005 their son Jérôme, having gained a diploma in Oenology, has been at the helm. Jerome has converted all their vineyards to bio-dynamic viticulture - so no chemicals and all vineyard work is carried out by hand.
Rated top 10 Best Value Producers in Alsace - Tom Stevenson's Global Report.
"Although Mader's wines from Grand Cru Rosacker steal the show, his entire line-up is recommended." Jacqueline Friedrich, The Wines of France
I had the pleasure of meeting Jérôme when he visited Sydney last year and tasted the 2017 releases, a vintage being hailed as one of the best of the decade.
"A cold winter, warm spring and warm summer with sufficient rainfall added up to create a very good vintage for Alsace in 2017. Good conditions throughout the harvest season allowed for excellence across all varieties and at all sweetness levels, with no particular extremes." Jancis Robinson. Unlike many critics, Jancis tends to be understated and to the point, which I like, so this is glowing praise from her.
The only issue with the 2017 vintage in Alsace was a severe spring frost that reduced yield by about a third, which unfortunately means stocks are limited on the better wines.
---
1. Domaine Jean-Luc Mader Pinot Gris 2017
This entry level wine is everything to like about Alsacian Pinot Gris. On the nose you'll find juicy ripe pineapple, lemon and honey aromas. On the palate, more complex notes of lemon, musk, honeysuckle and aromatic honey meld with clean and well-balanced acidity. Much softer than a riesling, but much more generous and plump in the mouth.
"Good aromatic lift with peach, apple and exotic tropical fruit characters on the nose and palate. Round and supple in texture, with wonderfully precise flavour. Great concentration and depth with a little residual sweetness in this ripe vintage. The rich texture and cleansing acid balance gives this wine great immediate appeal yet it also has the structure and depth to age mid-term." Vintage and Vine.
Delicious drinking.
I can offer it for $29 a bottle. SOLD OUT
---

2. Domaine Jean-Luc Mader Pinot Gris Grand Cru Schlossberg 2017
The first site to be granted Alsace Grand Cru status in 1975 was the 80ha Schlossberg vineyard, which had been producing excellent wines since the 15th century. The granite-rich vineyard sits on a south-facing slope that's so steep terracing is required. About 75% of the plantings are Riesling, the remainder is Pinot Gris, Gewurtz and a tiny amount of Muscat. It's the largest Grand Cru site in Alsace.
The fruit for this wine is harvested by hand from the highest area of the Schlossberg vineyard, where the yields are miniscule. The wine is whole bunch pressed and fermented using natural yeast. One third is aged in barrel, the rest in tank for 9 months, on lees
This is an outstanding example of Alsacian Pinot Gris. Full, fruity and fresh but as dry as Alsacian Gris gets. Apricot and spice notes give intensity and energy. Good acid and earthy notes on the finish show purity and finesse. A nice viscosity that coats your mouth but no sweetness or oiliness here. Only around 60-70 cases are usually made, less in this year, so make sure you grab a bottle. Or two.
I can offer it for $53 a bottle - limited quantity. SOLD OUT
---

3. Domaine Jean-Luc Mader Riesling Grand Cru Rosacker 2017
"As single vineyards go, it doesn't get any more 'hallowed' than the Alsace Grand Cru "Rosacker," from which some of the world's greatest Rieslings have been sprung since the 15th century." Ian Cauble, Master Sommelier.
"Although Mader's wines from Grand Cru Rosacker steal the show, his entire line-up is recommended." Jacqueline Friedrich, The Wines of France.
Rosacker was granted Grand Cru status in 1983 and is regarded by many as the finest Grand Cru site in Alsace, mainly due to it being home of the legendary 'Clos St Hune' Riesling made by Trimbach. About half of 27ha Rosacker vineyard is planted with Riesling and about a third with Gewurtz. The site faces east and south east, sits at 260-330m and is made up of dolomitic limestone.
The Mader family's holdings in Rosacker lie a little higher up the slope than Clos St Hune and consist of just under one hectare of vines over 60 years old. The fruit was handpicked and went through a long, slow fermentation in stainless steel, after which the wine was left on its lees (dead yeast cells) until bottling the following June.
I tasted this wine next to several notable Alsace wines, including Trimbach's famous Clos St Hune, and to me it was without a doubt the best value Riesling, punching well above its weight.
If you love a classic, fine dry style of Riesling, then this is for you. This is a wine brimming with verve and intense pure fruit and a beautiful line of long, fresh acidity.
"2017 was a great vintage for this outstanding Grand Cru vineyard. Tiny yields in the 2017 vintage resulted in this wine of great intensity, finesse and shape, with rich, intense citrus fruit, with notes of minerality and outstanding length. The wine's great depth of fruit, structure and minerally acidity ensures that 10 years or more of careful cellaring would be well repaid." Vintage and Vine.
When you consider Clos St Hune is in excess of $300 a bottle, the value of this wine is simply outstanding. For a wine of this quality it's an absolute bargain. Just wish I had more to sell.
I can offer it for $60 a bottle - limited quantity. Order here