Originating in Spain, grenache is a vigorous variety, well suited to warm climates, characteristics that saw it widely planted in Australia from very early on. It was especially favoured for the production of fortified wine which in 1960 accounted for an amazing 80% of Australian wine. Incredible! At this time grenache was the country's most planted variety with around 3,000 ha. but by the 70s, consumption of fortifieds had plummeted and so had plantings of grenache. It's hard to fathom now but by 1987, after several years of grape surpluses and low prices, the South Australian government implemented a vine removal scheme, compensating growers who removed old vines or unfashionable varieties. As a result, large swathes of ancient grenache plantings, some dating as far back as the mid-to-late 1800s, were destroyed. These days grenache has dropped to around 1,500ha, and with other varieties having rocketed in the meantime, it's fallen to 12th most planted. That's a long way from the now most planted variety, shiraz, at around 40,000ha.
Courtesy of Wine Australia.
It's a similar story with global plantings of grenache (garnacha tinta). In 1990 it was the 2nd most planted variety in the world with 305,000ha, but by 2016 it was in 8th position with around 150,000ha.
Despite the gloomy picture these stats paint, more and more people are realising what an unsung hero grenache really is.
As far back as 2005 Robert Parker noted: "Grenache is consistently underrated and under-recognised both as a wine that can have some of the complexity and expressiveness of good Burgundy, as well as being a fabulous match for food," Vinography.
And more recently others are on the bandwagon...
"Grenache is a defining grape, making spectacular wines and proving extremely versatile." Wine Spectator, June 2014.
"An unlikely hero of a grape." Jancis Robinson MW, September 2016.
"Grenache is back… there's a palpable sense of enthusiasm for Grenache (and notably Australian Grenache) that wasn't there a few years back." Andrew Graham, Australian Wine Review, Aug 2017.
"After falling from favour across the globe around the turn of the century, grenache is back with a vengeance - and with plenty of restraint and character, too." Max Allen, Gourmet Traveller Wine, Nov 2018.
These days excellent examples of grenache are found in several regions including Priorat in Spain, Châteauneuf-du-Pape in the southern Rhône and in selected areas of Languedoc-Roussillon in the south west of France. Other notable regions are of course Australia's own McLaren Vale and Barossa Valley. The perception here of grenache has risen dramatically from that of workhorse, to wines of note. And not just as part of so-called Rhône blends with shiraz and mourvèdre, but as a single varietal. Finally it's finding its way to the top of the Australian red wine hierarchy.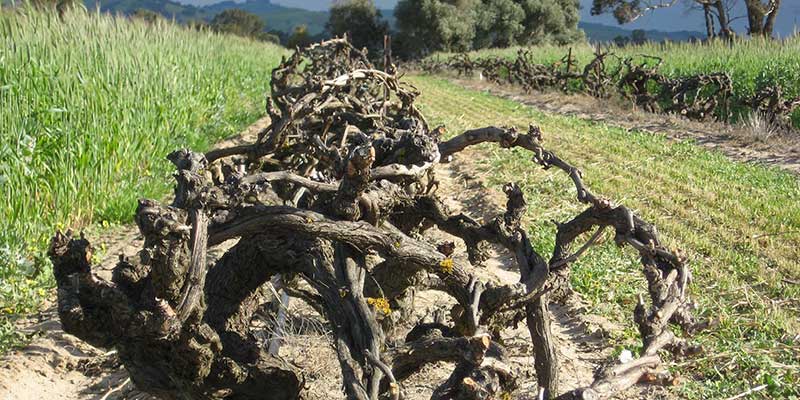 Ancient grenache vines on the Cirillo Estate.
"I would like to suggest that Australia's most famous red wine grape, shiraz, might not in fact be the best variety for many of our most famous warmer-climate wine regions such as the Barossa Valley and McLaren Vale. I would like to suggest that if you want a grape variety that most faithfully expresses terroir - that captures the unique combination of country, climate and culture in a glass - then in many cases, in many places, grenache might be a better option." Max Allen, AFR, Jan 2017.
Luckily a small group of growers stood by their grenache plantings despite, in many cases, it making no financial sense. Thanks to these extraordinary efforts, a handful of now-treasured plantings survive in the Barossa and McLaren Vale, making them some the oldest on the planet.
While grenache likes hot, dry conditions and does best as a low yielding bush vine, its characteristics vary considerably depending on where it's grown and how it's handled by the winemaker. As Wine Spectator magazine observes; "Vintners admire grenache mainly for the range of styles it can make, from lighter, more accessible wines emphasising snappy red berry fruit, to denser, more robust versions, distinguished by an intense mix of currant, cherry, raspberry, raisin, black pepper, liquorice or hot brick notes." June 2014.
---

Cirillo Vincent Grenache 2019
If Marco Cirillo had a hipster beard and a strong social media game, his name (and wines) would be on everyone's lips. He'd be feted as one of the new breed of Barossa hotshots, recognised for producing some of the best quality grenache in the country.
I spoke with Marco last week and by his own admission, he doesn't follow trends and marketing's not his strong point. But there is no doubt this down to earth, 9th generation winemaker is making some of the most underrated and under-priced wine in the Barossa - especially this one, which Marco describes as his every-day-drinker. He made it very clear that he believes it should be priced to be enjoyed as such. His pragmatic view, that it's better to have an empty shed rather than one full of unsold wine before next vintage, explains the ridiculously affordable price of not just this wine, but Marco's wines in general. This doesn't endear him to some of his higher profile boutique Barossa neighbours, who regularly suggest he up his prices. It'll come as no surprise that despite his lack of cool marketing, Marco has no trouble selling out of his wines every year.
Marco's ancestors were wine growers in Calabria and it was his father Vincent, after whom this wine is named, who arrived in Australia as an 8-year-old boy back in 1946, just after the war. The Cirillos moved to the Light Pass district of the Barossa in 1969-70 when Vincent purchased what were, at the time, unloved vineyards containing the oldest surviving productive grenache and semillon vines in the world - planted in 1848! In true Italian style, Vincent made enough wine for family and friends, but sold the rest of his fruit to a who's who of top Barossa wineries including; Penfolds, Torbreck, Rockford, Peter Lehmann and St Hallet.
Initially Marco resisted the lure of the wine business, but after a brief stint in the automotive industry, he returned to the fold in the late 90s. He spent time at Charles Sturt Uni as well as at several South Australian and Southern Rhône wineries. Of particular note was time spent at two of Châteauneuf-du-Pape's legendary estates; Domaine du Vieux Télégraphe and Château Rayas. Wow! Marco returned to the family business, taking over from Vincent in 2000 and releasing the first commercial wine under the family name in 2003.
Marco's a straight shooter and doesn't suffer fools - attributes that have found him setting more than a few journos straight. And don't get him started on "hipster garbage wine!" He doesn't send samples to critics, or submit wines for awards, so you'll understand why there's hardly a mention of him in the press.
Given this, you can imagine my surprise when in November last year I saw the Cirillo Vincent Grenache 2019 awarded top spot in The Real Review's inaugural Top Value Wines of Australia - Other Reds category.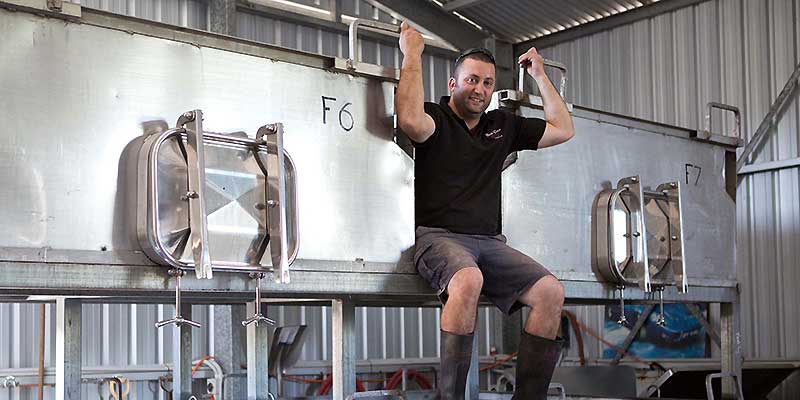 Marco Cirillo.
Marco makes two grenaches, this being his entry level one. The fruit was sourced from two plots, one planted in 1901 the other 1906. With vines this old, the fruit has to be handpicked to avoid damaging the vine, and it was done so in three tranches to obtain a judicious mixture of acid, tannin and ripeness. Clever. Marco uses natural yeasts and prefers minimal additions and minimal intervention - all things you might associate with a 'natural' winemaker, just don't go calling him that. Marco describes himself more as an old-school winemaker with plenty of patience and common sense. He also stressed to me the significance of keeping his winery super clean - essential when making wine this way in order to prevent risk of bacterial spoilage.
The wine was fermented in old-style open-top fermenters, and was softly pressed out post ferment, with two thirds spending between 6-8 months in large old oak, the remaining third in stainless steel. The wine was patiently gravity settled prior to bottling so no filtering was required. You can see just how clear it is. The finished wine is 14% alcohol and sealed with a screwcap.
This is clear ruby red in the glass. On the nose you'll find whisps of rose petal, juicy raspberry jubes, vanilla and fennel seed. On the palate, raspberry and pomegranate notes meld with spicy liquorice and pepper. A medium weight wine - deliciously crisp acid and feathery soft tannins deftly bookend this nice dry finish.
"Pale crimson-red colour, medium-weight and vibrant. Lifted red fruits, raspberries and plums, a whiff(only) of oak, dried red flowers. Immensely juicy and fresh on the palate. Oak and tannin pared-back to allow beautiful fruit to sing, Ridiculous value." 94 points, Real Review.
True to form, the 2019 sold out quickly, but I got my hands on a few cases. This really is outstanding value. Get in quick.
You'll see it at some of the bigger retailers for around $25.
I can offer 2019 vintage for $22 a bottle.

Cirillo Vincent Grenache 2020 also now available

---

And in case you're in a grenache state of mind...
Clos Saouma Omnia Châteauneuf du Pape Rouge 2016
Husband and wife, Mounir and Rotem Saouma established the iconic micro négociant Lucien Le Moine in Beaune in the late 90s.
"This bright, hardworking, extroverted man has created in a few short years one of Burgundy's finest independent negociant firms," Wine Advocate.
"An extraordinary micro negociant in Beaune. Very serious quality," Jancis Robinson.
"One of the most original thinkers working in French fine wine today," Andrew Jefford, Decanter.
With a desire to tend his own vineyards and control his wines from soil to glass, Mounir was limited by the prohibitive cost of land in Burgundy and forced to look further afield. In 2006 he purchased some good land in Châteauneuf du Pape.
"This domaine, which now totals 21 acres in Châteauneuf and an additional 22 acres in Côtes du Rhône-Villages, is creating a new paradigm for wine, a statement I don't make lightly. Saouma's techniques are atypical; the results are simply thrilling. The reds are sublime, offering a purity of fruit I have rarely seen anywhere, while harnessing the power of Châteauneuf into an elegant expression of grenache on sandy soils." James Molesworth, Wine Spectator, July 2017.
2016 was a fantastic vintage in CNDP.
"An exceptional vintage." Vinous Media.
"Extraordinary - 98 points." The Wine Advocate.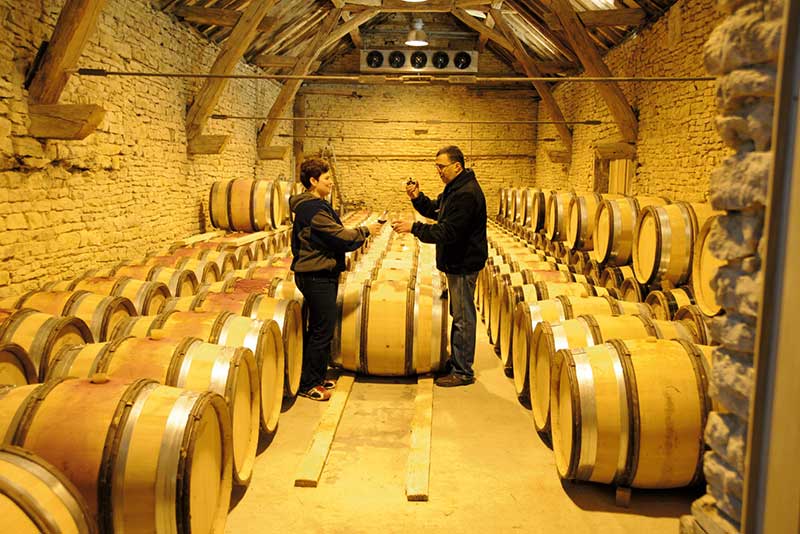 Rotem and Mounir Saouma.
"This truly rare vintage is a new benchmark - 99 points." Wine Spectator.
"Certainly one of the great vintages, for reds anyway. Should be a safe cellaring prospect into the 2030s." Jancis Robinson
"This is one of the best vintages of the past few decades. Do not miss it." Matt Walls MW, Decanter Magazine.
Omnia, meaning 'all', is a blend albeit 80% grenache, with the rest made up of the other 12 varieties. It's a blend of five villages from 7 different vineyards. Cold soaked for several days with a mixture of whole bunch and crushed grapes, then allowed to warm up when ferment starts naturally. Strictly no pumping over of pigeage -'Why do you want to chase colour, do you drink or taste it?' Mounier says. Free run and pressings are separated and aged in demi mud (500ltrs) new and aged, foudre (2300 litres), cement eggs and cement tank. No racking or sulphur for 2 years whilst aging.
"Sublime, with a beguiling mouthfeel to the layers of cherry purée, steeped plum and warmed raspberry coulis fruit flavors, melded with rooibos tea, bergamot, incense and jasmine notes. The long finish features subtle minerality and remarkable persistence, seeming to move with grace. Grenache, Syrah and Mourvèdre. Best from 2021 through 2045." 97 points, Wine Spectator.
I can offer it for $169 a bottle (only 6 available).

---
Here are a few other grenache dominant wines you might like to peruse:
Domaine la Réméjeanne Côtes du Rhône Un Air de Réméjeanne 2018 - $26.50
Chateau de Segries Lirac Rouge 2016 - $35
91 points, Vinous Media.
Domaine St Damien La Louisane Gigondas 2016 - $56
94 points, The Wine Advocate.
Domaine St Damien Les Souteyrades Gigondas 2016 - $59
95 points, The Wine Advocate.
Bekkers McLaren Vale Grenache 2016 - $80
96 points, The Wine Front.
Head Wines Ancestor Vine Grenache 2016 - $95
97 points, Halliday Wine Companion.