Archie's been tasting alongside me for a few years now. He's just completed his degree majoring in Geology, while undertaking wine studies. Here's his latest find…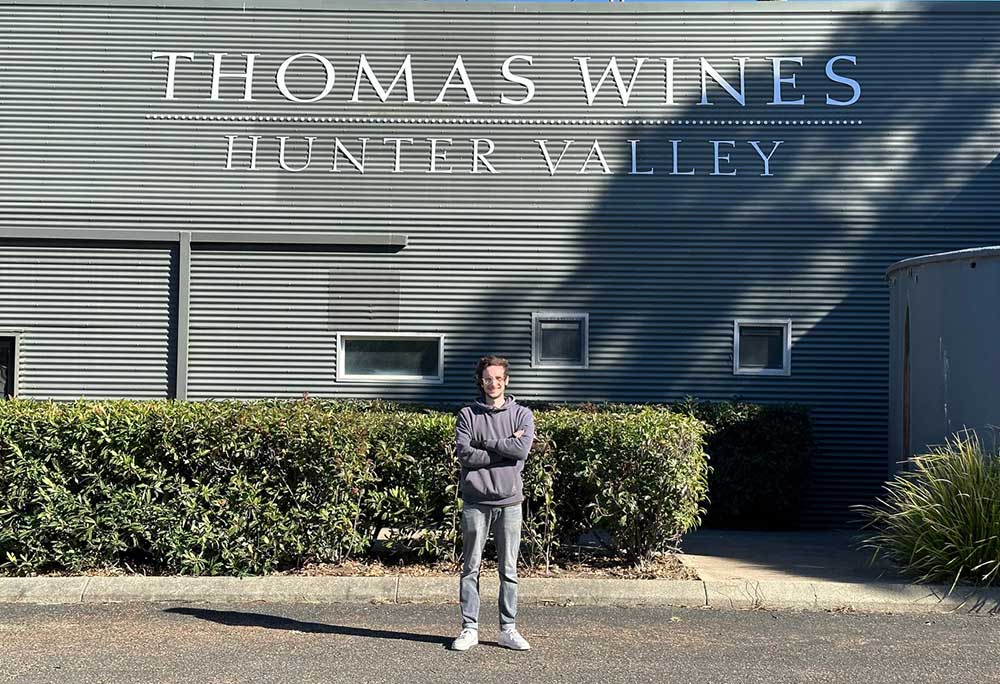 Back in early winter I spent a few nights in the Hunter Valley with one goal in mind - to drink some good shiraz. While the vines were bare and vintage long since finished, it was the perfect time to go. The absence of summer crowds meant I could spend time talking to winemakers. I'm excited to share with you three drops that perfectly represent why I love Hunter shiraz.
The Hunter is the birthplace of Australian wine, thanks to the pioneering efforts of James Busby, the first person to bring vine cuttings over from Europe. Nowadays this historic region is most famous for semillon, chardonnay and shiraz. Shiraz was first planted in the mid-19th century, with some of those vines still bearing fruit today.
The Oxford Companion to Wine describes Hunter shiraz as "extremely distinctive, moderately tannic and long-lived wines with earth and tar overtone, sometimes described as having the aroma of a sweaty saddle after a hard day's ride. At 20-30 years of age the best acquires a silky sheen eerily close to wines of a similar age from the Rhône Valley."
In the past Hunter shiraz was often referred to as Hunter River Burgundy. Unlike its Barossa counterpart, Hunter shiraz is lower in alcohol and generally (but not always) sees less new oak. I love this less bold variation and why I set out to find some Hunter shiraz.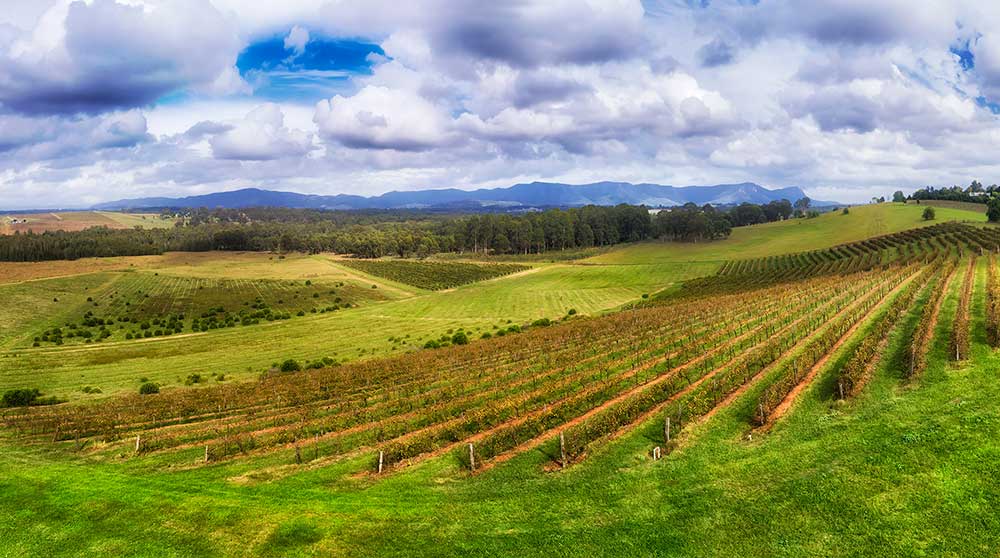 The Hunter is known for its early harvest period, generally starting in early January and finishing mid-February. The warm diurnal climate means that grapes ripen fast, and more than two thirds of the region's high annual rainfall occurs in the first four months of the year. This means vintage is often a very precise and delicate endeavour.
Within the Hunter, there are three distinct sub-regions that with variations in terroir. They are Pokolbin, Broke-Fordwichand the Upper Hunter. I was fortunate to visit each of these places and put some of my geology degree to good use. These sub-regions are characterized by a plethora of important geological features creating unique variations in the soil and most importantly the wines being produced. Most winemakers highlight the importance of these soil differences, while I think of soil as a nuisance that covers up good rocks. But I've quickly learnt to appreciate the importance of good soil to the winemaking process.
The lower Hunter Valley (Pokolbin) is characterized by alluvial (clay, silt or sand), deep loam (sandy) and texturally diverse or 'duplex' soils. Often referred to as "wine country," it's here that most of the Hunter Valley's fascinating history has played out. It generally sees cooler temperatures and more rain compared to the Upper Hunter and Broke-Fordwich areas. Shiraz and semillon plantings dominate the Pokolbin area, with smaller amounts of chardonay, pinot noir and cabernet sauvignon also being found.
The Upper Hunter is the northern most sub-region and is defined by its rivers and creeks, which contribute to the area's black, silty loam soils. Over millions of years these bodies of water have flooded, moving key minerals into the surrounding area, affecting soil composition. Vines were first planted here in 1860 but the wine industry's interest in the area peaked when Penfolds purchased some land in the 1960s. Nowdays it's widely accepted that the region's low maritime influence and less overall rainfall suits the production of white grape varieties.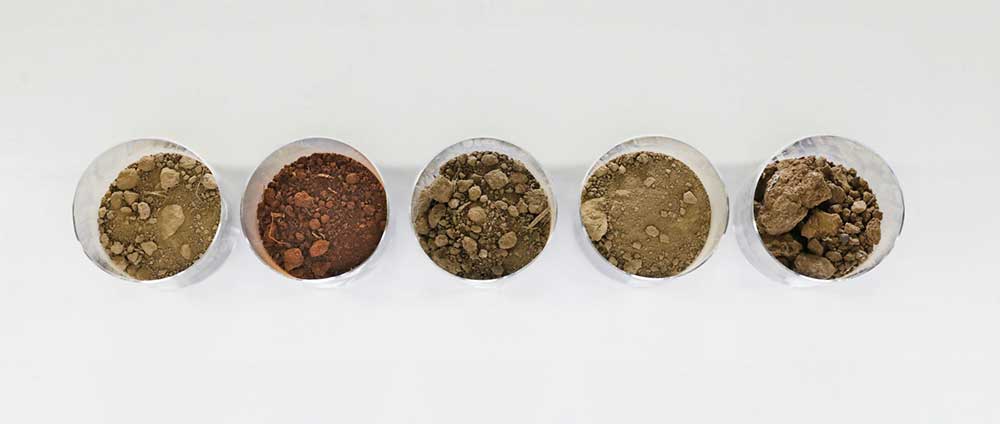 Soil samples from the various Thomas Wines vineyards shown in the map below.
Between Pokolbin and the Upper Hunter lies the Broke-Fordwich sub-region. Broke village was established in 1824 along an old convict trail from Sydney. Grapes were first planted soon after the town was established. These days 14% of the Hunter's plantings are found here, where they enjoy the volcanic red clay, alluvial soil, and sandy loam. The Broke-Fordwich sub-region was granted a Geographic Indication (GI) in 2003, thanks to its fascinating geology and unique wines. The Fordwich Sill, a stretch of red, weathered, volcanic clay that runs through the area, is a defining feature. The basalt and iron rich soils absorb moisture quickly and release it slowly - ideal for agriculture in a hot climate. Vines have have thrived in these nutrient rich soils since the 1960s, thanks to wine industry giants Lindemann and Saxonvale. These days big names like Margan call Broke-Fordwich home.
It's fascinating that geological processes create such distinct differences between Hunter Valley wines. Soils vary in grain size and micro-nutrients, determining which varieties suit the area. Different potassium and calcium concentrations influence the sugar and tannin content of grapes. Shiraz generally finds its home in the red, volcanic soils in higher areas, such as Pokolbin. Brokenwood's famous single vineyard Graveyard shiraz finds its home here. This soil allows water to drain quickly, compared to the alluvial (sandy) soils that semillon loves.
The success of the Hunter Valley is also due to the booming tourist industry and the fantastic gastronomic landscape it's become. I was fortunate enough to eat at some amazing places and drink some great wine on my trip.
Here are three drops that stood out:
---

Thomas Wines Synergy Shiraz 2021
As big fans of Andrew Thomas's (Thommo) semillon, it's no surprise that David and I also enjoy his 2021 Synergy Shiraz.
Thommo started out in the Hunter as a winemaker at Tyrrells, before setting out on his own in 1997. Specialising in semillon and shiraz, he's won an impressive suite of awards including Hunter Valley Winemaker of the Year in 2008 and 2014. He was also awarded Hunter Valley Cellar Door of the Year in 2017 and more recently, Most Successful Exhibitor at the 2022 Hunter Valley Boutique Wine Show.
Continuing with his successes, this wine won, amongst a slew of other awards, Top Gold at the 2022 Hunter Valley Wine Show which is simply incredible given its price. Thommo reckons the 2021 vintage of this wine is up there with the best he's ever made.
The wine is a blend of several old vine single vineyard shiraz, including fruit from Ridgeview, Sweetwater, Pokolbin estate and Cote D'or vineyards. The fruit saw a cold soak for 24 to 48 hours, followed by stainless steel fermentation, then transferred into barrels for 14-15 months before bottling. The finished wine is 13.5% and sealed with a screwcap.
Well balanced and delightful. Beautifully concentrated black fruit and plum, with hints of spice and dried herbs. The acidity is perfect, the tannins are chalky, and the subtle oak gives it a lovely finesse.
"Vibrant purple colour with a ruby hue. The nose is enticing with black pepper, delicate oak nuances and fresh, ripe, black and blue fruits. The palate is medium-bodied and immediately satisfying, with hints of black pepper, dark chocolate, and violet around a core of ripe, fresh mulberry, blackberry, and dark cherry fruits. The tannin and acid structure is nicely interwoven and offers a seductive supple texture and freshness. This wine has youthful vibrancy and appeal but also offers great medium-term cellaring potential."
Winemakers' notes.
Trophy - Hunter Valley Wine Show 2022 (Best One-Year-Old Shiraz of the Show)
Top Gold - Hunter Valley Wine Show 2022
Gold - NSW Wine Awards 2022
"The selection of the wines going under this label is achieved by blending a large number of barrels that didn't have the quality needed for Single Vineyard status. It's a most attractive wine in the lighter end of medium bodied. It won the Trophy for Best One-Year-Old Shiraz at the Hunter Valley Wine Show '22, and there's a rush of spice, tannins and blackberry on the finish. Exceptional value"
95 points and A Special Value Rating, James Halliday.
Simply outstanding value.
We can offer it for $23 a bottle.

---

Thomas Wines Braemore Cellar Reserve Semillon 2013
And while we're on Thommo, I have to mention that David recently attended a 20-year vertical tasting of Thomas' Braemore semillon and the 2013 was his top pick. Seems he wasn't the only one…
"Indeed, of the eight vintages of Thomas Braemore Semillon he poured for the trade and media in a celebration tasting a few weeks ago, the 2013 Cellar Reserve was my top scorer. My notes: Rich, mellow complexity of buttered toast aromas. Spicy too. Great flavour, with a salty/saline edge; a big, generous palate with voluminous flavour delivered with finesse. Outstanding." Huon Hooke.
The Braemore vineyard was planted in 1969, on the sandy alluvial flats of Hermitage Road in Pokolbin and has become recognised for its quality semillon fruit. Thommo's been making his Braemore Semillon with this fruit for around 27 years and in 2017 bought the vineyard. It's simply one of the best representations of Hunter sem you'll find, and this vintage in particular is one for the history books.
The wine has won more award than I thought possible:
Semillon of the Year 2014 James Halliday Wine Awards
Trophy 2022 Hunter Valley Boutique Show (Best Aged Semillon of the Show)
Trophy 2020 Winewise Championship (Best aged Semillon)
Trophy 2019 NSW Small Winemakers Show (Best aged Semillon)
Trophy 2019 Hunter Valley Boutique Show (Best White Wine of the Show)
Trophy 2019 Hunter Valley Boutique Show (Best Aged Semillon of the Show)
Trophy 2018 Winewise Small Vignerons Awards (Best Semillon of the Show)
Trophy 2018 NSW Small Winemakers Show (Best White Wine of the Show)
Trophy 2018 NSW Small Winemakers Show (Best Semillon of the Show)
Trophy 2013 Winewise Small Vignerons Awards (Best semillon of the Show)
Trophy 2013 Winewise Small Vignerons Awards (Trophy – Best young semillon)
Trophy 2013 Hunter Valley Wine Show (Best current vintage semillon)
Trophy 2013 Hunter Valley Wine Show (Best current vintage white wine of show)
Gold 2023 Hunter Valley Wine Show
Gold 2022 Hunter Valley Boutique Show
Gold 2021 Hunter Valley Wine Show
Gold 2020 Winewise Championship
Gold 2019 NSW Small Winemakers Show
Gold 2019 Hunter Valley Boutique Wine Show
Gold 2019 NSW Wine Awards
Gold 2019 Australian Boutique Wine Awards
Gold 2019 Six Nations Wine Challenge
Gold 2018 Sydney Royal Wine Show
Gold 2018 Winewise Small Vignerons Awards
​Gold 2018 NSW Wine Awards
​Gold 2018 Hunter Valley Boutique Wine Show
Gold 2018 NSW Small Winemakers Show
Gold 2017 Hunter Valley Boutique Wine Show
Gold 2017 Winewise Small Vignerons Awards
Gold 2016 Winewise Small Vignerons Awards
Gold 2016 Hunter Valley Boutique Wine Show
Gold 2014 Sydney Royal Wine Show
Gold 2013 Royal Adelaide Wine Show
Gold 2013 Hunter Valley Boutique Wine Show
Gold 2013 Winewise Small Vignerons Awards
Gold 2013 Hunter Valley Wine Show
Gold 2013 Royal Queensland Wine Show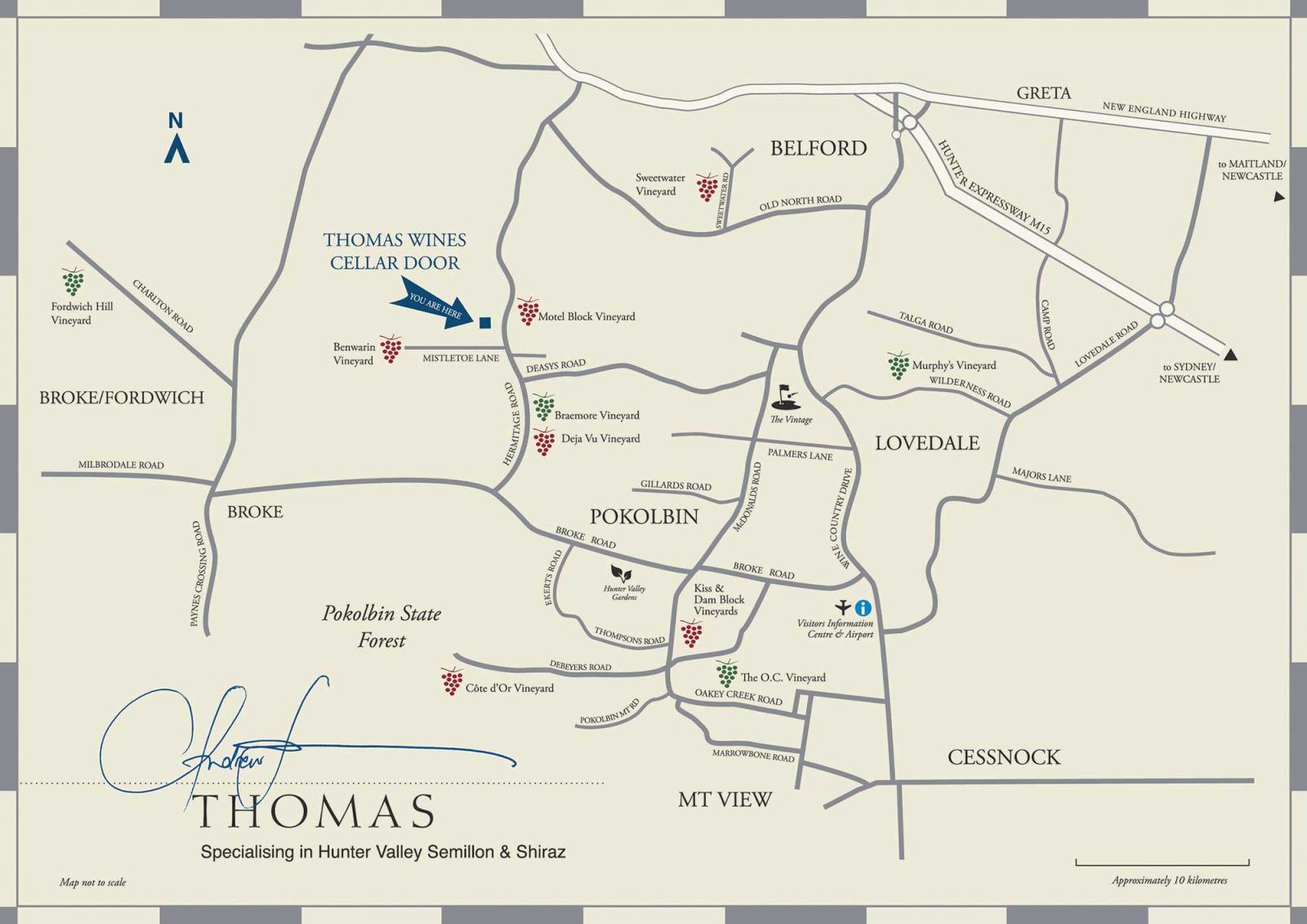 "I'll say this on the record… The 2013 vintage Braemore Semillon is THE BEST vintage I have produced in the 21 years of making wine from this iconic vineyard. Awarded 12 Trophies and 21 Gold medals to date."
Andrew Thomas, winemaker.
Currently it's drinking beautifully with a perfect amount of age, having developed lovely toasty notes, accompanied by a resonant freshness.
"The 2013 Thomas Wines Braemore Semillon is getting the highest point score I have ever given to a Semillon. The colour of this wine is a pale straw colour. The wine is very crisp on the palate, with an intense citrus and lime flavour. The wine is very precise and linear, leading to a clean finish. This is a step up from the very good previous years. This wine is perfectly balanced and will last for at least 15 years, obviously changing its character to more honeyed flavours over time. I could not think of a better expression of this grape."
95+ points, Andrew Graham, Australian Wine Review, 27 December 2013.
Not much more to add, except that you'll be hard pressed to find much of it left anywhere.
We can offer it for $99 a bottle.

---

De Iuliis LDR Shiraz Touriga 2020
Joss De Iuliis (pronounced de yooly-iss) migrated from Italy in 1960 and setup a successful engineering business in the Hunter. But he still held close his family's long tradition of grape growing and winemaking in in the Abruzzi region of central Italy. In 1988 Joss and wife Anna bought a property in the Lovedale Road region, in the heart of Pokolbin. About 40 acres of vines were planted in 1990, with most of the fruit being sold to Tyrrell's.
Then in 1999, Joss and Anna's son Michael completed postgraduate studies in oenology at the Roseworthy Campus of Adelaide University. He went on to be a Len Evans Tutorial Scholar (2004) as well as a finalist in the Young Winemaker of the Year Awards (The Wine Society, 2005). He was also a nominee for the 2013 Gourmet Traveller Winemaker of the Year.
The family were now winemakers as well as grape growers. They built a state-of-the-art winery in 2001 and continued to plant new vineyards as well as acquire established ones. The family now has about 80 acres of their own vineyards and source additional fruit from a handful of carefully selected growers.
These days, Michael is considered one of the best winemakers in the Hunter. At the 2021 Hunter Valley Wine Show, his wines were awarded six trophies for three different wines, including the Trophy for Best Red Wine of Show and the Trophy for Best Museum Red. James Halliday's Australian Companion to Wine has rated the winery 5 stars for almost 19 years.
The wine that piqued my interest was the De Iuliis LDR Shiraz Touriga 2020 from their Lovedale vineyard - LDR referring to Lovedale Rd. This property was purchased in 1987 with vines planted in the early 90s, including chardonnay, semillon, verdelho, merlot, and shiraz. In 2010 they also planted a Portuguese variety by the name of Touriga Nacional.
Touriga Nacional is the most famous variety for Port and is also used to make dry reds. The origins of this variety are thought to be from Portugal's Douro Valley and Dão region. Touriga has also made its way to Australia, California and South Africa - often used as a blending grape. Touriga vines produce small quantities of fruit that are known for their distinct floral aroma in their youth.
Touriga has found a home in the hunter, suiting the warm maritime climate of the region. The Single Vineyard 2020 Shiraz Touriga from De Iuliis utilises the aromatics of the touriga and the structure of shiraz to provide a classic Hunter Valley drop. The 2020 vintage was hot and dry, producing low yields with concentrated fruit.
Joss and Mike De Iuliis.
Dark fruits and spice. One the nose the touriga shines through, floral and delicate, accompanied by the precise fruit concentration from the shiraz. The tannins are powdery and acid in perfect balance. This blend of shiraz and touriga is ripe and beautifully structured. Enjoy it now for another 5+ years. It's 13.5% alcohol and sealed with screw cap. I love drinking this with hearty red meats and something with a little bit of spice.
"This unique and iconic blend has savoury region Hunter structure from the shiraz, and the touriga adds an irresistible aromatic lift. The palate is rich and complex with ripe plums, blackberries, and savoury spice. The finish is rounded out by soft and fine-grained tannins."
Winemaker's notes.
"One of the finest 2020 reds from this producer yet tasted. I have to really suck this across the mouth to detect the drying nature of the year. Plenty of joy, here: dried nori, tinderbox, pulpy blue fruits and very well-massaged tannins. Good drinking. Best on the earlier side, but there is depth and a 'je ne sais quoi' seriousness about this, that belies the year's challenges."
93 points, Ned Goodwin MW, 2023 Halliday Wine Companion.
Gold – 2021 NSW Wine Show
Silver – 2022 Rutherglen Wine Show
Silver – 2022 Hunter Valley Wine Show

We can offer it for $40 a bottle.

---

Tyrrell's Wines Johnno's Shiraz 2021
And finally, to the iconic Tyrrell's - a part of the very fabric of the Hunter Valley. It's founder, English immigrant Edward Tyrrell, introduced semillon and shiraz vines here during the mid-19th century.
Over the course of 160-plus years, Tyrrell's has been a constant in both the Hunter Valley and Australian wine industry. They've played a crucial role pioneering wine varieties such as shiraz and chardonnay, most importantly establishing Hunter Valley Semillon as a globally renowned drop. Their Vat 1 Semillon stands as Australia's most awarded white wine, amassing nearly 5,500 medals and over 330 trophies.
Tyrrell's is a family run business still, and fifth generation winemaker Chris Tyrrell states that "Being able to work with vineyards planted by grandfather, great grandfather, and great-great grandfather every day is a humbling experience."
In 1858, Edward Tyrrell took up a concessional allotment of 320 acres of Hunter valley land where he constructed an ironbark slab hut that still stands on the property today. It's here that he began to plant shiraz and semillon vines. He made his first vintage in 1864.
Almost a century later in 1961, third generation and wine industry legend Murray Tyrrell (Edward's Great Grandson) introduced the Private Bin concept, which involved maturing fruit from premier vineyard blocks in distinct oak barrels or 'vats'. In 1965, in collaboration with Australian wine icon Len Evans, he also established the Winemaker's Selection range, which showcased the finest wines of every vintage, commencing with the Vat 5 and Vat 9 Shiraz, as well as the Vat 8 Shiraz Cabernet and Vat 11 Dry Red.
Bruce Tyrrell, Murray's son, established the sacred sites range in 2004. This project saw the creation of wines made exclusively from vines over 100 years old (centenarians) still on their own roots. These vines originated from the very cuttings James Busby bought from England over 100 years ago.
The Johnno's Block vineyard was planted in 1908 on sandy alluvial soils. The shiraz fruit was handpicked and sorted in the vineyard before it is fermented naturally in Tyrrell's open top vats with 10% whole bunches. After fermentation the wine was matured in a whopping 2,700L three-year-old French oak cask and an older puncheon (500L) for 14 months. The finished wine is 13% alcohol and sealed with screwcap.
No surprise the critics have given it rave reviews.
"Just bursting with intense, fresh red plums, blueberries, red cherries and some stone fruit, as well as dried flowers and pot pourri. The palate has such powerful, pure, and focused red berries and plums with lacy elegance. Mouthwatering freshness here, a stunning follow up to the 2018, this is from a parcel planted in 1908 in sandy soil." 98 points, James Suckling.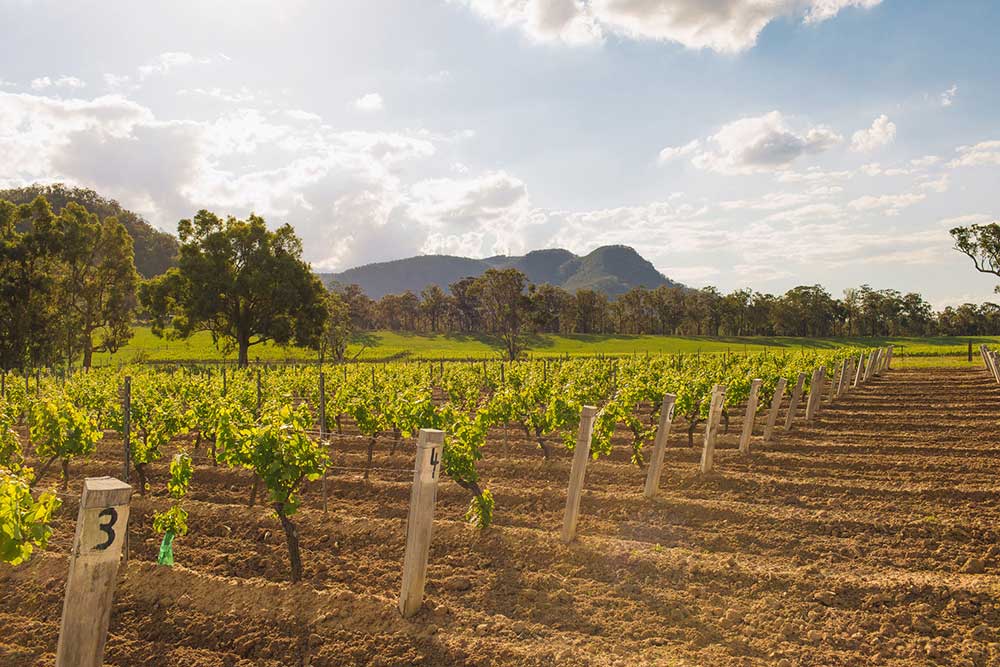 Tyrell's Johnno's Vineyard.
"The colour is on par with its peers, but from that point on, it's on its own. The bouquet is earthy, in the style of the region at large. There's spice also in play on a complex matrix, and the fruit reveals itself after much swirling and fiddling. The palate has quite wonderful red fruits studded with spices that cast a net over me, causing me to drink the tasting sample."
98 points, James Halliday.
"Darker in color and with more depth on the nose, this 2021 Johnno's Shiraz is laden with cocoa, star anise, cooking spices, Dutch licorice and a whiff of pastrami. In the mouth, this is dark and brooding (not a comment on alcohol, this, like the others, is 13%) and ferruginous, with a snarl of tannin and spice woven through the finish. It's a standout wine and one that will get better in time, as it gains acceleration in the dark spice space. Hold." 96+ Points, Erin Larkin, The Wine Advocate.
The 2021 Johnno's is extremely exclusive and only available to purchase from Tyrrell's if you are one of their private bin members. Luckily, we've managed to secure a limited number of bottles - get in quick for this benchmark Hunter shiraz.
We can offer it for $160 a bottle.