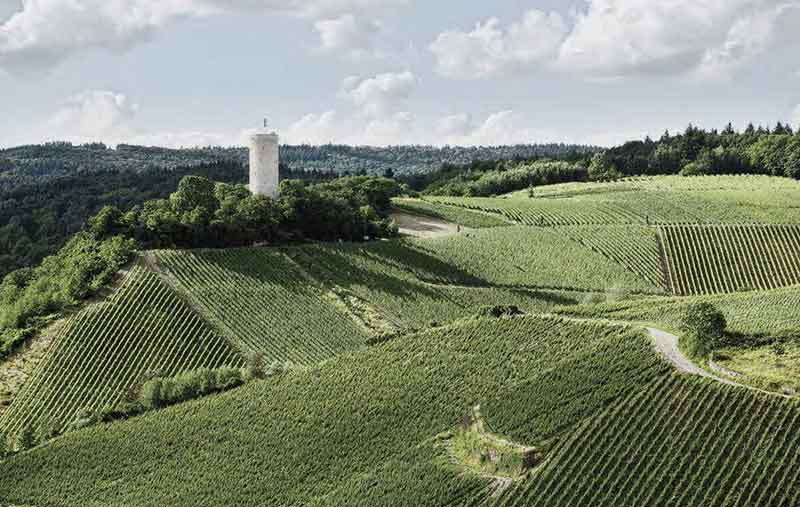 The white variety I have most of in my cellar is without a doubt riesling. An article appeared in The Australian yesterday singing the praises of this wonderful variety, describing it as "the biggest secret in wine… It's as cheap as chips. It's fresh and delicate. It can remind you of flowers and lime juice and it zings on your tongue like lemon sorbet. It can be cellared for decades and emerges smelling like marmalade on toast. It is one of the wonders of the world." I couldn't agree more.
Riesling is an aromatic variety, traditionally used to make some of the world's greatest wines. It tends to be characterised by floral and citrus notes, high levels of acidity and is usually unoaked. The result is a wine that's clean, crisp and fresh in youth, yet genuinely able to age whereupon it develops complex characters. Riesling also offers amazing diversity, providing a variety of styles from bone dry through to super sweet, as well low through to higher levels of alcohol. And, best of all, you don't have to spend too much to get good quality.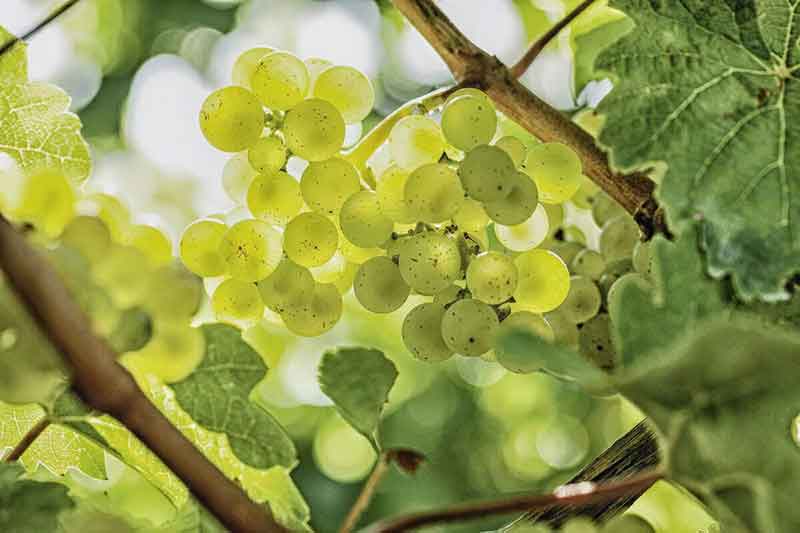 One of my favourite critics, Jancis Robinson, is a long-time riesling devotee. She's responsible for a raft of riesling quotes, but this one is from 2014: "for roughly 35 years I have been talking up Riesling, describing it as the world's greatest white wine grape… I know that Riesling can transmit terroir more sensitively than any white wine grape I know, making it truly the counterpart of the Pinot Noir that is so often grown alongside it. I also know that Riesling is just as good at history as it is at geography. Its wines can last just as long as those made from Cabernet Sauvignon… I also appreciate the way that, thanks to its extraordinary extract in many cases, Riesling can deliver so much flavour without that much alcohol and, perhaps because of this, it goes so well with food - far better than a typical Chardonnay."
Over the years I've offered riesling from Australia's top spots including the Clare and Eden Valleys, however the home of riesling is of course Germany, which alone accounted for about 40% of global plantings in 2019.
"Riesling is the great vine variety of Germany and could claim to be the finest white grape variety in the world on the basis of the longevity of its wines and their ability to transmit the characteristics of a vineyard without losing Riesling's own inimitable style." Oxford Companion to Wine.
Riesling is Germany's signature variety, accounting for almost 25% of national plantings. The top regions (Anbaugebiete) in Germany for riesling are Mosel, Pfalz and of course Rheingau.
With picturesque castles and monasteries set amongst beautiful vineyards, Rheingau (meaning Rhine District) is a popular tourist spot. The region sits on the northern bank of the mighty Rhine - Germany's longest and best-known river. The Rhine mostly flows in a northerly direction, but for a stretch of about 40km between Mainz and Rudesheim it turns left and flows west, and it's along this section you'll find some of the world's best riesling vineyards. Riesling accounts for an astounding 80% of plantings in Rheingau, which is even higher than in Mosel, where it's around 60%. Yields are lower in Rheingau than the rest of Germany and unlike other regions, the vast majority of riesling produced here is dry.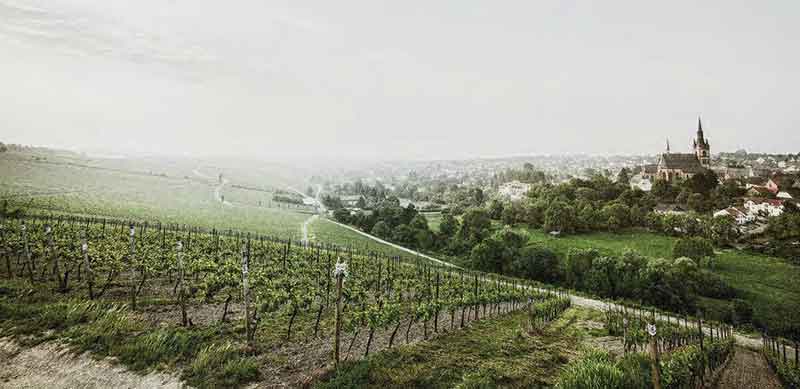 This far north, Riesling (or any variety for that matter) struggles to ripen, however several localised factors account for its success in Rheingau. For a start, the region's weather is generally dry and sunny, and just to the north lie the high, tree-lined Taunus Mountains, protecting the vineyards from cold north winds. The vineyards sit on the moderately steep northern banks (south facing) of the river and so get maximum exposure to the sun. This exposure is significantly increased by reflection off the river, which at this section is about half a mile wide. The river also moderates extremes in temperature.
I find labelling in Germany a bit of a nightmare and their wine classification system a maze. Broadly speaking wines may be table wine or quality wine. Table wines may be either Deutscher Tafelwein or a step up to Deutscher Landwein. Unlike major European wine-producing countries like France and Italy where table wines account for the bulk of output, in Germany it only accounts for about 4% of production. Quality wines may be either Qualitätswein or a step up to Prädikatswein. Unlike most other countries, Germany's quality wine hierarchy is based on grape ripeness at harvest (mostgewicht) not geographical location. Prädikatswein is categorised by increasing levels of ripeness as follows: Kabinett, Spätlese, Auslese, Beerenauslese, Eiswein and Trockenbeerenauslese (TBA). There's much more to it of course but I won't bore you with it here.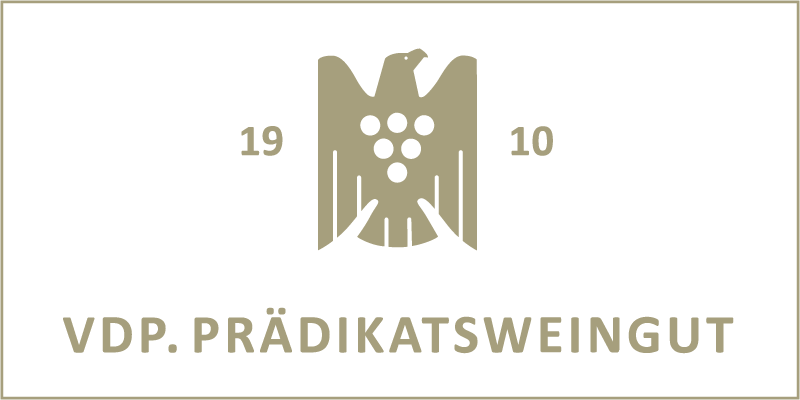 Just to confuse matters, a high-profile producer grouping formed in 1910 known as the VDP (Verband Deutscher Prädikatsweingütter), which as well as having a self-imposed quality charter, also have their own quality hierarchy based on locality (as in France) rather than ripeness levels. In addition to a very Germanic looking eagle on the capsule, you'll also see on VDP producer's bottles, reference to:
VDP Gutswein (equivalent to Burgundy Regional level)
VDP Orstwein (equivalent to Burgundy Village level)
VDP Erste Lage (equivalent to Burgundy Premier Cru level
VDP Grosse Lage also known as Grosses Gewächs or GG (equivalent to Burgundy Grand Cru level)
While today there are about 200 top German producers in the VDP, all of whom meet its stringent standards, one who's been there from the very beginning is Robert Weil.
Weingut Robert Weil
"Robert Weil has been one of the icons of German wine culture for many years. Nothing but the finest Rieslings are produced. And as more than 100 years ago, the wines are distinguished in terms of their origins and their style." Stephan Reinhardt, The Finest Wines of Germany.
"This is now the superstar estate of the Rheingau." Stephen Brook, The Wines of Germany (Mitchell Beazley).
"The famous blue label of the estate has become the symbol of the highest quality of German wines. Only a few wine estates can boast such a continual and high level of overall quality." Michel Bettane and Thierry Desseauve, Great Wines of the World.
"Weil is widely seen as the jewel of Rheingau." Jancis Robinson, The Financial Times.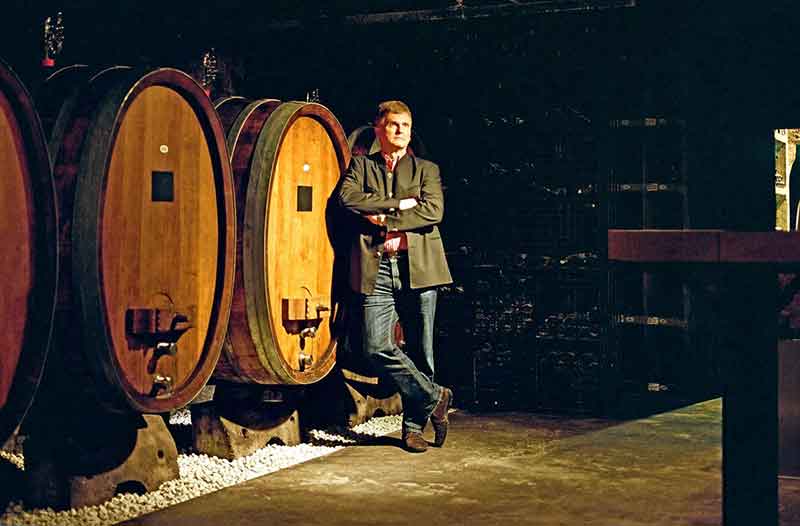 Wilhelm Weil in the winery.
The estate was established in 1867 by Dr Robert Weil, who at the time was a professor of German at the Sorbonne in Paris. In that year, Dr Weil purchased the first of several vineyards in the hills around the town of Kiedrich. These days the estate is run by the founder's great-grandson Wilhelm Weil, who aside from investing heavily in both the vineyards and cellar (winery), also introduced the now famous tiffany-blue label. The backbone of the estate's quality wines are 3 outstanding vineyards; Klosterberg, Turmberg and the famous Gräfenberg.
The estate uses no herbicides and all the fruit is picked by hand. As many as 17 picking passes are made through the vineyard, which while expensive, ensures the fruit is at optimum ripeness. Ferments are instigated using natural yeasts and the ensuing winemaking process is carried out extremely gently. Wilhelm oversees what can only be described as a meticulous operation, and 90% of wines produced are dry.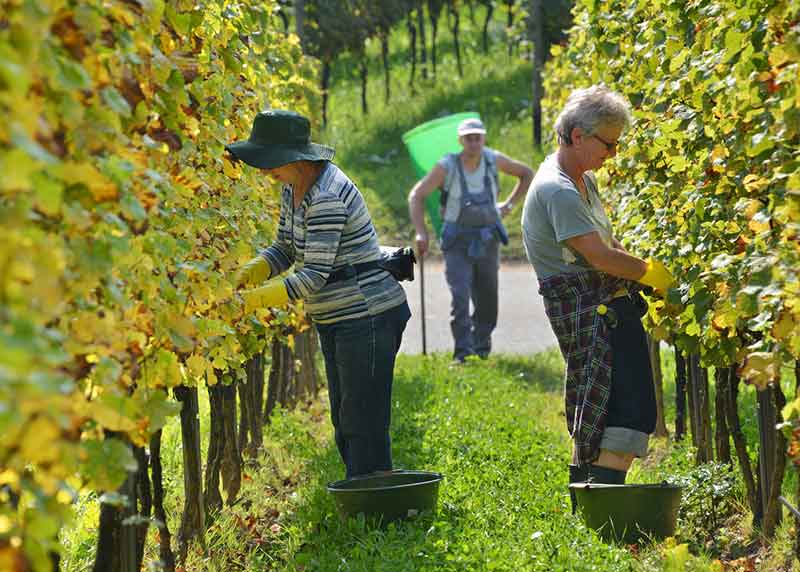 The 2018 vintage was outstanding for Robert Weil.
"Well, here is my opinion: 2018 has brought some of the greatest wines I have ever tasted from Robert Weil. Even the estate wine and the village wines are excellent and worth the price. The GG grand cru is one of the Rheingau stars and so are the sweet wines." Stephan Reinhardt, The Wine Advocate.
"Some of the greatest wines I have ever tasted from Robert Weil." Stephan Reinhardt, The Wine Advocate.
"There is something especially pleasing about the balance of excellent Riesling, the way it combines ripeness of fruit with flinty salinity, and crackling acidity with rounded mouthfeel - and Robert Weil is a master of it, especially in such a good vintage as 2018." Decanter Magazine.
Here's a small selection of Robert Weil's wines from this terrific vintage.
---

Robert Weil Rheingau Riesling Trocken 2018
This cuvée is a blend of fruit from high altitude sites dotted around the village, including the brilliantly named Sandgrub vineyard. There's a good dollop of wine from Wasseros too, a steep, southwest facing vineyard that abuts the Gräfenberg vines. The soils of these sites are typically composed of stony, fragmented phyllite, interlaced with loess and loam. Even at a refreshing 12%, the 2018 has excellent depth. The layered, peachy fruit beautifully complements the wine's vibrant, quenching acidity and saline length.
"The 2018 Rheingau Riesling Trocken offers a shiny, bright and intense, wonderfully aromatic and coolish Rheingau Riesling nose with great precision and even flinty notes. Lush and fine, with good grip and great elegance, this is a remarkably fine and classic dry Rheingau Riesling in the reductive and linear Robert Weil style. Fabulous, really fabulous." 90 points, Stephan Reinhardt, The Wine Advocate.
"Attractive aromas of flowers and stone fruit here. This has a very fresh feel. The palate is succulent, precise and elegantly delivered with some honey, ripe peaches and hints of mangoes. Seamless, concentrated and dry." 91 points, JamesSucklingdotcom.
I can offer it for $54 a bottle.


---

Robert Weil Kiedricher Riesling Trocken 2018
This is Weil's 'villages' level Riesling (the village being Kiedrich). The fruit is a blend of younger-vine material, as well as first-picked parcels from the classified, hillside Estate sites of Klosterberg, Turmberg and Gräfenberg. As you would expect from such terroir, it has more texture and power than the wine above. It's full of pulpy stone fruit, ripe nectarine and citrus rind goodness, and driven by intense and tangy mineral freshness. There's plenty of flesh, but the wine simply dances across the palate. The style is archetypal Kiedrich (i.e. very fresh, vibrant and translucent) and the wine's succulent intensity beautifully expresses both its origins and the meticulous vine culture of this Estate.
"From younger vines cultivated from the three crus of the domain plus fruit from the Wasseros, which is located above the Gräfenberg, the 2018 Kiedricher Riesling Trocken displays a bright color and an intense and concentrated bouquet with white fruit aromas and very fine slate and earthy aromas. Round and lush on the palate, this is a well-structured, slightly phenolic and still slightly bitter dry Riesling with a long and firm, very promising and refreshing, salty finish. This is a still a baby but an excellent, tight 2018 Riesling from Kiedrich. Thirty percent of the wine was vinified in large oak." 91 points, Stephan Reinhardt, The Wine Advocate.
"Lemon, lemongrass, more flint and salt on the palate than their Gutswein. Green-olive bitterness on the finish. Astutely judged balance - just avoids austerity, and has loads of concentration and savoury persistence on the finish." 17 points, JancisRobinsondotcom
I can offer it for $68 a bottle.

---

Robert Weil Kiedrich Grafenberg Grosses Gewachs Riesling Trocken 2018
The vineyard of Kiedrich Gräfenberg (or 'hill of the counts') has been used to designate Robert Weil's finest wines since the site was classified as "Weinlage 1 Klasse" in 1867. Home to Weil's oldest vines (up to 80 years of age, with the majority on their own rootstock) it makes perfect sense that Wilhelm Weil decided that his Grosse Gewächs should come only from this site. In fact, Weil's aim has been to produce a wine of a similar style to the full-bodied dry wines produced in the Rheingau a century ago, when the region's finest Rieslings were the most expensive wines in the world. Despite the high quality of the Turmberg and Klosterberg, this is clearly on another level. It's not necessarily more intense but is certainly finer and more complete - a wine of obvious Grand Cru class. Without doubt this is one of the very finest wines of the Rheingau, full stop.
The Gräfenberg GG is raised on lees with a minimum of 80% matured in large, neutral oak Doppelstuckfass (large Stockinger casks). In spite of its power, it displays stunning clarity and eye-of-the-needle precision. It has that classic 'Grand Cru' thing going on - effortless power, serious depth, yet a lightness that makes it so easy and endlessly fascinating to drink. Expect a super-fine yet intense wine, loaded with pink grapefruit, ripe lemon rind and white peach fruit. The long, salty finish offers hints of jasmine. The 2018 is a stunning example of this legendary terroir. When you think of what we're paying now for top notch Grand Cru white Burgundies, this remains an absolute bargain, matching the best of them for class and quality. Few (if any) from that region could match it for longevity.
"The 2018 Kiedrich Gräfenberg Riesling Trocken GG is a great dry Riesling: very juicy, intense and long, yet fresh and mineral, with remarkable finesse, structure and a persistently salty finish. The wine opens with a deep, ripe and fine, fresh and elegant Riesling bouquet with many layers and aromas that develop with aeration when mirabelle aromas start emerging and intertwine with the noble sur lie and flinty terroir notes. Vinified in large oak, this is a full-bodied, round and rich, textured Gräfenberg with a firm tannin structure and fine and ripe, mineral acidity. This is a firm and tense Riesling with reduced power, sustainable salinity and mineral freshness on the finish." 96 points, Stephan Reinhardt, The Wine Advocate.
"Super flinty aromas of wet stones and slate here with citron and candied lime, as well as a smoky and spicy edge. The wood can be felt slightly, too. The palate is so energetic and long with such smoothly delivered power and restraint. Some longer skin contact for this wine and riper grapes from this parcel deliver added weight and length." 95 points, JamesSucklingdotcom
I can offer it for $145 a bottle


---

Robert Weil Kiedrich Grafenberg Riesling Auslese 2018 (375ml)
When asking in The Best White Wine on Earth: The Riesling Story - "Where would the Rheingau's tradition of high-end Riesling dessert wines be today if it weren't for Wilhelm Weil's modern masterpieces in the style?" - Stuart Piggot was referring to Weil's BA and TBA's. However, this Auslese (customary for Weil) was picked in the Beerenauslese spectrum (finishing with 142.7.5 g/L residual and 9.7% alcohol) and deserves mention in the same breath. It's an indescribably refined wine, deep, yet with balletic poise between the natural sweetness and laser-like acidity. This is the kind of iridescent wine that has helped shape the Rheingau's legend for the past two centuries.
"Very intense ripe apricots, peaches and mangoes. This is so fruit-focused and smells of rich, ripe fruit. A sense of grandeur here. The palate has incredible intensity and powerful, ripe fruit that is pitched against extreme acidity. The result is almost overwhelming concentration of flavor and length. Such intensity and balance. Wow! Drink or hold." 98 points, JamesSucklingdotcom
"From golden-yellow (not pink) grapes that were slightly shriveled at 100° Oechsle and lost 30% of water, the lemon-yellow colored 2018 Kiedrich Gräfenberg Auslese opens with a fascinating, clear, piquant and spicy bouquet with lemon zest aromas. Lush and generous but incredibly precise and elegant on the palate, with truly fresh and piquant fruit and concentration with minty notes on the finish, this is a very fresh and salty Auslese with eternal aging potential. This is marvellous and even a step above the Spätlese." 97 points, Stephan Reinhardt, The Wine Advocate.
"Is this better than the Turmberg Auslese because it is even more luscious and opulent? Because butterscotch and caramel add another sweet dimension to the sugars of the fruit? It is not better, it is different. Just as the palate is ready to succumb to the sweet embrace of tropical exuberance, a sprinkling of ginger gives the taste buds the kiss of life." 19+ points, JancisRobinsondotcom
I can offer it for $150 a bottle (4 bottles only) SOLD OUT
---

Robert Weil Kiedrich Grafenberg Riesling Trockenbeerenauslese 2018 (375ml)
One of the world's greatest sweet wines. The 2018, although the quantity is tiny, this is clearly another release for the history books. Alcohol: 7.0 vol %, residual sugar 339.0 g/L. Only 12 cases made.
"A gently spicy thread here with all manner of fresh fruit that's just so ripe. This offers very intense mangoes and apricots with peach essence and gentle candied kumquat. The palate is like a perfect sphere of flavor, completely seamless. This is melded together by an extraordinary vintage and delivered to the greatest heights of sweetness and balance. Really a perfect wine. Drink over decades." 100 points, JamesSucklingdotcom
I can offer it for $1300 a bottle (one of only 2 bottles shipped to Australia)