There's not much debate as to the home of Riesling, a variety responsible for some of the most diverse and ageworthy wines in the world. It's a real favourite of mine, and the white variety I have the most of in my cellar.
"Riesling is the great vine variety of Germany and could claim to be the finest white grape variety in the world on the basis of the longevity of its wines and their ability to transmit the characteristics of a vineyard without losing Riesling's own inimitable style." Oxford Companion to Wine.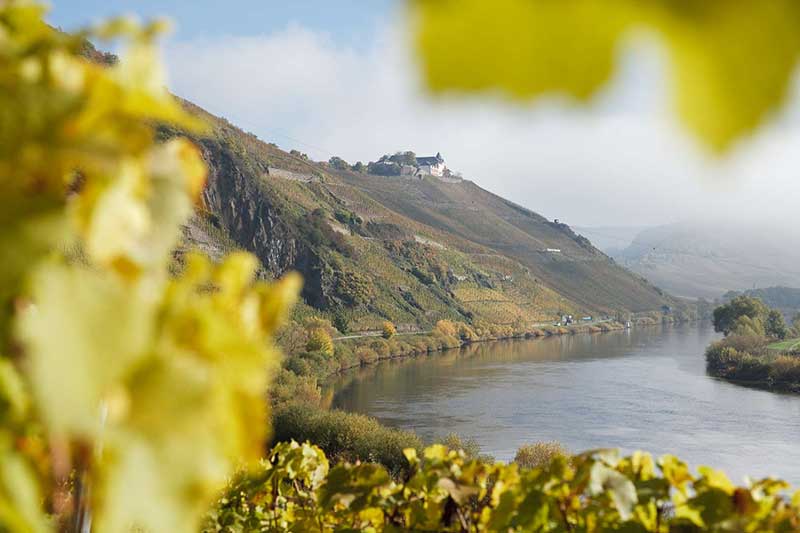 Riesling is Germany's signature variety, accounting for 24% of plantings. The best known region in Germany (many would argue the world) for Riesling is Mosel, named after the river along which the vineyards sit.
The Australian wine industry is familiar with the name Mosel, albeit in the context of gems like Lindeman's Ben Ean Moselle, the first wine to be advertised on Australian TV. Who can forget Little River Band's ad for Dr Lindeman, singing Who wants to be a millionaire? Ben Ean, originally a blend of Hunter Semillon and Verdelho, was named after one of Lindeman's Hunter vineyards and went on to become as big a star, if not bigger, than its inspiration, Orlando's Barossa Pearl. During the 70s, Ben Ean Moselle was Australia's biggest selling white wine - which actually has nothing to do with the real Mosel.
The Mosel River flows north from the Vosges Mountains in France, and then northeast across Germany until it meets the mighty Rhine River at Koblenz. There are picture-postcard vineyards along the river banks from where it enters Germany. From 1971- 2007 the region was known as Mosel-Saar-Ruwer, incorporating the names of two important tributaries.
Despite being so far north and chilly, conditions in Mosel provide optimal conditions for Riesling, with the variety responsible for over 60% of plantings in the region. The key attributes that account for Riesling's success in the Mosel are the steep slopes, which while incredibly hard and expensive to work, allow vines to capture the suns rays directly as well as indirectly via reflection from the river. The winding river also provides multiple sites that provide shelter from wind, with the best sites facing south to gain maximum exposure to the sun. The other key feature is the predominance of slate soil, which when warmed up by the sun, stores heat and radiates it back to the vines when the sun goes down.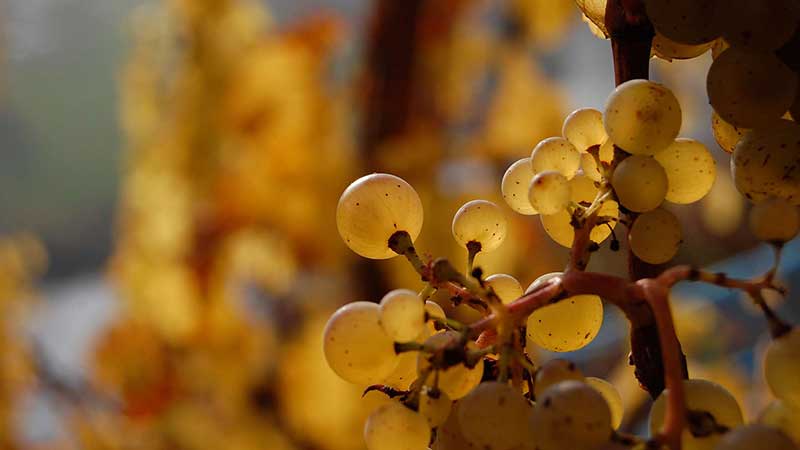 Around 90% of wine from Mosel is white and has traditionally been low alcohol (less than 10%) with some residual sugar to match the high acidity, although in more recent times wines are being made in a drier style. Riesling from Mosel is unlike Riesling anywhere else. Mosel Riesling "is associated with long-lived wines of delicacy and dynamic complexity" Oxford Companion to Wine. Mosel wines are bottled in a signature green bottle, as opposed to the brown bottles used for Rheingau and other Rhine wines.
It's hard to find dry, entry level Mosel for a reasonable price, but I've come across a nice drop recently. I also want to show you one of my favourite Mosel producers, whose wines are simply stunning and I reckon worth every cent.
---
Weingut Vollenweider
We've all had those moments when a great bottle of wine leads to crazy dreams of devoting your life to tending vines. For most of us though, rationality kicks in by the time the bottle is finished. But in the case of Daniel Vollenweider, a Swiss fellow with no history of winemaking, inspired by a bottle of 1990 Egon Müller Scharzhofberger Auslese he drank in 1992, the dream became reality!
After a few winemaking stints, Daniel started his own estate in 1999 with a mere 1 ha in one of the great forgotten sites of the middle Mosel, Wolfer Goldgrube. This once-famous vineyard is referred to in both the Oxford Companion to Wine and The World Atlas of Wine. The vineyard had fallen fallow, it's steep slope too arduous to work by the dwindling pool of ageing winemakers, but Daniel recognised the potential of the 80-year-old vines, and working with organic practices took on the gruelling task of reclaiming this magnificent site.

Winemaker Daniel Vollenweider.
"In 2003, Daniel was awarded the winemaking "Discovery of the Year" by the influential wine publication Gault Millau. As early as 2005 Riesling dorks in the U.S. were talking about the wines - if you could find a rare bottle of Vollenweider to bring to an event, well, you were indeed cool. By 2009 the Gault Millau had ranked Daniel at four stars, at the same level as heavy-weights Karthäuserhof, Schloss Lieser, Willi Schaefer and Zilliken." Steven Bitterolf, US importer.
"It used to be thought that the drama of Mosel wine ended at Kinheim, but a new generation of producers such a Swiss-born Daniel Vollenweider of Wolfer Goldgruber are proving otherwise in a delicious, indeed dramatic way." The World Atlas of Wine.
In the ensuing years, Daniel enlarged his holdings to 12.4 ha, focusing on reclaiming old vineyards on great sites. The estate is now spread across three sites, Wolfer Goldgrube (primary site) as well as Schimbock and Kröver Steffensberg. The vineyards are all Riesling, all steep and all full of slate.

These days Daniel makes a full range of Riesling; dry, off-dry, sweet and noble sweet; ie. botrytis. Everything is done by hand in the vineyard and in the winery it's a similar story where he takes the minimal intervention approach.
Vollenweider Felsenfest Riesling 2016
Felsen means 'rock' in German, referring to the rocky (slate) soil in which the vines grow. The fruit is sourced from all three of Daniel's vineyards, so despite being an entry level, or estate wine as they are referred to in Germany, it's essentially a declassified grand Cru, which is incredible for this price. The wine was fermented to a dry level, in stainless steel to retain freshness.
In the glass, this is a clear bright gold with rose gold highlights. On the nose it's very aromatic with honeysuckle, lemon, pineapple, pear and wet stone. A sip reveals a wine that's bone dry - zingy clean acid, lemon and pineapple notes mingle with wisps of delicate musk before a flinty finish. A very different kettle of fish to Australian Riesling (which I also love). This wine is elegant and beautifully balanced.
The world needs more dreamers like Daniel to resurrect these incredible sites. Entry level, dry Mosel Riesling of this quality at this price in Australia is hard to come by. Be sure to stock up.
I can offer it for $32 Buy new vintage here
---
Clemens Busch
Clemens Busch is widely acknowledged as one of the top producers in Mosel. His wines are simply superb.
Based in the small town of Punderich, just down the river from Daniel Vollenweider, Clemens is the real deal. He's a fifth generation winemaker and lives in a house built in 1663 on the banks of the Mosel. Clemens has about 27 acres of prime vineyard sites, located across the river from his house, the largest of which is the "Pündericher Marienburg", referred to simply as Marienburg. It's an incredibly steep and rocky vineyard, composed mainly of stoney slate that's perfect for Riesling and not surprisingly, this is the variety Clemens focuses on.
Clemens works his exceptional vineyard sites with his own hands and makes some of the best Rieslings you'll ever try. He approaches his task with a zeal that borders on obsession and is considered one of the most progressive winemakers in Germany. His connection to the land runs deep, he is a pioneer of organic viticulture in Germany and also practices biodynamics.
Clemens Busch tending his vines.
Winemaking at Clemens Busch is an extension of vineyard practices. No cultured yeasts, no additions, ageing on lees and minimal sulphur. Incredibly, and unusually, some of his natural ferments can last for up to a year.
Since 1971 German wine bureaucracy has considered the Marienburg site one terroir, however Clemens not only distinguishes several sub-sites within the Marienburg vineyard based on historical terroirs (Fahrlay, Falkenlay, Rothenpfad, Felsterrasse and Raffes), he also delineates based on three types of slate in the vineyard; blue, grey and red, which he identifies with corresponding capsule colours.
Labelling in German is a nightmare, with their wine classification system a complete maze.
Table wines may be either Deutscher Tafelwein or a step up to Deutscher Landwein. Unlike major European wine-producing countries like France and Italy where Table Wines account for the bulk of output, in Germany it only accounts for about 4% of production.
Quality wines may be either Qualitätswein or a step up to Prädikatswein. Unlike most other countries, Germany's Quality Wine hierarchy is based on grape ripeness at harvest (mostgewicht) not geographical location. Prädikatswein is categorised by increasing levels of ripeness as follows: Kabinett, Spätlese, Auslese, Beerenauslese, Eiswein and Trockenbeerenauslese (TBA) . There's much more to it all than this but I don't want to totally lose you.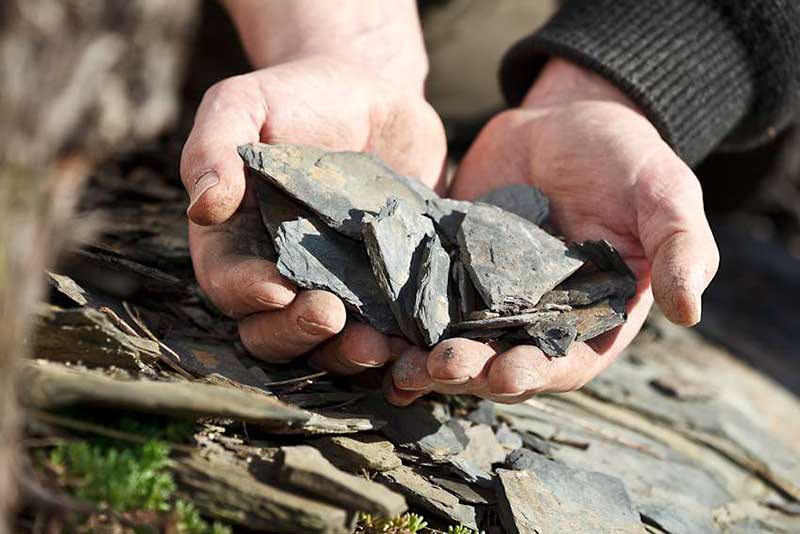 Just to confuse matters, a high profile producer grouping formed in 1910 known as the VDP (Verband Deutscher Prädikatsweingütter), as well as having a self-imposed quality charter, also have their own quality hierarchy based on locality (as in France) rather than ripeness levels. So you'll see on VDP producer's bottles, reference to:
VDP Gutswein

(equivalent to Burgundy Regional level)
VDP Orstwein

(equivalent to Burgundy Village level)
VDP Erste Lage

(equivalent to Burgundy Premier Cru level
VDP Grosse Lage also known as Grosses Gewächs or GG

(equivalent to Burgundy Grand Cru level)
There are about 200 top German producers in the VDP, all of whom meet its stringent standards. Clemens was admitted in 2007 and labels his top vineyard sites as "Grosses Gewächs" (great growths) which he abbreviates to GG on his labels.
The two wines below are from the fabled 2015 Mosel vintage. Wine Folly (a good educational website) described the 2015 vintage as "10/10 Just freakin' awesome. Please save some for me."
Huon Hooke referred to "the superlative quality of the 2015 Riesling harvest." Adding that all of the 15s from Clemens are "high-acid, mineral wines which ideally should be cellared for a few years before you drink them." Both The Wine Advocate and Wine Spectator rated the vintage very highly. Clemens said of the stellar vintage "Everything was perfect in 2015."

"Clemens Busch has to be one of my all time favourite riesling producers. The ethos and winemaking is so sound, the resulting wines so good. Clarity, purity, effortless wines delivering place, style and satisfaction. These 2015 releases, from a cracking season, are ballistic. Organic farming is the baseline for Clemens Busch (since the mind 1980s) and old oak is the vessel of choice for raising wines." Mike Bennie, The Wine Front.
Clemens makes a wide range of Riesling, including several Grosses Gewächs which are all fantastic. These two I particularly like:
---
Clemens Busch Riesling Marienburg GG 2015
This wine is from the original Marienburg parcel which has been in the Busch family for generations. The fruit is from the best vineyards near the river, from the so-called younger vines (35 years), on grey slate immediately below the Marienburg monastery.
"Pretty perfume shows white strawberry, green melon, slate/flint mineral character, some black currant whiffs and a touch of briar/dried herbs. Intense to taste - steely, mineral-laced feel, brisk, tense, needle-like and bristling with the inward concentration of green apple/citrus character. Incredible feel here." 95 points, Mike Bennie, The Wine Front.
I can offer it for $99 a bottle (limited) Order here
---

Clemens Busch Riesling Marienburg GG 'Fahrlay' 2015
'Fahrlay' is in an area of blue slate and the wine sees skin contact in the vinification process.
This wine will blow you way. The intensity, the concentration, the texture and especially the chiseled minerality is a unique expression of Riesling. The slate in the vineyard is clearly reflected on the palate. The wine is ripe and unctuous with rich orange blossom and honeysuckle notes. The finish is wonderfully dry and minerally with the slightest hint of white pepper. The perfect orchestra.
"Intense bouquet of slate/flint/struck rock. Lightening strike of minerals coupled to blackcurrant, herbs, citrus. Glorious stuff. The palate is intense, inwardly concentrated with minerals bursting at seams. It's tart and green in a way, but so pleasurable, riding on structure, detail and a tat work laciness of pronounced, revitalising acidity. Pierces the mouth, lingers to infinity. What a ride. I said 'whoa!' out loud. Gosh, brilliant." 97 points. Mike Bennie. The Wine Front.
Rated the Best Mosel Riesling by Wine and Spirit Magazine.
"One look at the slippery slope of blue-slate shards covering Fahrlay, and you have to wonder why anyone would be crazy enough to tend vines here. This wine provides an answer, Clemens Busch farms his own-rooted vines biodynamically, and vines this wine slowly with ambient yeasts in large casks, creating a riesling with kaleidoscopic flavours. Its tangy and salty, meal notes playing off a mix of citrus and orchard fruit, with green notes that recall aloe in the mellow richness. Try not to drink it all at once, so you can watch the flavours evolve over the course of a week.That might be challenging however, as the wine is so silky that it's immediately inviting." 95 points, Wine and Spirits Magazine. The wine trade magazine in the US.
This wine is absolutely stunning.
I can offer it for $120 a bottle (limited). Order here
---
Speaking of Riesling… I also have some of the latest releases from John Hughes aka the Rieslingfreak. I've been a big fan of John since we first met at Roseworthy many years ago. This newsletter is already long enough so I won't go into detail, suffice to say it's been amazing watch John make a name for himself, in just a few years, as one of the best exponents of Riesling in Australia. His latest wines continue to impress.
Rieslingfreak No.3 Clare Valley Riesling 2018
I can offer it for $23 a bottle. Order here
Rieslingfreak No.4 Eden Valley Riesling 2017 (note not 2018) 96 points - Gold Medal - 2017 Melbourne Wine Show.
I can offer it for $23 a bottle. Order here
Rieslingfreak No.5 Clare Valley Off-Dry Riesling 2018 Gold medal - 2018 Clare Valley Show.
I can offer it for $23 a bottle (limited) Order here
Rieslingfreak No.2 Polish Hill River Riesling 2018
I can offer it for $35 a bottle. Order here
Rieslingfreak No.8 Polish Hill River 'Schatzlkammer' 2018 98 points, James Halliday.
I can offer it for $ 35 a bottle. Order here
Rieslingfreak No.7 Clare Valley Fortified Riesling (375ml) 2013
I can offer it for $25 a bottle. Order here