It's hardly surprising that montepulciano (mon-ta-pull-chyano) is a wine term that confuses drinkers. It's the name of the town in Tuscany, around which the famous red wine 'Vino Nobile de Montepulciano' is made from sangiovese. It's also the name of the second most planted red variety in Italy (after sangiovese).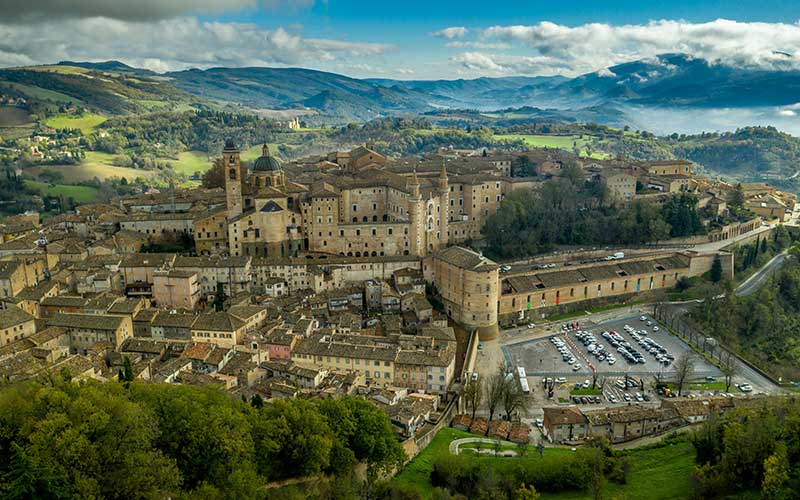 UNESCO listed city Urbino (in Marche) became the focal point for the most illustrious scholars and artists of the Renaissance, reaching the peak of its spendor in the 15th century.
"Montepulciano is thought to be "generally a workhorse grape," as Ian D'Agata put it in his excellent 'Native Wine Grapes of Italy,' though he also suggested it had "thoroughbred potential." Eric Asimov, The New York Times, July 2017.
Montepulciano has a lot of anthocyanin (colour) in the skins so it's no surprise that "At its best, it produces wines that are deep in colour with ripe, robust tannins," Oxford Companion to Wine. As a generalisation you'll find montepulciano tends to produces wines that are black-fruit driven and sometimes chocolatey. The variety has a reputation for well-priced, juicy, 'pizza-friendly' red wines. Perfect.
The best-known plantings in Italy are in the Abruzzo area, where the wine it produces is known as Montepulciano d'Abruzzo. But you'll also find it widely planted in Marche which borders Abruzzo to the north.
Marche (Mar-keh) lies on the east coast of Italy, more or less opposite Tuscany, wedged between the Adriatic and the rugged Apennine mountain range. The region boasts a beautiful coastline, quaint hill-top towns, scenic national parks and dramatic mountain ranges (that suffered badly in the 2016 earthquakes). The stunning walled city of Urbino, which in its hey-day was a renaissance cultural centre, was the birthplace of artist Raphael in 1483. Despite all this, the region has remained relatively unknown, both from a tourist and wine point of view. The combination of being remote from main commercial hubs and transport routes, as well as not really having a commercial centre of any significance, seems to have kept it a bit of a secret.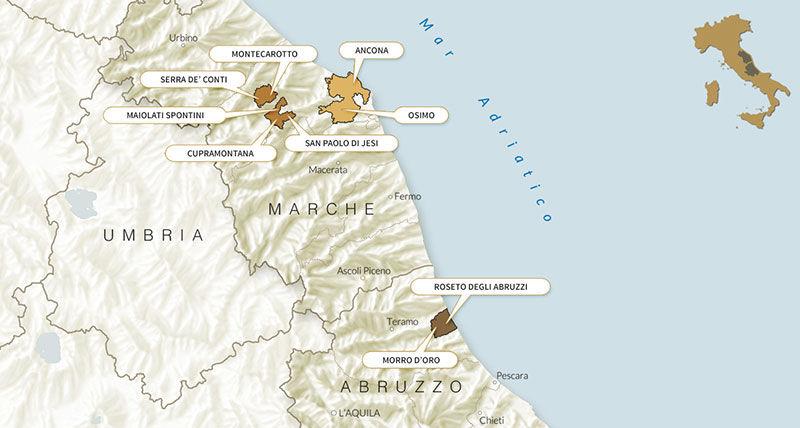 The landscape in Marche is similar to Abruzzo, with rolling hills and a central mountain range sitting between coastal plains. The climate is temperate and well-suited to the growing of grapes. Like so many areas of Italy, grapes have been cultivated here for thousands of years. Marche has around 25,000ha (61,000 acres) of vines, with the most important white being verdechio and red montelpuciano.
The finest Marche montepulciano come from Conero DOCG and Rosso Conero DOC. Both wines must be at least 85% montepulciano and while up to 15% sangiovese may be added, it rarely is. The two wines come from the same area, with the main difference being the DOCG must have a slightly higher minimum alcohol and spend a minimum of 2 years in barrel. The DOC has no minimum ageing requirements. To confuse matters, Rosso Conero is sometimes simply referred to as Conero.
Rosso Conero was granted its DOC in 1967 and is located in a small area (approx 350ha) around an isolated extinct volcano, Monte Conero, just to the south of Marche's main city, Ancona. The vineyards sit right on the coast, but face and slope away from maritime influence due to dramatic cliffs.
I've found a terrific producer of Rosso Conero as well as home-grown South Australian example of montepulciano from one of my favourite producers. Both offer unbeatable value and I know you'll enjoy them both.
---

Umani Ronchi 'San Lorenzo' Rosso Conero 2018
The Bianchi-Bernetti family have owned Umani Ronchi since 1957. The estate has vineyards in both Abruzzo and Marche, where they grow montepulcinao and verdicchio (white). Their total holdings exceed 200ha and they make a range of wines including sparkling, white, rosé and red.
Since the 70s the family's been on a drive to improve the estate, having doubled its size and replanted about 85% of its old vines. More recently they've shifted to organic farming practices, a decision which they interestingly see as technical rather than ideological. Their top wine, a verdicchio, is regularly lauded, including being named the 2012 Gambero Rosso (Italian wine bible) 2009 white wine of the year. This is as big a gong as you can get in Italy and clearly illustrates the quality of both the vineyards and winemaking at Umani Ronchi.
The wine was first produced in 1982 and is 100% montepulciano. It's sourced from two vineyards in Rosso Conero DOC, one of which is named San Lorenzo. The fruit was hand harvested and spent 10 days soaking (ie. fruit and juice) in stainless steel tanks prior to ferment to maximise flavour and colour extraction. Fermentation was carried out in stainless steel tanks after which 50% of the wine went into large (5,000-8,000L) aged oak and 50% went into barriques (225L) that had been used several times. Both regimes result in no major oak influence. The finished wine is 13.5% alcohol and sealed with cork.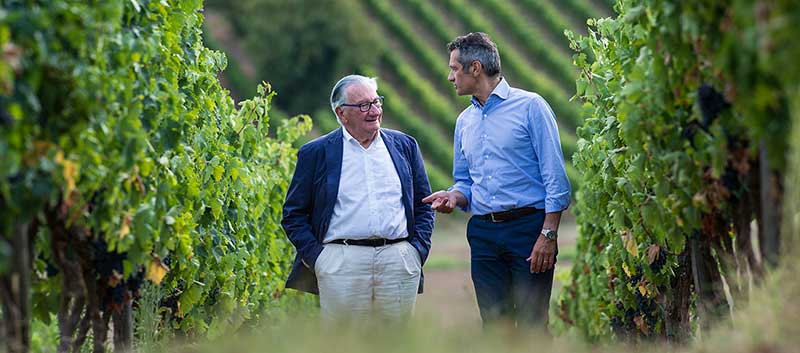 Umani Ronchi is family run. Michele Bernetti and his father Massimo employ organic farming methods in the vineyard.
In the glass it's dense and crimson. On the nose rose petals and plums mingle with chinotto notes. And on the palate you'll find pepper and dense plummy red fruit, touched with old world savouriness. Fine tannins, complement a lovely rich mouthfeel, with fruit lingering long onto a smooth round finish. Love it.
I can offer it for $29 a bottle.

---

Head Wines Head Red Montepulciano 2020
Alex Head is a winemaker I admire a great deal and whose wines I've written about many times over the years. He makes a terrific range of wines out of the Barossa, many of which have received awards and rave reviews.
Alex has been a finalist in the Young Gun of Wine Award in 2011, 2012, 2013 and 2018. He was a finalist in the Gourmet Traveller Wine Magazine, Winemaker of the Year 2020 and has been rated 5 stars by Halliday for many years.
Just this month he was included in Huon Hooke's Top 52 wineries of Australia for 2021. Coming in at 39, put him one spot of ahead of Giaconda and several ahead of Mosswood! "Alex Head makes modern Barossa reds with lifted spicy aromatics and elegance, with a greater emphasis on the cooler Eden Valley. Delightful wines that reveal a new-found refinement." Huon Hooke.
Taking his inspiration from the Rhône, Alex has traditionally focused on shiraz and grenache but recently he's also found montepulciano. This wine is part of his relabelled 'H series', which are his entry level wines and include a shiraz and GSM.
I gave Alex a buzz and asked him why montepulciano, and like so many winemakers in Australia, growing Mediterranean varieties, his answer was that the variety performs so well in his region. Alex referred to it as the honey badger variety, saying it takes whatever's thrown at it. In the vineyard it shines no matter how bad conditions are, be it heat or rain, and in the winery, it's not fussed about what fermentation or ageing vessel it's put in.
Alex clearly knows what he's doing with montepulciano as the previous release of this wine was awarded a Double Gold at the Six Nations Wine Challenge.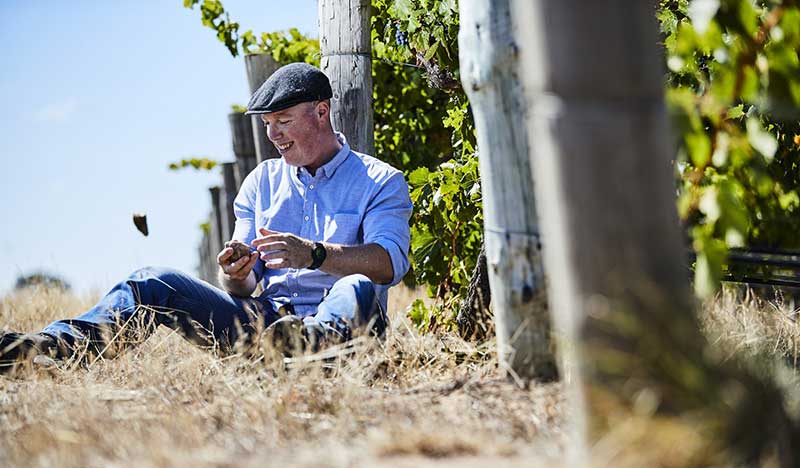 Barossa winemaker, Alex Head.
This vintage it's a blend of 90% montepulciano and 10% grenache, with the fruit sourced from 2 vineyards, one in Ebenezer (Barossa Valley) and one in Moculta (Eden Valley). The fruit was handpicked and fermented in stainless steel with a small amount of intact whole bunches. Natural yeasts were used and there were no additions. Post ferment, the wine was put in a combination of old 300L and 500L barrels for approximately 11 months. The wine was bottled unfined and with minimal sulphur. The finished wine is 13.3% alcohol and sealed under screwcap.
This is an inky pinky purple in the glass. On the nose you'll find blackberry fruit and vanilla (although it hasn't had much oak) with an abundance of sweet aromatic juicy red fruit. On the palate, pepper and juicy, jubey red fruit fill the mouth. It's mid-weight to generous with super smooth tannins and a lean clean finish. The perfect foil for a lovingly made spag bol.
I can offer it for $26 a bottle.