Indulging in some fresh oysters the other day I poured myself a glass of Muscadet - a light, thirst-quenching white wine from the western end of the Loire Valley. Its vibrancy and tangy mineral edge mean Muscadet (not to be confused with Muscat) is regarded as the perfect oyster wine. Actually it's a perfect match for most seafood and simply a great refreshing drop at any time of year.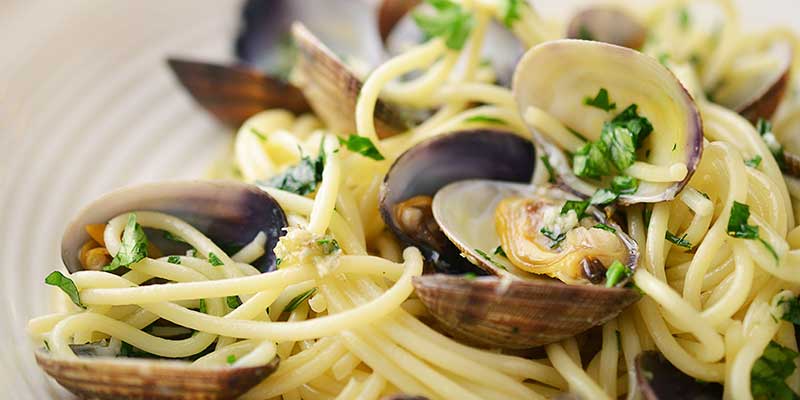 Mouthwateringly good - vongole, spaghetti and a glass of Muscadet.
As is often the case, Muscadet is not only a wine but also a place. The region of Muscadet is large and covers about 32,000 acres around the city of Nantes, and being close the mouth of the Loire River, there's a strong maritime influence from the nearby Atlantic.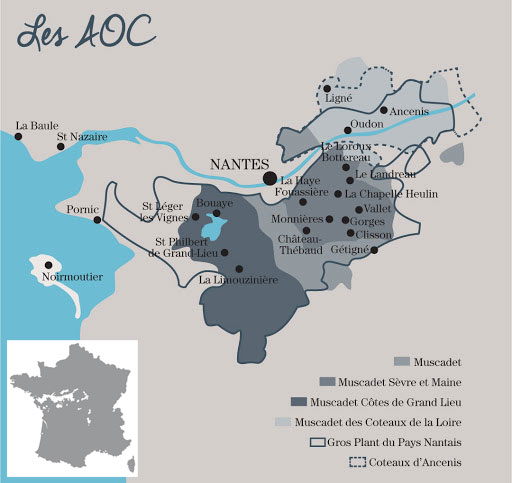 There are 4 options when labelling Muscadet:
1. The basic Muscadet appellation (area) covers wine from anywhere within the entire region. Surprisingly, not much of this is made, nor is it very exciting.
Within this there are 3 sub-appellations:
2. Muscadet-Sèvre et Main – the largest and most significant area, producing about 80% of all Muscadets.
3. Muscadet-Coteaux de la Loire.
4. Muscadet-Côtes de Grandlieu.
Like much of France, grapes have been grown in the area for a long time. Things really got going in the mid 1700s, when the variety Melon de Bourgogne, or Melon as it is more commonly known, started to emerge. The story goes that Dutch wine merchants encouraged the locals to plant the relatively neutral and early ripening grape as distilling material for brandewijn. After a devastating frost in in the Loire-Atlantique in 1709, Louis the XIV ordered the frost resistant variety be given priority for replanting. Nowdays more Muscadet is produced than any other Loire wine.
You'll find good Muscadet to be light, crisp and dry, with subtle citrus or floral flavours, and a slight saline/marine character. They are around 12% alcohol or less and many are sur lie, which means they have been left on lees (dead yeast cells) for a period of time, ranging from several weeks to a few months. This adds an extra dimension to the weight, texture and flavour of the wine. The best examples of Muscadet also have a stoney/minerally element due to the influence of the soil in the better vineyards.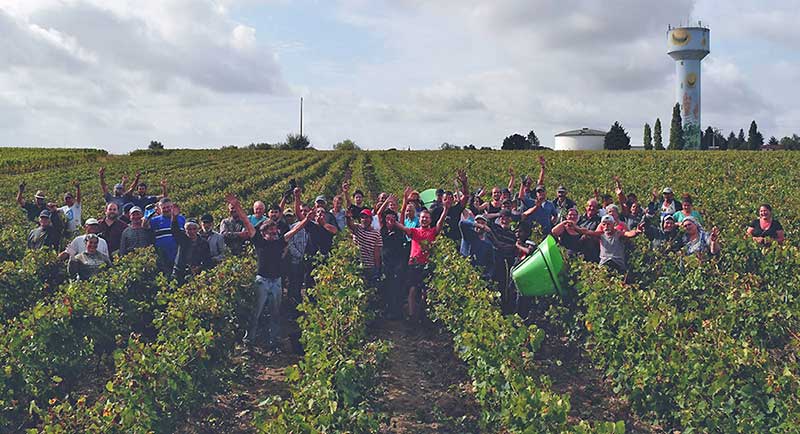 The team at Domaines Landron during vintage.
The last 20 years have seen styles like Muscadet (ie. not full of fruit or high alcohol) lose favour. The sheer volume of commercial Muscadet, which unfortunately is often thin and bland, has no doubt contributed to this fall from grace. The silver lining comes in the form of falling prices. The market will simply not pay much for the often-dismissed Muscadet and this is great news for astute drinkers, privy to the handful of good producers turning out true and exciting Muscadet. Here is one such domaine that I highly recommend.
Domaine Landron
A larger than life character, Jo Landron is widely regarded as one of the most important names in the region - he'll open your eyes to the real Muscadet.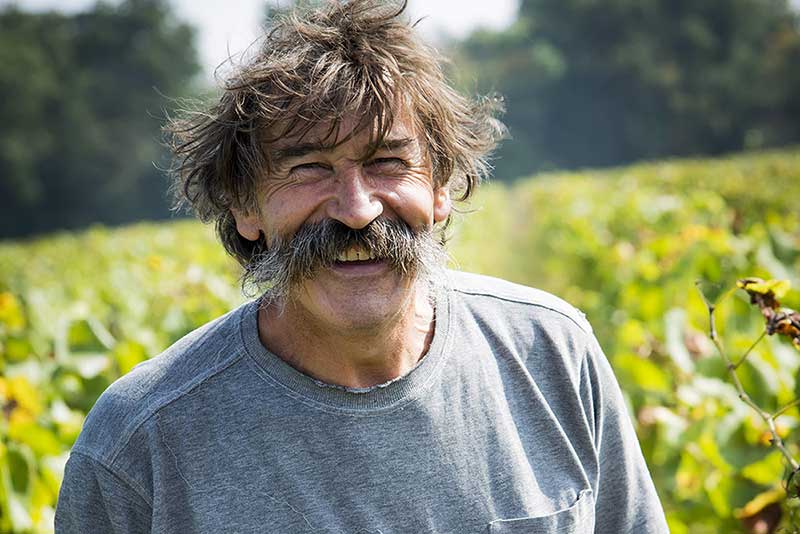 "For me, Muscadet must faithfully express its terroir with a distinctive mineral character. The richness and originality of our vineyard lies in its diverse geological make-up and micro climate. Only by preparing the soil and treating the vines respectfully through organic methods can we produce wines that fully express this character," Jo Landron.
'Jo Landron remains one of his region's most conspicuous over-achievers and his name on the label a virtual guarantor of fine quality.' David Schildknecht writing for Robert Parker's The Wine Advocate #190.
'The wines of Jo Landron are now the reference in the (too small) genre of terroir driven Muscadet.' La Revue du Vin de France - described rather cheekily by Jancis Robinson as France's only serious wine magazine.
Jo's father, Pierre, established the domaine in 1945 near the tiny town of La Haye-Fouassière, in the heart of Muscadet (Sèvre et Maine) and Jo joined him in the mid 1980s, at which time the estate was making some rather unexciting wines. Jo took over in 1990 and made changes… big changes. He slashed yields, adopted manual farming methods, and moved to certified organic by 1999 and certified biodynamic by 2008. Not only that, he's at the extreme end of biodynamic, which sets him apart in the otherwise high-yielding and commercially oriented region. Interestingly, his vineyards are on a slight slope, which is rare in this flat and homogenous region. The change in aspect gives his wine a notable difference and complexity. In the winery he uses wild yeasts, runs cool ferments and ages his wines in glass lined temperature controlled concrete vats.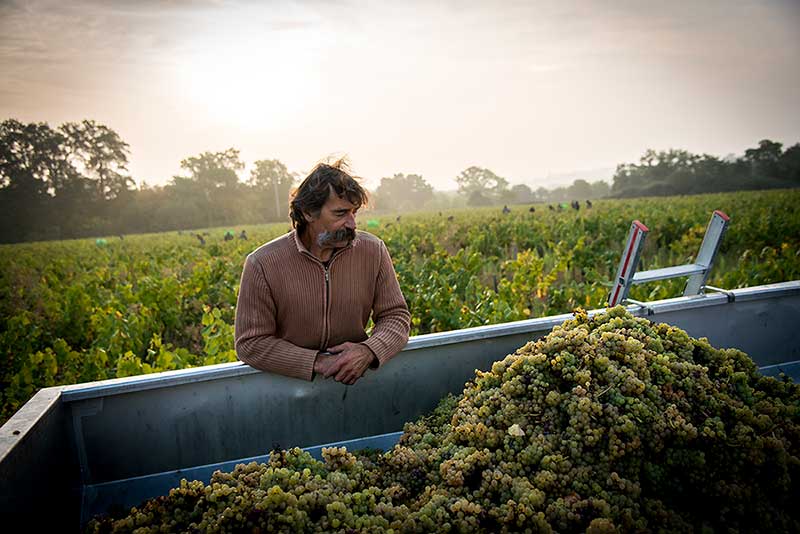 This sort of winemaking, combined with his obsessive desire to express the vineyard terroir, results in wines that are alive and fresh, yet minerally and textural.
---

Jo Landron Muscadet Sèvre et Main La Louvetrie 2018
You'd be hard pressed to find a better entry-level Muscadet than this. Sourced from several sites within the estate, it's made with Jo's minimalist approach and spends between 8 -12 months sur lie (on fine lees) after which it's bottled with a low dose of sulphur. Sporting a new label and sealed with a screwcap, the wine is a drinkable 12.5% alcohol. What's not to like!
I'd describe this as Chablis meets Pinot Gris and Riesling.
In the glass it's a clear pale gold. On the nose, wisps of honeysuckle overlay baked pineapple, pear, musk and straw aromas. On the palate, notes of zingy lime cordial and burnt sugar meld with citrus pith and stoney minerals. Crisp acid keeps this refreshingly dry, while its time on lees gives pleasing weight, texture and complexity. This is a balancing act between brightness and restraint, making it the perfect accompaniment to delicate savoury flavours like seafood - I like that it's not trying to be the centre of attention. This is a delicious and refined wine and great value for money.
"… a blinder of a Muscadet, packed full of juicy, racy fruit and vibrant Atlantic zing.. there's fine texture but also great precision to the zesty, pithy, lemon/lime fruit and complex iodine notes. It's fantastically vibrant and racy across the palate, with oodles of compact fruit and a cool finish that crackles with stony, savoury length." Bibendum Wine Co.
"It has a fine and salty minerality to the nose, dusted over some pretty fruit. A full and plump style to the palate, rich in peach, lychee and perfumed pear, leading into a pithy grip at the end. This is a very good result for a domaine cuvée in this warmer vintage." 92 points, Chris Kisscak, The Wine Doctor.
And finally a note that could only be from a French winemaker. "A wine which has the liveliness of a young child with a hint of the maturity of an adolescent. La Louvetrie has a beautiful balance of generosity fullness and minerality." Jo Landron.
I can offer it for $30 a bottle. CLICK HERE TO ORDER NEW VINTAGE