Nebbiolo is without doubt one of the great red varieties of the wine world. Its home is in the hills of Piedmont in the north west of Italy, where it produces several red wines, the finest being Barolo and Barbaresco, both of which are long-lived.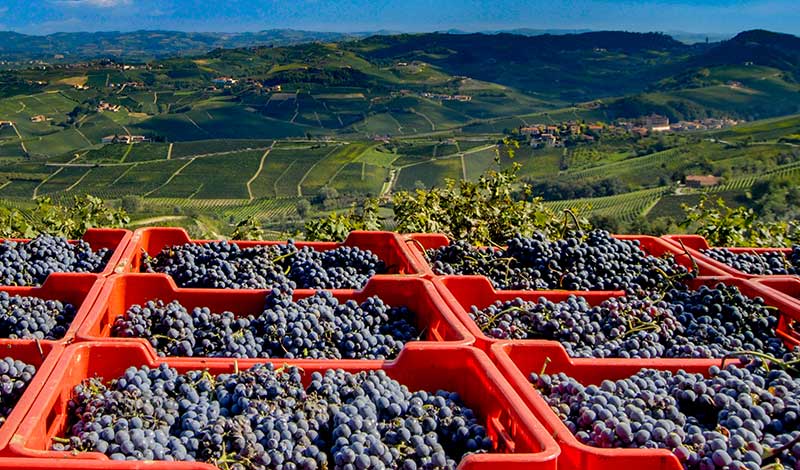 Amazingly for a variety considered Italy's most famous, (let the arguments with the Tuscans and their sangiovese begin) nebbiolo accounts for less than 2% of grapes grown in the country and is more or less only found in a small area in the hills of Langhe in Piedmont.
The name nebbiolo is thought to derive from nebbia, the Italian word for fog, a reference to the conditions often found in Piedmont just before the grapes are picked in late October. Several sources, including the Oxford Companion to Wine, also refer to the name being a reference to the white, thick powder-like bloom that occurs on ripe nebbiolo grapes during harvest.
As a variety, nebbiolo is often compared to pinot noir for its tendency to be a bit finicky, as well as terroir expressive - it tastes very different depending on where it's grown. In Piedmont, nebbiolo is the first variety to bud but the last to ripen, doing so about 2 weeks after barbera and up to 4 weeks after dolcetto, the two other main red grapes of Piedmont. To assist with ripening, nebbiolo usually occupies the most favourable sites, those on slopes facing south or south west with best exposure to the sun. Nebbiolo is also very fussy about what soil it's grown in and has shown to do best in calcareous marls (lime-rich, clay-based soil) found north and south of the town of Alba.
I always think of nebbiolo as pale in colour, perfumed, with high acid and high tannins. Here's a more eloquent take on it from Jancis Robinson MW: "So what does Nebbiolo at its best taste like? It's one of the few grapes you can sometimes identify simply by its colour alone, for it tends to take on a brick-orange tinge at the rim of its blackish ruby relatively early in its often-long life. Perhaps the most wonderful thing about Nebbiolo is its perfume. The wine is typically intensely aromatic, developing the most extraordinarily haunting bouquet in which, variously, roses, autumn undergrowth, woodsmoke, violets and tar can often be found – together with a greater variety of other ingredients than most other grapes. On the palate, the wine is typically high in acidity and, until after many years in bottle, tannins."
Nebbiolo is now grown around the world, albeit in small quantities, and I recently came across a delicious example from Australia, offering a more modern interpretation of this classic variety. Of course I must mention Barolo as well, in this case from the acclaimed 2016 vintage about which so much has been written.
---

Unico Zelo Pastafarian 2019
Brendan and Laura Carter are a young couple based in the Adelaide Hills, livin' the dream, making not only wine but small-batch spirits and perfume. They burst onto the scene in 2014, while still in their mid-twenties, with a range of delicious wines with cool labels, focussing on (but not limited to) alternative varieties - often Italian, such as fiano, greco, nero d'avola, zibibbo, dolcetto and of course, nebbiolo. They source fruit both locally and from warmer areas including the Riverland.
While Brendan and Laura profess a great love for pasta, a perfect match for this wine,don't confuse it with Pastafarianism and the Church of The Flying Spaghetti Monster (FSM) - no I'm not kidding.
Started in 2005 by Bobby Henderson, a physics graduate from Oregon State University, this social movement satirises religion and creationism and opposes the teaching of intelligent design and creationism in government schools. There are Pastafarians worldwide, primarily in the US, Canada, western Europe, Australia and NZ. Citing religious freedom, adherents from several countries, including Australia, have succeeded in wearing colanders on their heads for their drivers licence photos.
In 2005 Henderson penned 'The Gospel of the Flying Spaghetti Monster', which is claimed to have sold over 100,000 copies. He also wrote 'The Loose Cannon, the Holy Book of the Church of the Flying Spaghetti Monster,' in similar form to the bible. There are many tenets, here are just a few:
The central creation myth is that an invisible and undetectable Flying Spaghetti Monster created the universe "after drinking heavily." According to these beliefs, the Monster's intoxication was the cause for a flawed Earth.
All evidence for evolution was planted by the Flying Spaghetti Monster in an effort to test the faith of Pastafarians. When scientific measurements such as radiocarbon dating are taken, the Flying Spaghetti Monster "is there changing the results with His Noodly Appendage."
Pirates are "absolute divine beings" and the original Pastafarians.
Pastafarians celebrate every Friday as a holy day. Prayers are concluded with a final declaration of affirmation, "R'amen."
The celebration of "Pastover" requires consuming large amounts of pasta, and during "Ramendan", only Ramen noodles are consumed.
International Talk Like a Pirate Day is observed as a holiday.
Back to the wine…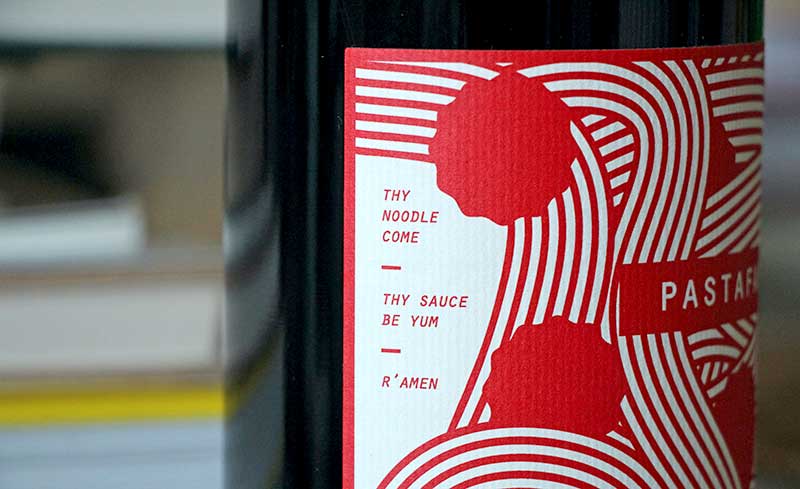 I got in touch with Laura and she told me the fruit for the wine comes from what is regarded as one of the most prestigious nebbiolo vineyards in the country. It's located in Gumeracha in the Adelaide Hills and was established by Peter Godden, who previously made Arrivo Nebbiolo from the vineyard. Laura, and many others, think the Arrivo, which is no longer made, was one of the best nebbiolos in the country. The vineyard is very steep and surrounded by native scrubland, which Laura says often lends an amaro and liquorice note to the wine. The vineyard is on clay and talc-based soil and was planted over 20 years ago with some interplanting of barbera (another Italian variety). Because the vineyard is so steep, all vineyard practices are done by hand, including picking.
Once harvested, the fruit was fermented using wild yeasts, in open fermenters. As with nearly all red grapes, the juice of nebbiolo is clear. The colour and tannins are in the skins of the grapes, which winemakers traditionally extracted by treading on them. The skins naturally float on top of the wine and form what is referred to as a cap. In modern winemaking you'll hear the term 'pumping over', which is simply the sucking of wine out from the bottom of the tank with a pump and spraying it over the top of the skins to keep them moist and to continue the extraction of colour and tannin. In this case, the wine was left 'on skins' for 2 weeks. The pumpovers were extremely gentle, which encouraged a more approachable tannin and fruit profile than you would normally experience with traditional nebbiolo. Post ferment, the wine was matured in an old 3000-litre foudre for 8 months. Because it was large and old, the vessel did not impart much, if any, oak influence - once again ensuring the approachability of the wine. The wine spent a further 12 months in bottle prior to release. The finished wine is 13.5% alcohol and is secured with cork, a groovy wax seal and a cool monty pythonesque label.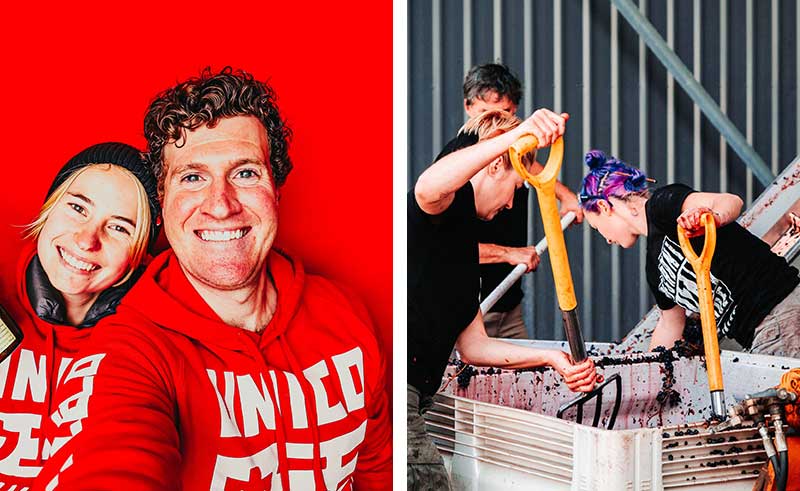 Left: Laura and Brendan Carter. Right: Winemaker Laura doing the heavy lifting during vintage.
In the glass this is a pale garnet with a rusty orange edge. On the nose you'll find roses, plummy red fruit, fairy floss and bracken. And on the palate - raspberry and pepper with a touch of chinotto. This has a lovely pithy astringency with firm textured tannins. Yum.
"… we craft this wine in an approachable and jovial style built for the new world, with a nod to old world, old school Nebbiolo - perfect with your next Sugo. Aromatically it's a twist on the classic "tar and roses" adage; think more violets and pencil shavings with a whiff of cardamom from some silky oak. But this is far more red fruited and juicy than your average Nebb, with ripples of strawberries and crushed black olives over the top of a pitch perfect balance of fresh acidity to fine grain tannins. It's not a Nebbiolo that's going to rip your face off, but it certainly doesn't pull any flavour punches. In short it''s a Unico Zelo take on Nebbiolo - it doesn't take itself too seriously. A Spaghetti Level Slurper!" Winemaker's notes.
This is a delicious, modern take on an Italian classic that's only made in limited quantities so you won't find it around town much. Get in quick.
I can offer it for $27.50 a bottle. SOLD OUT
---
And how can I talk about nebbiolo without offering a Barolo, the 'king of wines' and surely the most famous incarnation of this wonderful variety.
The region of Barolo sits about halfway between Genoa and Turin and was originally established in 1896. It was added to in 1934 and again in 1966. When DOCG (the highest rung in the Italian wine quality ladder) was finally created in 1980, Barolo was one of the 5 appellations recognised in that year. (The other 4 were Brunello di Montalcino, Barbaresco, Chianti and Vino Nobile di Montepilciano). Appellation laws for Barolo stipulate 100% nebbiolo, as well as a minimum ageing requirement of 3 years for standard Barolo and 5 years for Riserva.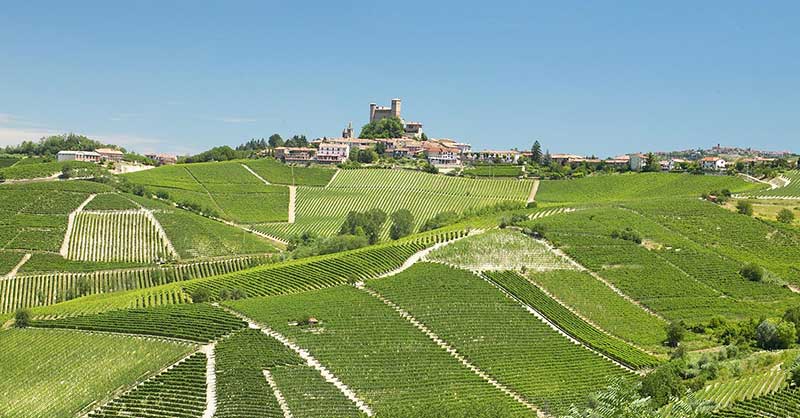 The Massolino estate founded in 1896 by Giovanni Massolino, still adheres to his philosophy of the deep and tangible link between the vines, hills and winegrowers.
There are 11 villages or communes in the Barolo region but the 5 main ones you need to know are: Barolo, La Morra, Castiglione Falletto, Serralunga d'Alba and Monforte d'Alba.
As a generalisation, the region is often divided as follows:
West side: La Morra, Barolo - softer, fruitier, more aromatic and elegant wines.
East side: Monforte, Serralunga and Castiglione Falletto - heavier, more tannic and with greater ability to age.
For me, Barolo's appeal lies in its seemingly contradictory ability to combine subtlety and perfume, with power and structure. Barolo is a wine built on the back of serious tannins and high acid, which explains its incredible ability to age.
Common descriptors for Barolo include; "tar and roses, violets, cherries, truffles, mushrooms, chocolate, woodsy spices such as liquorice and cinnamon, potpourri, leather, tobacco and boot polish." Jane Faulkner, James Halliday's Wine Companion.
Unfortunately, due to global demand, Barolo is expensive, but here's a top estate that I think by Barolo's standards, represents value for money, especially for the famed 2016 vintage.
2016 Barolo: The Hype
"The 2016 vintage is epic, presenting outstanding results across the board. Following the underdog 2014 vintage and the highly praised but uneven 2015 vintage, these releases from 2016 are downright monolithic in their excellence. The 2010 vintage comes close to 2016, thanks to that careful balance of elegance and power, but 2016 achieves almost startling focus and purity that puts it ahead." Monica Larner, The Wine Advocate.
"In this vintage Nebbiolo shines as never before, both in clarity and vibrancy, heralding a new era for Barolo. After 2010 and, with reservations, 2013, Barolo lovers will yet again want them in their cellars." Jancis Robinson MW, jancisrobinson.com.
"... a vintage full of truly spectacular, breathtaking wines that captures all the pedigree that Nebbiolo and Barolo are capable of." Antonio Galloni, Vinous.
---

Massolino Barolo 2016:
The estate was founded in 1896 by Giovanni Massolino, who it is claimed, was the first person to bring electricity to the picturesque medieval village of Serralunga d'Alba. Surrounding the village is one of the best sub-zones of the Barolo and it's here the estate's greatest asset, its prized vineyards sit, and where the fruit for this wine is sourced. The estate recently purchased more vineyards which now total around 100 acres.

Massolino regularly receives praise from high profile critics, including Robert Parker's Wine Advocate and the estate was awarded 'Winery of the Year 2010' by the influential US based Wine & Spirits Magazine.
The estate makes several Barolos, this being their 'classic', or entry level offering. It's a blend, with the majority of fruit sourced from several sites in Serralunga d'Alba as well as a tiny percentage coming from Castiglione Falletto. It was aged for about two and a half years in large Slovenian oak casks, followed by a year in bottle.
The big news for this wine is that it placed 7th spot in Wine Spectator's Top 100 wines for 2020. This is a massive gong. I can't tell you how highly anticipated this award is, and just to make the list, let alone the top 10 is huge achievement.
"A stream of pure, juicy cherry fruit is at the heart of this red, along with mineral, tobacco and wild herb notes. Firm and tightly wound, with a matrix of dense, refined tannins for support. All the elements are in the right proportions, this just needs time. Best from 2023 through 2045." 95 points and 7th place in Wine Spectator's Top 100 wines for 2020.
This wine is linear and tight, with an arsenal of important Nebbiolo aromas ranging from red cherry and cassis to spice, smoke, licorice, dried ginger, rusty nail and blood orange. What really stands out is the structural importance of the wine. It delivers firmness and strength, while allowing the delicate side of the grape to coexist without interference." 94 points, Wine Advocate.
I can offer it for $105 a bottle SOLD OUT
New vintage now available


Magnums are also available here at $275 each