Marchand & Burch is an exciting collaboration between leading Burgundian winemaker Pascal Marchand and Howard Park's Jeff Burch (Western Australia). Marchand has impressive credentials, including 15 years with Domaine Comte Armand, transforming it into the greatest estate in Pommard (commune in Burgundy), after which he was headhunted to establish the 'super-domaine' Domaine de la Vougeraie in 1999. His winemaking philosophy revolves around anti-interventionism and biodynamics, and together, Marchand and Burch are making waves.
I'd been hearing good things, but hadn't tried the wines, so last week I rang the local distributor for a bit of a chat. After a few minutes of conversation there came a spontaneous invitation to taste the entire range that night. He was off to Golden Century with a few industry mates for a bit of duck and Pinot.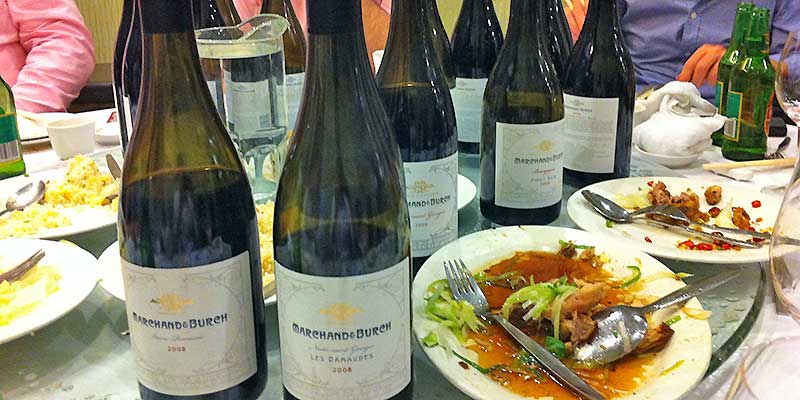 So there I was at Golden Century on a Tuesday night, with the distributor, his staff, a few prominent Sydney publicans and the GM of Marchand & Burch, Paul McArdle, none of whom I'd met before. The lazy-susan groaned under the weight of beer, Chinese food and a bevy of top wines from Australia and Burgundy. The only rule was that there was to be no 'wine wankery' and they held true to this, as multiple vintages of every wine were opened without fanfare. These boys were seasoned campaigners, highlighted by the lack of spittoons and notepads (save mine under the table). What a night! Great company, great food, and the rare chance to taste the entire range (including the good stuff) of these incredible wines, which that morning had been just a thought. The first to leave at 12.30am, I made my way through the deserted streets of Chinatown and reflected on how serendipitous my day had been.
Marchand & Burch lavish extraordinary attention to detail in both the vineyard and the winery, producing a range of top red and whites from both Burgundy and Western Australia. I was impressed by all of them, however I've limited it to a manageable 5. For the Burgundyheads there's more at the bottom.
---
1. Marchand & Burch Bourgogne Rouge 2009
One of the ultimate challenges in the wine world is to find drinkable red Burgundy (Pinot Noir) at a reasonable price. Only in Burgundy can you spend $100 and still not be sure of getting something half decent. I've been on a quest to find something in the elusive $30-$40 bracket - and finally a wine has delivered.
Being a 'Bourgogne' this wine can be made from fruit sourced anywhere within the entire Burgundy region. For those of you used to drinking new world Pinot, as opposed to Burgundy, the feature you will find most different about this wine will be the acid structure. Burgundy is built on good acid structure and this is the reason they have the ability to age so much better than new world Pinots.
This is a fresh and appealing wine. It has lots of up-front fruit and plenty of good acid and tannin structure. It opens up beautifully to become a generous and smooth pinot. Here's a recent review from Huon Hooke. Amazing that he describes an entry level pinot as 'undeveloped' at 3 years of age.
"Medium to full red/purple; very good colour for its age. Sweet raspberry, strawberry aromas. Excellent fresh, clean, bright, undeveloped and well-made wine. Pristine, with light, tight and rather firm tannins. All bodes well for ageing." 91 Points.
This is a remarkably complex and serious wine for the price, and I think it's great value. I should also mention that 2009 is regarded as a top vintage in Burgundy. I'd recommend decanting the wine to let it open up on the table. It's on at a few cool places around town, including 'Fix St James' where it's $89.
I can offer it for $37 a bottle. SOLD OUT
---

2. Marchand & Burch "Mount Barrow" Pinot Noir 2010
M&B produce two Pinots from the Great Southern region of Western Australia. The 'Mount Barrow' vineyard is in the sub-region of Mount Barker, while the 'Gibraltar Rock' vineyard is in the Porongorup sub-region. Both are great vineyard sites and provide terrific examples of how good, often maligned Western Australian Pinot can be. I chose the 'Mount Barrow' as it's the more generous of the two. It's slightly bigger, more concentrated and fleshy, in that appealing new world sort of way. You'll find this wine has plenty of red fruit and cherry-like flavours. It's a pleasurable medium weight in the mouth and offers an inviting and warm texture that borders on indulgent.
The critics seem to like it too:
Ralph Kyte-Powell, in The Age, gives it Five Stars.
He notes: "offers aromas reminiscent of cherries, spice and blossom, with a dab of gamey richness. The medium-bodied palate is succulent and rich... the finish is subtle and long."

James Halliday, in his Australian Wine Companion 2012, gives it 94 points.
This is a great example of an Aussie Pinot. You'll find it Aria restaurant for $150 and at Est for $145.
I can offer it for $65 a bottle. SOLD OUT
---

3. Marchand & Burch Chardonnay 2010
This is the wine that put these guys on the map. The first vintage released was 2007 and it went straight to the top. Halliday rated it 97, a score that only one other Chardonnay (Penfolds Yattarna) equaled. What an incredible achievement! The benchmark - Leeuwin Estate Chardonnay 2007 - got a 96.
When told it was a top WA Chardonnay I naturally braced myself for a Margaret River style monster, big, rich and stone-fruity. However, this is from Porongurup in the Great Southern, which is cooler, much cooler... and it shows. The wine is lean and bright, and full of zest, but what's amazing is its ability to combine this youthful vigour with so much more. It has all the underlying complexity of the best Margaret River Chardonnay without the overblown weight. It manages to achieve a perfect balance of being lean without too much acidity, and complex without being over the top. You'll find fresh and attractive citrus flavours perfectly balanced by more textural and nutty characteristics. This is a restrained and elegant wine that finishes long in the mouth. What a delight to drink.
The 2010 got an impressive 97 points from Halliday. Once again it was the equal top scoring Chardonnay.
He notes: "A wine with utterly exceptional intensity and length. You can't put your finger precisely on it, but this shows the Burgundian training of Pascal Marchand."
It's one of Australia's top Chardonnays and it's only a matter of time before the price increases to reflect this. Get it while still a relative newcomer. You can try it at Quay restaurant for $140.
I can offer it for $65 a bottle. SOLD OUT
---

4. Marchand & Burch Vosne-Romanee 2009
Vosne-Romanee is the most famed Pinot Noir producing commune in the world. It's home to 8 Grand Cru vineyards (highest classification for a vineyard site in Burgundy) including: Romanee-Conti, La Romanee, La Tache and Richebourg. It's also home to the absolute superstar, Domaine de la Romanee-Conti whose wines are the best and most expensive Pinots in the world. Releases in a good year can be upwards of $5000 for their top wines! Great Burgundy is all about the combination of power, finesse and intensity of fruit, and it seems Vosne-Romanee is the commune that's better at capturing this elusive combination than any other.
The fruit for the wine can come from anywhere within the commune and in this case it's from 3 different sites. I found this wine all about texture, it's silky, velvety and smoooooth. It's a sensual mouthful that made me just close my eyes and savour the moment. It stopped me. Life suddenly seems better when drinking a wine like this. The wine also prompted an interesting, and humorous, discussion at the table about the often used, and misused, term 'sexy' in the context of wines. Some suggested restraint, others thought of power, whilst others thought specifically of texture and mouthfeel. To me, this wine manages to capture all of these.
The wine itself is described well by Halliday's recent notes: "Full purple-crimson, the spicy fruits on the bouquet lead into a deep and satisfying palate, ripe tannins are embedded in black cherry and plum fruit, as is the integrated oak. Excellent finish and aftertaste." 94 points.
The quality of the 2009 vintage was highlighted with the opening of a 2008 which was noticeably lighter.
I can offer it for $120 a bottle (limited supply). SOLD OUT
---
Prior to tasting the two most expensive wines ('Clos De Beze' & 'Mazis-Chambertin') I wondered how much better could they really be. Were they really worth the extra money? And the simple answer was yes - they were incredible. These were truly great wines that were a step up in complexity and intensity that you wouldn't think possible. This is the level of Burgundy that draws you into the world of descriptors like ethereal and perfection, and makes you comprehend the concept of Pinot Noir as the 'holy grail' of wine. As for trying to pick between the two wines, it's kind of like being asked to choose a favourite amongst your children.
On a more practical note I was amazed, and pleased, to see Pascal Marchand using stelvin (screw caps) on all his wines, including these Grand Crus. A sure sign of his progressive nature.
---

5. Marchand & Burch Chambertin 'Clos De Beze' Grand Cru 2009
'Clos De Beze' lies alongside 'Chambertin' and together they are regarded as the two most prestigious grand crus in the commune of Gevrey-Chambertin. Just to confuse matters, Clos de Beze may be labeled Chambertin, but not vice-versa.
Napoleon's well known preference for the wines of Chambertin, combined with their richness (within the Pinot spectrum) has them often referred to as the 'wine of kings'. In this context the wines of 'Clos de Beze' are thought of as the Queen. Whilst powerful, they tend to be slightly more refined, austere and delicate than Chambertin.
This was a profound wine experience for me. It epitomised great Burgundy, with its ability to combine power and extreme complexity with finesse and elegance. Weight, texture, flavour and acid all balanced perfectly in the mouth. Such a pity I was driving, I could just keep enjoying it...
Allen Meadows from Burghound manages to continue the superlatives in spectacular style...
"An overtly spicy, cool and elegant nose that features a broad array of earth, game, underbrush, humus and stone notes that marry into opulently rich, full-bodied and quite serious big-bodied flavours that possess excellent mid-palate concentration and simply gorgeous length on the quite firmly structured finale. This will require close to 20 years to be at its best." 93 - 95 Points.
If you want to know how good Burgundy can get, this will give you an insight. I know it sounds trite, however a top Grand Cru from 2009, for under $500 - yes - it's a bargain.
I can offer it for $495 a bottle (extremely limited). SOLD OUT
---
Also available:
Marchand & Burch 'Mazis-Chambertin' Grand Cru 2009
I can offer it for $375 a bottle. Click here to order
Marchand & Burch Nuits St Georges 2009
I can offer it for $93 a bottle. SOLD OUT