A few weeks ago I offered a chenin blanc from the Loire Valley, and while the Loire may be the birthplace and spiritual home of the variety, you might be surprised to know that more of it is grown in South Africa than in the rest of the world combined.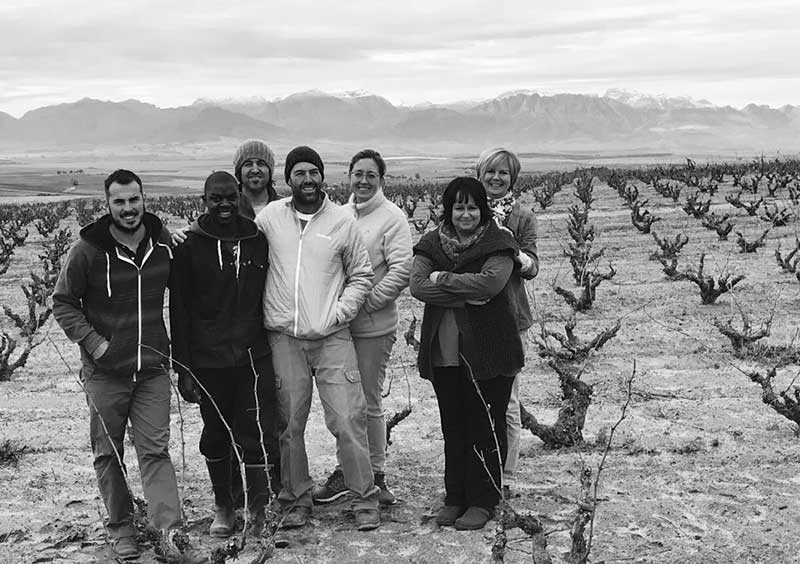 The team at Sadie Family Wines.
Chenin is not well known in Australia but Jancis Robinson MW describes it as "probably the world's most versatile grape" and I'd have to agree. It's a wonderful variety, enjoyed dry through to sweet, as well as in sparkling form, thanks to its firm acidity. Along with Riesling, it's one of the few white varieties that can genuinely age.
In her 1,220-page tome Vines, Grapes and Wines, Jancis Robinson classifies grapes of the world as classic, major or other, with chenin achieving classic status. I think chenin's one of the most overlooked and undervalued varieties, and in the right place and right hands is capable of producing exceptional wines.
The University of Adelaide recently updated its rather snappily titled Which Winegrape Varieties are Grown Where?, providing an extraordinary breakdown of the world's grape varieties. Its most recent figures (2016) show South Africa with 55% of the world's plantings of chenin blanc, followed by France with 29%, daylight to third spot, Argentina with 7% and Australia in 5th spot with 1%.
In mid-90s South Africa, chenin blanc or steen/stein, as it's known locally, accounted for an astounding 30% of plantings. There's been a significant increase in reds (especially cabernet) since then, but in 2019 chenin was still the top variety at over 17,000ha or 19% of plantings. Incidentally, the variety now most synonymous with South Africa, Pinotage, a cross between pinot noir and cinsault (known as hermitage at the time), came in at 7th place at 7% of plantings.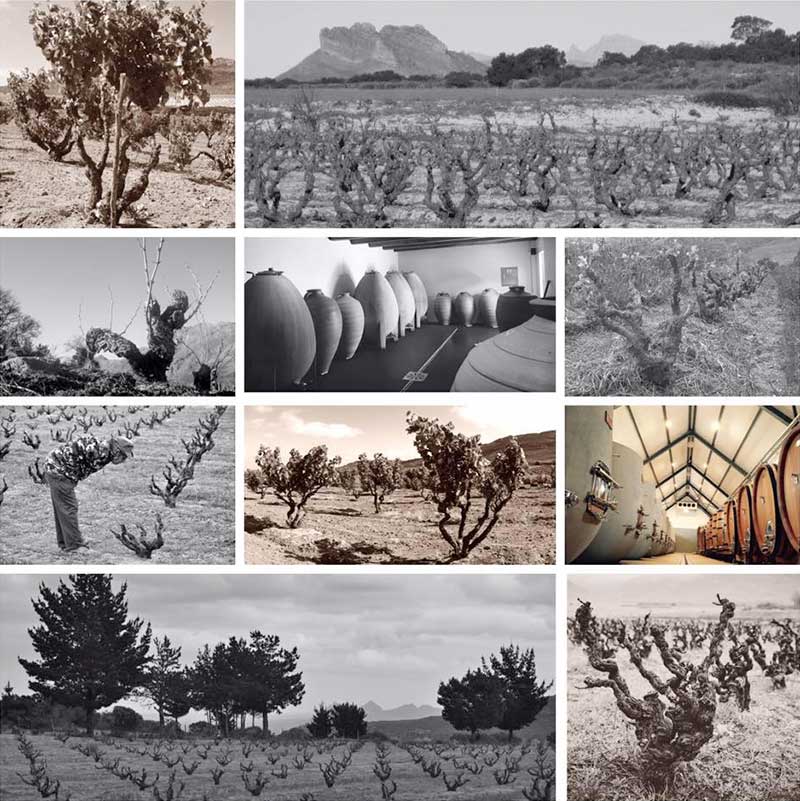 Vineyards and winery at Sadie Family Wines.
Wine has been made in South Africa since the mid 1600s. Anyone who's been there will tell you it's home to some of the world's most geographically stunning wine regions, most of which are located in the southwestern tip of the country. Given the latitudes at which South Africa's vineyards sit, you might wonder how they tolerate the heat, but a few unique factors serve to cool things down, the most significant being the Benguela Current. This cold ocean current flows up from Antarctica and runs along the western coast of the Cape, cooling the atmosphere, creating cooling breezes and in some instances fog. There's also the Cape Doctor, a south-easterly, gale force, spring/summer wind that not only cools but reduces humidity and hence vine disease. On the downside, it can batter and cause damage to the vines.
A national classification system known as Wine of Origin, dates from 1973, and operates like appellation pyramids you see in European countries:
Regions
Subregion
Districts
Wards
Individual estates.
For simplicity's sake, the big name regions for most wine drinkers in South Africa are Stellenbosch (Paarl, Franschhoek Valley), Breede River (more commercial), Constantia and more recently Swartland.
Swartland is part of the Coastal region and sits about 65km north east of Cape Town. The area was traditionally associated with co-ops, but in the last few decades it "has undergone the most dramatic transformation of all (South African wine regions)." The World Atlas of Wine 8th Edition.
Here's the Oxford Companion to Wine entry for Swartland: "Fashionable wine-producing district in South Africa which, since the late 1990s, has attracted some of the country's most adventurous and least interventionist winemakers. This focus is partly explained by the relatively high percentage of older vineyards planted with varieties well suited to predominantly dryland viticulture. For red wines these are mainly Rhône varieties, while the whites are typically blends based on low-yielding old chenin blanc vineyards."
While chenin blanc was traditionally used in South Africa to make brandy and commercial table wine, these days you'll also find some of the most extraordinary chenins from high quality, small volume producers. One of the most renowned of these is Sadie Family Wines.
---
Sadie Family Wines
Plenty has been written about this extraordinary estate, established in 1999 by Eben Sadie and subsequently famed as curators of South Africa's forgotten old vines.
"(Sadie Family Wines) are among the most compelling wines being made in the country today. They may be hen's teeth, but don't ever pass up a chance to try them." Wine Spectator.
"The wines shine through with a level of magnificence that is simply stunning [although the] wines are tough to find as most of these wines are on allocation." Anthony Mueller, The Wine Advocate.
"That these rare and beautiful bottlings continue to be sold at prices that would not encourage a Bordeaux Classed Growth proprietor out of his bed each morning is still quite unbelievable, especially when you've seen the passion and commitment up close." Neal Martin, Vinous.
Neal Martin recently called Sadie an "outspoken, peripatetic, terroir-obsessed winemaker who has been instrumental in putting Swartland on the map. He produces a small portfolio of comparatively expensive, but highly coveted wines based on Rhône varieties sourced from his seemingly never-ending search for pockets of old bush vines and unique terroirs. These are cerebral wines built to age."
The winery has been awarded Platter's Wine Guide Winery of the Year twice (2010 and 2015). Platter's is the definitive South African wine publication.
Sadie has about 10 ha of estate owned vineyards and works with another 20ha that he has sought out, spread across 53 sites and 250 miles. All are old, dry-grown (ie. no irrigation) and organically tended, and are set across a variety of soils and climates. I feel tired just thinking about the amount of work needed to tend these vineyards. In the winery Sadie follows a paired back regime, using wild yeasts and no additions save the lowest levels of sulphur he can get away with prior to bottling. He uses practically no new oak, wines are clarified naturally and not filtered.
These are simply extraordinary wines and some of the most sought after in South Africa (not helped by the tiny quantities in which they're produced). I wish I had more to sell.
---

Sadie Family Swartland Skerpioen 2018
Named after the abundant native scorpions that make their home here, Skerpioen is an unirrigated, 2.4-hectare, 80-plus-year-old vineyard of half palomino and half chenin blanc just two kilometres from the Atlantic Ocean. This is one of the coolest parts of the Swartland, but it's also very dry with an average rainfall of around 300mm per year. This naturally restricts yields and concentrates the fruit, magnifying the vineyards' characteristic saline intensity. This parcel produces an average, tiny yield of 24 hectolitres/ha. The grapes are picked and pressed together and naturally co-ferment in old wooden casks. The result is a stunning and complex white that is completely unique. The finished wine is sealed with cork and is 12.5% alcohol.
"Now that I've visited the vineyard, I admire this wine even more, such is the heroism required to grow grapes in such an isolated site. Combining chenin blanc and palomino grown on sand a limestone soils, it's pale, fragrant, yeasty and salty with notes of kelp, quince and citrus and some stony, struck-match reduction." 97 points, Tim Atkin MW, South Africa Special Report 2019.
I can offer it for $115 a bottle. SOLD OUT

---

Sadie Family Citrusdal Mountain Skurfberg 2018
This extraordinary 100% chenin blanc hails from South Africa's northernmost wine region, the arid Citrusdal Mountain WO, on the west bank of the Olifants River. Specifically, the fruit is drawn from three parcels of 90-year-old, ungrafted bush vines on the decomposed sandstone slopes of the Skurfberg. These are three immaculately farmed vineyards, which have never been treated with herbicide or chemical fertilisers. Each vineyard is vinified separately, basket-pressed, then transferred to old casks for natural fermentation. Following 12 months on lees, the wine is blended, then returned to the same casks for a further six months before bottling directly from foudre. The result is an unbelievable tension-fuelled wine that can stand up to the great chenins of the Loire - a wine of jaw-dropping texture, mineral energy and complexity. Although 70% down in yields, the wine is unbelievably harmonious and poised; it does not show any evidence of the drought. "Drinking this wine is the closest we'll probably get to walking on crystal," says Eben, and that about captures it. Sealed with cork and 14% alcohol.
"The sources of Eben Sadie's amazing West Coast chenin blanc have been reduced from three to two in 2018, leaving him with Basie van Lill and Joshua Visser, which is not a bad team to have. Grown on red, iron-rich decomposed sandstone, this is one of the world's great whites, a bold, yet incredibly focused wine that is sappy, floral and almost ludicrously long on the palate." 98 points, Tim Atkin MW, South Africa Special Report 2019.
I can offer it for $115 a bottle. SOLD OUT
---

Sadie Family Piekenierskloof T'Voetpad 2018
T'Voetpad means The Footpath in Dutch and is the name of Dirk Brand's farm, where this extraordinary block of old vines is tucked away at the foot of the mountains. In a country of far-flung, isolated vineyards, this is believed to be the most isolated old vineyard in the country. Its 1.4 hectares host a clutch of varieties - semillon blanc, semillon gris, palomino, chenin blanc and muscat - progressively established between 1900-1928. All of the vines grow on their own roots. The vineyard lies in a hot valley in the north of Swartland, near the village of Aurora and Elands Bay on the coast, and its survival without irrigation, thanks to an underground river that flows beneath the mountain, is extraordinary. No herbicides are used, and in non-drought years, grasses between the vines help dry out the soils, while also driving the vine roots deeper. T'Voetpad's soils are heavily decomposed sandstone, and the wine it gifts is a true field blend; the varieties are picked and pressed together, before co-fermenting in old wooden casks. Sealed with cork and 13.5% alcohol.
"T'Voetpad is my South African white wine of the year for the second time in succession, but one thing is certain: it will be someone else's turn next year as no 2019 was produced. This incredible old vineyard, preserved from the bulldozers by its isolation and a certain amount of bloody mindedness, is a field blend of semillon, palomino, chenin blanc and muscat, perfectly combined in a wine that should sell for five times the price. Pear, lime, beeswax, citrus and orange peel flavours segue into a salty, mineral-etched finish." 99 points, Tim Atkin MW, South Africa Special Report 2019
I can offer it for $129 a bottle. SOLD OUT
---

Sadie Family Swartland Palladius 2017
Sadie's signature white, Palladius, is a blend of all eleven of Swartland's official white varieties, with old, bush-vine chenin blanc playing the principal role. The idea is to produce a great white that represents the overall terroir of Swartland (as much as this is possible) and to use all of the permitted varieties. As a result, this is harvested from seventeen separate vineyard sites, with the full list of grapes comprising: grenache blanc, clairette blanche, viognier, verdelho, roussanne, marsanne, semillon, palomino and colombard, as well as the hyper-rare semillon gris (which plays a key role in Sadie's Kokerboom and T'Voetpad Old Vine Series cuvées).
As for the winemaking, the fruit was sorted and pressed in a traditional basket, directly into clay amphorae and six concrete eggs. The wine finished fermenting in its own time, which can take up to 20 months, after which it went to large wooden foudre to finish its maturation, before being bottled unfined and unfiltered. Throughout the season, Sadie's major goal is to "try and get the maximum volume of compact fruit and texture together with the best potential volume of acidity and freshness." That's something he has unquestionably achieved here, with the breadth and texture setting Palladius apart from the other Old Vine Series whites. Unlike those wines, Palladius relies less on the Chenin acidity, harnessing instead a deep phenolic freshness that structures the wine. It's a white of Talmudic complexity; the kind of wine you can sit on for hours pulling apart. Compared to the 2016, there's a more crystal-cut fresh fruit profile here, with stone fruit and peach skin aromas almost suggesting a cooler vintage (one result of early picking), then white cassis and green apple skin, and flecks of salty, mineral and lime undertones on the close. The most restrained Palladius we have tasted. Sealed with cork and 13.5% alcohol.
"Even Eben Sadie can't always remember the 11 grapes that make up the blend of this white blend, dominated by chenin blanc, with grenache blanc, clairette blanche, viognier, verdelho, roussanne, marsanne and semillon gris among the supporting cast. Amphorae and concrete egg-fermented, it's a wine that's less blowsy than in the past, with pear, peach and citrus flavours, subtle oak and aromatic spices." 96 points, Tim Atkin MW, South Africa Special Report 2019
"A gentle giant with a quiet nose, that is shy yet possesses a pure minerality to the heart of its core, the 2017 Palladius has expressive and dusty citrus tones, with a wet river rock stoniness. The palate is balanced with a firm acidic edge and focus that is truly mindboggling. Medium-bodied with a long saline finish, the perplexing expression lingers with lemon oil, bee pollen and fine chalky powder. The acidity and balance in this wine are going to ensure that it possesses the ability to live on for decades in your cellar. Be patient. It's good now but it will get better in time." 93+ points, The Wine Advocate.
I can offer it for $219 a bottle SOLD OUT