If there's one business that's thrived during Covid, it's pizza home delivery. The kind of wine I like to drink with pizza is medium bodied, with enough acid to cut through the richness, but not too much tannin. It's nice if it's Italian as well.
Two wines that fit the bill perfectly are Valpolicella and Chianti.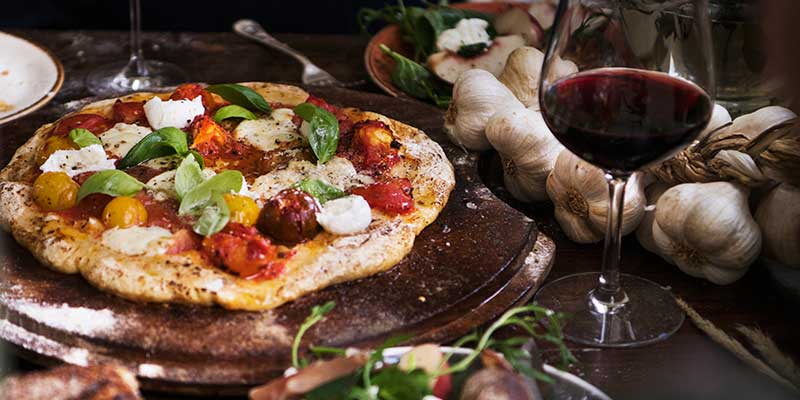 Wine drinkers often associate the term Valpolicella with Amarone, a heroically rich, alcoholic and expensive wine. But it's the more approachable and affordable Valpolicella Classico that suits the mid-week pizza.
Typical of European wine terms, Valpolicella refers to both the place and the wine. Located in the northeast of Italy, the area known as Valpolicella is in the region of Veneto, the capital of which is Venice. Veneto is also home to Soave and Prosecco, as well as Italy's biggest wine fair, VinItaly, held in Verona usually each April, but which has just been cancelled for the second consecutive year due to Covid.
The name Valpolicella comes from the Latin 'the valley' (vallis) of the 'many' (polys) 'cellars' (cellae). The term dates back to the 12th century, although wine was already being made here hundreds of years before.
Valpolicella stretches from Lake Garda, up to the border with Austria in the north and across to the Adriatic coast in the east. Historically the region was in an area northwest of Verona, however when it achieved DOC (second highest appellation classification) status in 1968, the boundaries were significantly expanded. The original area, considered to possess better vineyard sites and produce better quality wines, became known as the Classico zone. Wines from this area may be labelled as Valpolicella Classico as opposed to simply Valpolicella.
There are many varieties grown in Valpolicella but the 3 you need to know are corvina, rondinella and molinara. They're used in varying ways within the region to produce different wine styles, including Amarone, which is made by drying out the grapes and concentrating the sugar. The resulting wine is dry, incredibly rich, alcoholic and expensive. Valpolicella Ripasso is made by reusing the pomace (grape skins and seeds) from the Amarone in the production of standard Valpolicella. This technique beefs up the wine, adding colour, weight, alcohol, tannins and complexity... but they're two wines for another time.
Anyway, Valpolicella Classico is very much a wine for every day drinking. It tends to be mid-weight and fresh, with flavours of black and sour cherry and herbs. It's usually un-oaked, high in acid and low in tannins, making it very approachable.
There's nothing like Valpolicella Classico anywhere else in the world - it's definitely a wine you should try. Here's one of the best at a great price.
---
Speri
Speri was founded in 1874 and with members of both the 4th and 5th generations at the helm, it's one of the oldest family-run estates in the region. All of Speri's 60 ha of vineyards, spanning over five sites, are located within the Classico zone and all are certified organic.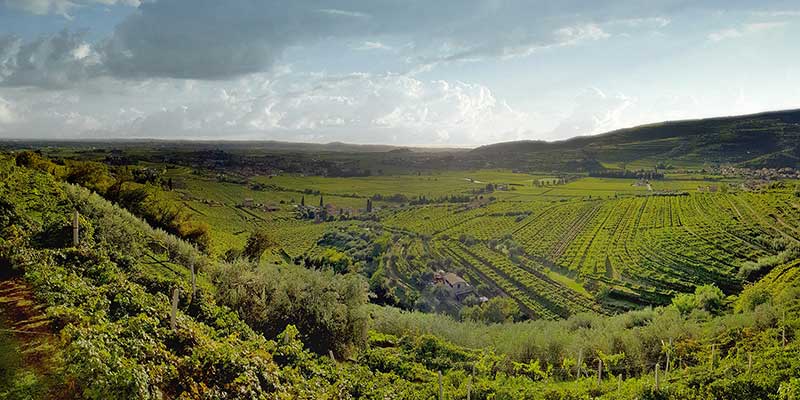 Land is expensive here. A 2 ha site with two-year-old vines, in a good but not great part of Valpoicella, will set you back about 1 million euro ($1.5M AUD). You can see the huge financial advantage that having owned 60 ha of impeccably positioned vines for generations, gives Speri. Established vineyards of this scale rarely, if ever, come to market, you can just imagine the price of the wines needed to justify the purchase price.

Speri La Roverina Valpolicella Classico Superiore 2017
This wine is a blend of 70% corvina, 20% rondinella and a 10% mixture of molinara and other local varieties. The fruit is sourced from a single vineyard known as 'La Roverina' which is located in the heart of the Classico zone. Being labelled Superiore means that the fruit has been picked a little riper and the wine aged a little longer, than both standard Valpolicella and Vaplocaella Classico. Specifically, it has to have a minim alcohol level of 12% and have been aged for at least a year in wood. These requirements tend to give a wine that's darker in colour and with greater aroma, flavour, structure and complexity than standard Valpolicella.
"Ruby red, with an intense, ample nose recalling grapey and almond notes; dry, flavorful and structured on the palate, with pleasing bitterish nuances." Winemaker's notes.
In the glass this is a clear garnet. On the nose you'll find cherry, marzipan and aniseed notes. While on the palate there's juicy pomegranate, graphite, pepper and a long liquorice finish. Medium bodied with crisp acidity and soft tannins, this opens up beautifully in the glass.
You will find it on the list at local pizzeria Maybe Frank in Randwick for $58 a bottle, or at the more upmarket Bel & Brio in Barangaroo for $92 a bottle.
I can offer it for $29 a bottle.

---
Chianti is one of the most recognisable names in wine, but what exactly is it? For many, Chianti is a bottle, clad in a straw basket (a fiasco - that's what it's called) often of uncertain quality, at the local Italian. But Chianti has come a long way in the past couple of decades, with huge improvements in quality, as well as phasing out the straw packaging. Things are looking better all round.
Located between Florence and Sienna in the stunning Tuscan countryside, Chianti, of course is both the name of the region and its wine. Tuscany is home to some of the world's best wines - Brunello di Montalcino, Vino Nobile di Montepulciano and the Super Tuscans.
Chianti has been referred to as far back as the 13th century, but it was not until 1716 that the region was officially recognised with the identification of three specific villages (Castellina, Radda and Gaiole). This original area, which became known as Chianti Classico, remained more-or-less unchanged until 1932, when it was expanded, then expanded again in 1967, to cover a large area of central Tuscany.
Nowdays there are 7 sub-zones within the Chianti DOCG (the highest classification in the Italian hierarchy):
1. Chianti Colli Fiorentini
2. Chianti Rufina
3. Chianti Montalbano
4. Chianti Colli Senesi
5. Chianti Colline Pisane
6. Chianti Colli Aretini
7. Chianti Montespertoli
Chianti Classico is a separate DOCG to Chianti and, being Italy, there are several other delineations thrown into the geographical mix to further complicate matters.
In the mid-to-late 1800s, Baron Bettino Ricasoli (winemaker and 2nd prime minister of Italy) created the original varietal formula for Chianti. He pegged it at 70% sangiovese (red), 15% canaiolo (red) and 15% malvasi bianca (white). There have been subsequent changes, but since 1996 it's been legal to use 80-100% sangiovese, up to 20% canaiolo and up to 20% of 49 other approved red varieties, including cab sauv, merlot and syrah. Despite this complexity, it's safe to think of Chianti as essentially sangiovese.
Sangiovese is Italy's most planted variety and tends to be slow and late ripening in the vineyard. Its general characteristics are bright acidity and moderate to high tannins. It also tends to be lighter in colour and weight, which is why it's often blended with other varieties. Chianti is usually a mid-weight wine and typical descriptors include: cherry, raspberry, violets and herbs.
There's a lot of cheap Chianti out there that's pretty ordinary, but for just a few dollars more you kick into a much better quality level, which brings me to my next wine.
---
Castello di Farnetella
One of the 7 subzones of Chianti DOCG allowed to appear on the label is Chianti Colli Senesi (DOCG), located south of the Classico area, in the hills of Sienna. It's the largest subzone and within its boundaries are the famous areas of Brunello di Montalcino and Vino Nobile di Montepulciano.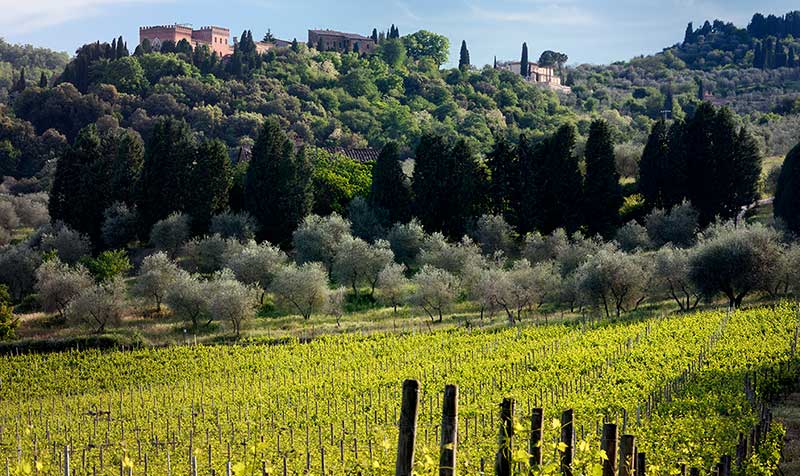 Within Chianti Colli Senesi and half an hour south of Sienna you'll find the impressive Castello di Farnetella. This estate has an incredible history, but came to prominence when purchased in 1981 by the Poggiali family, who also run the famed Tuscan estate Fattoria di Fèlsina.
Fèlsina wines are simply beautiful, the estate having been awarded the highly coveted Gamberro Rosso 'Tre Bicchieri' multiple times since its first publication in 1988. Not only that, in 2009 Fèlsina was named Gamberro Rosso Winery of the Year. Not surprisingly it was the Fèlsina connection that initially caught my attention, particularly as the two fellows who oversee production there, Franco Bernabei and Giuseppe Mazzocolin, bring the same attention to detail to Castello di Farnetella.
Farnetella is a 600ha estate, 95 of which are planted with vines that in 2015 became certified organic. There are several varieties here but it's mostly sangiovese, and due to the more southerly location in Colli Senesi, it's a softer style of Chianti than the neighbouring Classico region.

Castello di Farnetella Chianti Colli Senesi 2017
This wine is produced from handpicked, low yielding fruit and allowed extended maceration (juice in contact with the skins). It's a blend of around 90% sangiovese and 10% merlot and is barrel aged for up to 12 months.
Now with a few years bottle age, the time has come to enjoy this delicious Chianti. In the glass it's crimson with a rusty edge. Be sure to let it open up before you tuck in. I found letting it breath for even 10 minutes made a world of difference.
On the nose you'll find Turkish delight and blueberries. On the palate there's raspberries, chinotto, liquorice and pepper. While the wine displays hallmark Chianti characters (mid-weight with firm acidity), I found it generous by the region's standards.
Banish any thought of astringent juice in wicker clad bottles - this should be Chianti's new benchmark. Flavoursome - imbibe with any type of food!
You will find it on the list for $91 a bottle at the iconic Buon Ricordo in Paddington.
I can offer it for $33 a bottle.

---
We also have in stock:
Felsina Fontalloro IGT Toscana 2012 - $140