I gather from my on-trend friends that Puglia is the place to visit. Great news for wine lovers - it happens to be one of the best regions for everyday quaffers.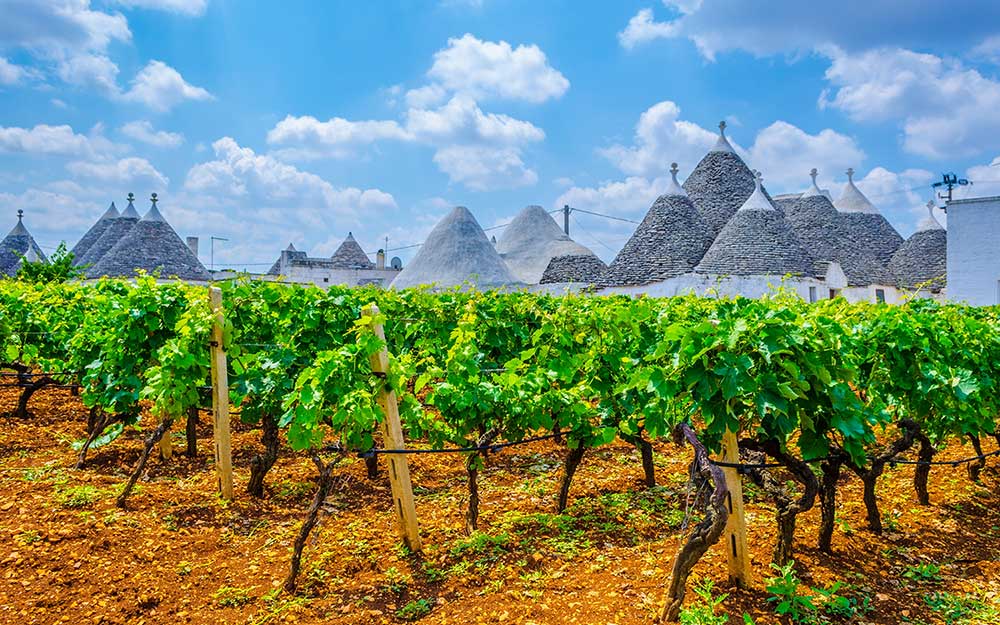 Puglia (anglicised name Apulia) is located in the very southeast corner of the 'high heel' of Italy and stretches about 320km along the Adriatic coast, as far as the Salento Peninsula, protruding into the Adriatic and Ionia Seas. It is a beautiful place, with sun-bleached landscapes, stunning coastline, olive groves and of course vines. Despite its attractiveness, people have traditionally passed through the region rather than making it their destination. For centuries armies, pilgrims, traders and crusaders have trudged through on their way to richer pickings - more recently it's been tourists on their way to and from Greece. I remember passing through the then shabby coastal town of Brindisi many years ago on my way to Corfu, oblivious to the beauty I was missing in Puglia.
The name Puglia comes from the Roman a-puvia or 'lack of rain' and it is a very hot, dry place, even more so this summer with fires breaking out in several areas. But fertile soil, coupled with the cooling effect of water on three sides, makes the region perfect for ripening grapes. In terms of volume, Puglia is a powerhouse wine producer, second only to Veneto. Not only that, it's responsible for half of Italy's olive oil.
Puglia can be divided into roughly three areas:
The north: flat land around the town of Foggia.
The central area: inland around Barletta.
The south: the flat Salento peninsula which produces many of Puglia's best wines from negroamaro and primitivo.
Primitivo is the best-known grape variety in Puglia. Originally from Croatia and known as tribidrag, this grape usually produces full-bodied reds. No one is quite sure when, but at some stage tribidrag crossed the Adriatic from Croatia to Italy where it became known as primitivo. In the early 1800s it then travelled via Austria to America where it found a home on the east coast as a table grape. Around the time of the gold rush in the mid 1800s, it was taken to California where it found great popularity as a wine grape and became known as zinfandel.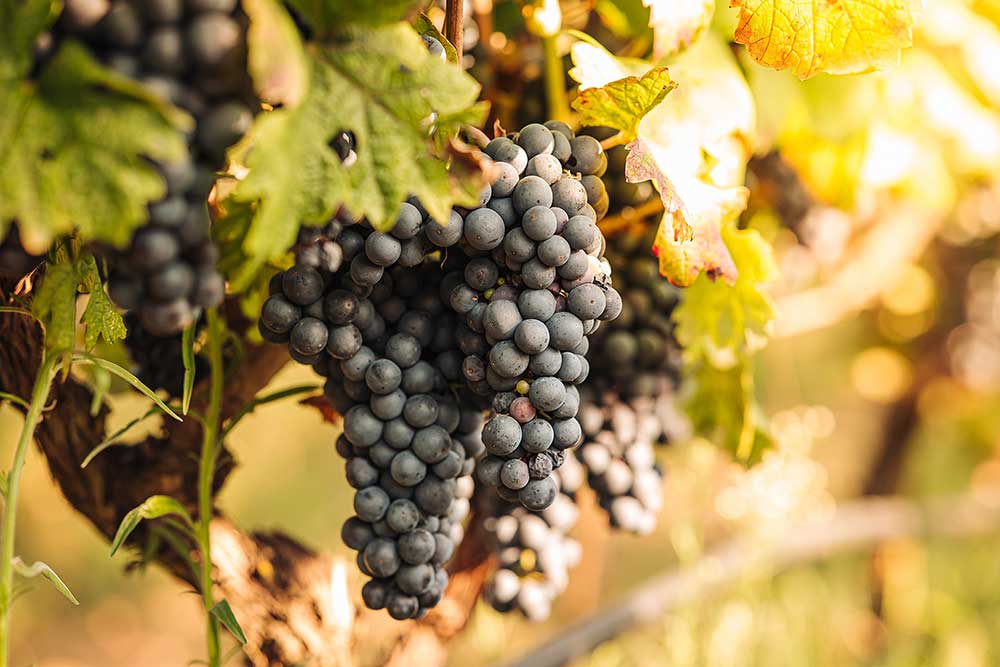 Back in Italy, primitivo was widely grown in Puglia prior to the 1990s where it was valued for its alcohol and colour boosting abilities and it was blended with the mainly commercial wines of the region. But during the 1990s, financial incentives were offered by the EU to rip up vines in an effort to combat the 'lake of wine' and the area under vine dropped from 17,000 ha in 1990, to fewer than 8,000 ha by the year 2000. Since then, primitivo has seen a revival. Well suited to the fierce Puglian sun, it traditionally produces wines that are high in alcohol, as well as being "generous and rich in fruit and body." Wine Grapes, Jancis Robinson. I like this description from the late Italian wine expert Kyle Phillips: "... the resultant wines tend to be powerful. Inky purple is a common colour, while the fruit balance tends towards lush chewy ripe prune and dried prune, with underlying sweetness, and moderately intense smooth soft tannins." Typical descriptors for primitivo include; jam, prune, dark fruits, plum and raspberries.
And while primitivo continues to make warm, generous and approachable wine, its style is evolving. Southern Italy is traditionally known for big, ripe and often oxidised reds, but in the last decade or so, the same sundrenched fruit is being used differently - moving away from old oxidative techniques to more modern ones. The fruit is handled more cleanly and there's greater use of refrigeration as well as longer and cooler ferments.
The resulting wines are characterised by the same delicious Puglian fruit and Italian savouriness. But they're brighter, cleaner, fresher, less ripe and more subtle. Deliciously drinkable, these red gems are a step up from the old commercial stuff, and are enjoying a corresponding jump in popularity as wine lovers appreciate not only the style but particularly the value of this region's wines.
---
A Mano
One estate that exemplifies this change in southern Italy is A Mano, which manages to combine the rustic charm and flavour of Puglia with freshness and modernity.
'A Mano' means 'handmade' and is the work of Californian born winemaker Mark Shannon and partner, northern Italian wine marketing expert Elvezia Sbalchiero. Mark initially studied medicine, before deciding on Winemaking at the University of California. After several years working in The States, it was a job in Sicily that not only got him hooked on southern Italy, but introduced him to Elvezia. The couple have a genuine passion for Puglia and its foremost variety, primitivo.
They established A Mano in 1997, embracing the slow pace and traditions of Puglia, but bringing Mark's experience as a new world winemaker into the mix. Mark recalls that after so many years as a technical winemaker, he'd forgotten the right way to make wine - the old fashioned way, "with love." A sentimental description, but from someone with great technical expertise.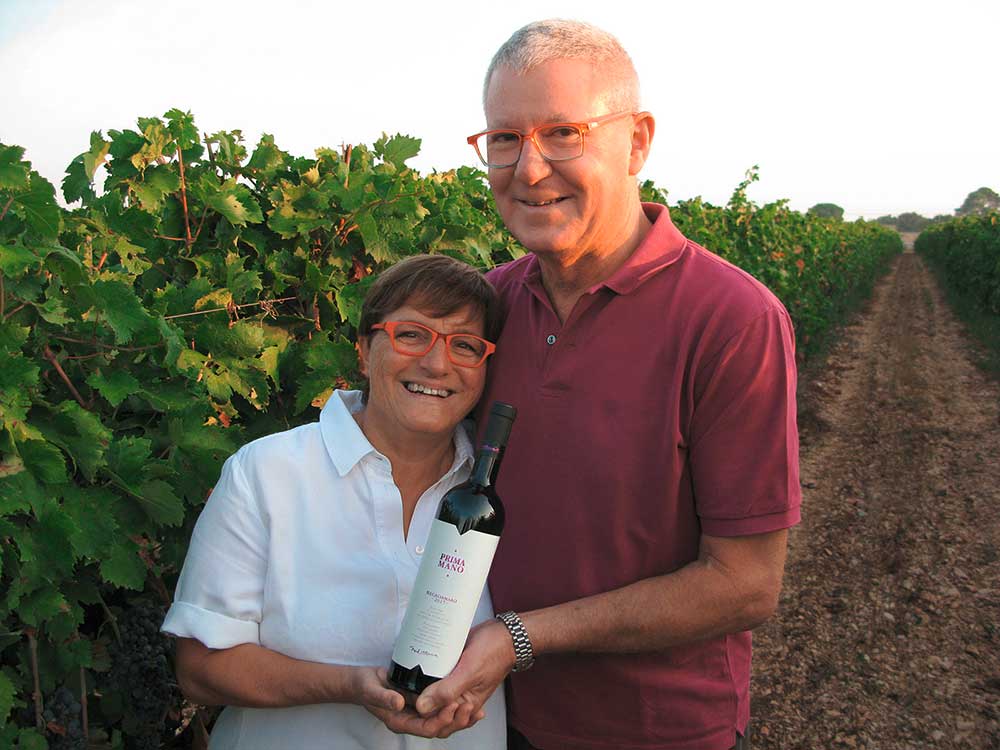 Mark Shannon and Elvezia Sbalchiero.
The estate is located outside the town of Gioia del Colle, about 40km south of the coastal town of Bari. This puts it right at the top and in the middle of the Salento Peninsula, midway between the Ionian and Adriatic seas.
Gioia del Colle is also the name of the DOC (appellation) that surrounds the town. It's located on the Murge Plateau, a limestone plateau, rising to 450m, providing some respite from the fierce southern Italian sun. This area claims to have named the primitivo grape and the variety is still the mainstay in this predominantly red appellation. Some sources state that reds from this appellation must have a minimum of 50% primitivo, while others say 60%. Whichever it is, the rest is usually made up of montepulciano, otherwise sangiovese, negroamaro or malvasia. Unlike many regions (including Australia which has an 85% rule) if the wine is labelled as primitivo, only primitivo is allowed in the bottle. Having said that, we are in Italy so I can't find any sources to verify this.
Just a year after the estate was established, the 1998 vintage of A Mano Primitivo was awarded the Gold Medal at the International Wine Challenge in London and was subsequently named Red Wine of the Year for 2000! Another important endorsement followed soon after when A Mano was taken on by one of the US's most highly regarded Italian wine importers, Neil Empson.
"A Mano Primitivo is known for its consistency and quality." Gourmet Traveller.
---

A Mano Primitivo 2021
The fruit for this wine comes from several local growers with 30-60 year old vines. The grapes were picked in early September before being crushed and refrigerated to prevent oxidation. The ferment was carried out traditionally using the wild yeasts on the skins, kept cool (17°C) and continued for several weeks in the immaculate, state-of-the-art winery. Red wine ferments use the juice, skins, seeds and pulp, and this slurry, or 'must' as it's known, is pressed when the ferment is finished. The resulting wine was left to settle over the winter months. No oak was used and only a very light (10 micron) filtration took place prior to bottling.
Mark aims to make a leaner style of primitivo and he's on song with this vintage. The combination of traditional and modern techniques has created a refined style, not usually associated with rough-hewn primitivo.
The wine is clear rosy red with a rusty edge. The nose shows lovely aromatics of raspberry, prune and chocolate, with a touch of that typical Italian savouriness. On the palate there is juicy red cranberry, raspberry and cherry fruit, tempered by savoury ferrous notes and a subtle graphite twist. Smooth mouthfeel, firm acid and fine tannins draw to a nicely dry finish. While it increases in weight and flavour as it opens up, it's very much a medium-bodied, simple and elegant wine by primitivo standards. The just-released 2021 vintage comes with a fresh new label and is 13.5% alcohol.
"Deeply coloured and exuberant on the nose, with perfumes of ripe, red fruit, especially raspberries and spice. On the palate it is youthful and full-bodied, with a great balance between ripe, rounded fruit characters including blackberry and blueberry. No wood ageing."
Winemaker's notes.
Such an easy wine to enjoy, especially at this price.
I can offer it for $25 a bottle.

---

Ridge Lytton Springs 2019,
And speaking of primitivo (aka zinfandel) I also have a few bottles of the magnificent Ridge Lytton Springs 2019, one of California's most renowned zinfandel blends.
Ridge Vineyards are pioneers of single vineyard winemaking in California. The estate has vineyards at Lytton Springsin Sonoma County as well as at Monte Bello in the Santa Cruz Mountains.
The vineyard now called Lytton Springs is part of the land once owned by Captain William Litton. During the last half of the nineteenth century, Litton developed the springs and built a hotel, just east of the vineyard, for San Franciscans who arrived by train to "take the waters." Paul Draper first saw the vineyard in 1972 and, based on its age (then already 80 years old), purchased grapes and produced Ridge's first Lytton Springs bottling that year. In 1991, on the 20th anniversary of its first vintage, Ridge purchased the Lytton Springs winery and the old vines surrounding it, making it a true estate vineyard.
The wine is a classic Californian field blend with 73% zinfandel, 16% petite syrah, 9% carignan and 2% mataro. The 2019 vintage is stellar, having benefitted greatly from consistent winter rain that allowed for the vines to produce a full crop. The grapes are sustainably grown, and hand harvested. They are destemmed and crushed before fermentation, using native yeasts. Full malolactic fermentation is also used, and the wine is placed in 100% air dried American oak barrels where it is stays for 14 months. This wine showscases Lytton Springs and is one of Ridge vineyard's flagship offerings.
Lytton Springs vineyards.
"Revealing a translucent ruby/plum hue as well as beautiful cassis and red plum fruits supported by lots of savory herbs, orange blossom, cigar, and spice-driven aromas and flavors, this beauty hits the palate with medium to full-bodied richness, a seamless texture, moderate yet present tannins, and a great finish. While the Geyserville Cuvee has eclipsed the Lytton Spring in most vintages in the past decade, that's not the case in 2019."
95 points, Jeb Dunnuck.
"Detailed and compelling, with briar patch and wild red berry aromas leading to distinctive, multilayered white pepper and smoky anise flavors, which build complexity toward refined tannins. Zinfandel, Petite Sirah, Carignane and Mataro. Drink now through 2031."
94 points, Wine Spectator.
Tasting video with the winemaker, John Olney.
"Deep ruby in colour with purple reflections and a broad and bright rim. On the nose, a multi-faceted bouquet of fresh blackberry, subtle cassis, hints of orange zest and eucalyptus with delicate oak spice. The powerful, structured palate is juicy and sweet, with ripe tannins, notes of ripe plum and a touch of nougat and fig, on a long minerally finish. The wine has the potential for further ageing."
96 points, Falstaff (the German-speaking wine publication).
I can offer it for $129 a bottle.