Some people think of cabernet franc as weedy and thin, but in the right place and the right hands it's neither of these. You'll find solid cab franc in Bordeaux, especially in the appellation of St Emilion where it tends to be blended with merlot. You'll also find terrific examples of cab franc, albeit in a more elegant form than Bordeaux, in the Loire, where it's made as a stand-alone variety, most notably in the appellations of Chinon, Anjou, and Bourgueil.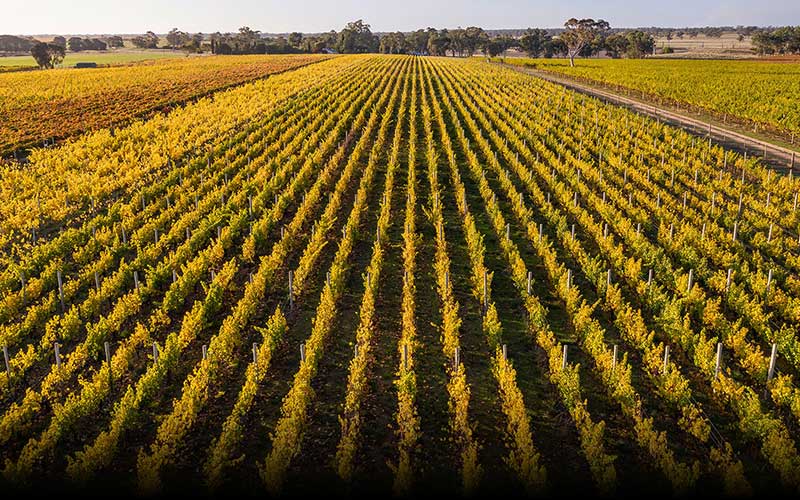 The Crayères Cabernet Franc block was planted with cuttings from the Whalebone vineyard and also some French clones, all grafted on to rootstocks.
In the movie Sideways (2004), protagonist Miles pooh-poohs both cab franc and more famously merlot throughout the movie, yet at the end we see him sneaking his most treasured bottle into a styrofoam cup in a diner. The wine is none other than a 1961 Cheval Blanc from St Emilion, which the Oxford Companion to Wine describes as "the world's grandest cabernet franc-dominated wine, proving that majestic durability (with cab franc) is also possible."
I digress - my point is that many drinkers assume all cab franc is in a lighter mould, when it's not. And to highlight this, I'm pleased to offer a particularly Australian take - an elegant cab franc/shiraz blend, offering plenty of structure and depth, but which has to be one of the most underrated wines from one of our most underrated regions.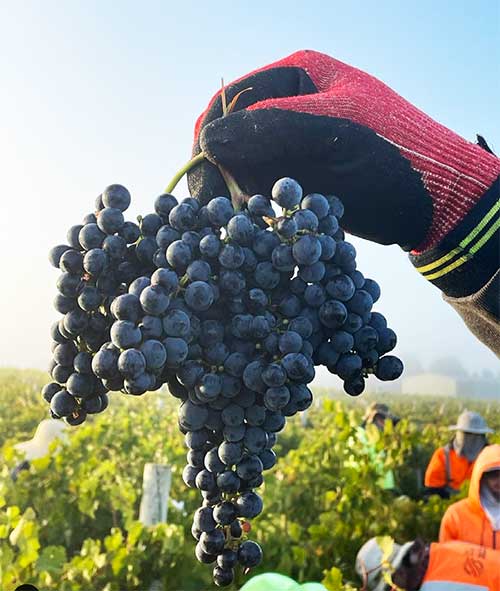 Left: Cab franc picking in the Crayères vineyard.
The Terre a Terre Crayères Vineyard Cabernet Franc Shiraz 2018 is a worthy successor to the Terre a Terre Wrattonbully Red, a drop many of you have enjoyed in the past.
This wine is made by Xavier Bizot, whose wines I've offered several times over the years. I like the French aspect he brings to Australian wine, utilising our sun-filled fruit and giving it a line, delicacy and structure more often associated with French wine. And I like his prices, especially in this case, when it's pretty sharp.
Xavier is married to Lucy Croser. If these two names seem familiar, there's good reason. Xavier's father was Christian Bizot, Bollinger patriarch and chairman from the late 70s to the mid 90s, and his great aunt was the famous Lily Bollinger. When Bollinger looked to expand their interests in the 80s, they invested in Petaluma, the iconic South Australian winery, started in 1976 by Brian Croser. Brian is a leading figure in the Australian wine industry and also Lucy's father.
Lucy and Xavier married in 2003 and I think you'd be hard pressed to find better winemaking credentials in a couple. In 2005 they moved back to Adelaide from Paris where Xavier worked as a lawyer, to establish a small domaine in Wrattonbully, naming it Terre à Terre, meaning 'down to earth'. The wines they're producing are wooing critics, with Halliday rating the winery 5 stars in his latest guide.
Wrattonbully's a great region that few have heard of - amazing given it directly joins Coonawarra's northeastern boundary. It shares a similar climate to Coonawarra (and Bordeaux), as well as the same prized terra rossa soil over limestone, although the limestone in Wrattonbully is much older than in Coonawarra. In fact, the limestone caves that sit below Wrattonbully are part of the Naracoorte Caves National park, South Australia's only World Heritage site.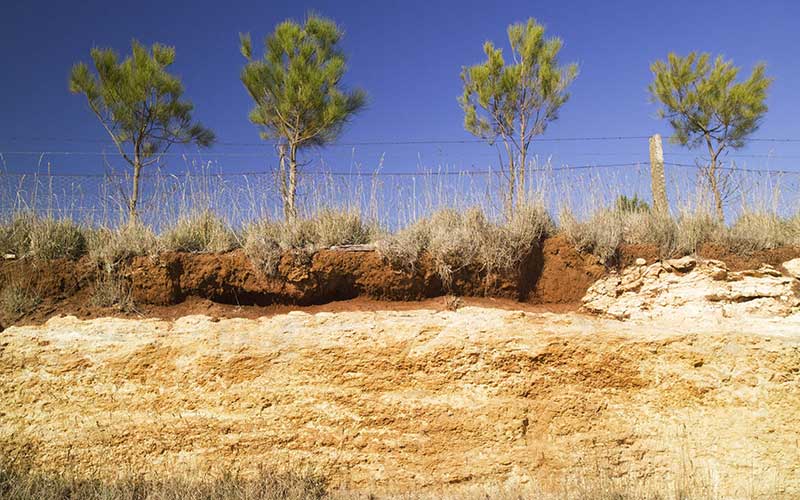 The Crayères vineyard block was purchased in 2004 and sits on the crest of a 35-million-year-old Oligocene limestone ridge covered by terra rossa soil.
The first vineyard was planted in Koppamurra, as the area was originally called, in 1969, and another in the mid 70s, but these were the only two for many years. That changed when the Australian red wine boom took hold in the early 90s, after which all hell broke loose. With Coonawarra full, the rush was on to find suitable sites and Wrattonbully was the obvious choice. It shared the great soil of Coonawarra, was close to existing winemaking facilities and best of all, it was cheaper. A massive expansion ensued and by the mid 90s, big names like MiIldara, Hardys and Yalumba had moved in and were using fruit from Wrattonbully for their Coonawarra wines. This might sound a little dodgy, but it was totally legitimate as Australia's Label Integrity Program (LIP) requires only 85% of fruit to come from a stated region. The region was officially recognised with its own Geographical Indication (GI) in 2005 and it was at this time that it officially changed its name from Koppamurra to Wrattonbully. Nowdays Wrattonbully has 2,600ha of mature vines producing exceptional fruit, mainly Cabernet, with Treasury Wine Estates (TWE) using fruit from the region in both its iconic Penfolds Bin 707 and St Henri wines. Unfortunately for Wrattonbully, the majority of its fruit goes into blends and the region doesn't get the recognition for quality that it deserves.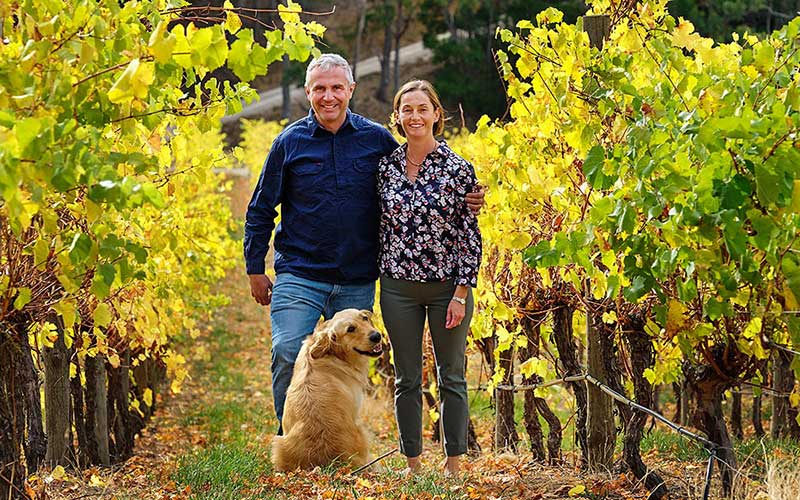 Xavier and Lucy Bizot with Figeac the dog.
Brian Croser acquired the Koppamurra Vineyard, one of the original two, in 2002, renaming it the Whalebone Vineyard, after the bones of a massive whale were found beneath it. Lucy and Xavier bought a site next door to this in 2004, calling it the Crayères Vineyard, literally translating to 'chalk pit', Xavier tells me it's also a local Champagne term for the network of cellars carved into the limestone there. Conditions here are very similar to St Emilion in Bordeaux. In 2008 they planted cabernet, shiraz, cabernet franc and sauvignon blanc. The vineyard is not certified organic but is managed with minimal use of chemicals.
Aside from Terre à Terre, Xavier and Lucy also have a top notch Adelaide Hills sparkling wine named Daosa.
---

Terre a Terre Crayères Vineyard Cabernet Franc Shiraz 2018
Previously known as Wrattonbully Red, this vintage is a blend of 63% cab franc and 37% shiraz, both close-planted and handpicked from the Crayères Vineyard.
The fruit was transported to the Tiers winery in the Piccadilly Valley in the Adelaide Hills, where the cab franc and shiraz were fermented in open top fermenters, before being aged in French barriques (225L) of which around 20% were new, for 9 months. Following this, the cabernet franc spent another nine months in an old 4,000L French oak foudre, while the shiraz stayed in barrels. So that's a total of about 18 months in top quality oak. The wine was bottled without filtration in June 2020. It's 14.5% alcohol and sealed with a screwcap.
"The 63% of Cabernet Franc makes its delicate mark, with ink and violet florals, sweet anise and fresh, well-defined blackberry and plum. It is medium-bodied, with subtle cedar oak, a fine, chalky plume of tannins and persistent acidity. A unique, lissom red, with lovely balance and finesse for the price." 95 points, Sarah Ahmed, Decanter, 22 December 2020.
"It's a beautifully balanced and presented red wine. Malty oak, creamy mouthfeel, herb and iodine notes flicked here and there and a pure, confident pour of berried fruit running all the way through. Tannin has a bit of kick to it, in a good way. This is a medium wine done really well. For now or later, it will perform equally well." 93 points Campbell Mattinson, The Wine Front
"Fruit-forward and juicy, floral and crushed redder-berry aromatics to the fore, while the flavour spectrum covers blueberry, rhubarb, and red plum as well as the more usual blackberry. Soft, chewy tannins fill the mouth without blocking fruit." 93 points, James Halliday's Wine Companion.
"Fruity, plummy, touch of that pippy lift that Cabernet Franc can often have. Milk chocolate, sage - certainly that creamy tinge that particular herb lends. The depth of Shiraz is certainly conveyed, it's well structured, yet fresh. The apparent contradictions of those statements unsurprising to those familiar with these wines. Black fruits soars on the coat tails through the finish, a glorious succulence to the finish." 93 points, Stuart Robinson, thevinsomsniac.com
"Brooding bouquet of red currant, black plum, forest floor with accents of earth and peppery spice. Round and supple showing cedar, toast, vanilla, entwined with rich blackberry fruit underpinned by a subtle thread of eucalypt. Plentiful tannins drive the long finish. Slightly elemental at the moment, but it is well balanced and will further integrate with time in the bottle." 93 points, Andrea Pritzker MW, winepilot.com
"Glossy and bright fruited, the oak a background choc milk contrast, the palate smooth, round and with a real bright red fruit resonance. I'm loving this new, vibrant direction. Milky oak is just a little dominant, but the silken texture is very nice, as are the finessed tannins. Smart wine that will only unfurl more in bottle (and such a contrast to previous vintages). Well priced too. Best drinking: now to fifteen plus years." 18/20, Andrew Graham, Australian Wine Review
Great reviews for a wine of this price.
I can't stress enough how very few, if any, reds at this price point see such an expensive oak regime. I also love that this wine is a blend (cab franc and shiraz) that you'll only see in Australia, a combination that produces great aromatics, length and power, yet remains elegant. For a wine that usually RRPs at over $30, this is an absolute bargain.
I can offer it for $34 a bottle.