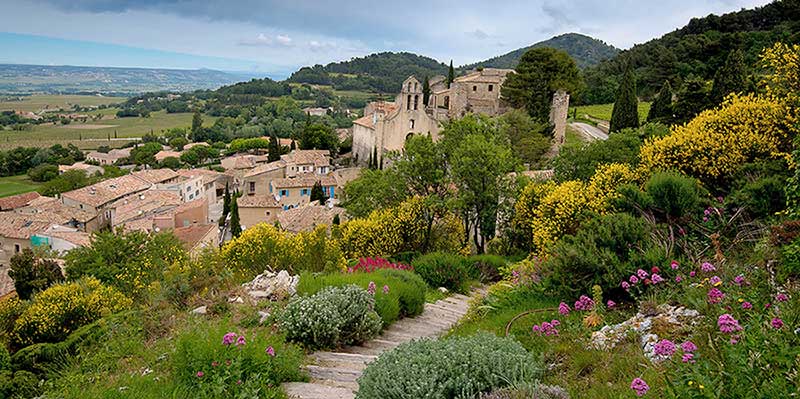 The village of Gigondas.
Worldwide demand for the gloriously rich and generous wines of the Southern Rhône's largest and most famous appellation, Châteauneuf-du-Pape (CNDP), has pushed prices beyond the reach of most. It's also focused attention on the more affordable wines of nearby Gigondas, an appellation traditionally in the shadow of CNDP, but more recently appreciated by astute drinkers for the value they offer.

The countryside around the tiny village of Gigondas has been noted for its wine since Roman times, but when official appellation rules were introduced in France in the 1930s, the area was rather surprisingly relegated to the generic Côtes du Rhône status. It took until 1966 for it to be elevated to 'Côtes du Rhône-Villages' and in 1971 it was finally recognised with its own appellation.

The appellation sits within the Vaucluse département, a mere 10 miles north east of CNDP and, with approximately 1,200ha of vines, is only about a third of the size. The often terraced vineyards are protected by the imposing Dentelles de Montmirail, a saw-toothed limestone mountain range. Another feature of the landscape is the prevalence of garrigue, a low, soft and fragrant shrubbery that's found in limestone soils across parts of southern France.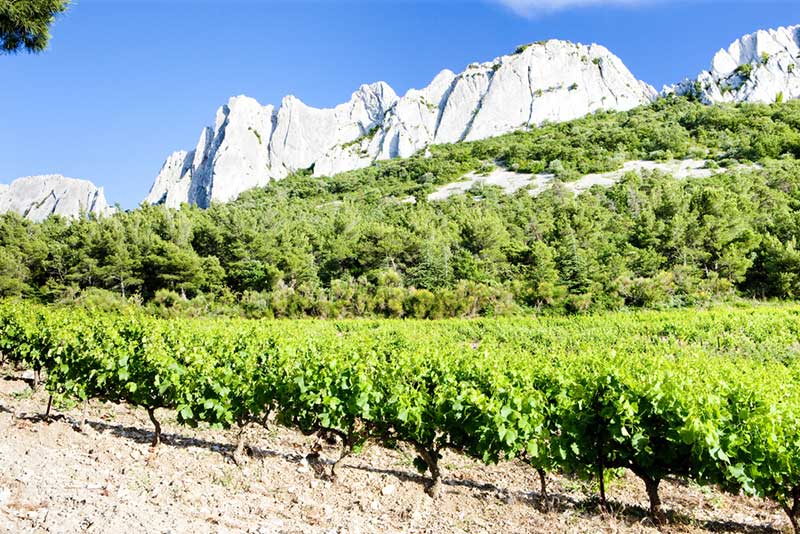 Dentelles de Montmirail tower above the vineyard.
With no white and about 1% rosé, it's safe to think of Gigondas as a red wine appellation. The official website for the Rhône Valley notes (with typical French bureaucratic simplicity) the makeup of Gigondas:
Grenache may be used up to 80%.

Syrah and/or Mourvèdre must account for a minimum of 15%.

All other grape varieties covered by the Côtes du Rhône appellation are authorised, excluding Carignan.

And the following varieties may make up to 10% of the wine: Cinsault, Clairette and some stocks of Terret Noir, Counoise and Picardan.
Confused? Gigondas is essentially a Grenache dominant blend with a bit of Syrah (Shiraz) and Mourvèdre, a blend we're familiar with here in Australia.
Traditional Gigondas is made in a similar way to CNDP, with long maceration. This means that when the wine is being made, it spends a long time in contact with the grape skins, giving it plenty of oomph and colour. Gigondas tend to be full, earthy, aromatic and relatively high in alcohol. The most commonly associated descriptors are powerful and rustic. You'll find they have a lot in common with Grenache from around the word, but likely have mineral notes and the telltale savoury herbal perfumed characteristics of garrigue, which "seems to encompass thyme, rosemary, sage, lavender, garlic and chives, often a signature component of southern French red wines." Eric Asimov, NY Times wine critic.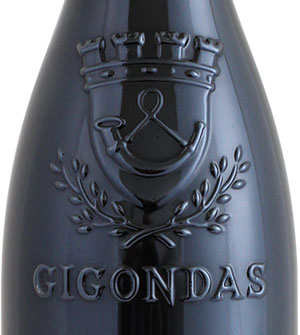 "(Gigondas)… are often thick-textured, with rugged tannins that give them their rustic reputation. But the best examples marry ripe, dark black fruit with fine-grained tannins and perfumed, minerally finishes. These wines age well, delivering mesquite, iron and black tea notes after five to eight years." James Molesworth, Wine Spectator.

"A glass of Gigondas should provide a stimulating mix of plum or prune fruit, dark berries, spice, pepper and dried herbs. These are genuine, fresh, often well-priced wines, and finesse rather than raw strength quite rightly features in the appraisal of a Gigondas, be it young or mature." John Livingstone-Learmonth, Decanter Magazine, Jan 2016.

Similar to the CNDP tradition, Gigondas producers also use a heavy bottle embossed with a distinctive insignia. This one features the hunting horn of the family of Orange (who ruled this area from the 12th century), and olive branches.

A great Gigondas producer I enjoy year in year out is Domaine St Damien.
Domaine St Damien has been run by the Saurel family since 1821 and for most of that time they've sold their grapes to others. Current custodians Joel and Amie Saurel took over the estate in 1978, changing the name to St Damien in 1979. They named it after a Chapel, long since fallen down, that stood near the estate, honouring St Damien, an early Christian saint who was martyred in 287AD. Damien is the patron saint of doctors, surgeons, blind people and barbers!



Joel Saurel in the vineyard.
The couple started using the estate's grapes to make their own wine in the mid-90s, soon after engaging renowned consultant Philippe Cambie, with admirable results. "Proprietor Joel Saurel, backed up by the inimitable Philippe Cambie as his consultant, has transformed this estate into one of the greatest locations in Gigondas, rivalling the two top producers…" Robert Parker, The Wine Advocate.
Today the estate has 42 acres of vineyards, of which about 30 are in Gigondas, the rest in surrounding appellations. With an average age of 50 years, the vines are old as well as low yielding and produce intense fruit. The estate was certified organic in 2012.
---

Domaine St Damien Gigondas Vieilles Vignes 2015
This wine is a blend of 80% Grenache and 20% Mourvèdre. It was made using traditional methods, with fermentation carried out in lined concrete tanks, followed by extended maceration (5 weeks) and a further 12 months maturation in large oak (foudre). The idea behind this technique is that the concrete tanks allow retention of the natural fruit and mineral elements, while the large old oak allows the benefits of wood maturation, without imparting an oaky character. All wines at the estate are bottled without fining or filtration
"The 2015 Gigondas Vieilles Vignes offers the most finesse and elegance of the three cuvées, and is slightly less exotic, yet more refined and pretty. Offering lots of strawberry and framboise fruits, loads of cedary spice, full-bodied richness and building, polished tannin, this terrific wine shines for its purity and finesse. Drink it anytime over the coming decade". 93 points JebDunnuck.com (he used to write for Robert Parker).
"Dark ruby. Aromas and flavors of ripe red and blue fruits pick up floral and peppery spice nuances as the wine opens up. Smooth and expansive on the palate, showing very good depth as well as energy and spicy back-end lift. The gently gripping, very persistent finish leaves behind hints of candied flowers and licorice." (91-93) Vinous Media, September 2017 (the founder of Vinous, Antonio Galloni, also used to write for Robert Parker).
Stony soils in the in the vineyard for the traditional vintage.
Aside from being dense, intense and downright delicious, it's the only Gigondas I know of in Australia that's less than $50 and a decent drop. And it seems I'm not the only who's impressed. You'll find it at several cool joints around town, including Bentley Restaurant & Bar, Cirrus, Tequila Mockingbird and Bistro Moncur (where you'll find it for $99 a bottle).
See for yourself what outstanding value real Gigondas offers.
I can offer it for $42 a bottle. SOLD OUT
---
The estate also turns out two terrific single vineyard wines, both of which have received rave reviews from Robert Parker's The Wine Advocate. These are incredible scores for wines at this price and a real step up in terms of oomph and concentration.
---

Domaine St Damien Gigondas Les Souteyrades 2015
This is a blend of 80% Grenache (vines planted in 1948) and 20% Mourvèdre (vines planted in 1977), grown on north-facing slopes with grey clay soil. The wine spent a year, post ferment, ageing in large, old-oak casks.
"There's more pepper and herb here, still wonderfully ripe raspberries but less chocolate. Full-bodied, it's still silky and refined, with tremendous length on the finish." 94 points,. Robertparker.com, November 2017.
You'll find it at the very groovy Automata (Chippendale) and world-renowned Attica (Melbourne).
I can offer it for $55 a bottle.
SOLD OUT - New vintage available

---

Les Souteyrades terrior is clay soil.

La Louisiane vineyard soil is red alluvia and broken stones.
---
Domaine St Damien Gigondas La Louisiane 2015
This is a blend of 80% Grenache (vines planted in 1942), 15% Mourvèdre (vines planted in 1977), 5% Syrah and Cinsault (vines planted in 1951). The vines are on south-facing slopes of red clay and sand. Like the Souteyrades, this wine spent a year, post ferment, in large, old oak prior to bottling.
"My pick of the cuvées in 2015 is the 2015 Gigondas La Louisiane… this shows incredible detail in its aromas of garrigue and raspberries, then folds in richer notes of dark chocolate. This is full-bodied and velvety in feel, with just a hint of warmth on the finish. It should drink well for a decade, possibly longer." 95 points, Robertparker.com, Nov 2017.
This is one for the cellar.
I can offer it for $59 a bottle.
SOLD OUT - New vintage available