Riesling is an aromatic variety, traditionally used to make some of the world's greatest white wines. It tends to be characterised by floral and citrus notes, high levels of acidity and is usually unoaked. It's also the white variety I have most of in my cellar. I like it because it's clean, crisp and fresh in youth, yet genuinely able to age - developing complex characters. Riesling also offers amazing diversity, providing a variety of styles from bone dry through to uber sweet, and low through to higher levels of alcohol. It's wonderfully food-friendly and best of all, you don't have to spend too much to get good quality. What's not to like?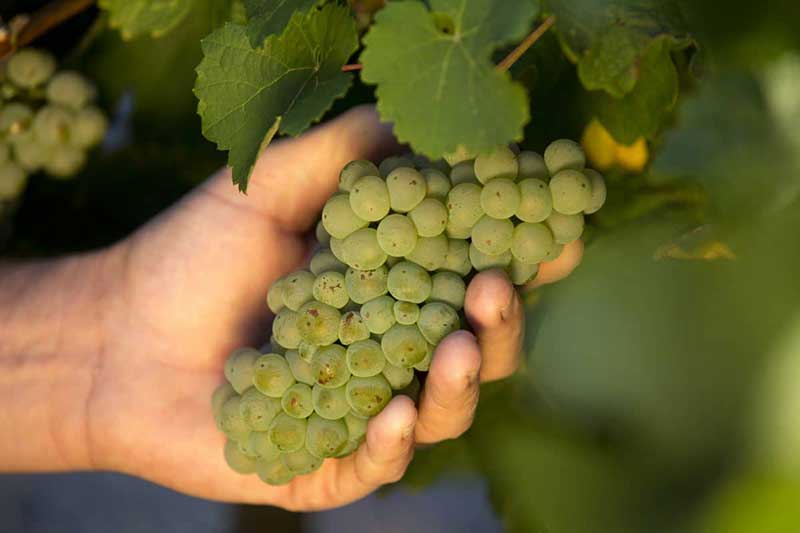 An article appeared in The Australian last year singing the praises of this wonderful variety: "the biggest secret in wine… It's as cheap as chips. It's fresh and delicate. It can remind you of flowers and lime juice and it zings on your tongue like lemon sorbet. It can be cellared for decades and emerges smelling like marmalade on toast. It is one of the wonders of the world." I couldn't agree more.
And while many of us consider ourselves riesling fans, winemaker John Hughes takes it to another level as the Rieslingfreak. Between growing up in the family vineyard, in South Australia's iconic Clare Valley and his father's cellar stocked with aged rieslings, John was always going to have a fondness for the variety. But by the time I met him in the early 90s, when we were both studying at Roseworthy in Adelaide, he was a fully-fledged riesling nut. I recall several trips to the Clare, tasting nothing but riesling. John spent 10 years at the Australian Wine Research Institute (AWRI) being a serious wine geek, before working for Peter Lehman and Chris Ringland (of Three Rivers fame) for several years. He finally struck out on his own, his sole focus, you guessed it… riesling.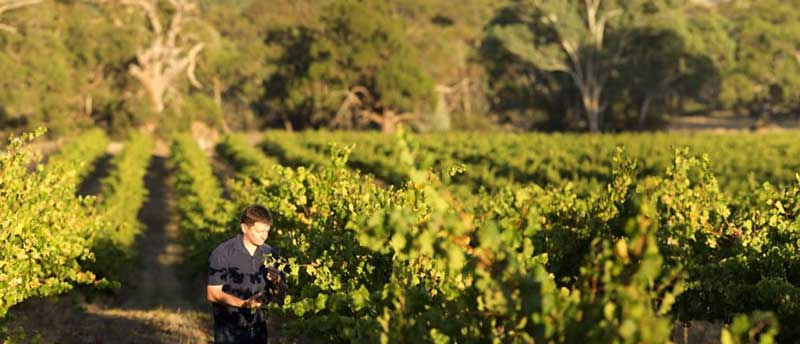 Winemaker John Hughes inspects ripening riesling in the Eden Valley.
John's first vintage was 2009 and in late 2019, luckily as it turned out, he celebrated his 10 years with an incredible retrospective tasting of every wine he'd made, 63 in total - wow! What was so impressive was the incredible continuity and longevity of John's wines. Several journos attended, including Max Allen, who subsequently wrote an article in Gourmet Traveller: "And unlike most modern wines that are designed to be drunk a few months after vintage, the rieslings Hughes makes will live for decades in the cellar. Yes, they are delicious when young, but they are also built for the long haul, as was demonstrated at a recent tasting at the cellar door of every Rieslingfreak wine produced since 2009."
John's success deserves praise, especially from me. I recall when he first told me he was going out on his own with a single varietal project called Rieslingfreak. While I loved the idea and had faith in John, I just didn't think it could work. How could you possibly survive in the Australian market selling just riesling? But here we are 10 years down the track and John has more than survived, he's thrived and I'm happy to be called out for being a doubting Thomas. John's success shows that behind his charming exterior, he's as sharp, precise and farsighted as his rieslings.
Below: John testing Baumé (sugar levels and ripeness) during winemaking.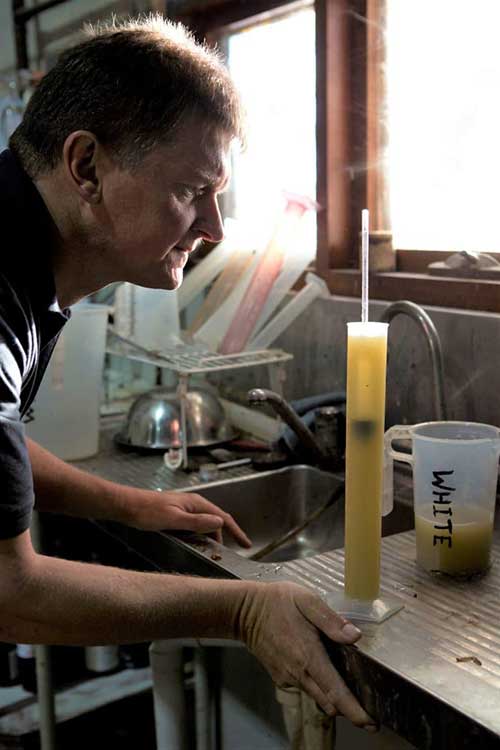 After the 10-year tasting, John generously hosted a small dinner for supporters at Ferment Asian, a fantastic restaurant in the Barossa. I took a bottle of 1989 Grange which I'd purchased as a current release when I'd first met John back in 1994. I'd seen it on special in Adelaide for $89 a bottle and asked him to grab a 6 pack and send it back to me in Sydney. In a nice twist of fate, I still had one bottle left all these years later, so it was the perfect wine to enjoy with John. And in an even weirder twist of fate, can you believe that John Duval the man who made that wine, was in the restaurant that night. In true Rieslingfreak style, instead of taking him the Grange to taste… John took him some Rieslingfreak. Love it.
Over 10 years John has amassed quite a haul of awards, including gold medals, trophies, plenty of high scores and praise from critics. Not surprisingly, Halliday rates him 5 stars. Every year there's some new gong and this year's no different, with John being awarded:
- Barossa Winemaker of the Year 2021.
- Huon Hooke Top 52 Wineries of 2021 (the only Clare winery included).
- Gourmet Traveller Wine Best Barossa Small Cellar door 2021.
- Gourmet Traveller Wine, Finalist for Winemaker of the Year 2021 (announced 30th Sep).
And all for a fellow who only makes riesling. Incredible!
I've been eagerly awaiting John's 2021 release - there's been a lot of talk about how incredible vintage 2021 has been, especially in South Australia. Conditions were perfect so I'm sure we'll hear more accolades as 2021 wines start coming to market.
I've tasted John's wines on release every year and the ones from 2021 are without doubt (even at this early stage), the most aromatic and intense I can remember.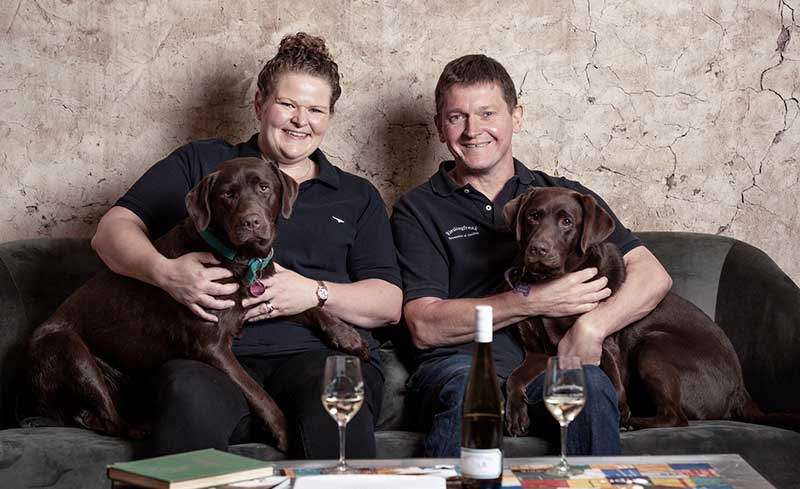 Winemakers Belinda and John Hughes with their two rieslinghounds, Rizza and Fizz.
I should mention that John's wife, Belinda Hughes, is a talented winemaker in her own right - creating many trophy winning white wines for premium wineries over the last 15 years. Having met at the International Riesling Challenge held each year in Canberra, John and Belinda have long had a friendly rivalry over who does riesling better. Together they have explored riesling styles from around the world and finally joined forces with Belinda officially becoming part of the Rieslingfreak team at the start of this year.
---

Rieslingfreak No.3 Clare Valley Riesling 2021
The fruit for this dry style of riesling comes from John's family vineyard in the north of the Clare; a sub-region known locally as White Hut. John gives credit to the heavy red clay soil here for the generous, fruit driven style - typical of Clare riesling. 11% alcohol.
"The family vineyard in Clare always produces wines of great generosity, and the 2021 No.3 embodies this perfectly. The nose is richly seductive with aromas of honeydew melon, white peach and guava, while the palate is abundantly flavoured with an array of tropical and stone-fruit flavours. The palate is plush and voluptuous with rich fruit flavours enfolding a tight acid line that draws through to a long, zesty finish." Winemaker, John Hughes.
I can offer it for $24 a bottle.

---

Rieslingfreak No.4 Eden Valley Riesling 2021
This is also a dry style, with the fruit coming from two vineyards in another Australian riesling hotspot, the Eden Valley. Eden generally produces lighter and more delicate floral rieslings than the Clare. 11% alcohol.
"In a year where Eden Valley Rieslings are shining so brightly, No.4 is a beacon among them. The bouquet leaps forth with aromas of white florals, sweet spice, lime and quince. The palate is elegant yet assuredly structured with foundational slate-like minerality running beneath the more delicate flavours of citrus and rosewater. The racy natural acidity, which is a hallmark of the vintage, runs the length of the palate, drawing through to a fine, crisp finish and lingering lusciously in the mouth long after the wine has gone." Winemaker, John Hughes.
I can offer it for $24 a bottle.

---

Rieslingfreak No.5 Clare Valley 'Off Dry' Riesling 2021
Firstly let's clarify what's meant by 'off-dry' because many think it's winespeak for sweet. It's not.
Wines with more than about 45g/l residual sugar are considered sweet. Coke has about 110g/l and Château d'Yquem usually has around 120-150g/l. At the extreme end is the free run juice of the botrytised berries for the rare Tokaji Eszencia (Essencia) in Hungary which is between 500-700g/l, sometimes even higher! Now that we have some context - this wine has 14g/l sugar, so it really is 'off-dry' rather than sweet.
Even when there is residual sugar in wine it isn't obvious if it's well countered with acid. Getting the sugar/acid balance just right makes riesling sing and is something John obsesses over.
The fruit for the No. 5 comes from the same vineyard as the No.3, although from a different block, with lighter soil (grey loam over limestone). It's picked earlier than No.3, resulting in more acid. Then the ferment is stopped early, leaving residual sugar in the wine. John's talent for finding the perfect balance is obvious here.
This wine's a lovely combination of ripe citrus notes, caramelised pineapple and tart apricot, with a whiff of musk and has more weight in the mouth from that bit of extra sugar. But don't expect overt sweetness - the robust acid counterbalance gives a crisp, clean finish. So easy to enjoy - especially at only 10% alcohol. Yum - it pairs well with so many foods.
"A year like 2021, with an abundance of natural acidity in the grapes, makes it a perfect vintage for exquisitely balanced off-dry Riesling. The bouquet is vibrant and intensely perfumed with aromas of apple blossom, fresh citrus and nectarine, while the lusciously flavoured palate abounds with freshly sliced grapefruit and lemon meringue pie. The natural sweetness adds an unctuous richness to the mid-palate, while the driving natural acidity imparts linearity and length with a crisp, clean finish." Winemaker,John Hughes.
I can offer it for $24 a bottle.

---
Rieslingfreak No.2 Polish Hill River Riesling 2021
This wine is all about refinement - typical of wines from the Polish Hill River sub-region of the Clare. The area used to be known simply as Polish Hill but Jeffrey Grosset trademarked that term. The fruit is sourced from a vineyard known locally as the 'Hill River Vineyard', which sits about 5km southeast of the town of Clare. Elevation here is around 460m. Max Schubert, creator of Penfolds Grange, planted the vineyard in 1981 and it stayed with Penfolds until its sale in 2010 to current owners, Rob and Lyn Jaeschke.
The fruit for the No.2 was fermented to dryness and is a moderate 10.5% alcohol, which I like. The wine really showcases the Polish Hill River with its minerally profile, crisp acid and underlying fresh citrus characters. Delicate blossom aromas interlaced with flavours of apple, lemon and grapefruit.
"Polish Hill River is renowned for producing Riesling of elegance, and the 2021 No.2 is no exception. The bouquet is awash with aromas of Granny Smith apple, jasmine and rose, while the palate bursts with bright citrus notes dancing lithely over a grounded flint-like minerality. The palate is softly slippery with bright natural acidity imparting exceptional length and a clean, crisp finish." Winemaker, John Hughes.
I can offer it for $35 a bottle.

---
And if you're dedicated, I have a few more wines from the fabled 2019 German vintage made by one of my favourite Mosel producers Joh Jos (JJ) Prum. The demand for these wines has been extraordinary and you'll be hard pressed to find them around town. Luckily, I've snaffled a few away.
"To sum up the prospects of the 2019 [German] vintage in a nutshell, it could become the vintage of the century. No, honestly!" Michael Schmidt, jancisrobinson.com
"The 2019 vintage is the best vintage I have ever tasted for German riesling in my four-decade career. The first German vintage I tasted as young wines was 1983 and I can't remember a vintage like that - until now." Stuart Pigott, JamesSuckling.com
".. I have rarely tasted better Kabinett wines here than the 2019s," Stephan Reinhardt, The Wine Advocate.
"With the rise of so many excellent winemakers in the region, one might have supposed that J.J. Prüm, with its profound conservatism, might have been overtaken and left behind. Not a bit of it. The Estate remains where it has been for decades: at the summit." Stephen Brook, The Wines of Germany
---

Joh Jos Prüm Graacher Himmelreich Riesling Kabinett 2019
"The 2019 Graacher Himmelreich Kabinett is precise and flinty on the coolish, herbal and serious nose. Round and juicy on the palate, this is a very intense, sweet and quite powerful yet structured and grippy Kabinett with piquant acidity and good tension. Needs time." 94 points, Stephan Reinhardt, The Wine Advocate
"Although this is still very youthful, there's already lots of sliced pear and white peach on the nose with a hint of wet earth. Quite a generous Kabinett, but with the distinctive raciness of the category, this already gives so much, but has excellent aging potential. Very long finish with just a hint of apple rings sauteed in butter, suggesting the ripeness of the vintage." 94 points, Stuart Pigott, JamesSuckling.com
I can offer it for $79

---

Joh Jos Prüm Wehlener Sonnenuhr Riesling Kabinett 2019
"The 2019 Wehlener Sonnenuhr Kabinett offers a clear and delicate bouquet of very fine slate and bright, perfectly ripe fruit aromas. Round and piquant on the palate, this is another filigreed and crystalline Kabinett with an intense, compact and very promising finish. The sweetness is delicate and well-countered by the mineral grip and salinity." 94 points, Stephan Reinhardt, The Wine Advocate
"Still some yeastiness from the wild ferment, but this opens beautifully with aeration. An entire botanic garden of flowers of all colors and origins. Concentrated, yet so filigree and delicate, the finish super long and as refreshing as an alpine stream. Perfect balance in this delightful no-man's land between dry and sweet." 96 points, Stuart Pigott, JamesSuckling.com
I can offer it for $95